Steven Holl designs kite-like Winter Visual Arts building on Franklin & Marshall College campus
Steven Holl Architects has completed the kite-like Winter Visual Arts Building on the historic campus of Franklin & Marshall College in Lancaster, Pennsylvania.
The new Winter Visual Arts Building is inspired by a kite stuck in the trees and the site's existing conditions where the site's 200-year old trees gave the shape of the building, the 200-year old trees are the oldest elements of the campus, as the studio highlights.
Designed as a raised pavilion, the two-story building is situated on a new campus which is destination for all students, the building's spaces aim to evoke the creative energy involved in teaching and making art.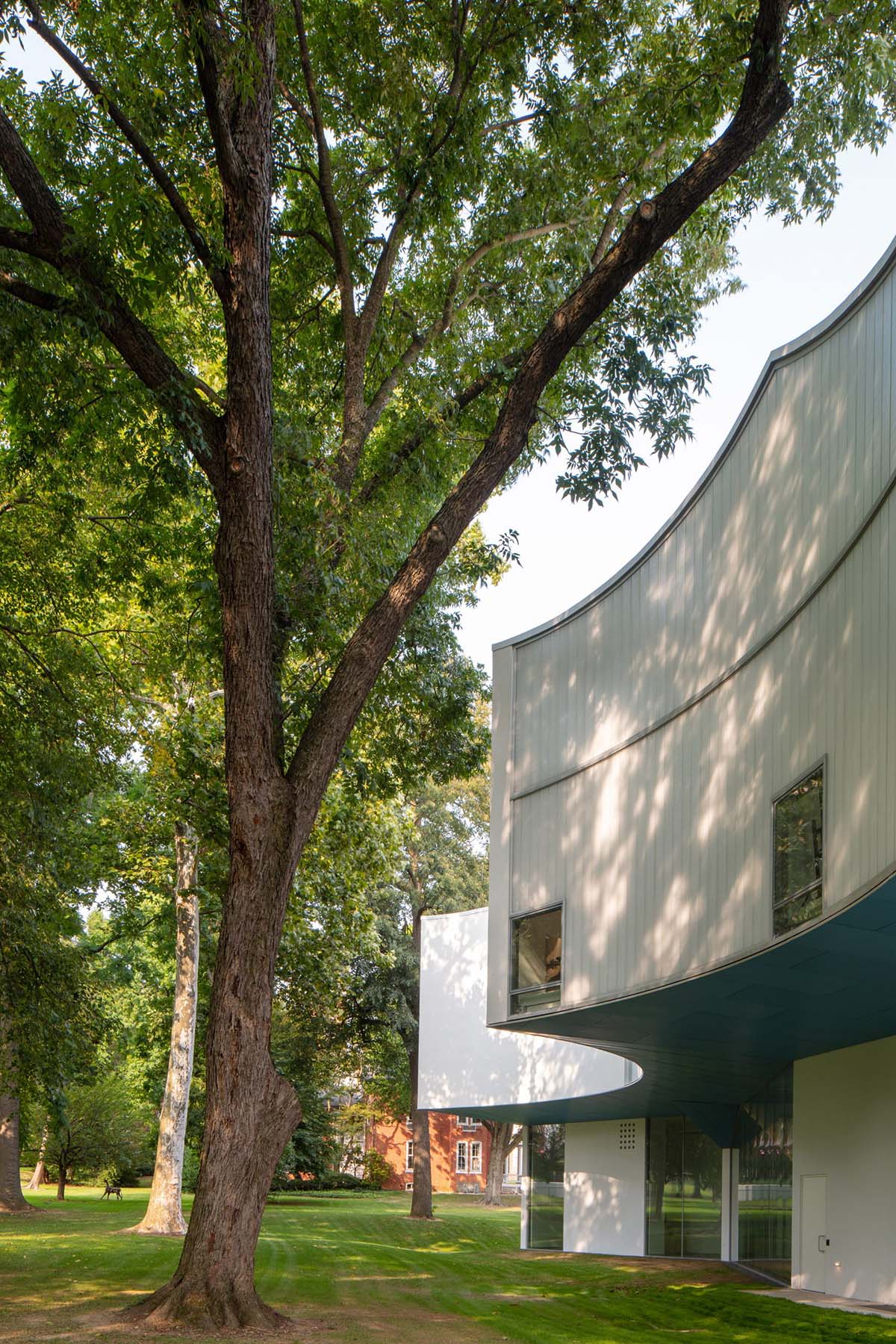 "A first reflection of the new Winter Visual Arts Building for Franklin & Marshall College led Steven Holl to remember Benjamin Franklin's kite on the rainy and thunderstruck night when he first harnessed electricity," said Steven Holl Architects.
"Steven Holl's initial sketches of a building like a kite stuck in the trees were a playful beginning."
The college's fifty-two-acre campus is an arboretum of more than one thousand trees. On further study SHA realized that these great trees are the oldest and most prominent geometric force characterizing this special place.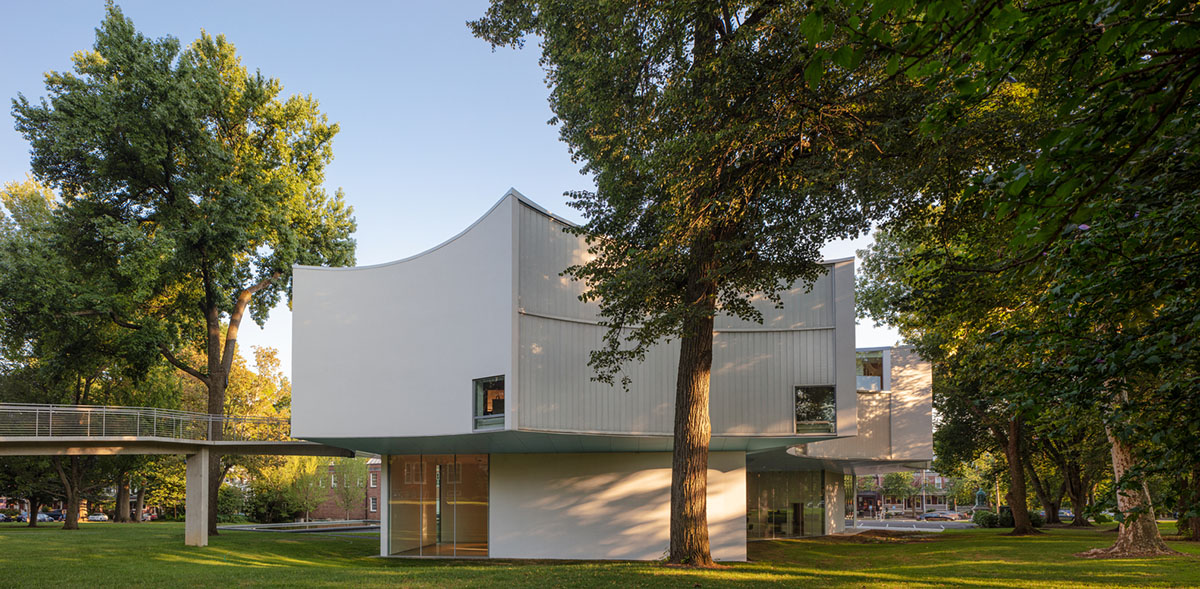 "We thought of the geometry of trees as a way to give shape to the new arts building. Instead of echoing the rectangular block of the former arts building, the new pavilion takes its shape from the inflection of the diameters of those large campus trees," said the studio.
"The kite-in-the-trees sketch then had a much stronger conceptual grounding in the specifics of the site."
The lightweight, "box-kite" steel frame sits on two ground floor concrete rectangles to create the dramatic cantilevers and arced geometry with precision and economy. Its main floor is lifted into the trees on a porous ground level open to the campus and adjacent Buchanan Park.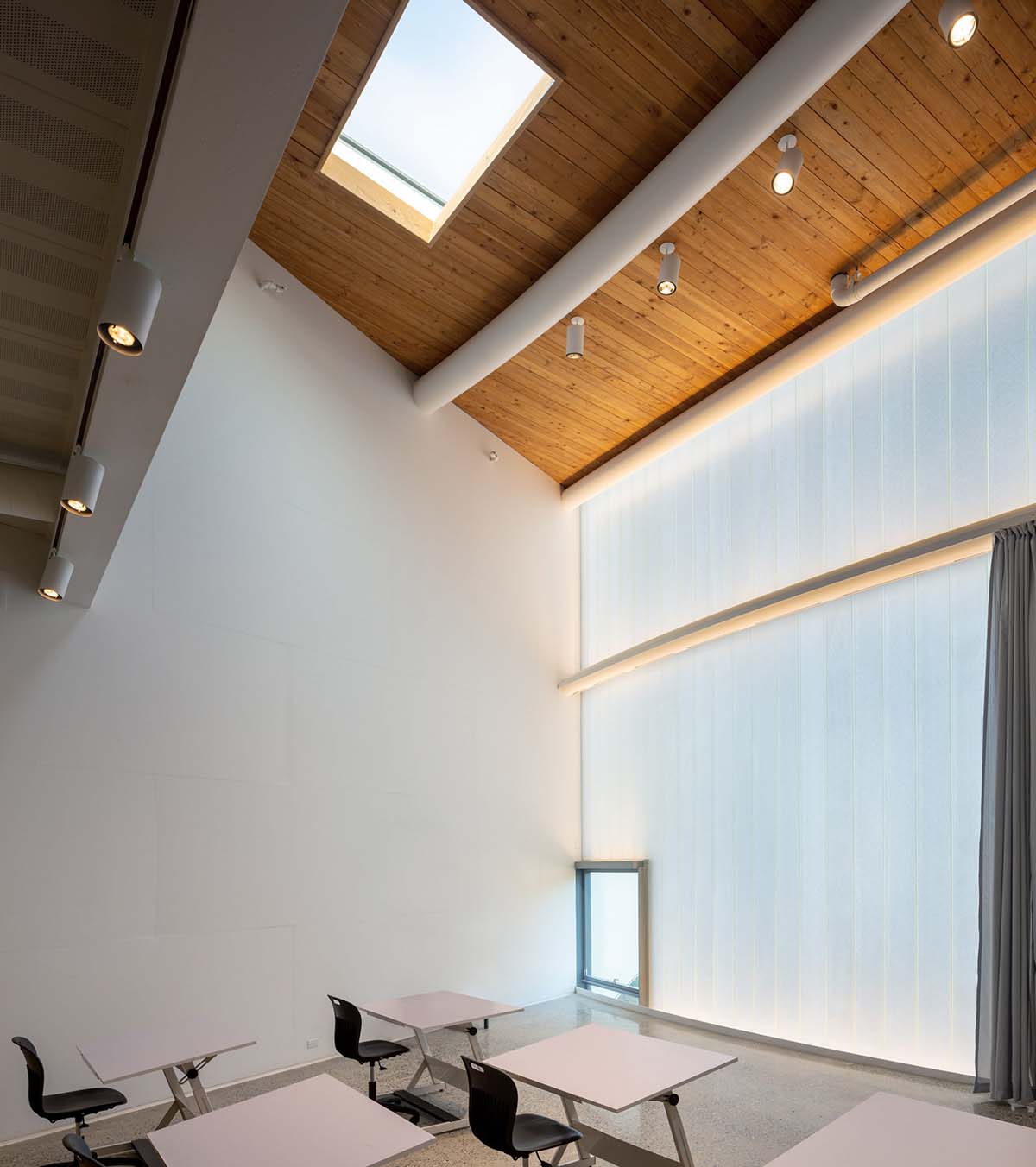 The Winter Visual Arts Building is currently in use by students as the Franklin & Marshall campus has opened for the academic year. The building, embodying SHA's design philosophy, naturally adapts to Covid-19 necessities such as social distancing and fresh air.
It offers generous social/circulation space, with two main entries on different levels that enable one-way flow when needed, abundant daylight to all rooms, natural ventilation, and outdoor terraces. The architecture is deeply connected to its verdant, park-like campus setting, a restorative place within nature.
The reflections of the hovering building at night glowing in the water of a large reflecting pool add to the special articulation of this place.
Steven Holl Architects was commissioned to design the Winter Visual Arts Building in 2016, with the benefaction of a lead gift by Franklin & Marshall Trustee Benjamin J. Winter (Class of 1967) and his wife Susan.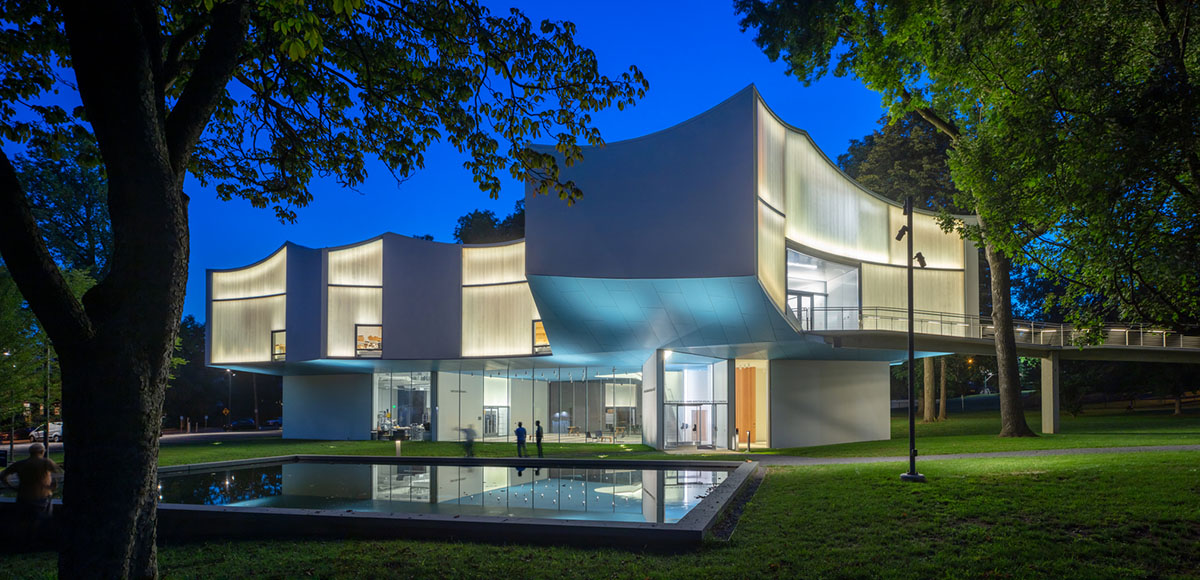 Site plan
Basement floor plan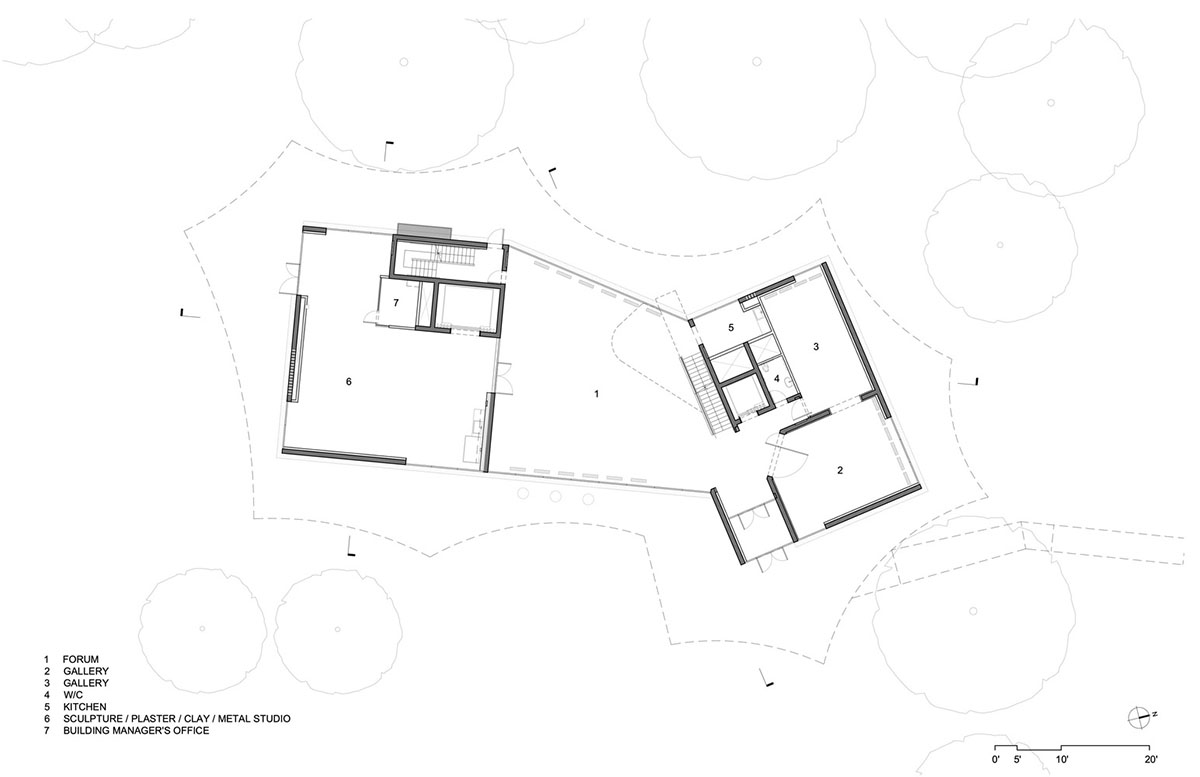 Ground floor plan
Mezzanine floor plan
Second floor plan
Section
Section
Longitudinal section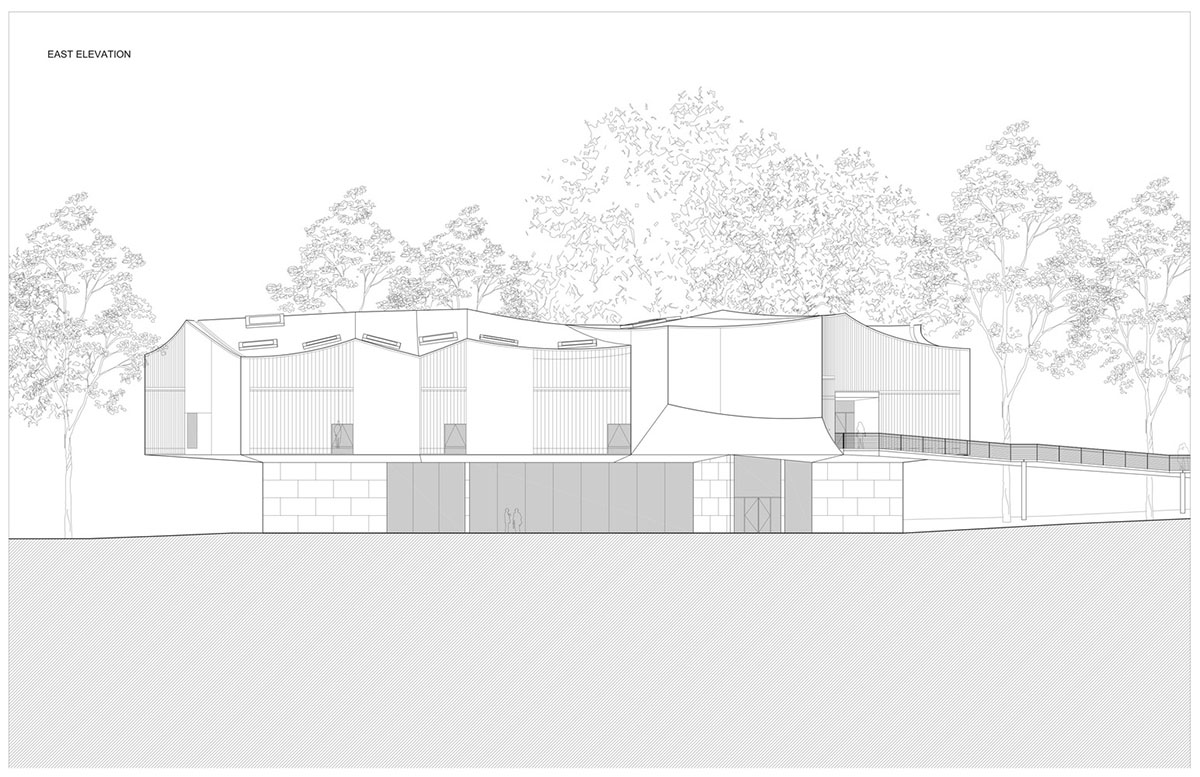 East elevation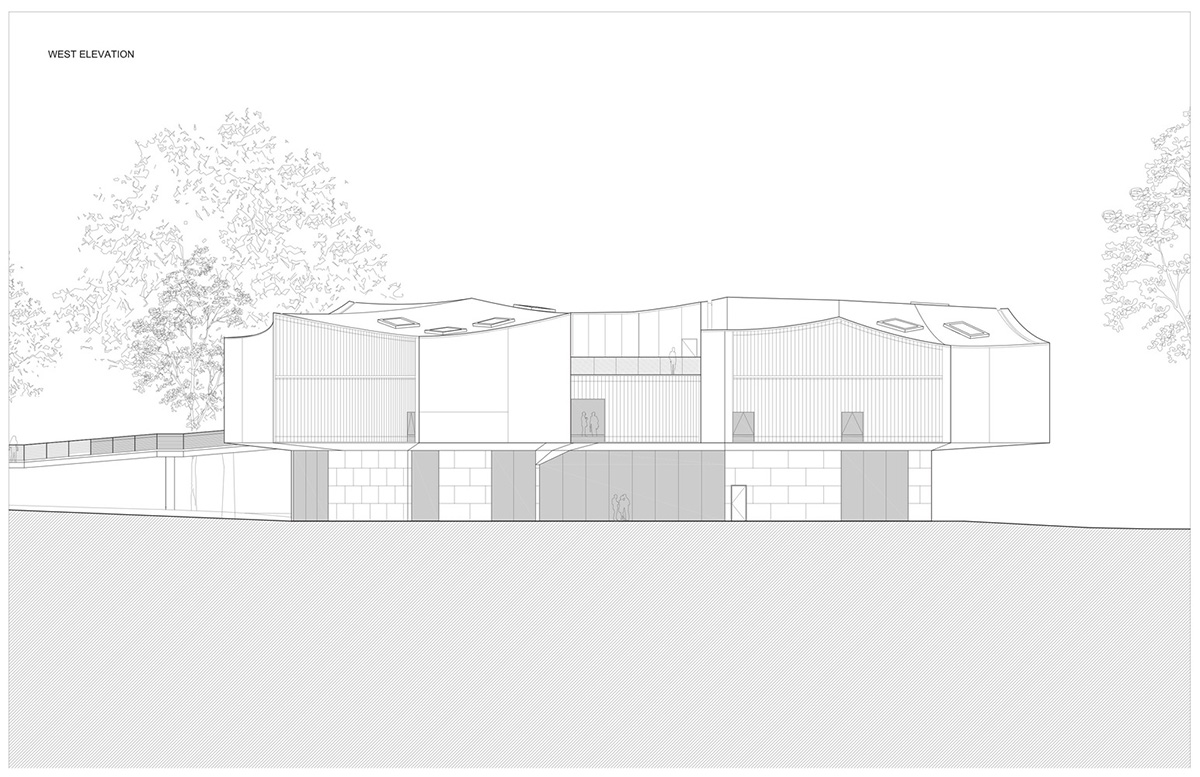 West elevation
North elevation
South elevation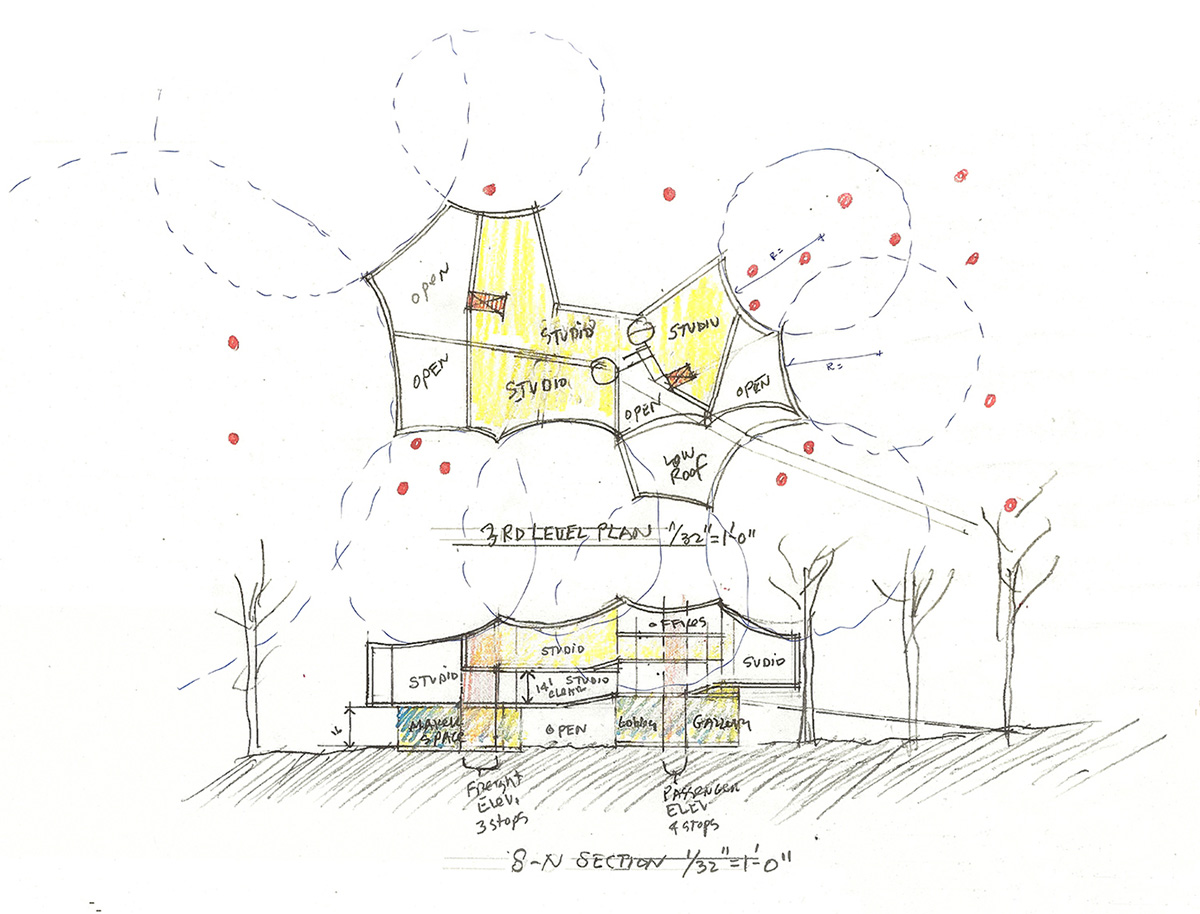 Sketch-1
Sketch-2
Sketch-3

Sketch-4
Sketch-5
Project facts
Architect: Steven Holl Architects
Client: Franklin & Marshall College
Principal design architect: Steven Holl

Partner in charge: Chris McVoy 
Project architect and senior associate: Garrick Ambrose
Assistant project architect: Carolina Cohen Freue
Project team: Dominik Sigg, Marcus Carter, Elise Riley, Michael Haddy and Hannah LaSota
Project manager: Thomas Murray of Casali Group and Sheldon Wenger of Franklin and Marshall College
Structural engineers: Silman Associates
MEP engineers: ICOR Associates
Civil engineers: David Miller Associates
Climate engineer: Transsolar
Landscape architects: Hollander Design
Facade consultants: Knippers Helbig Advanced Engineering
Lighting consultants: L'Observatoire International
Acoustical consultants: Harvey Marshall Berling Associates
Pool consultants: Aqua Design International
All images © Paul Warchol
All drawings © SHA
> via Steven Holl Architects