Aarushi Kalra creates Theater X where digital and physical elements are merged for post-Covid era
Architect and interior designer Aarushi Kalra has created a concept store where all digital and physical elements are merged in one space.
Called Theatre X, it is a concept store a digital only platform, named Border&Fall. Kalra, recently graduated with a Master's Degree from Interior Design from the Royal College of Art, London, wanted to show the future possibilities of modern retail spaces with the hybridization of digital and physical, specifically to test them in the post-Covid era.
Aarushi Kalra's Theatre X is currently on view at the Royal College of Art.
According to the architect, "the standstill brought about by Covid-19 not only tested the e-commerce capabilities of brick and mortar stores, but also showed us the deeply entangled nature of global business and communities."
The space can be used as an exhibition, an event space, a shop or a runway, without needed any predefined function, which is entirely transformable according to the needs.
Video by Royal College of Art
"Though digital transactions have gained popularity, we are already feeling a major disconnect and digital burnout due to the highly curated, impersonal and unnatural interactions," said Aarushi Kalra.
"We are slowly rediscovering the intrinsic human need to belong to a community. There is now a higher focus on creating newer methods for immersive experiences of art, culture, fashion and retail, which are also sustainable, conscious and individualistic."
The architect conceptualized Theatre X in two parts: the first part details out the Border & Fall website as a physical space and the second half shows how the space transforms as a collaborator takes over.
The store channels the philosophy of Border&Fall, challenging preconceived notions of a traditional Indian garment, a Sari, and presenting it as a more contemporary, dynamic and gender-neutral garment. It's a gradual and almost theatrical reveal of the sartorial, aesthetic and social significance of a Sari for the global audience.
The space facilitates takeovers and collaborations, reflecting the brand's multi-disciplinary approach to initiate new conversations while building an eclectic community around the Sari.
The architect described the store as "a blank canvas" as the store "fluently embodies and enables the voice(s) and the program it represents."
"It's based on the hypothesis that both, a sari and a website are open to interpretation and act like a canvas for personal and interpersonal expressions," added the architect.
The design is motivated by the challenges of futuristic "phygital" spaces, for this concept, Aarushi studied the enhanced flexibility of digital interfaces facilitated by mechanical systems to create a truly iterative store, defined by its undefined nature in these uncertain times.
"The store questions the architecture of a digital space by creating a unique setup for potentials, rather than assigning a predefined solution."
"We are also witnessing retail becoming 'less permanent' in its physical structuring with a rise in pop- up retail, given the diverse nature of brand identities. This has led to an increasing concern for sustainability considering the surplus of resources needed to facilitate such designs," the architect continued.
"This is where an opportunity for a store like Theatre X lies, as it enables impermanence with minimal resources and a maximum sensorial impact."
"Since the same space can be repurposed into infinite design languages with a minimal use of props, it contributes to the pressing needs for circular solutions."
Video by Royal College of Art
Theater X is composed of an assortment of prearranged systems, ensuring a hyper-flexible space, capable of taking on the identity of each new collaborator. It includes a play of video walls, immersive light rooms with revolving and sliding walls, a hydraulic floor, a mechanical ceiling and crisscrossing automated curtains, changing the perception of the space every minute and challenging the conventional constraints of a physical space.
The architect used a neutral material palette in the interiors, the color palette is dominated by shades and textures of whites and it provides with the perfect blank canvas. The chosen textures add a splash of warmth and comfort to an otherwise minimal, curated and hi-tech visual appeal, encouraging the viewer to touch and feel the surfaces just as they would a Sari.
Video by Royal College of Art
Aarushi further explored this spatial fluidity by designing a takeover by Rimzim Dadu, "From Dawn to Dusk" - an exclusive and surreal experience.
She borrows from Rimzim's penchant of using unconventional materials like metal, paper and plastic as raw materials for her fashion wear. The takeover space is imagined as an exhibition and flash retail wherein the visitor is invited to embark on an alternative journey through sunrise to sunset, experiencing a myriad of dreamy landscapes, playing with materials, colors and senses.
Designed to imitate the experience of a website, with navigation choices and interactive tabs, the base space provides with a predefined zoning which is customized to fit the aesthetic style of Rimzim's surreal, delicate yet structured work.
The entrance is designed as an introduction to the designer's ethos via the futuristic interface of Border&Fall, just like the About Section of any site. The spatial transformation is achieved through changing lighting and color scheme to evoke a feeling of the magnificent sunrise across the lavender fields.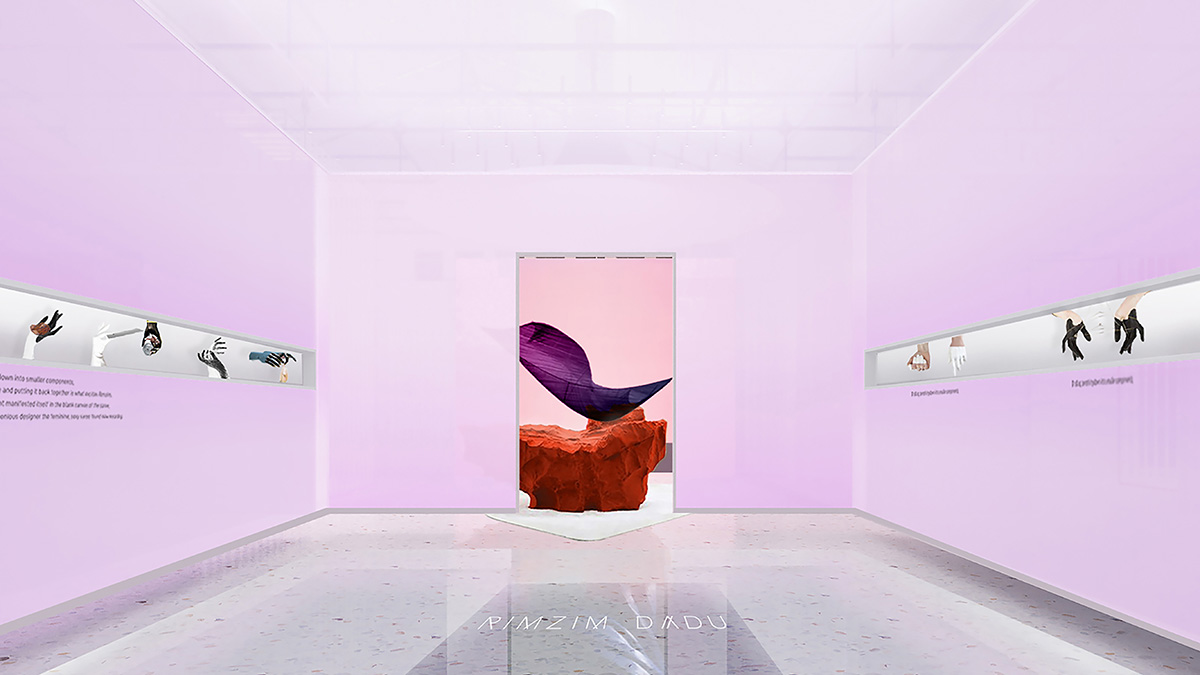 Just as individual strips of lavender visually create an infinite expanse of purple, the purple lit room lays emphasis on the endless hour's craftsmen spend stitching each strip of metal together to create a sari that gives the impression of fluid metal.
Two cutouts running along the opposite walls of this room serve as a window into the theatrical hand movement of craftsmen at work, bringing awareness to the beauty of handmade.
The experience is highlighted by informative video projections on the floor and a glimpse of an installation against an early morning sky, showing the contrast between a bulky iron ore and the delicate fluidity of a metal sari. This play of the perceived notion of a raw material against the designer's expression, along with the sublime lights and LED screens create a sense of movement, adding a new sensorial dimension to the space.
This section gradually opens out into the Event Space, which has been imagined as a runway exhibition for Rimzim. It's "A Surreal Afternoon" walk through the meadows under a clear blue sky with the main exhibit pieces envisioned as a collage of her personal inspirations.
The modular hydraulic floor helps achieve the impression of an undulating terrain, with a central spiral mimicking the journey through a magical forest, lined with her work.
The colour changing, overlapping waves in the moveable curtains are reminiscent of the landscape of the mountains, desert and the oceans, adding to the otherworldly vibe of the space.
This path eventually leads to the Shop Section defined by a calming sunset. The suspended walls and video screens are set to evoke an intimate feeling of an enclosure to lose yourself into, with the smaller central installation working as the focal display unit.
The rich sunset colors moving slowly across the screen feel tranquil, encouraging you to pause, creating an alluring and very personal shopping experience.
In closing, by becoming a mirror for every collaborator, this space seamlessly embodies the fluidity of a Sari and a website, acting like an architectural, ever changing display, with a vivid and mesmerizing user experience while creating a unique sense of place.
It becomes a part of a larger conversation, almost as a filler in the community in post pandemic times, where people come together to collaborate and build a wide variety of experiences that is not limited by a certain person or function.
The resulting project speaks to a range of issues including sustainability of fashion and retail, brand and cultural identity and its connection to physical spaces.
"It's a space that truly is a blank canvas, open to limitless possibilities."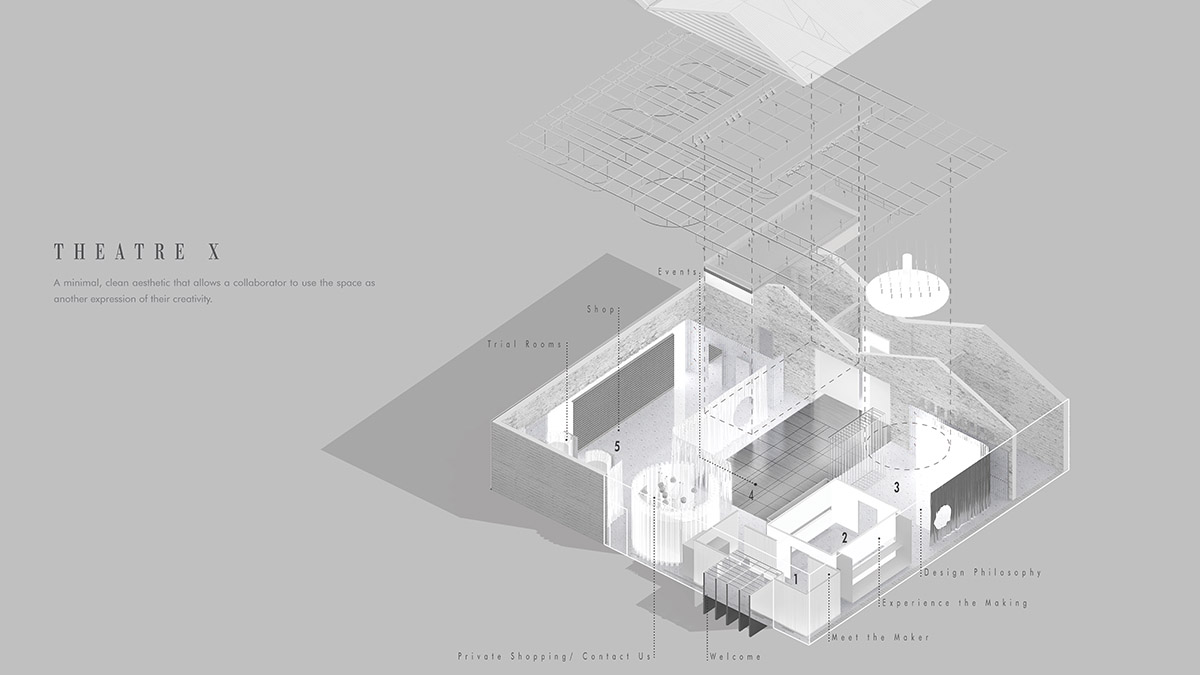 Spatial design
Material palette
Designing a Blank Canvas
Spatial flexibility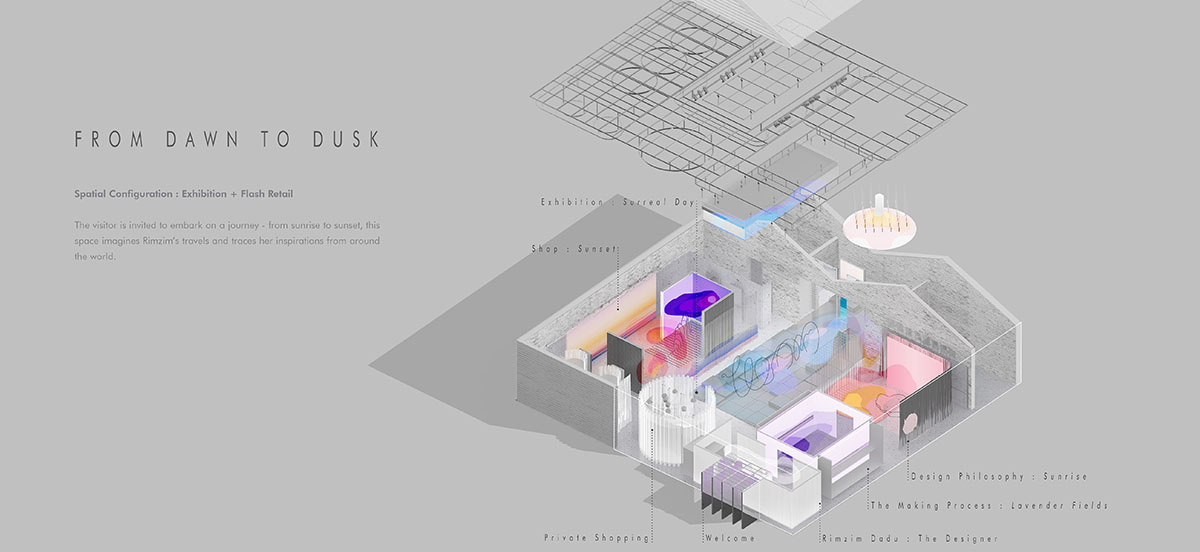 TheatreX, From Dusk to Dawn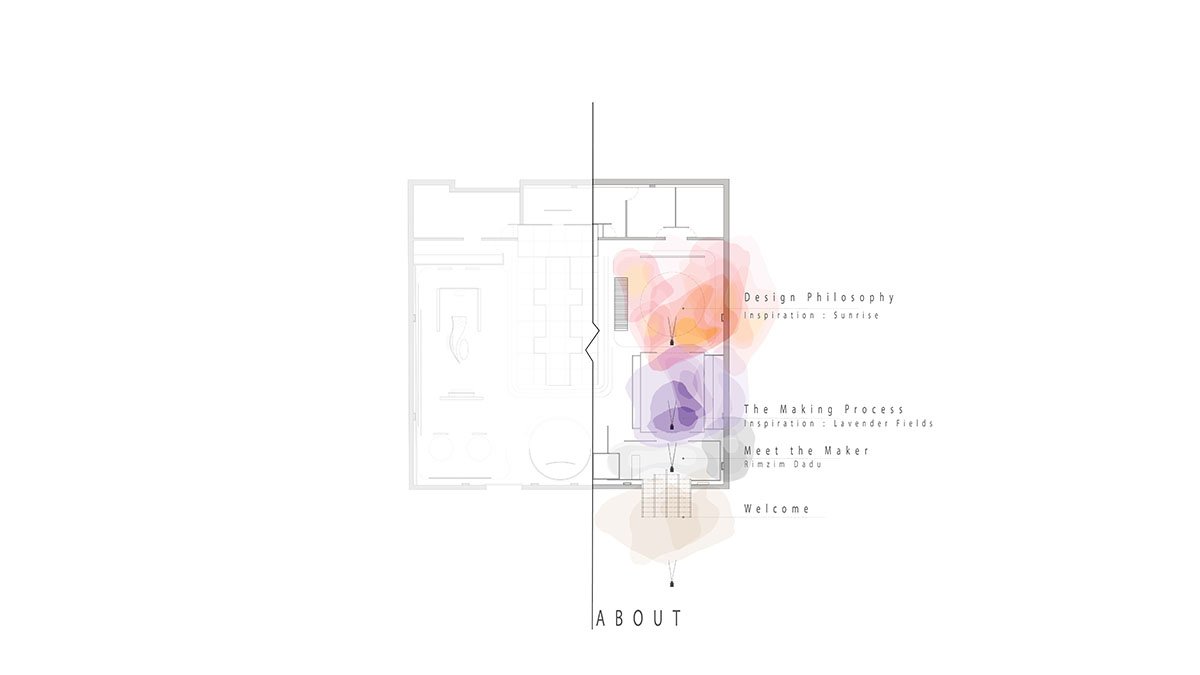 TheatreX, About section
TheatreX, Event section
TheatreX, shop
Aarushi Kalra is currently working as a Creative Director at I'mX - an experimental wing of I'm The Centre for Applied Arts in India.
All images & videos © Aarushi Kalra
> via Aarushi Kalra