MAD's tent-like Yabuli Entrepreneurs' Congress Center' nears completion in Northeastern China
The new 'Yabuli Entrepreneurs' Congress Center' designed by MAD Architects is nearing completion in the snow-covered mountains of Northeastern China.
Released with latest photographs, the project features an undulating, curved roof that becomes part of the landscape.
Commissioned in 2017 by the Yabuli China Entrepreneurs Forum (Yabuli CEF), one of China's most influential business organizations, the organization collaborated with MAD Architects to design a permanent venue for their annual summits.
The new building would have been a landmark "which could carry their members' entrepreneurial spirit." November 18th to 20th saw the venue's opening ceremony and its first event, the Yabuli CEF's 20th annual conference, attended by over 600 entrepreneurs.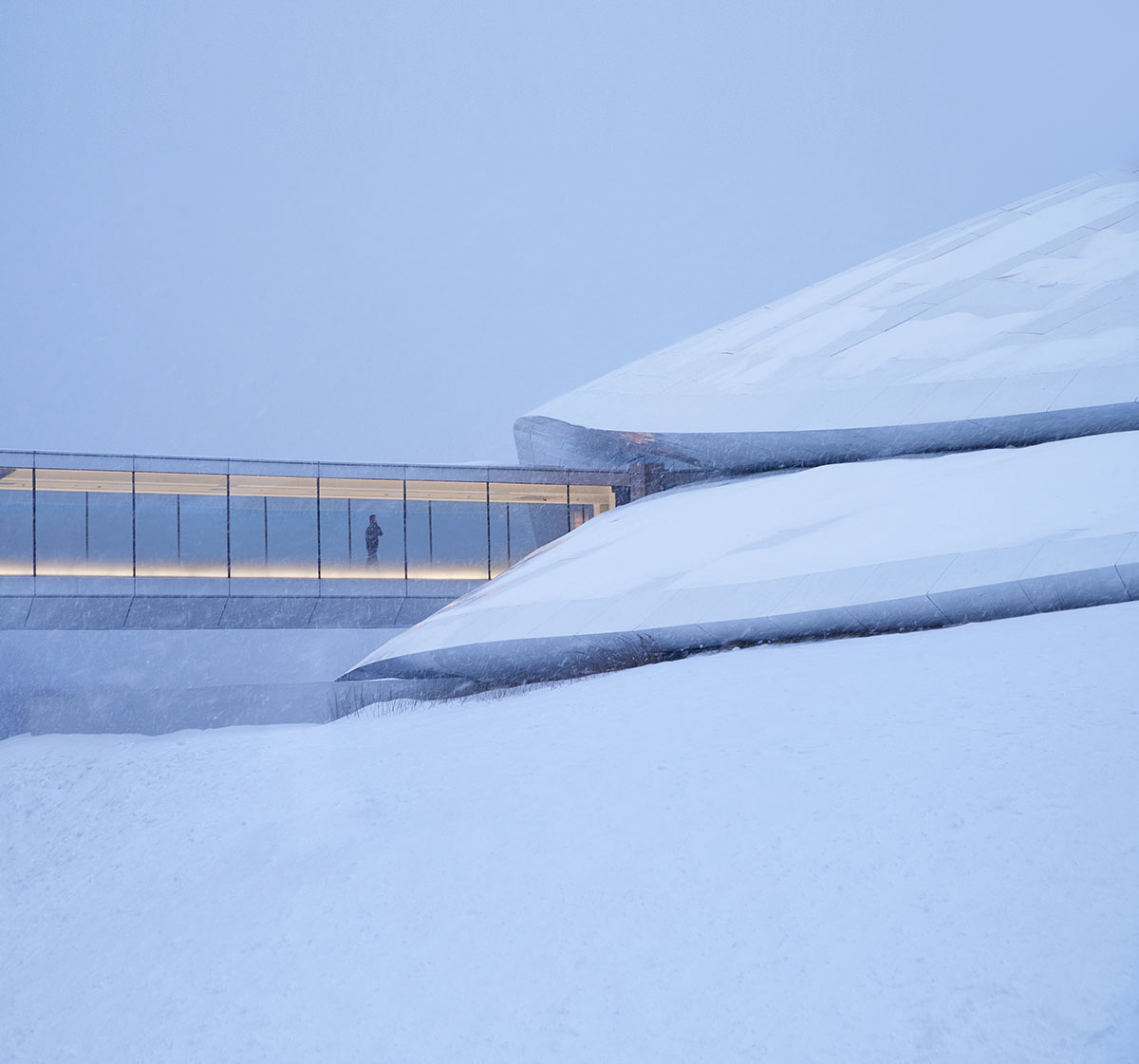 Image © Agovision
MAD envisioned a building embedded in the mountain forest, a place of strong vitality and creativity to embody the entrepreneurs' boldness and wisdom.
The 16,000-square-metre building is nestled among Yabuli's mountainous terrain, MAD's scheme "evokes the concept of a tent sitting at the foot of a mountain, with its soft, curving, silver-white rooftop echoing the snow-capped hills surrounding it."
Image © creatAR images
The building comprises spaces for large-scale conferences, alongside an exhibition hall, meeting rooms, and a television hall, creating a blend of mixed-use spaces that can accommodate conferences, corporate training, and other events.
During the day, natural light floods the internal spaces through a giant glass skylight. At night, the same skylight allows a warm glow to soar from the building into the cold mountain forest, evoking the image of a campfire around which entrepreneurs share ideas, thoughts, and stories.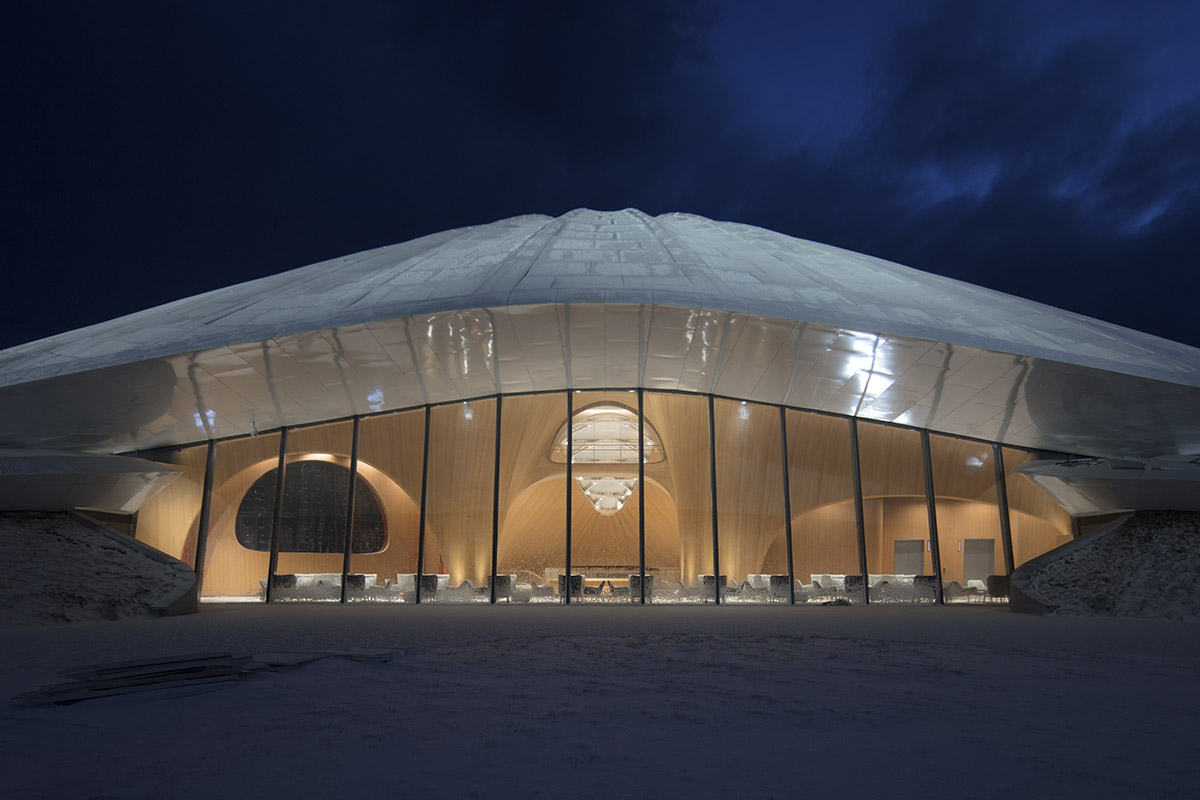 Image © ArchExist
Inside, MAD uses a blend of wooden walls and natural light to create a warm, soft atmosphere, while an outdoor public plaza and glass walkway allow users to marvel and be inspired by the connection between architecture and nature.
The venue is also open to the public, with the exhibition hall serving as a valuable tool for showcasing and exploring Chinese entrepreneurship.
Image © ArchExist
Reflecting on the project, the President of the Yabuli CEF said, "After over forty years of the 'reform and opening-up policy', Yabuli Entrepreneurs' Congress Center is now a spiritual sanctuary that Chinese entrepreneurs are and will be in awe of."
Image © Agovision
Image © ArchExist
Image © Agovision
Image © Agovision
Image © Agovision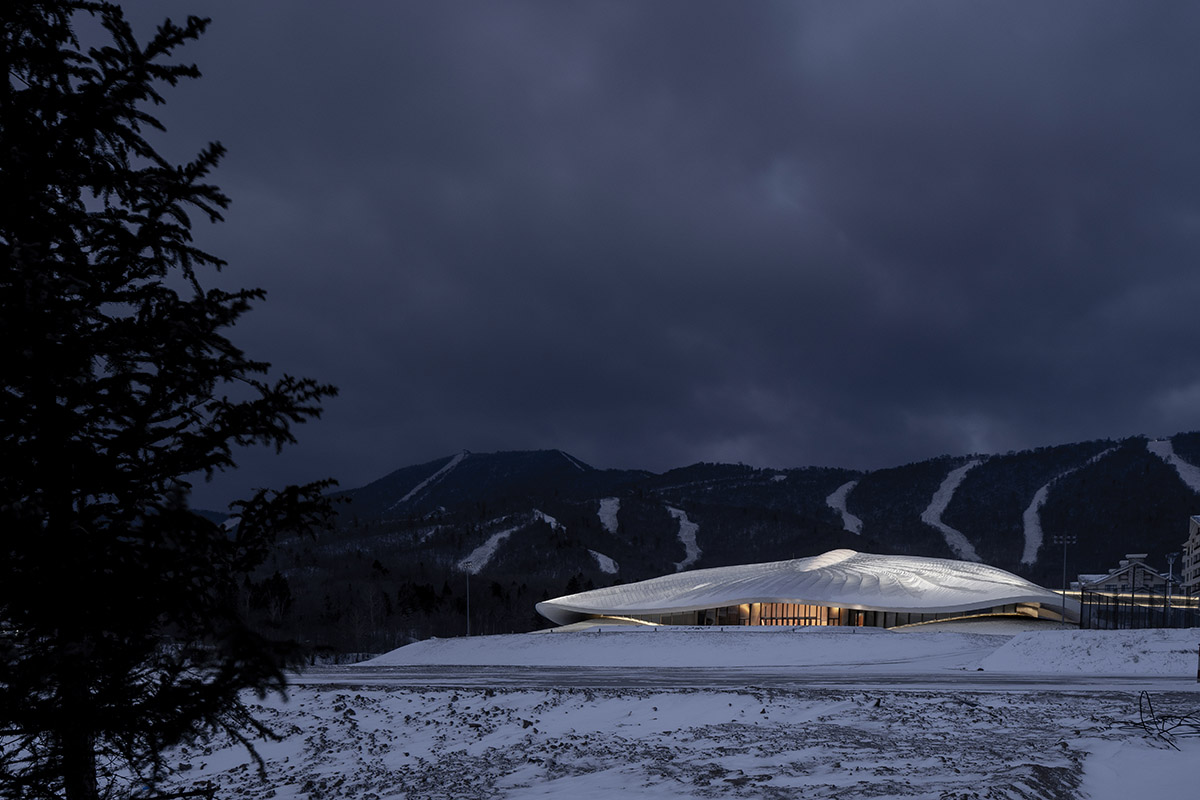 Image © ArchExist
Image © Agovision
Image © ArchExist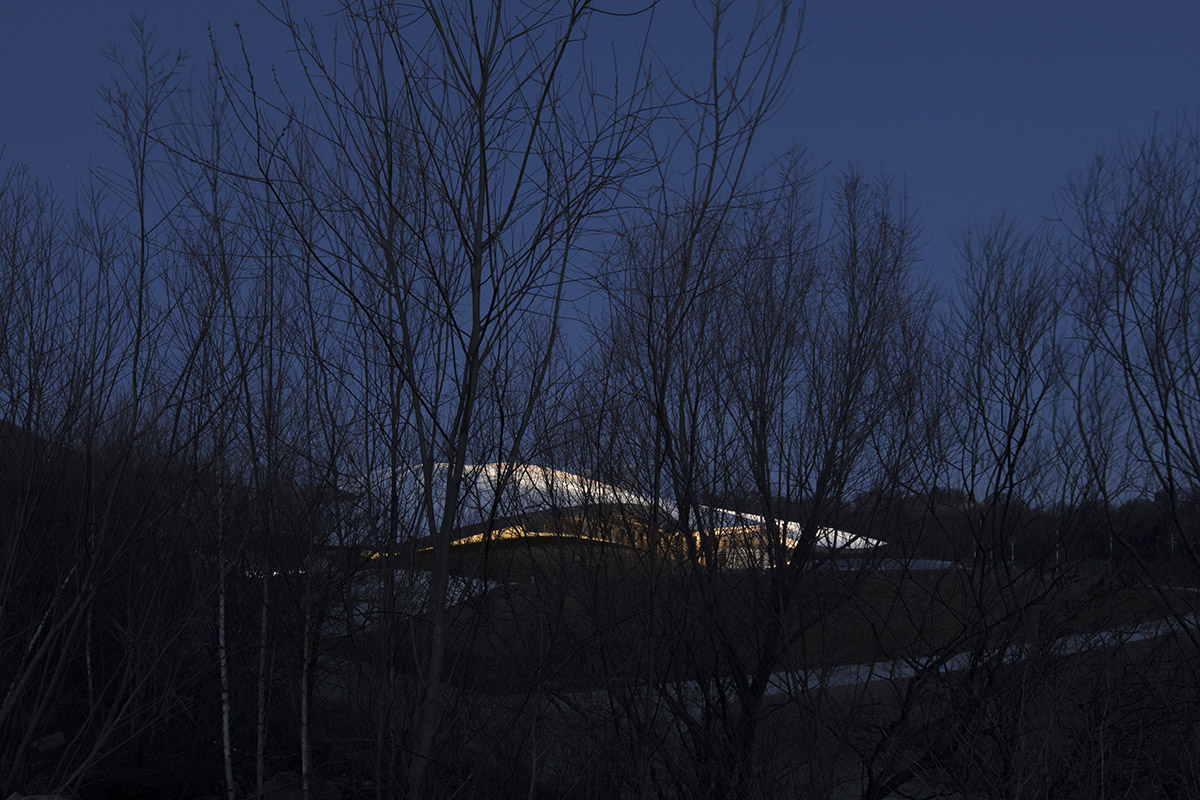 Image © ArchExist
Project facts
Project name: Yabuli Entrepreneurs' Congress Center
Location: Yabuli, China
Date: 2017-2020
Site Area: 22,000 sqm
Building Area: 16,198 sqm
Building Height: 23.3 m
Principal Partners in Charge: Ma Yansong, Dang Qun, Yosuke Hayano
Associate Partners in Charge: Liu Huiying, Tiffany Dahlen
Design Team: Li Guangchong, Sun Shouquan, Deng Wei, Song Chi, Zhang Xiaomei, Huai Wei, Zhao Meng, Wang Shuobin, Zhang Yanru, Yuki Ishigami, Xiao Ying, Tian Jin
Client: China Entrepreneur Forum
Executive Architects: China Architecture Design & Research Group
Façade Consultant: RFR Shanghai, Kighton Façade Consultant
Landscape Architects: BJF International Design
Interior Design Consultant: Shanghai Xian Dai Architectural Decoration & Landscape Design Research Institute Co., Ltd.
Lighting Consultant: Brandston Partnership Inc.
Signage Consultant: Dongdao Creative Branding Group
Acoustics Consultant: Beijing Tsinghua Tongheng Urban Planning & Design Institute
LEED Consultant: AECOM Beijing
Top image © Agovision
> via MAD