Sam Jacob Studio designs Christmas tree with modular tree-like pyramids in London's King's Cross
Sam Jacob Studio has designed a Christmas tree raised on a platform that forms a series of modular tree-like pyramids in London's King's Cross.
Named the Electric Nemeton, a new installation for Granary Square was designed to mark the significance of public space in the coronavirus period - the installation also addresses to social distancing measures.
Raised on 4 meter above the ground on metal column-trunks, people can stand and walk under the mini trees and the platform, while the tree-like pyramids give a sensorial effect when they are lighted up at night.
Merging "a fairy-tale forest with modern architecture", the installation - reaching at 36 feet (11 meters) height - takes cues from the origins of the Christmas tree tradition: the ancient forest and the symbolism of the midwinter tree.
Commissioned by King's Cross Central Limited Partnership, the design was realized in collaboration with engineering firm AKTII, lighting design firm DHA Designs, and Jamps Studio for fabrication.
Sam Jacob reimagined geometry, colour and light as an abstracted forest grove. The Electric Nemeton takes inspiration from the traditions of merging architecture and nature around the winter solstice - from the palm leaves used in ancient Egypt and by Romans as Saturnalia decorations to the druidic use of mistletoe and fir trees we bring into our homes.
In the Electric Nemeton, "the trees become a kind of architecture themselves, but also architecture with forest-like qualities," said Sam Jacob.
"Part tree, part spaceframe, it creates a space to walk through, a stage for social life and a sculptural object in Granary Square," he added.
Jacob used timber sections to construct the tree-structure, with stretched coloured net panels forming its canopy. By using lighting effects, they accentuate the structure's translucent qualities.
The studio used simple materials such as scaffold net, timber joists, galvanised steel, which expose the construction process while their layering creates something more magical.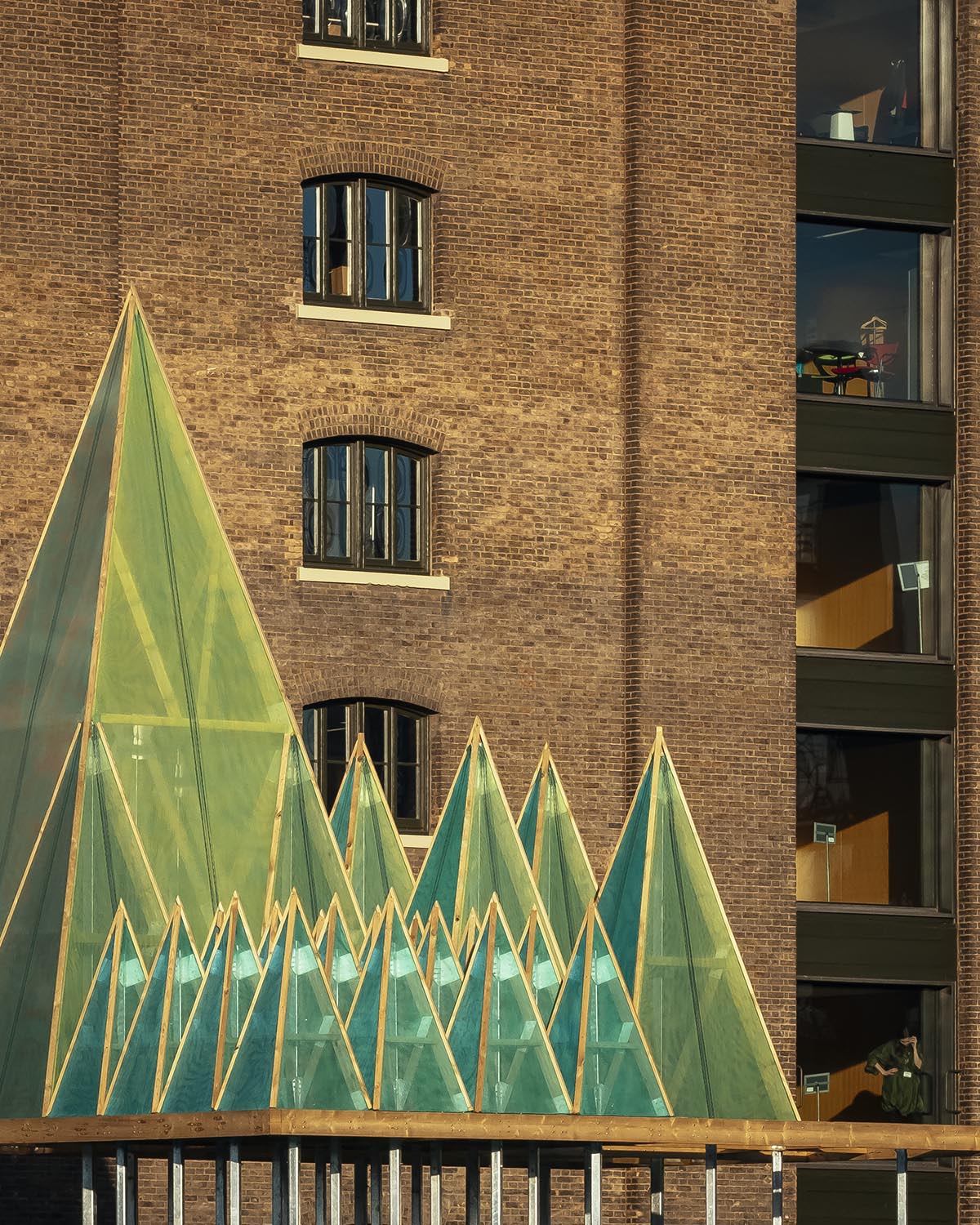 "As you move around, the structure is sometimes more see through, sometimes more solid. Its colours fade and bleed from one to another," Jacob continued.
The installation is elevated fro the ground but it features structurally expressive roof and it creates a space for things to happen underneath.
"Borrowing from the great engineered sheds of Kings Cross and St Pancras stations nearby, the big roof is a social gesture," according to Sam Jacob.
"Like all winter tree traditions whose symbolism is intended to ward off the darkness and act as a gesture of hope for the return of the sun, the Electric Nemeton also expresses an idea of hope for the return of our social and public lives."
Axonometric drawing
Plan
Sam Jacob Studio was established in 2014 by Sam Jacob and the studio has quickly gained a reputation as a progressive architecture and design practice creating idiosyncratic and striking projects underwritten with intelligent thinking.
Sam Jacob previously suspended a cinematic mirrored cube to rethink our plastic waste system in London Design Festival 2019. He also designed a layered mini library to his micro-home for car brand MINI.
All images © Jim Stephenson
All drawings © Sam Jacob Studio
> via Sam Jacob Studio