Chabahar Free zone Organization Headquarter By Karand Architecture Group
Located in an unbuilt development area near Chabahar, a free zone port city in the south-east of Iran on the shore of the Gulf of Oman, the site has been chosen by the client, Chabahar free zone organization. Considering Chabahar's climate as hot humid weather in the summer and warm weather in the winter- and its unique nature and vernacular architecture, they were aiming for a contextually appropriate and sustainable development model that could be used as an example for the city development.
As the most distinctive characteristic of Chabahar is its diverse character of the ground – in comparison to the plain sky, interacting with the context-ground became the main design focus. The context in both meaning: objective and general. Planning the project, the Karand Group considers "ground as an important architecture element". In order to provide thermal comfort (control direct exposure to sun and allow natural ventilation and daylight), the ground - a layer of concrete and soil- lifted extended and perforated to form a shelter to allow the underlying offices. The rest facades remained open to allow natural ventilation. Surrounded by arid lands, the headquarter building will stand out like an oasis.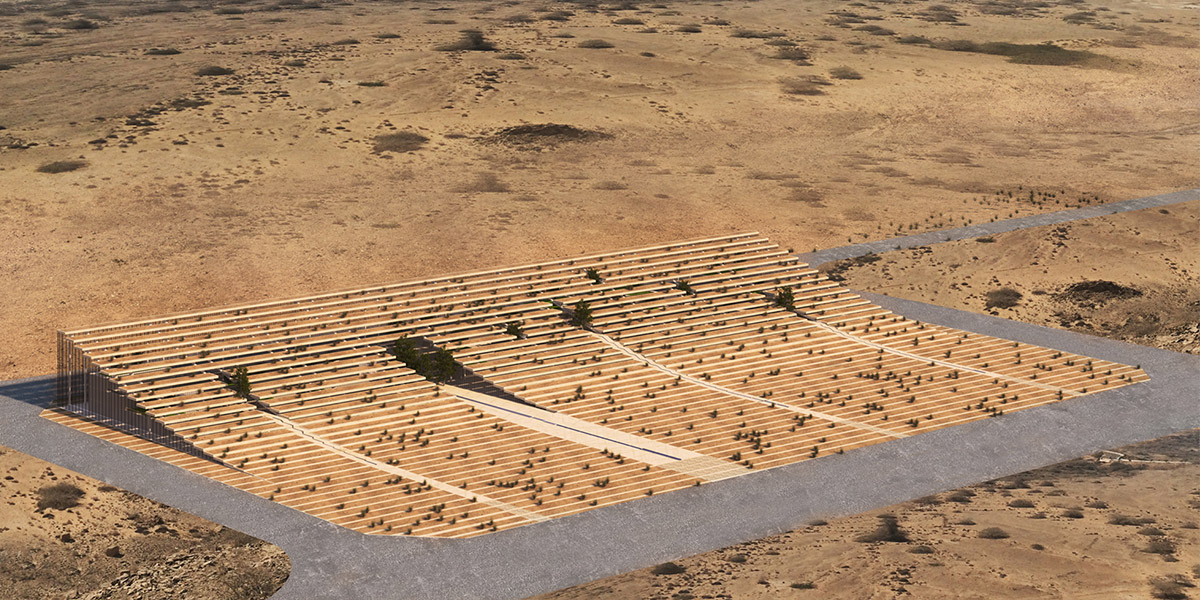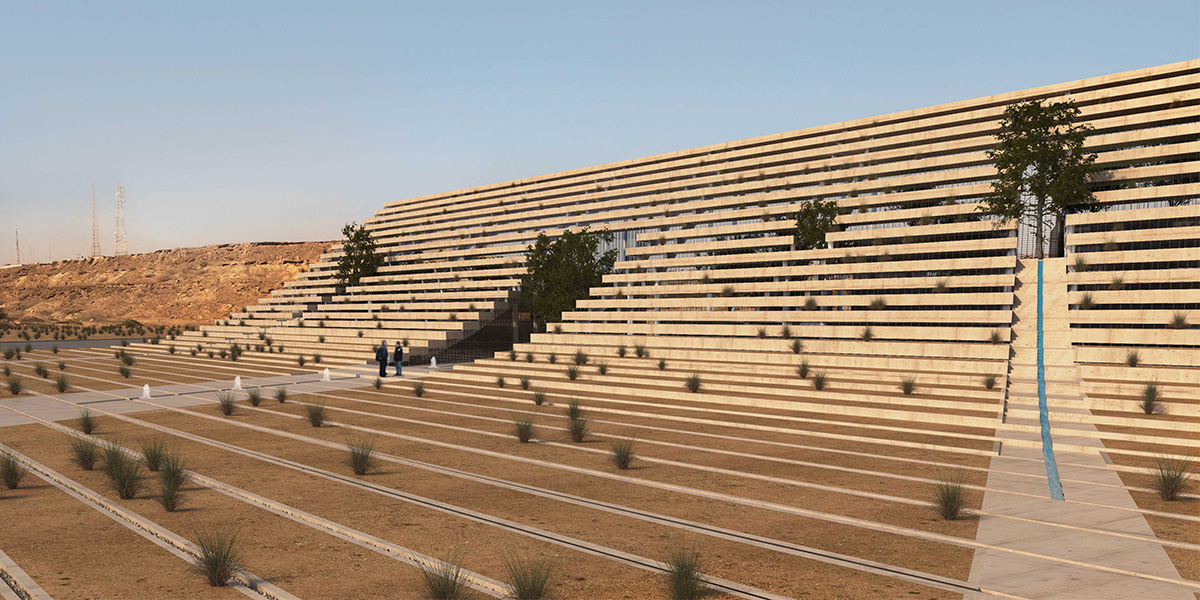 The proposal seeks to create two completely different experiences: the exterior is fully contextual and has emerged out of the local site conditions, reflecting the harsh nature. The interior, on the other hand, is so flexible and dynamic and includes diverse layouts of glass office boxes, following site shapes, with a green layer on the top. The closed boxes will be used as formal offices while the green space will be allocated to informal offices and circulation. Incorporating green space as a garden and working area, they were looking for an alternative to typically insular headquarters, making the office a place to communicate.
On the other hand, the chosen strategy is led to a horizontal arrangement instead of a vertical. In a site considerably bigger than the program (the site area: 35000 square meters, the program: 20000 square meters, the height rules: 3-8 levels, footprint: 2500-6500), arranging the program vertically would leave the major part of the site empty and undecided. In horizontal order, it is possible to provide various entrances, so divided potentially public spaces - sports hall, amphitheater, library, and restaurant- can be used in non-official hours by the public. As the function of the most adjacent lands will be hotels, the roof landscape could be used as a public space in the future, offering panoramic views of the ocean.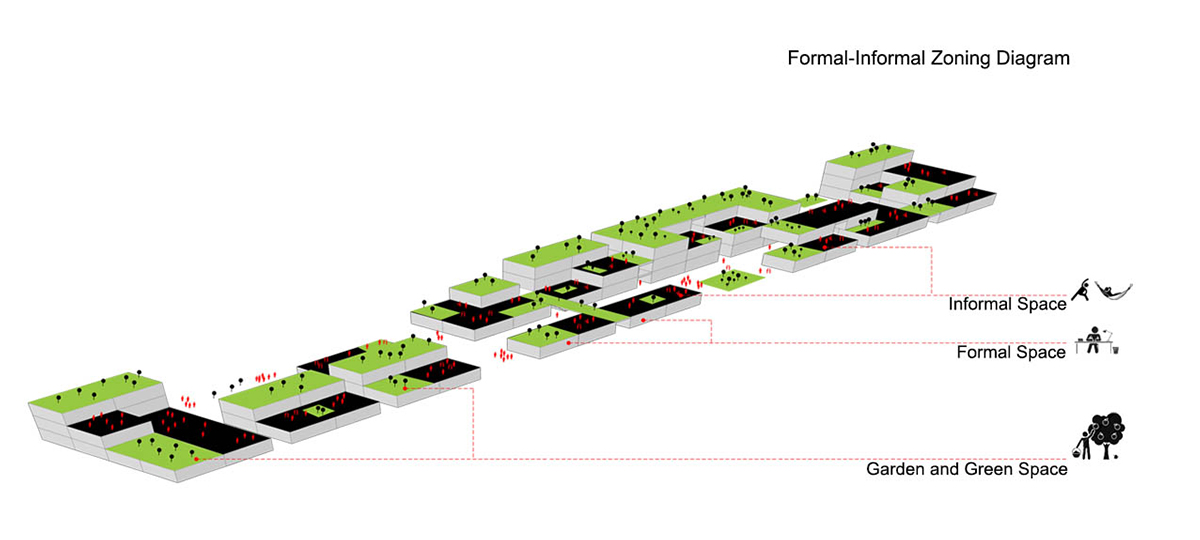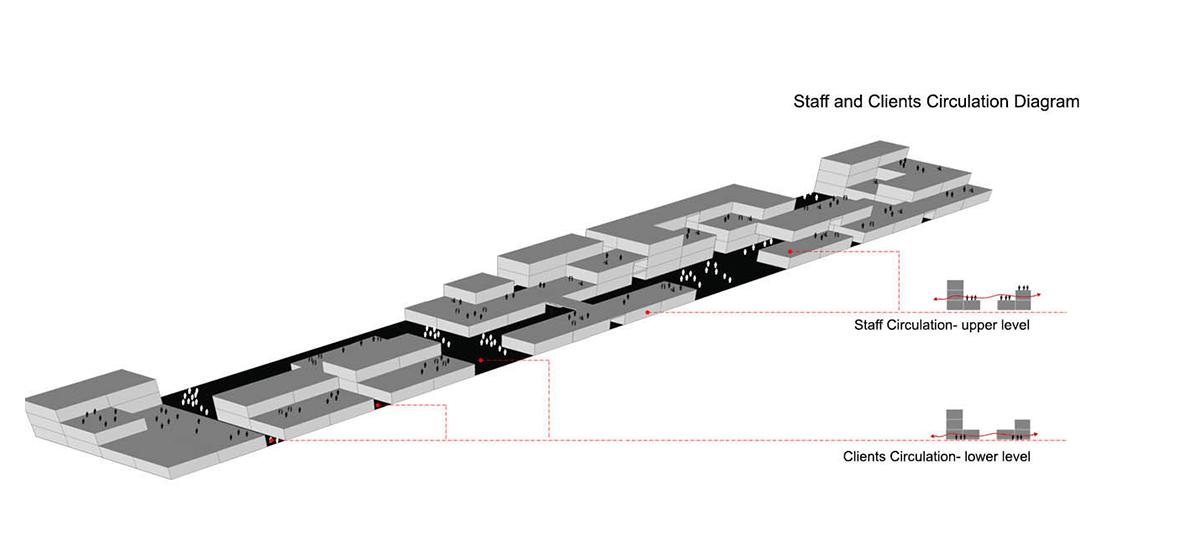 Project Facts
Location: Chabahar, Iran
Area: 20000 m2
Project Year: 2017
Architects: Ali Shariatic, Zahra Sarbandi (Karand Architecture Group)
Design Team: Yasser Rahmanian, Homeira Asgari
3D Visualization: Saeed Fahimpour
All images © KarandGroup
> via KarandGroup