Sponsored Content
Shelter: a new curated global streaming platform for architecture, design, lifestyle, outdoor living
Shelter has been launched as a new curated global streaming platform for architecture, design, lifestyle and outdoor living content.
Launched on July 31, a new streaming global streaming service, named Shelter, brings together quality films, television series and the exclusive Shelter Originals: Inspired Architecture series.
The innovative new platform has partnered with global magazines Dwell and Green Magazine among others, to host and present premium video content from these distinctive international brands.
"Design is at the centre of our lives – from our homes and environment, to our aspirations, our holidays and our escapes, and there are so many films and TV series which explore our relationship to our space," said Shelter creator Dustin Clare.
"With a passionate audience for this genre Shelter was created as the premium home of quality curated video content," Clare added.
Shelter offers a 14-day free trial to its users and in the following months, World Architecture Community readers will get an exclusive 50% discount in the first 3 months in their subscription to Shelter. World Architecture Community readers can use this promo code WORLDARCHCOM at sign up. Offer expires on November 30, 2020. Go to Shelter's website and sign up to the service.
"The reality of lockdown has made us re-examine our connection to home, our immediate environment, and the world around us. Through Shelter, we invite you to explore, be inspired, be entertained and engrossed, and most of all, be engaged with the world of architecture, design, lifestyle and outdoor living."
"With a genuine focus on sustainability content on our platform we have partnered with Eden Reforestation Projects, a non-profit org established to reduce poverty and restore healthy forests in countries devastated by deforestation."
"Each month a tree will be planted to represent every subscriber, with a view to us and each of our subscribers planting many thousands of trees where they are most needed," he said.
This interactive cross-platform approach to content marks a new standard for streaming platforms, delivering a range of fascinating "must-watch" options from feature length films to television series, snackable short series and premium magazine content.
The carousel encompasses stories of inspiring design and architecture, a deep dive into sustainability, history, and real life aspirational stories, and features famous faces including Charlie Luxton, Dermot Bannon, Tim Ross, Sarah Beeney and more.
One of Shelter's exclusive offerings is its Inspired Architecture Series. These 6 x 15 minute episodes commissioned by Shelter explore six uniquely Australian structures including JR's Hut in Gundagai, Permanent Camping in Mudgee and Hart House at Great Mackerel Beach.
All in their own way inspirational and isolated, the series explores the narrative of the buildings and their creators, and draws the viewer into an active exploration of modern architecture and design. Each episode includes interviews with the Architects and their commissioning clients, cinematically shot and crafted by award-winning filmmaker Jim Lounsbury (The Meaning of Vanlife, The Infinite Lens).
Shelter's most recent commission Architecture on the Edge a 6 x 15 minute series revealing six unique buildings that showcase the modern architecture movement in Chile, produced by Kliwadenko Novas Productions. Focusing on some of the country's most engaging and celebrated buildings, Architecture on the Edge explores how Chilean architecture revels in pushing design to the very edge, and includes Pritzker prize-winning architecture and architects from Chile. With principal photography having now commenced in Chile, South America, Architecture on the Edge is a Shelter Original series, and will premiere exclusively on Shelter in early 2021.
Curated from Australia, New Zealand, Europe, United Kingdom, Ireland, Canada, United States and South America, SHELTER features more than 200 hours of content with new content added every month. Highlights available include:
- Festival favourite Tadao Ando: From Emptiness to Infinity (2013) pays homage to one of the world's most renowned architects: the Japanese 'Master of Minimalism' Tadao Ando. The film introduces viewers to his famous buildings and offers an exclusive look into his work process, inspiration and motivations.
- Winner of Best Documentary at the Atlas Awards International Film Festival, Don Freeman's Art House (2016) is a film which thoughtfully explores the homes of eleven creatives and examines the integration of their craft with their living spaces including the labyrinthine sculptural home @eliphante.village, hand crafted by Michael Kahn and Leda Livant over the 28 year period of their relationship, beginning in 1979.
- Winner of the Green Planet Award at the Rhode Island International Film Festival Tiny (2013) is a film about dreaming big and living small. Many are now choosing to focus on flexibility, financial freedom, and quality of life over quantity of space. These self-proclaimed "Tiny Housers" live in homes smaller than the average parking space, often built on wheels to bypass building codes and zoning laws. Tiny takes us inside six of these homes stripped to their essentials, exploring the owners' stories and the design innovations that make them work.
- The documentary film Do More With Less (Hacer Mucho Con Poco) (2017) explores the new wave of architecture being developed by contemporary Ecuadorian designers in South America, with creative new ways of existing in the post-financial crisis world.The film is an inspiring look at the future of architecture and the potential for an alternative economic model to exist - one characterized by social, economic and environmental awareness.
- Microtopia (2013) is a documentary that explores how architects, creatives and home owners are pushing the limits of portability, sustainability and minimalism in our dwellings. The film received a Hone of Tomorrow Special Mention @Cinemambiente Torino
- Strange and Familiar: Architecture on Fogo Island.(2014) In a rapidly urbanized world, what does the future hold for traditional rural societies? This is a film about Fogo Island, a small community off the coast of Newfoundland. As the island struggles to sustain its unique way of life in the face of a collapse of its cod fishing industry, architect Todd Saunders and social entrepreneur Zita Cobb's vision for positive change results in the designing and building of strikingly original architecture that will become a catalyst for social change.
- Harry Seidler: Modernist (2017), a retrospective celebration of the life and work of Australia's most controversial architect. Sixty years of work is showcased through sumptuous photography and interviews with leading architects from around the world.
- Ken Roche – The Quiet Architect (2017) is a feature documentary film that considers many of the key architectural questions through the 70 year career of Pritzker Prize winning Irish-American architect Kevin Roche, including the relationship between architects and the public they serve. Still working at age 94, Kevin Roche is an enigma, a man with no interest in fame who refuses retirement and continually looks to the future regardless of age.
- The Edge of the Possible (1998) charts the dramatic course of the creation of a masterpiece and includes a rare interview with Jørn Utzon as he reflects on his role in the compelling story of the conception and construction of the Sydney Opera House
- Feature film Gray Matters (2014) explores the fascinating life and complicated career of architect and designer Eileen Gray, whose uncompromising vision defined the practice of modernism in decoration, design and architecture. Today, with her work commanding extraordinary prices and attention, her legacy, like its creator, remains elusive, contested and compelling. Directed by Marco Orsini "Does justice to a life less ordinary." - Dwell Magazine @dwellmagazine
- Homo Sapiens (2016) is a film about the finiteness and fragility of human existence and the end of the industrial age, and what it means to be a human being. What will remain of our lives after we're gone? Empty spaces, ruins, cities increasingly overgrown with vegetation, crumbling asphalt: the areas we currently inhabit, though humanity has disappeared. "As gripping as any sci-fi thriller… If the spirit of Stanley Kubrick lives in any current film-maker, it is surely the Austrian director Nikolaus Geyrhalter." The Guardian Winner of the Wild Dreamer Awards for Best Documentary at the Subversive Festival Zagreb.
- Life Architecturally is an intimate documentary that follows internationally acclaimed husband and wife team, architect Robert McBride and interior designer Debbie Ryan, to discover what inspires their groundbreaking architectural concepts and designs
- Dream Build seasons 1 & 2 follows Australians who have been lucky enough to turn the dream of building their own home into a spectacular reality. Each owner shares their experience of throwing down ambitious briefs to their architect. The architect will discuss their process and how they rose to the challenge of giving their client not only the home but also the lifestyle of their dreams.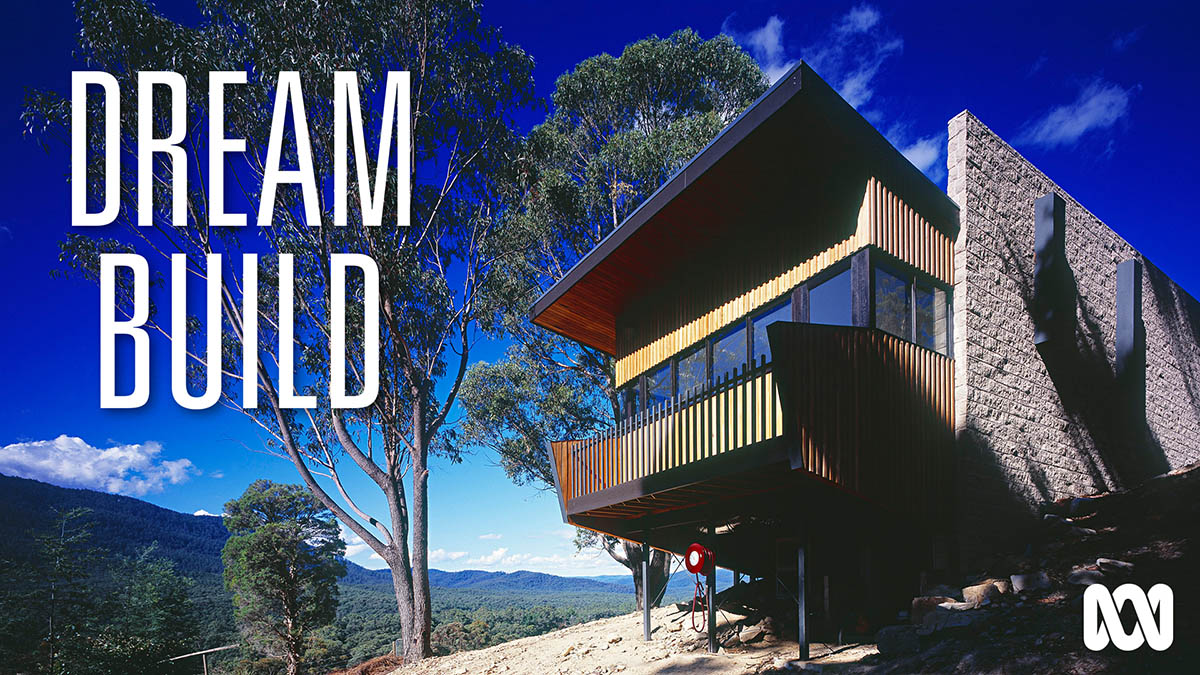 - TV series Charlie Luxton's Homes by the Sea follows architectural designer and television presenter @charlierluxton as he travels along Britain's stunning coastline in search of the most outstanding coastal architecture he can find.
- Winner of Best Feature Film at the Green Lens Environmental Film Festival Growing Cities is a film which explores the importance of such sustainable, locally grown agriculture in an urban setting. Filmmakers Dan Susman and Andrew Monbouquette speak to people who are challenging the way we grow and distribute food, one vacant city lot, rooftop garden, and backyard chicken coop at a time.
- Living the Change: Inspiring Stories for A Sustainable Future (2018) Inspiring stories of people pioneering change in order to live in a sustainable and regenerative way.
- Visual Acoustics (2008) Narrated by Dustin Hoffman and winner of the Audience Awards at Palm Springs and Austin Film Festivals, Visual Acoustics exploes the life and career of Julius Shulman, widely regarded as the greatest architectural photographer, whose images brought to light the architectural modernist movement. Shulman's work played a significant role in promoting the careers of legendary architects such as Frank Lloyd Wright and Frank Gehry.
- Herman's House (2012) 'What kind of house does a man who has been imprisoned in a six-foot-by-nine-foot cell for over 30 years dream of?' This film captures the remarkable creative journey and friendship of Herman Wallace, one of the Angola 3, and artist Jackie Sumell while examining the injustice of prolonged solitary confinement.
- The Art of Architecture (2019) Spend some time with some of the greatest works of architecture the world has ever seen, and find out how art has influenced the great designers of our time.
- Streets of Your Town (2015) with comedian, broadcaster and architecture enthusiast Tim Ross. A two-part series focusing on the aesthetics of our suburbs.
Shelter gives back
Shelter has partnered with Eden Reforestation Projects for every paid subscriber each month, Shelter plants a native tree through its certified not for profit reforestation partner, Eden Reforestation Projects, who reduce extreme poverty and restore healthy forests by employing local villagers to plant millions of trees every year in some of the most impoverished and environmentally devastated regions of the world.
World Architecture Community Exclusive Offer
Until November 30, 2020 World Architecture Community readers will get 50% off the first 3 months of a Shelter subscription by using promocode: WORLDARCHCOM at checkout. Please go to: www.shelter.stream.
More information can be found on Shelter's website. New content launched each month.
14 day free trial
Monthly subscription:
AUD $7.99
NZD $8.99
USD $5.99
EURO €4.99
GBP £4.99
Download the SHELTER APP for iOS and Android or watch online. Coming soon to Apple TV, Amazon Fire TV & Roku.
Sign up for your free 14 day trial at www.shelter.stream.
Follow Shelter on Instagram: @shelter.stream and Facebook: @shelter.
All images courtesy of Shelter.
> via Shelter