Call for proposals to 13th International Architecture Biennale of São Paulo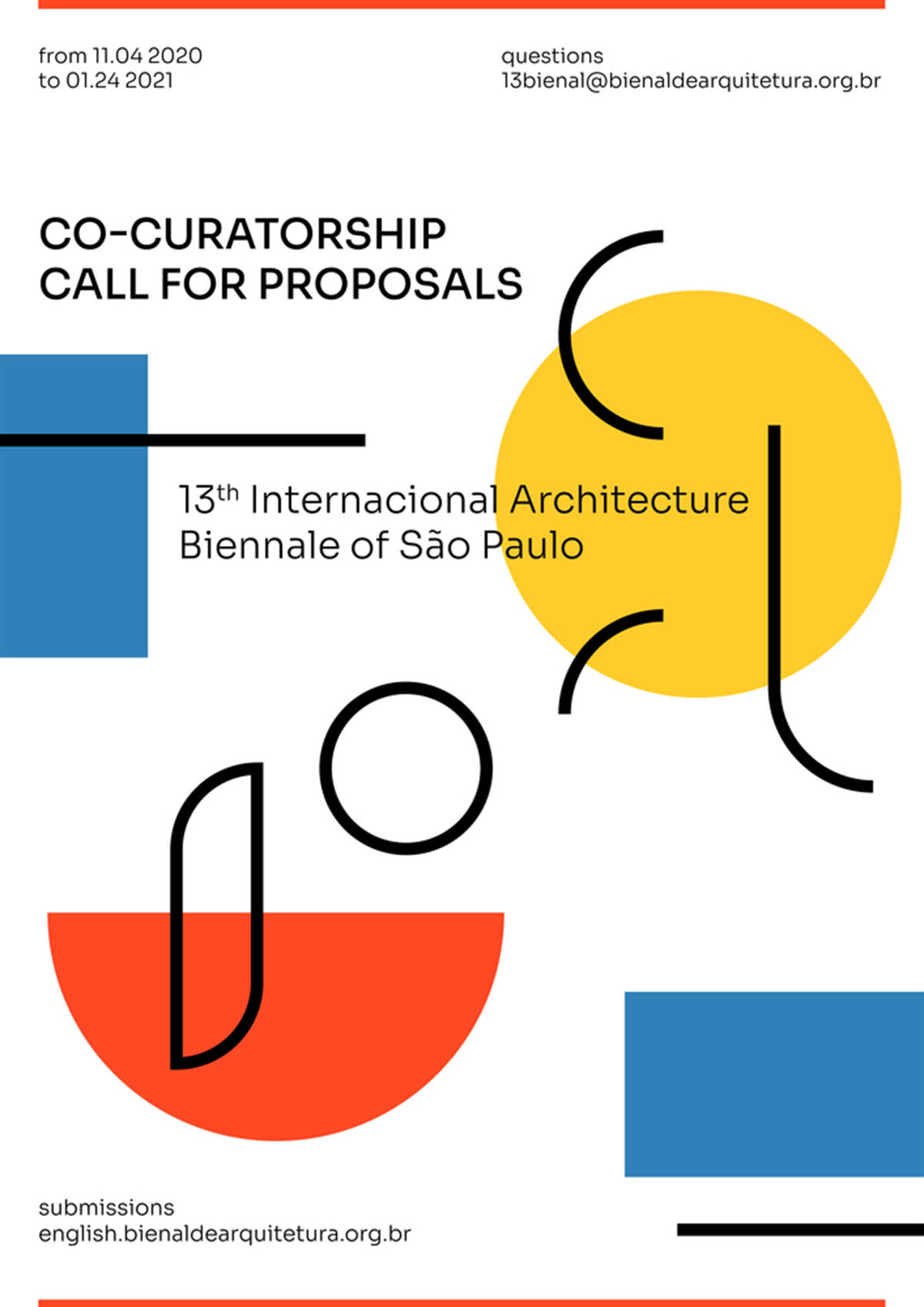 The 13th International Architecture Biennale of São Paulo has launched an open call under the theme of "Reconstruction", inviting participants to rethink social projects, processes, spaces and practices during the pandemic of COVID-19 and afterwards, based on five preliminary guiding axes that guide this event: democracy, bodies, information, memory and ecology.
The Brazilian Institute of Architects (IAB-SP) opens an official call to select a co-curatorship proposal for the 13th International Architecture Biennale of São Paulo, following the practice created for the previous event. The 13th edition will take place in the city of São Paulo from May to July 2022.
The proposal must formulate a curatorial outline based on a central issue and five preliminary guiding axes defined by the Organizing Committee.
The proposal must contain all documents requested in this call in Portuguese and English. All the elements requested must be sent in two files in PDF format with a maximum of 10mb each: one file must contain the Portuguese version and the other, the English version. Annexes (Annexes 2 or 3; 4; 5 and 6 can be downloaded from this page) must be filled out only in the Portuguese version.
Entries that do not follow this format or are unreadable for any reason will be disregarded by the Organizing Committee.
Proponents may be individuals or collectives from any nationality or country of residence, provided that the legal representative of the proposing team is a Brazilian citizen, formally appointed and resident in Brazil.
Deadline for registration: January 24th, 2021.
General information
No fee will be paid for registration.
Confirmation of receipt of proposals will be sent by email within three business days.
Questions and clarifications about the document must be sent only via e-mail: [email protected].
The cases of omission of this document will be decided by the Organizing Committee and the IABsp Board of Directors, in an ordinary meeting.
Annex 1
Terms Of Reference Of The 13th International Architecture Biennale Of São Paulo
The 13th edition of the International Architecture Biennale of São Paulo, which will take place in 2022, takes RECONSTRUCTION as its central issue. It starts with the idea of rebuilding, recasting and renewing the relationships of social groups with their domestic spaces, between citizens and public spaces and personal and professional plots, which happen on the confined spaces and in the collective use ones, during and after the COVID-19 pandemic. RECONSTRUCTION calls us to rethink problems and solutions in various aspects. In order to understand this matter, we defined preliminary guiding axes to lead the foundations of this national event. The point of Democracy (1) offers a critical reflection on how to guarantee and encourage political practices in urban spaces in a global context and in a country facing threats of not only financial recession, but also a democratic one. How can cities be transformed to more accessible, safe, welcoming, inviting places, but also be where contrasts and conflicts are latent, discussing questions about the presence of different social classes, races and genders. A critical reflection on these topics is proposed, and innovative solutions are stimulated in relation to democratic planning and management, based on experiences linked to the territory.
The axis Bodies (2) launched a discussion about the relationship between space and issues such as intersectionality, vulnerabilities and social policies. We suggest a reflection on how to guarantee collective practices in view of questions of public health, discrimination, violence and rights violations, in order to rethink how to guarantee access, coexistence and circulation of people. Besides, announces the urgency of guaranteeing specific programs for specific groups, such as children, youths, the elderly, bearers of special needs, especially in vulnerable territories during this crisis, expanding the debate on the vulnerabilities of bodies in the cities's flow. In relation to the architectural spaces, it is also proposed to reflect on the flexibility of domestic, professional and institutional spaces facing the challenge of ensuring diverse uses and collective health in the context of isolation and resumption of activities.
Understanding Memory (3) as a collective agent that confronts us during the strangeness of a new world and comforts us in relation to its permanence, but also as a process of permanent re-elaboration of this past in the present and that has the property of conserving or deleting certain aspects, the challenge is to understand how to use the pre-existences to reinvent your daily life. This project also aims to reflect on how architecture and urban infrastructure can collaborate for the construction of a collective memory that becomes more compliant or processes of (re)occupation, (re) construction and (re)significance of the cities.
In this sense, Information (4) opens horizons for the debate on urban and social policies based on a theme that deals all aspects of contemporary life, but it is also restricted to specialists. We propose to shed light on the questions of privacy and protection of data, as experiments with models of governance of public and private data not managed by two bodies of daily practices, stimulating or debating collaborative cartography, facial recognition, algorithmic discrimination, internet of things (IoT) and of urban data science in a perspective of governance of cities.
We close the axes of this Biennale with the question of Ecology (5), fundamental for the balance between urban and natural areas, the discussion on ecology proposes a reflection on a planning of cities that is attentive to environmental balance and to the development of productive activities, aimed at the quality of life of its population, taking into account climate change, low carbon cities, urban agriculture and food security.
As a basis for discussion, IABsp organized three preparatory debates on critic, expography and national context, available on the IABsp Youtube channel and on the 13th Biennale website.
For more information, please visit The 13th International Architecture Biennale of São Paulo website or send your questions at: [email protected].
Detailed brief can be downloaded from here.
Top image courtesy of The 13th International Architecture Biennale of São Paulo
> via The 13th International Architecture Biennale of São Paulo