Virtual Workshop Series 1.0: 'Critical Appreciation of a Structure'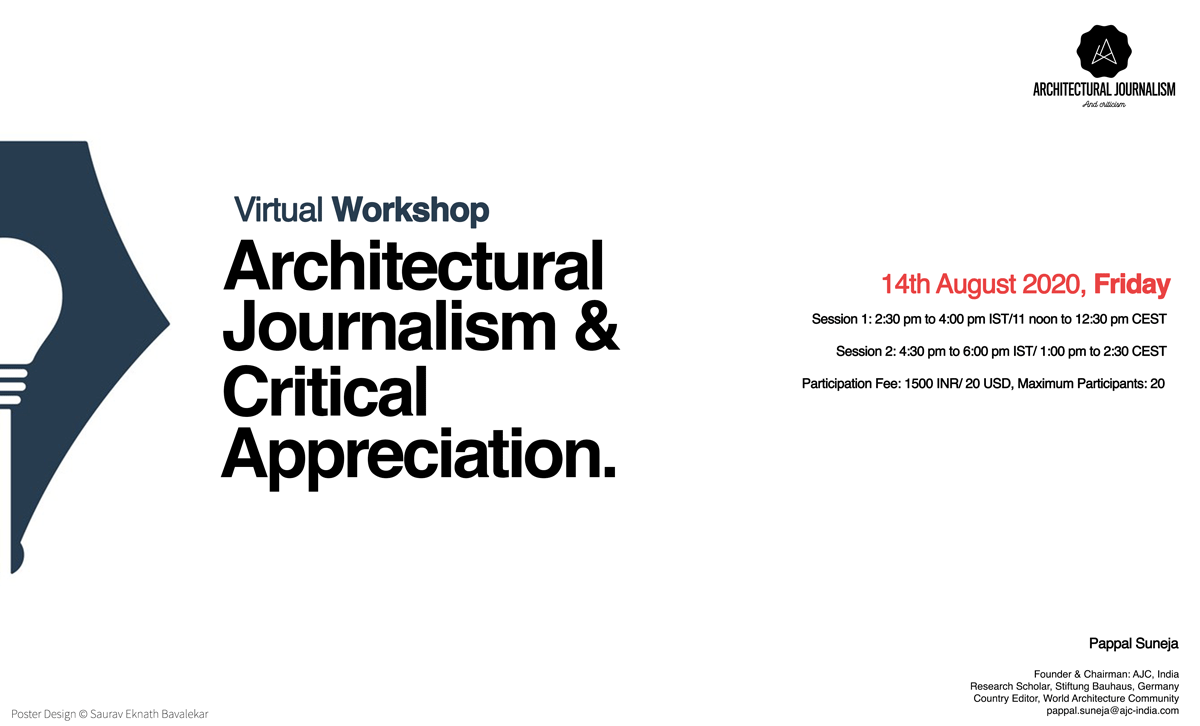 In order to spread awareness about the Subject of Architectural Journalism & Critical Appreciation in India, this initiative of conducting architectural journalism workshops was started by the curator-architect Pappal Suneja in November 2016. By far, twenty workshops on this subject have been conducted by the architect in diverse architecture colleges across the nation. Taking ahead the legacy, a Virtual Workshop (Themed: Critical Appreciation of a Structure) is being organised on 14th August 2020, Friday. Here is the overview brief, schedule, and details for the same.
Overview Brief:
The workshop shall commence with an Introduction of Critical Appreciation of Architecture in India, followed by a discussion on the scope and future of the field in India. It will follow up with an explanation of the Interpretation of Design, its importance and resourcefulness in the field of Architecture. An emphasis shall be laid on the application of an Architectural Vocabulary, as it enhances one's presentation skills as well as allows the client/jury to understand the concept of the design better. The session includes on the spot doodling to be done on a particular theme using architectural jargons.
Further, the concept of Creative Writing will be taken up with specific examples to explain the methods of critical appreciation. The session is inclusive of basic cliché to be followed for Article writing, Essay writing, etc. The participants shall be familiarized with the novelty of Blog writing and how it will enable their written content to reach the masses globally. Architectural Photography and its importance shall also be briefly discussed within the session, enabling the participants to understand the importance of Photography as a means of Critical Appreciation in Architecture & Design. This session will be concluded on a rather interactive note with Design Jamboree, allowing the students to understand the art of Expressionism by means of this fun and immersive game that involves sketching, or enacting about a random architect, his building or philosophy.
Schedule
Session 1: Overview and Presentation
(2:30 pm to 4:00 pm IST/11 noon to 12:30 pm CEST)
Design Jamboree
Session 2: Task & Discussion (Critical Appreciation of a Structure)
(4:30 pm to 6:00 pm IST/ 1:00 pm to 2:30 CEST)
Highlights
All participants shall receive E-Certificates, and two best task performers will receive AJC Publications and Bauhaus Booklets along with the Certificate of Appreciation. The best assignments shall also be published.
Other Details
Participation Fee is 1500 INR/ 20 USD, Total Participants: 20 (Open to All)
Target Audience: Students of Architecture & Design, Academicians, Professionals.
Candidates Attending the Workshop should have a few Blank A4 Sheets along with Coloured Pencils, Markers etc.
To enter: fill the Google form and follow the link to register for the Workshop. International Participants can write at [email protected] to know the registration details.
Head Image: Event poster © Saurav Bavalekar