Reparametrize Studio proposes twisted residential tower in Dubai
Damascus-based design, research and consultancy firm Reparametrize Studio has unveiled proposal for a new, luxury residential tower in Dubai.
Called Jasmine Tower, the studio applied a dynamic optimization studies to form a spine inspired by jasmine veins branching, that cling to the interfaces, enabling smart automation of the flats and a controlling system of the tower.
"The oriented folds gives each flat it's unique experience by a variety of eye catching views throughout the city of Dubai," said Reparametrize Studio.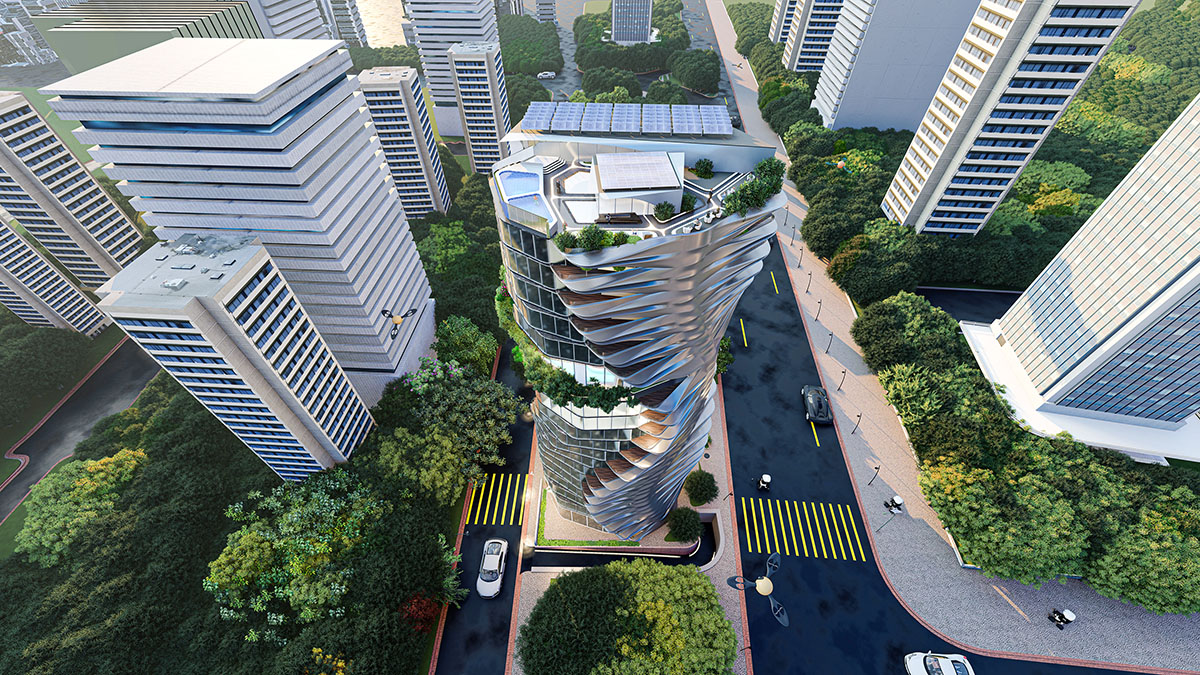 Housing a series of integrated dramatic spaces, the unique oriented flats by the dynamism rotation of the core spine, formalizing the two storey Spa through high folds, up to the city view open pool and amenities, and down to the tower's reception lobby, and outdoor spaces.
Rotating as it rises forming 64 residential flats generated from distinctive spiked outline to create their floor-plates; the corners of the slabs are shown overhanging planted balconies on the levels below.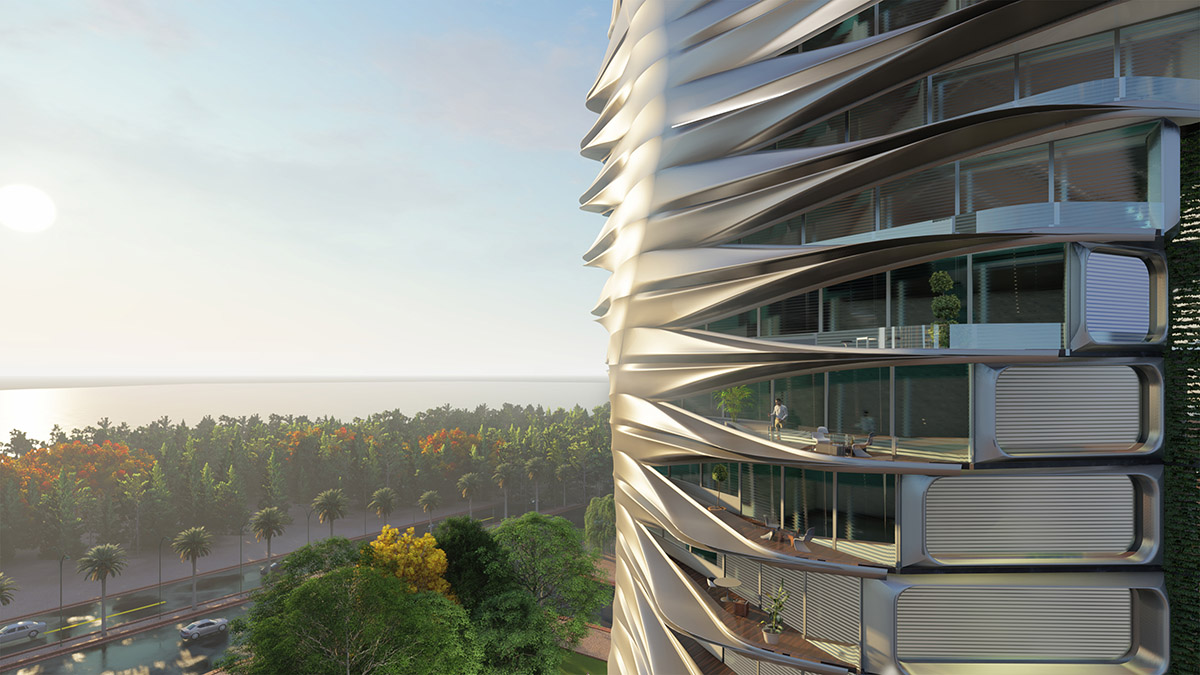 "Reparametrize Studio tries to challenge the traditional ideas in design and architecture and push their boundaries to coexist in the new technological era based on modern scientific principles," added Reparametrize Studio.
Jasmine Tower forms a part of almost 38,000 square meters and rises 60 meters high with 22 floors above, and 3 floors under the ground. The bold intensive effect of the design is creating a structural smart supporting system considering artificial intelligence home automation systems that achieves ecological efficiency.
The floors serve to reduce solar gain while adding a sense of dynamism and lowering energy consumption also using Kerto LVL (Laminated veneer lumber) wood that allows open interior spaces and lower carbon foot print.
The building explores the possibilities of using smart technologies to generate power, using piezoelectric technology within the slabs supported by the main bold spine to generate energy from vibrant frequencies of residents movements and activities, as well as the performance of solar power generation in cooperation of insulated Low-E Double glass façades and automated shutters that seeks to comfortable thermal performance. This in term lowers the general energy consumption for such buildings, giving a new vision of smart residential design.
"Smart buildings will address the challenges of open architecture design, Therefore we worked on a design of core spine that empowers the open interfaces levels towards an automated luxuries experience," the studio added.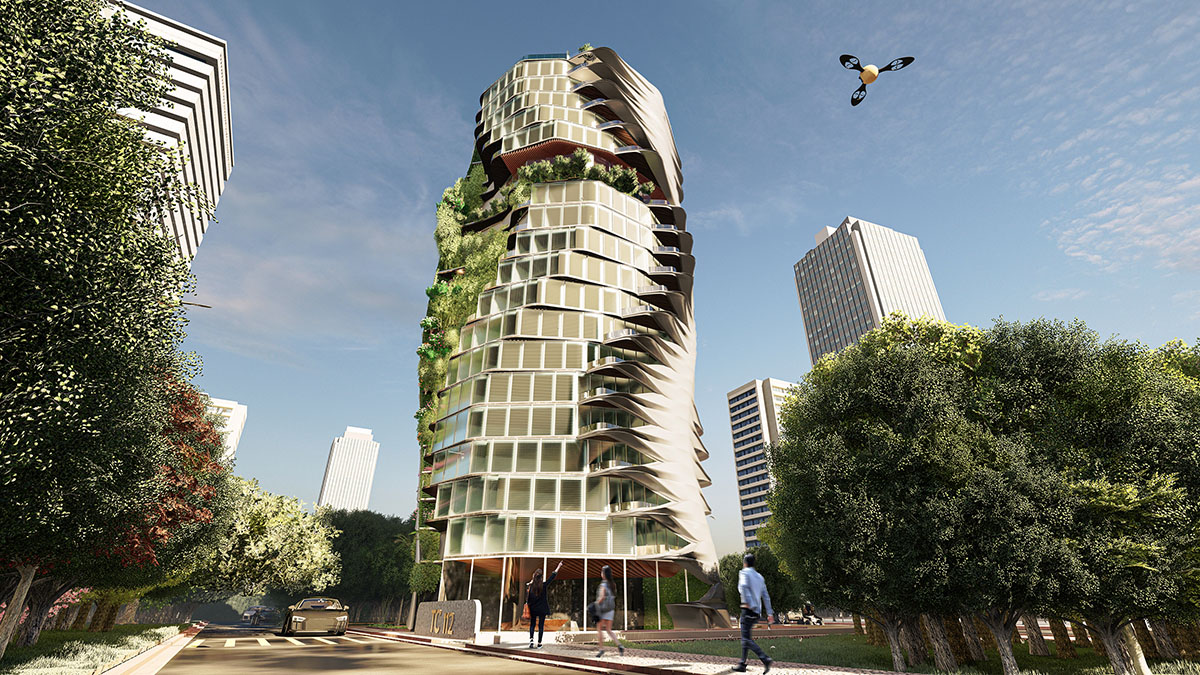 Jasmine tower core spine is enhanced by a high performance cabling system, which connects each level to maximize efficiency, achieving a luxuries experience by automation solutions for lightening, thermal and acoustic comfort.
Aiming to an integral element of the Future Smart City Life redevelopment that Reparametrize Studio have been tackling for a while, to create a new civic, residential luxuries experience, maintaining safety, security and enabling connectivity using wireless mobility, to be connected to the city while sitting at home.
Reparametrize Studio is a young diverse group of architects, researchers and experts coming from different parts of the world. The studio connected through Universities in Europe where they have been pursuing their higher degrees in Design and Architecture, under the mentorships of late dame Zaha Hadid, Patrik Schumacher and Kazuyo Sejima.
The studio recently unveiled design for a damaged post-war Syria building to turn into a co-living building with public green areas and amenities.
All images courtesy of Reparametrize Studio
> via Reparametrize Studio