Krupa Zubin, a Talk with an Artificer in WAC's Instagram Live interview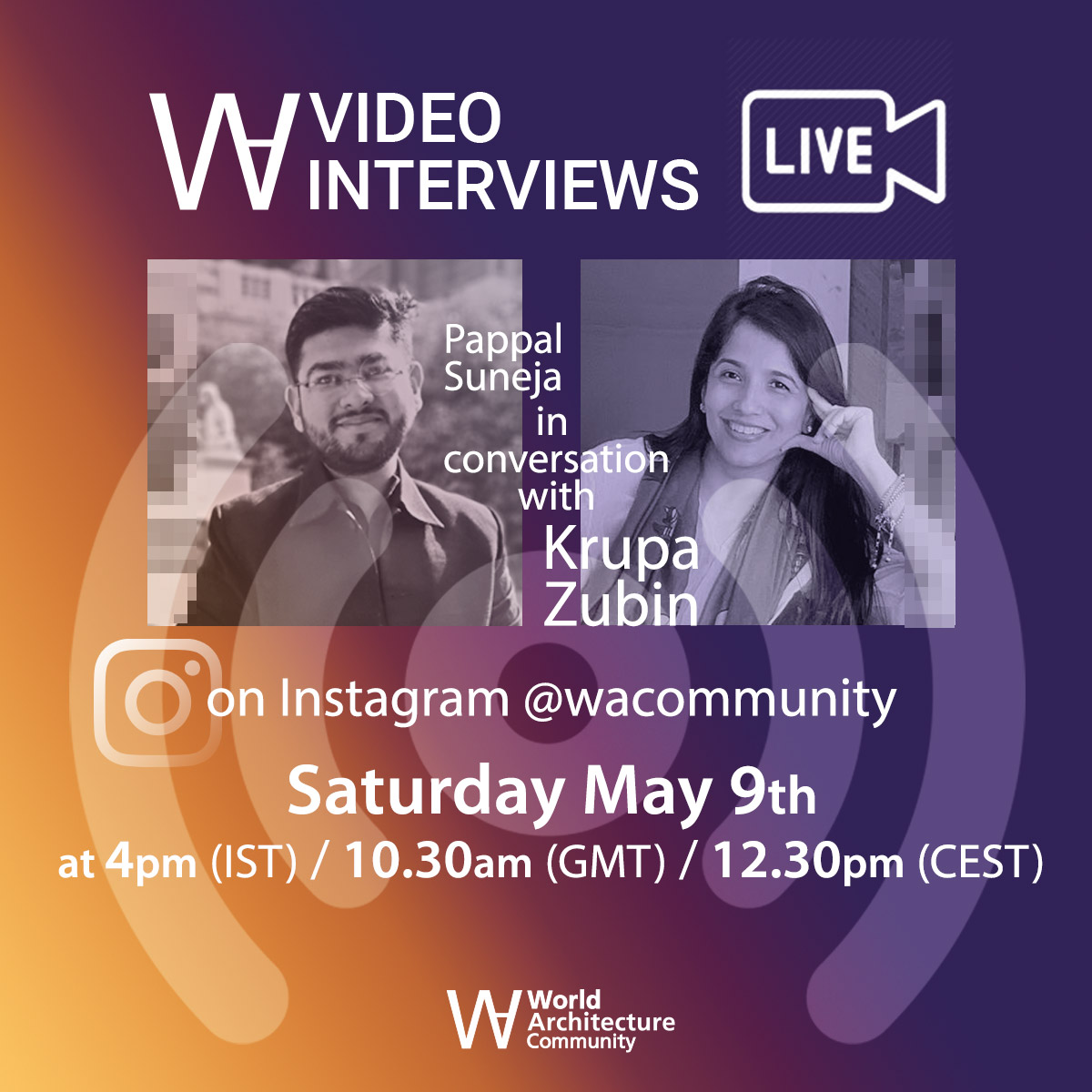 World Architecture Community has launched a series of live interviews on April 26 in WAC's Instagram account. WAC held its first live streaming interview with world-renowned Indian architect Sanjay Puri, hosted by Pappal Suneja, WAC's India Country Editor and Research Scholar, Stiftung Bauhaus Dessau, Germany.
WAC's live streaming sessions are shaped around different topics and themes decided by WAC Country Reporter or Country Editor. In WAC's second live streaming interview, architect and interior designer Krupa Zubin, founding partner of Mumbai-based ZZ Architects, a multidisciplinary and multi-award winning design firm, will be WAC's second guest architect in these series.
ZZ Architects is one of the leading Architectural and Interior Design Firms of India. The firm produces a large number works, ranging from architectural projects, interior design, space planning to general project management of its interior design. Zubin has been an influential name as one of the leading women architects in the country in defining the studio's sleek and nuanced style.
ZZ Architects won many prestigious awards for "its high quality of work, especially in the luxury sector", including the inaugural Good Homes Award for Best Architect, The Economic Times Award for Leaders of Indian Infrastructure & Construction Outstanding Performance, Architectural Digest AD50, CNBC CRISIL Real Estate Award, Society Interiors Award for Outstanding Contribution to Architecture & Design.
WAC's sessions are arranged around 20-30 minutes to deliver a quick glimpse of the current projects of the architect and provide a fast-paced discussion on the architects' design philosophy in general.
WAC Instagram Live Interview
Theme: "Talk with an Artificer"
Host: Pappal Suneja, WAC India Country Editor and Research Scholar, Stiftung Bauhaus Dessau, Germany.
Date: 9th May 2020/4pm (IST) / 10:30am (GMT) / 12:30pm (CEST)
Venue: WAC Instagram