SOM, Ronald Lu & Partners, ECADI reveal world's seventh-tallest building using "BIM" technology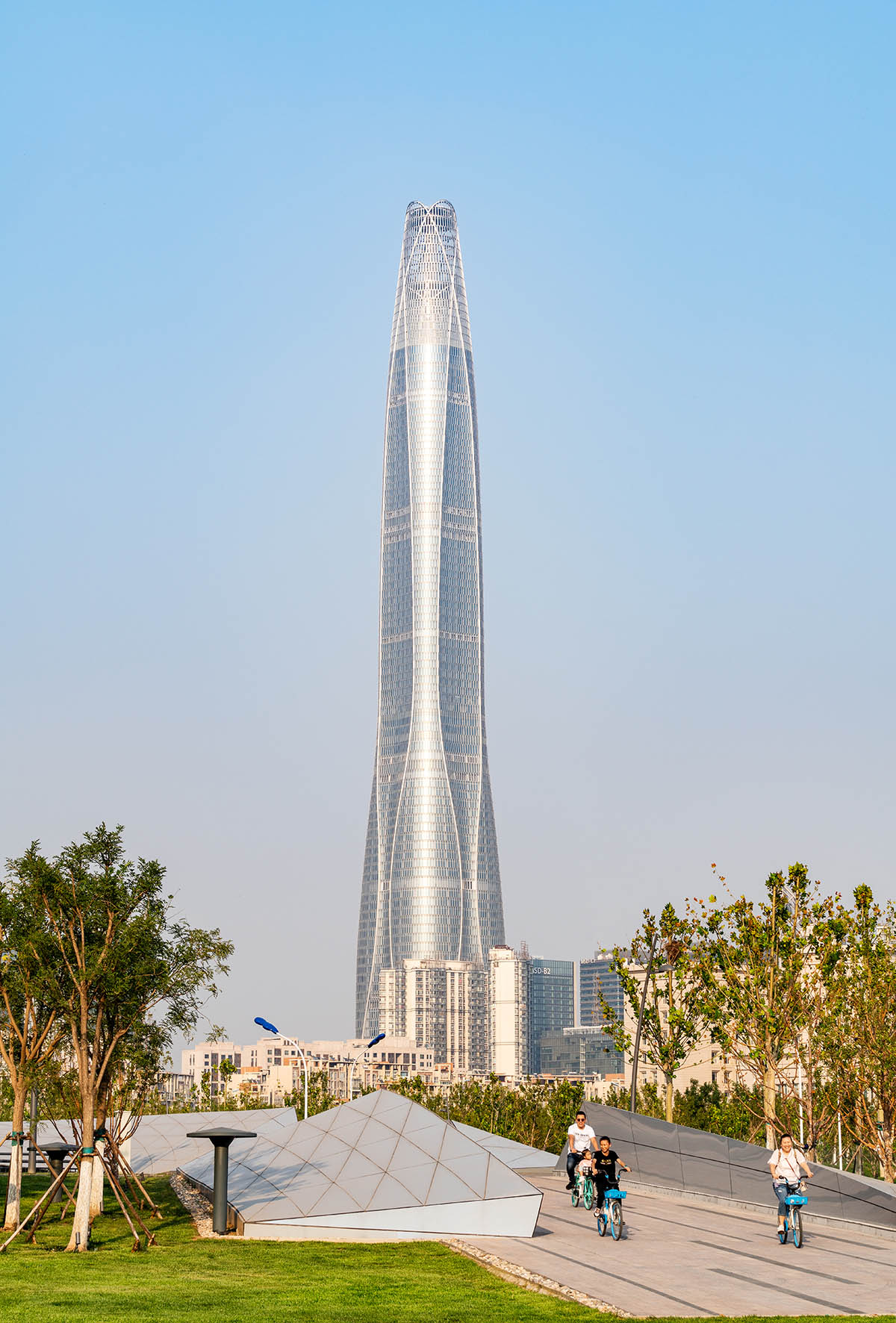 SOM, Ronald Lu & Partners and East China Institute of Architectural Design and Research (ECADI) have completed a 530-metre-high skyscraper in China, which is the "world's seventh-tallest building" and the "third-tallest" in China.
Named Tianjin Chow Tai Fook Financial Centre, the skyscraper was designed by using "BIM" digital design technology, implementing cutting-edge technologies to create a better life at every opportunity. The new skyscraper is described as "an excellent example of Ronald Lu & Partners' commitment to excellence."
This recently-completed tower was designed by using building information modelling (BIM) technology to design and execute world-class structures.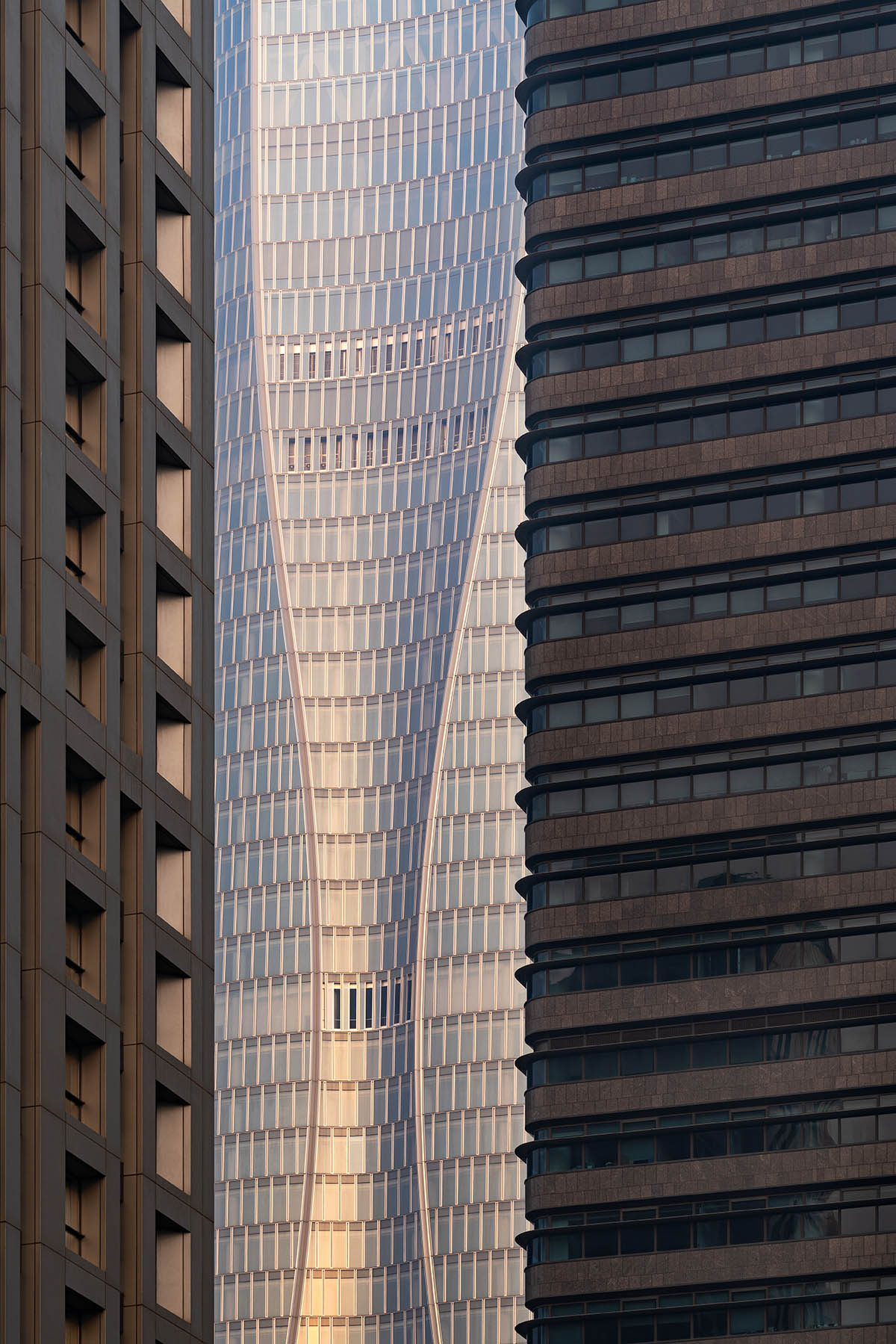 Image © Seth Powers
In this case, according to the RLP, BIM significantly reduced the time and cost of the tower's construction, and played a vital role in optimising its striking, crystal-clear hyperboloid winding glass curtain wall.
Architects have begun using digital modelling to improve efficiency and accuracy, especially during the design and construction of ultra-complex buildings like the Centre, as it increases accuracy and reduces resource use.
"At the start of the construction process for the Tianjin Chow Tai Fook Financial Centre, experts estimated that at least 1,308 pieces of independent asymmetric insulating glass units (IGUs) would be required for its unique curtain wall structure, formed by the intersection of eight irregular curved surfaces," said RLP in a press release.
"However, after performing BIM analysis and using repeated data modelling, the number of independent IGUs needed for the Centre's curtain wall was reduced to 476 – a decrease of over 60%."
Image © Seth Powers
This not only saved an enormous amount of resources and significantly reduced costs; it avoided the risks inherent in fabricating and transporting these glass panels.
Additionally, the optimisation of end-unit segmentation and joint cladding helped to further simplify the construction process. As a result of this sophisticated BIM analysis and implementation, the project was completed a full four months ahead of schedule.
The tallest building north of the Yangtze River in China, the Tianjin Chow Tai Fook Financial Centre is made up of four basement levels and five podium levels, topped by a 103-storey tower. The Centre also includes the K11 shopping mall, the K11 ATELIER office, a five-star hotel and serviced apartments.
Image © New World China
The Centre has been recognised as one of the most complicated skyscraper designs and structural systems ever designed in the country, combining both rigidity and flexibility to counter the effect of winds and seismic activity.
In delivering this incredible "vertical city", RLP leveraged the sophisticated talents of experts in digital modelling and collaborated with top domestic and foreign partners, including SOM, the East China Institute of Architectural Design and Research and Arup.
RLP stated that "Traditional building design still largely relies on two-dimensional technical drawings; BIM extends these designs into three-dimensional geometry."
"BIM also incorporates information about time, cost, asset management, sustainability, and other important considerations that technical drawings cannot."
"As the technology has evolved, BIM's multiple advantages in terms of construction schedule coordination, clash detection, spatial relationships, geospatial information, quantities and properties of building components, and many other factors have become more apparent and increasingly indispensable."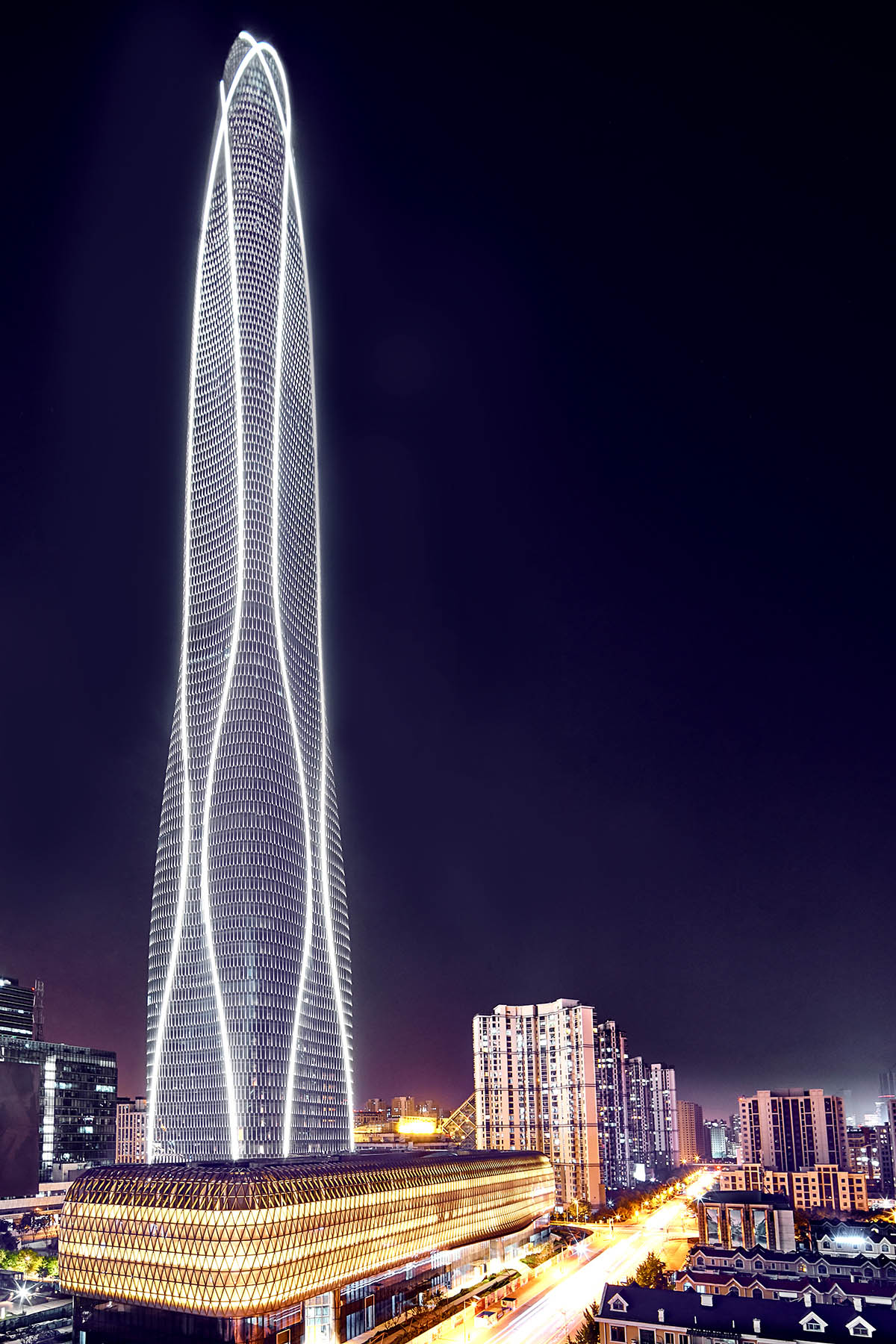 Image © New World China
"Over the past few years, BIM has become widely used in the fields of architecture, engineering and construction. Governments have also introduced BIM-related standards and policies to support these sectors and help accelerate their practices into the digital age," said Bryant Lu, the Vice Chairman of RLP.
"At RLP, we have experienced the many advantages of BIM first hand: integrating cross-departmental information resources, optimising construction times, ensuring economic costs are kept down, and solving complex structures."
"I absolutely believe that the use of BIM across these sectors will become more prominent in the future," Mr Lu continued, "BIM helped create the iconic façade system of the Tianjin Chow Tai Fook Financial Centre, making it into a world-renowned skyscraper. This success reflects RLP's persistence, perseverance and professional advantage in cultivating our BIM proficiency over the past 12 years."
Image © Seth Powers
RLP has also won several international BIM-related awards, including for our design of Hong Kong's Xiqu Centre. RLP currently employs more than 80 BIM experts, a figure which is likely to expand.
Mr Lu has a bright view of the future of BIM at the firm, saying: "RLP intends to expand our usage of cutting-edge digital tools such as BIM to design a better life and contribute more to the development of cities in China, across the Asia-Pacific region and around the world."
Project facts
Project Name: Tianjin Chow Tai Fook Financial Centre
Project location: Binhai District, Tianjin, China
Designer: Ronald Lu & Partners, SOM, East China Institute of Architectural Design and Research
Developer: (New World China) New World China Land Co., Ltd.
Completion: 2019
Building area: 389,980 square meters
Building height: 530 meters
All images © New World China, Seth Powers
> via Ronald Lu & Partners