Twisted roof becomes walls and facade in Alpha House designed by Alexis Dornier in Bali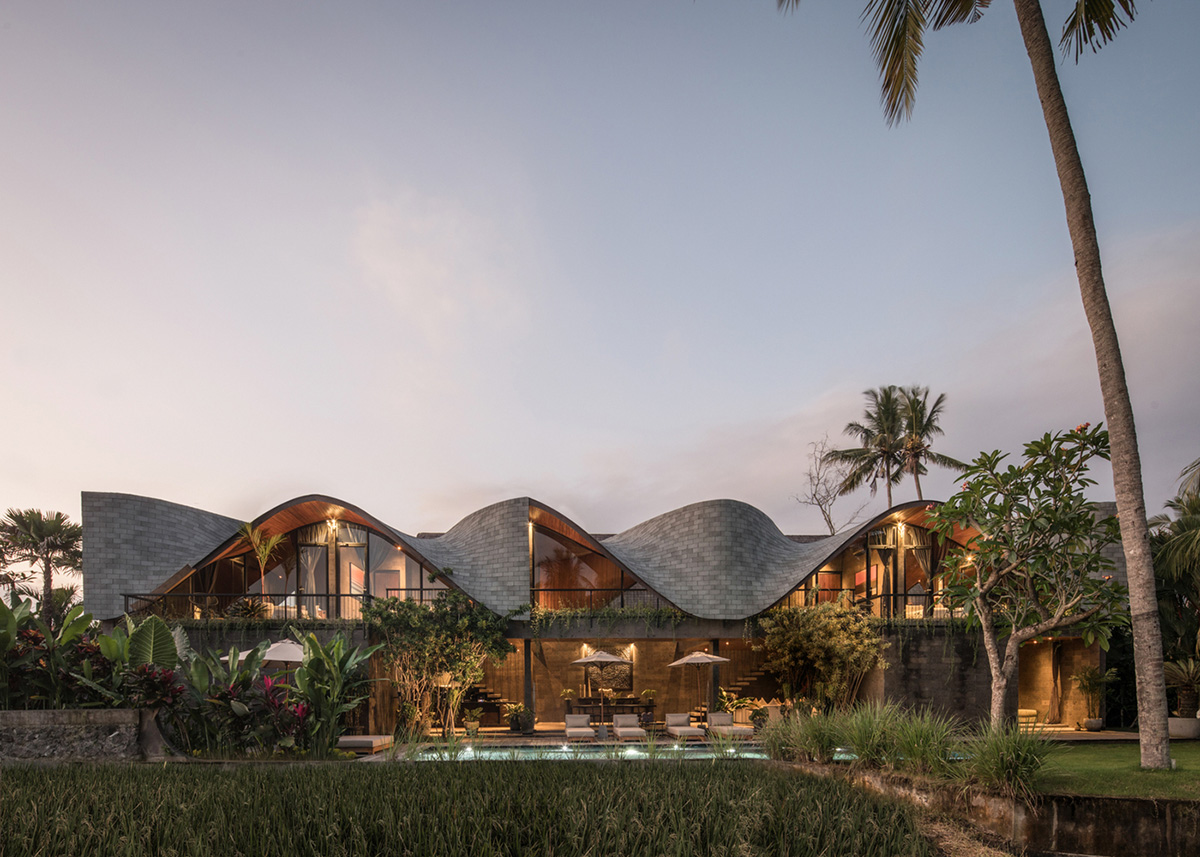 German architect Alexis Dornier has used twisted roof that becomes walls and facade elements in Alpha House in Ubud, Bali, Indonesia.
The two-story house acts as a sculptural element where the lower level and upper level is differentiated with fluid form.
Covering a total of 280-square-metre area, the architect breaks down the general volume into two distinctive stacks that make this building read as a single-story typology.
On the design process, the architect wanted to define the articulation of the roof in a way to disguise the bedrooms upstairs, while surrounding the spaces with soft surfaces.
"As a consequence, views are framed by fluid lines and evoke a sense of protection," said Alexis Dornier.
"Grid shells have always done it for us, as they suggest interesting and new ways to define roofs."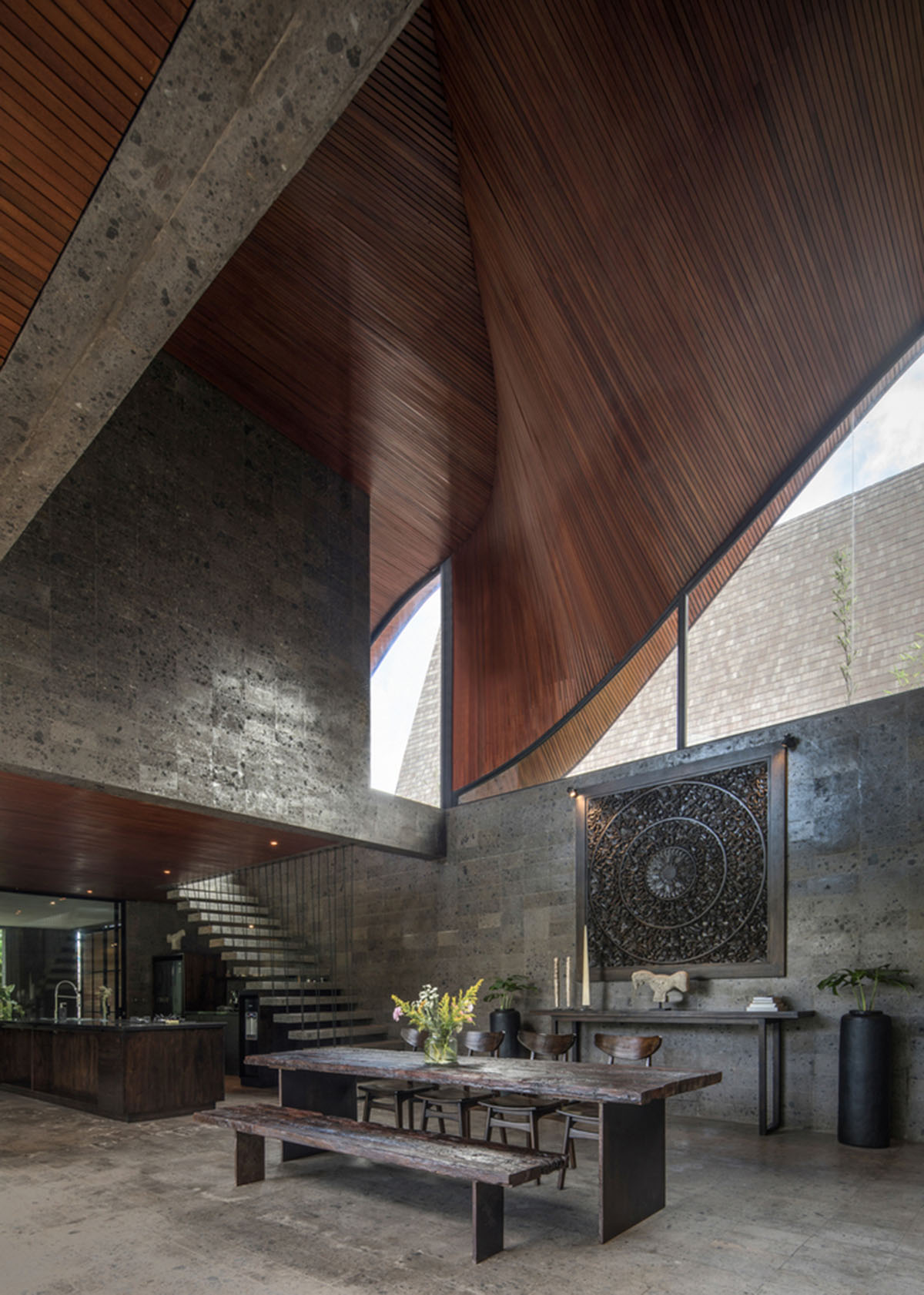 "In the case of the Alpha House, walls become the roofs and create a silhouette, consisting an iconic and rhythmic pattern that stick, completing the picture of an exciting object blending intensity environment-with the rolling mountain scape of Bali in it's background," the architect added.
On the ground floor, the architects placed the living room that opens to the garden area and overlook it's lush surrounding. A pool runs parallel to the building direction and reflects its wavy character in the water plane.
The layout is simple, practical, and repetitive in this house, according to the architect. The building's east-west orientation provides self shading and shields off neighbors.
Dornier used kerobokan stone as the main material of the house, as well as a local hard sandstone that is found in the vicinity of the site, which represents a traditional material used in constructions of Bali.
However different in their shape, the suspended wooden ceiling adds warmth to the place and tied the ceilings into one experience.
"Architecture should express and evoke a distinctive meaning or topic," the architect continued. "In this case fluidity stands for the way forward, expressing the joy for and of creation."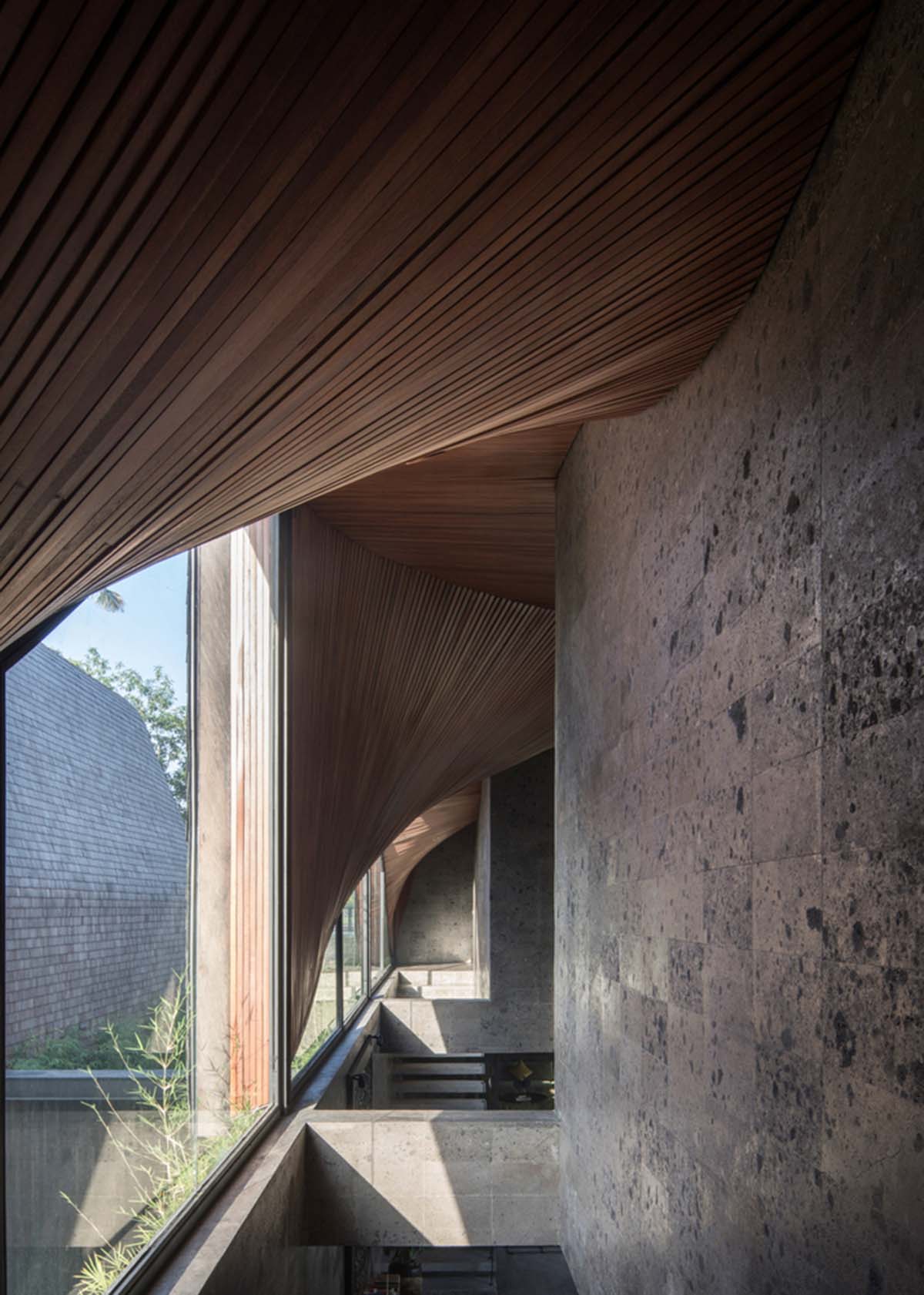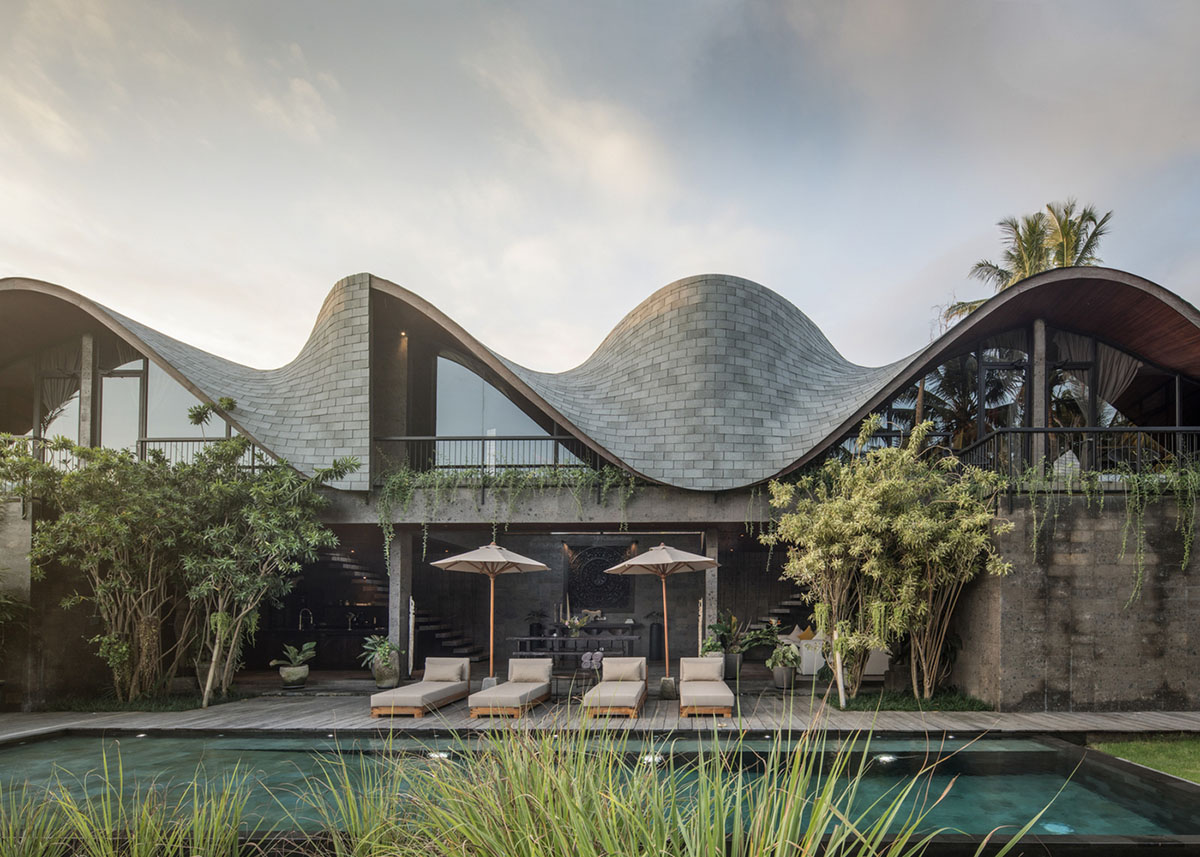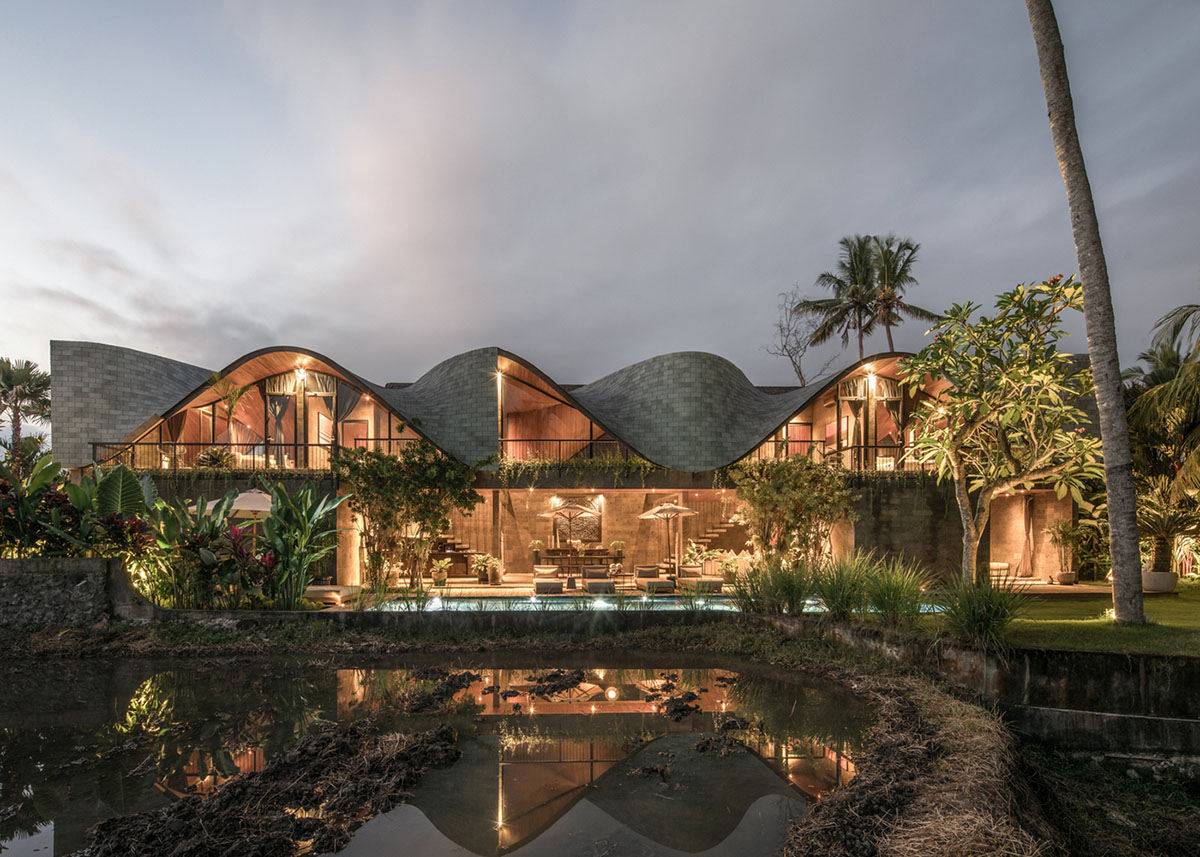 First floor plan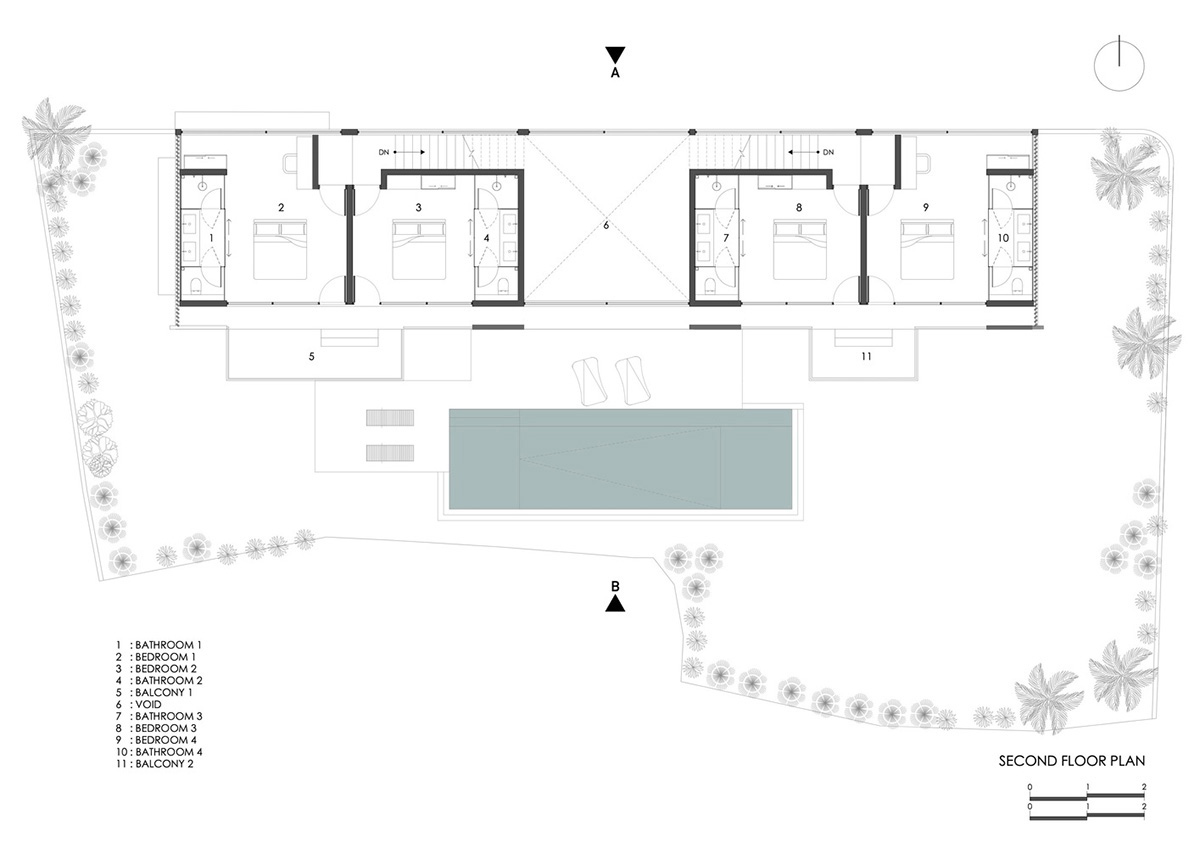 Second floor plan
Roof floor plan
Elevation
Elevation
Alexis Dornier was born in Germany in 1981, where he grew up under the constant influence of the aviation industry. Dornier studied architecture at the Berlin University of the Arts after which he relocated to New York City to work as an architectural designer for Asymptote Architecture, OMA-NY and Rex between 2004-2007.
He moved to Ubud, Bali in 2013 and began consulting on locally designed and built architectural projects. Dornier designs residential projects mainly in Indonesia.
Dornier recently completed treetop boutique hotels in Ubud, Bali and a cross-shaped house elevated on stilts in Bali, Indonesia. House Carbon in Bali is also another key project of the architect.
Project facts
Project name: Alpha House
Architects: Alexis Dornier
Location: Ubud, Bali
Size: 280m2
Date: 2020
All images © KIE
All drawings © Alexis Dornier
> via Alexis Dornier