MNMA studio combines various earth tones of materials and craftsmanship for this store in São Paulo
São Paulo-based transdisciplinary architecture practice MNMA studio has used various earth tones of materials and the local craftsmanship for this shop and restaurant in São Paulo, Brazil.
Named Dois Trópicos Shop (or Two Tropics), the small shop acts as a compact presentation of different layers with its smooth transitions inside, with textures, materials and colors - in which all of them create a poetic interior.
Visitor are welcomed with a big front door made of floor-to-ceiling transparent and foldable facade. The architects describes it as "... the front door continues to appeal to our sense arrival. Call it the ceremony of coming home," with Akiko Busch's words.
On the first floor, there is a display area showing a series of terra cotta jugs, varied in sizes and materials behind a brick showcase counter.
At the end of the hallway, a huge circular hole lead visitors to a garden where visitors can find themselves in a small restaurant covered by translucent ceiling.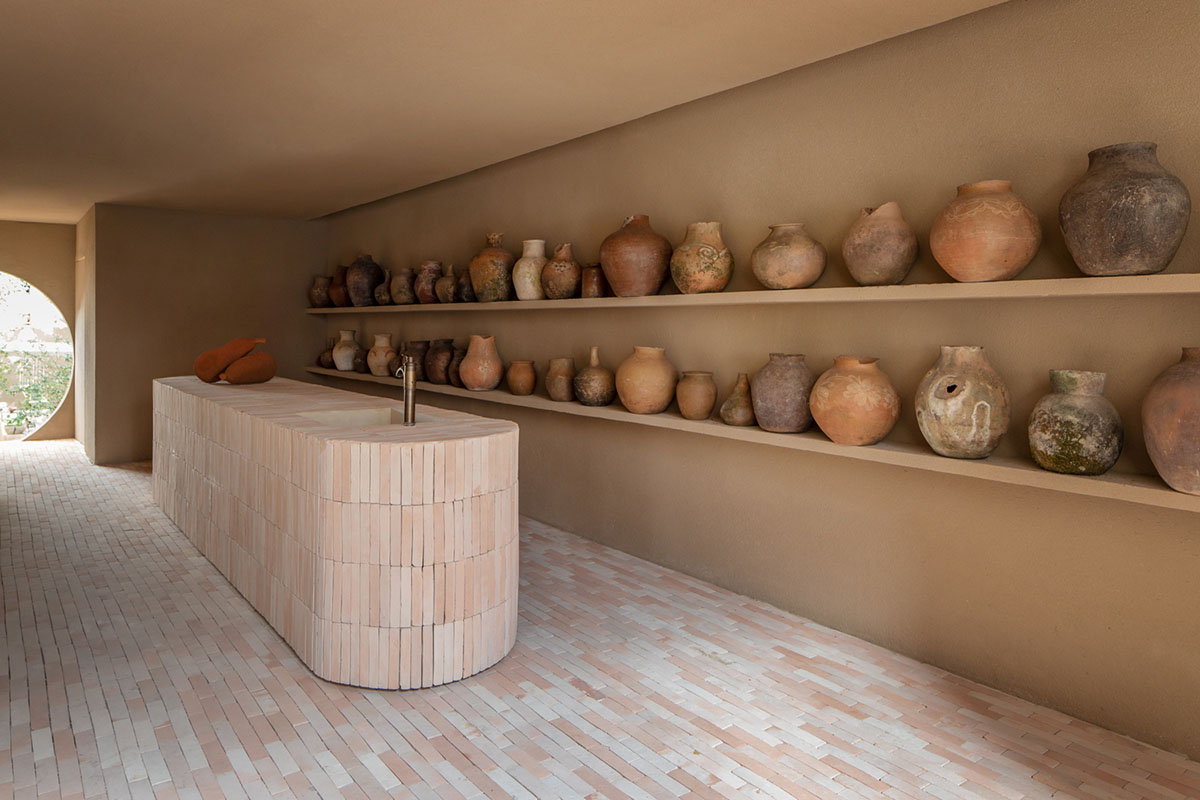 "Every material has its own characteristics and limits for its definition," said MNMA studio.
"To work on the threshold of its possibilities - but not defying it - is indeed a fertile ground for advanced thinking and technique development."
"Materiality builds the crossing planes that then become carriers for a tonal rhythm; the resulting immersion brings up new intimacy to the architectural space," added the studio.
In the project, the architects wanted to create a commercial space that creates "a homelike hosting experience", while using nostalgia and natural matter, crafted by artisan hands that desire to achieve not perfection but real environments.
The soil reacts allegorically to the sunlight movement along the day, turning walls, ceilings and the floor not into limits or boundaries, but into canvases for the light to express itself gradually in various forms - (as it is possible to enjoy comfortably great and authentic food, full of flavours).
For different material appearance, the studio created different textures and materials by using a process of cooking the subtle varied colours of earth into bricks, allying the technical drawings to the empirical exercise of craftsmanship.
They used the same material onto walls and ceilings, honouring and expanding its plasticity; it expands our senses, bringing texture, tone gradation and detail to the delicate gesture of drawing spaces, even inviting us for a pause to feel the smell of wet earth when it rains.
"The staircase was built using raw materials, some leftovers, but although there was a precise drawing, the result is both gestual and intimate, due to small imperfections," added the studio.
"By contrast, the facade is technological, drafted and executed with precision, thought to allow sun and wind in, to avoid artificial air conditioning systems."
As the studio highlights, the general purpose is to create a contemporary element that, when opened, would bring back some lost time of ancient forms of construction, slow passing of time, contact with the earth it feels like "home".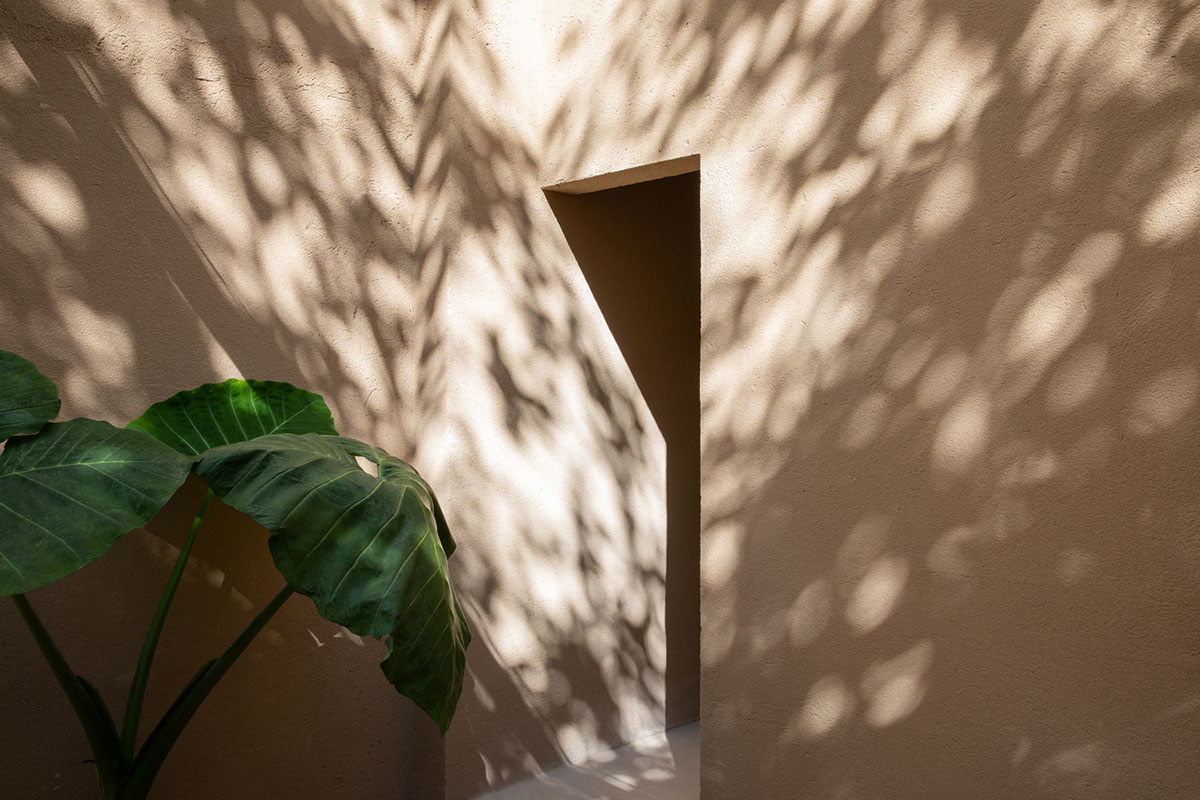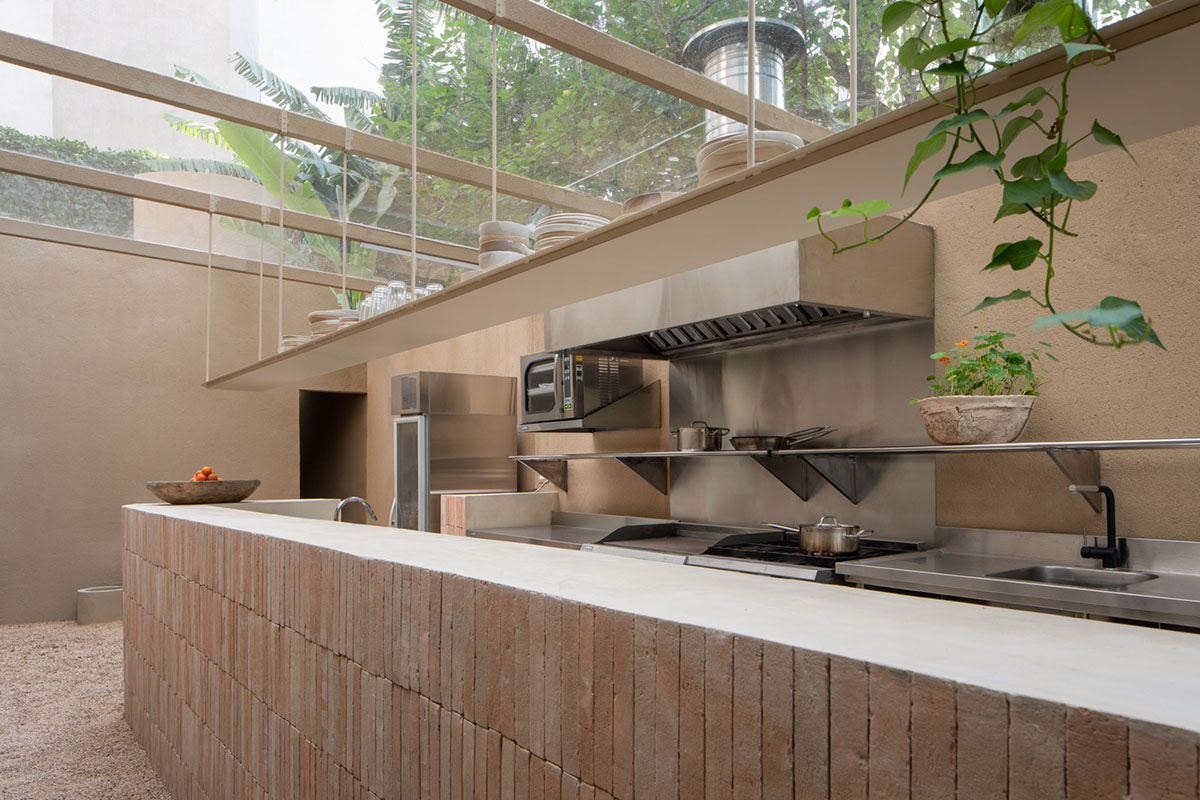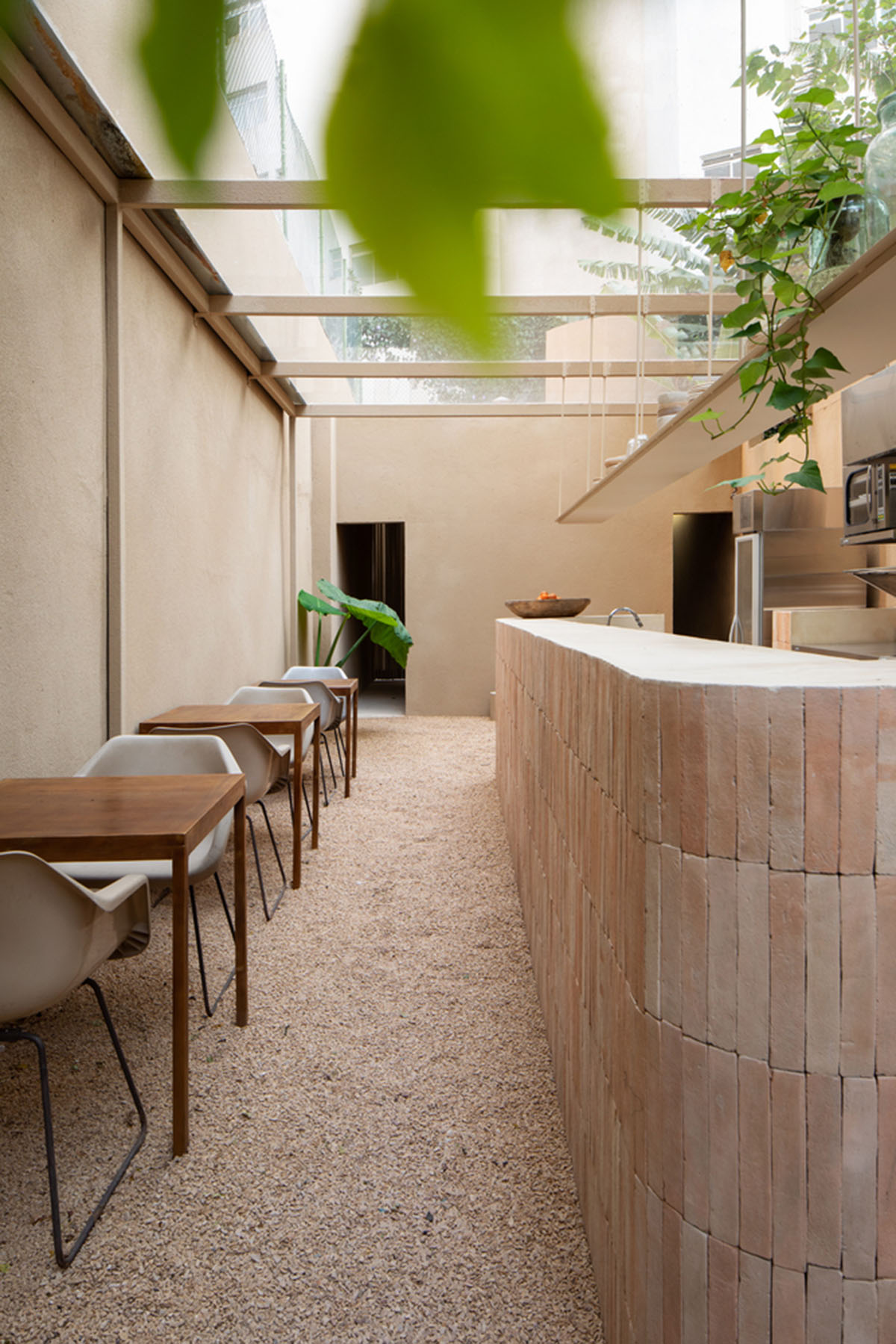 Section. Image © MNMA studio
MNMA is a transdisciplinary architecture studio based in São Paulo formed by partners Andre Pepato and Mariana Schmidt. The studio develops projects with sensitivity, articulating the elements in a simple and intimate way.
MNMA has the purpose of integrating disciplines with strong plastic appeal, without restrictions on the use of materials and construction techniques to develop projects with different scales; from temporary installations to urban interventions creating the essence of a philosophy of space in which design becomes the guiding thread.
Project facts
Project name: Dois Trópicos Shop
Architects: MNMA studio
Location: São Paulo, Brazil.
Date: 2020
All images © André Klotz
> via MNMA studio