B-Arch students in India to get a 3-year exit option
A new reform in Architectural Education in India - All credits to the new architecture regulation!
India is rising to a new dawn, especially in the education department. The new education policy (NEP) marks a departure from colonial tradition and buoys the aspirations of a new and resilient India. After independence, the country embarked on a major exercise of shoring up its educational infrastructure with the establishment of universities and research centers, but the framework of the colonial educational system was not tinkered with. This put in place an educational system that was not in tune with the consciousness of a resurgent nation trying to create a place for itself in the community of nations. Taking a cue from this reform, the Council of Architecture (COA) released on Tuesday morning an amelioration in their architecture program.
As per the "Minimum Standards of Architectural Education" Regulations, 2020, students will be allowed to exit the program, if they wish, at the end of three years, with the university awarding an 'appropriate' degree. This regulation launched by the minister of education, Ramesh Pokhriyal 'Nishank', aims at bridging the gap between industry and academia.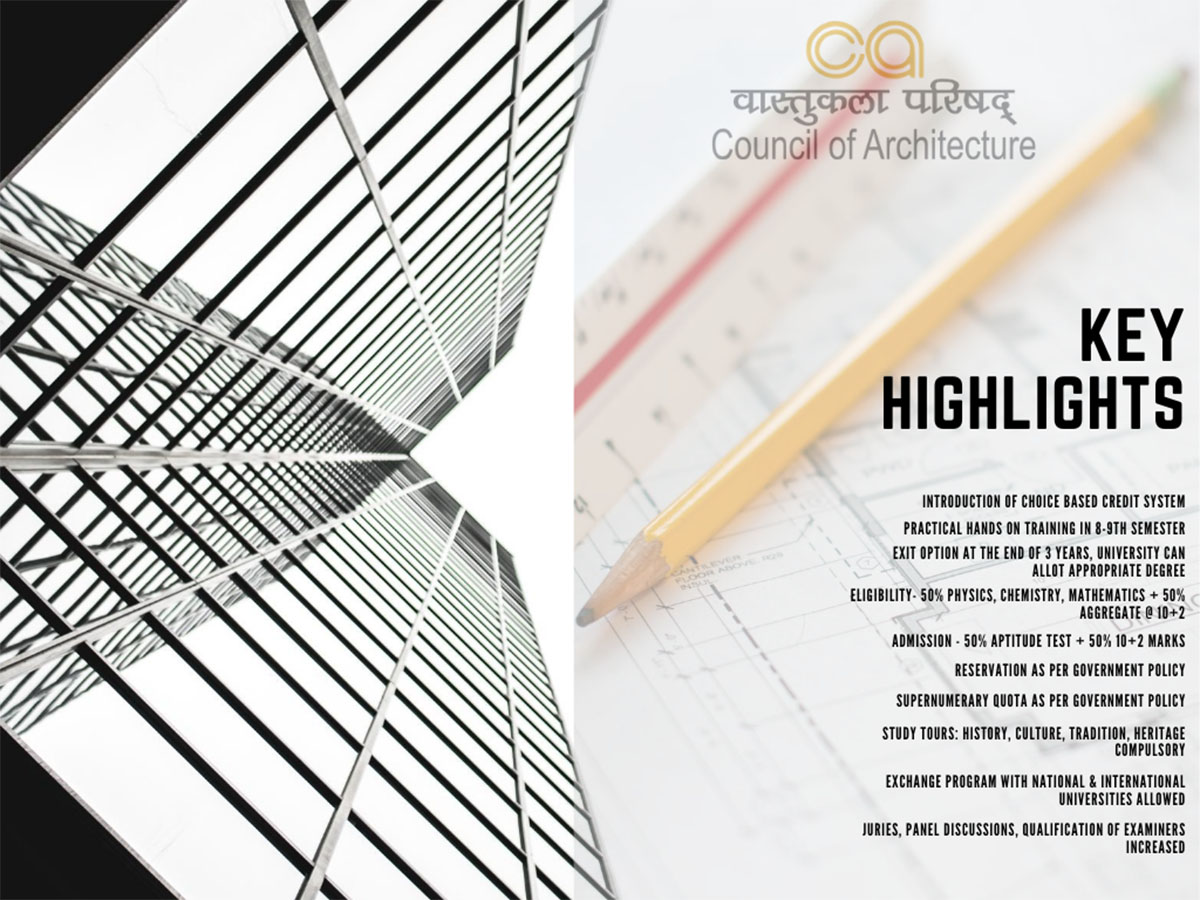 The new regulation offers a multi-disciplinary approach in courses offered as it is in line with the National Education Policy 2020 (NEP). The new regulation also allows the semester exchange option, in flexibility to offer courses. The choice-based credit system has been introduced in the new set of regulations, with practical hands-on training in the eighth and ninth semesters. The study tours to cultural and historic sites will be held more frequently so as to focus more on hands-on learning. Under this umbrella, the norms also cite the introduction of an exchange program with national and international universities. The admission process will be based equally on marks obtained in the 10+2 exam and the National Aptitude Test in Architecture. In another major alteration, the regulation allows private practice and research for faculty members associated with architecture programs. Teacher-training has been made mandatory before joining the course and the pay scale to be followed will be as per government directive.
How far the policy achieves its objectives will finally depend on the success of its implementation. With the Prime Minister himself according to the highest priority to it in the resurgence of Atmanirbhar Bharat, the policy should weather all stumbling blocks.
Images courtesy of Council of Architecture India