WUUX completes health concept store with gridded golden addition in Beijing
WUUX (Wuxiang Space Architecture Design) has completed the Tongrentang - Zhima Health Offline Experience Store with a gridded golden addition in Beijing, China.
Zhima Health concept store is a multifunctional complex owned by Beijing Tong Ren Tang Health (abbreviated as TRT), which integrates functional divisions for healthy diets, clinic, physical check-up and leisure space.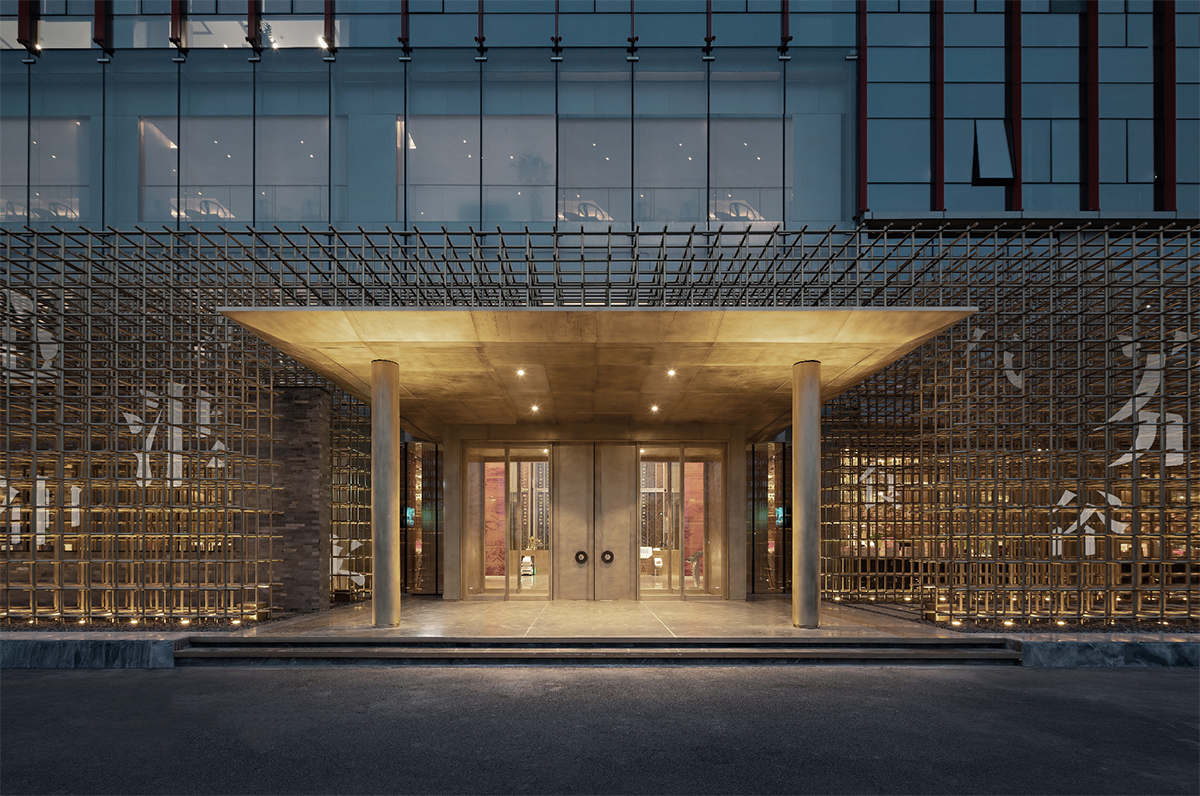 The first floor consists of different functional areas, such as food therapy kitchen, tea bar, baking kitchen, coffee bar, wine bar and TRT products area, etc.
Zhima Health concept store provides dietary supplements, nourishing & health food and even health care products that incorporate health tech, enabling customers to enjoy one-stop and immersive shopping experience. Besides, it also doubles as a new and comfortable social space for customers.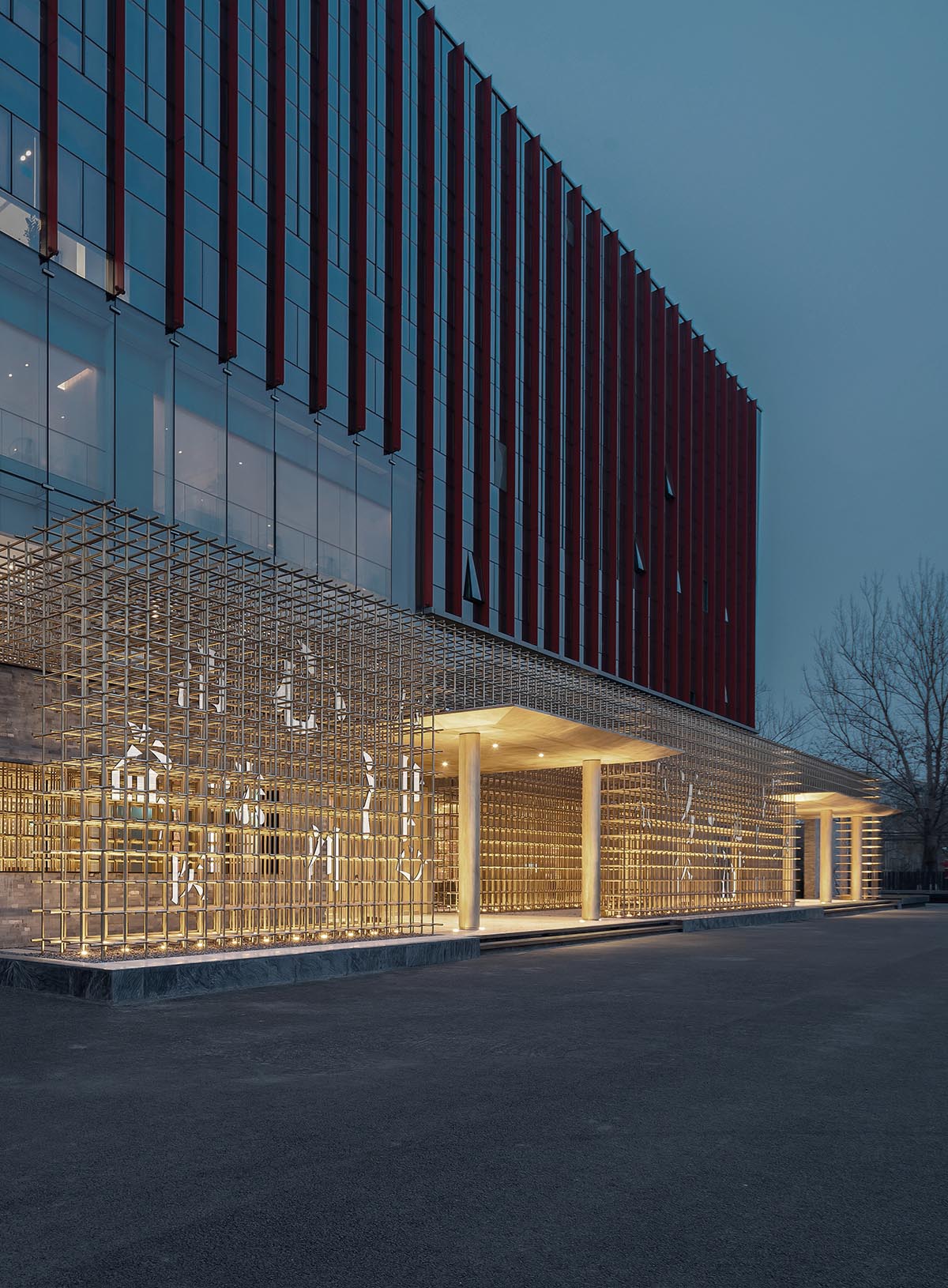 Following the concepts of high quality, sense of participation and personal shopping experience, the brand-new retail model aims to meet the demands of consumption upgrade and improve the quality of customers' lives rather than overturn the traditional retail style.
Inspired by traditional Chinese medicine storage cabinet, the art installation at the entrance is made of numerous metal tubes connected by mortise-and-tenon joints, which presents a traditional yet modern texture.
Wood and metal materials are largely used in the overall space where warm solid wood is in sharp contrast with aged brass, conveying TRT's nerve and resolve to brand upgrade.
On the first floor, the lobby is enclosed by an eight-meter-high red Chinese cloisonne screen that shows a modern charm in traditional craft. And Asia's largest automatic medicine vending machine is placed behind the artistic screen.
Besides, 16,800 cubes resembling the medicine boxes are arranged orderly on the 2,200-square-meter ceiling, which indicates TRT Health's vision of "collecting herbs around the world to improve people's health".
The traditional terrazzo flooring tiles, as well as traditional Chinese medicine, show the respect for traditional craft and also an attempt at integrating tradition and innovation. Moreover, there is a specific area that aims to introduce healthy diets.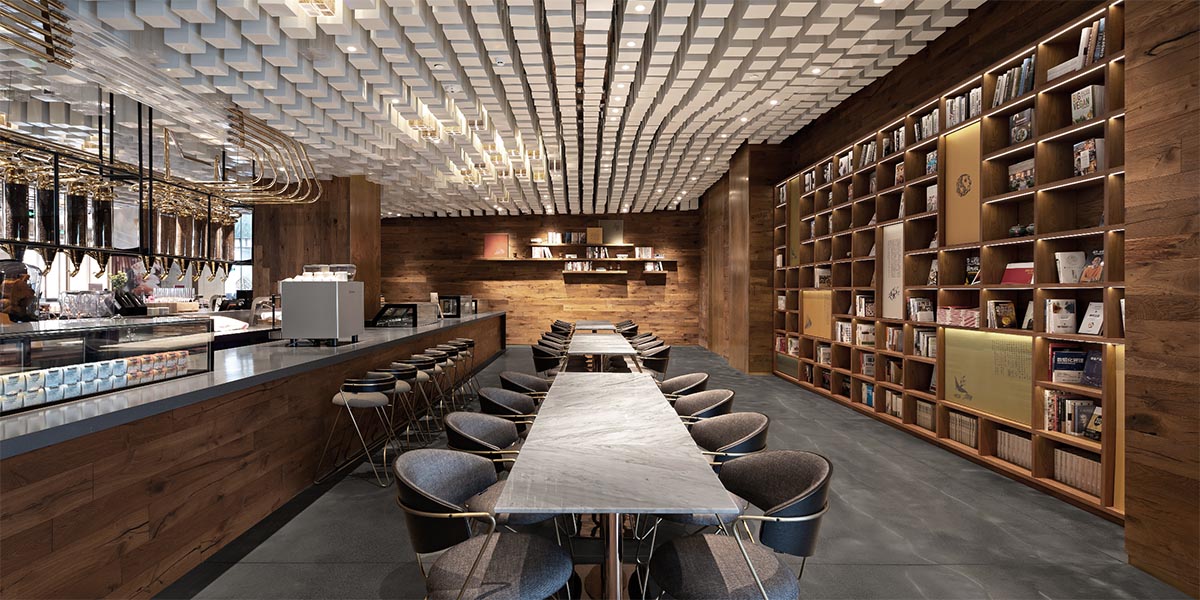 Traditional Chinese Medicine believes that the food you eat decides the way you live. Based on Chinese 24 solar terms and requirements of different types of healthy body constitution, Zhima Health, as a new brand of Tong Ren Tang, has developed healthy diets suitable for different groups and consumption levels to benefit every client.
Wood and metal materials are largely used in the overall space where warm solid wood is in sharp contrast with aged brass and black mirror stainless steel, which intrinsically conveys TRT's nerve and resolve for brand upgrade.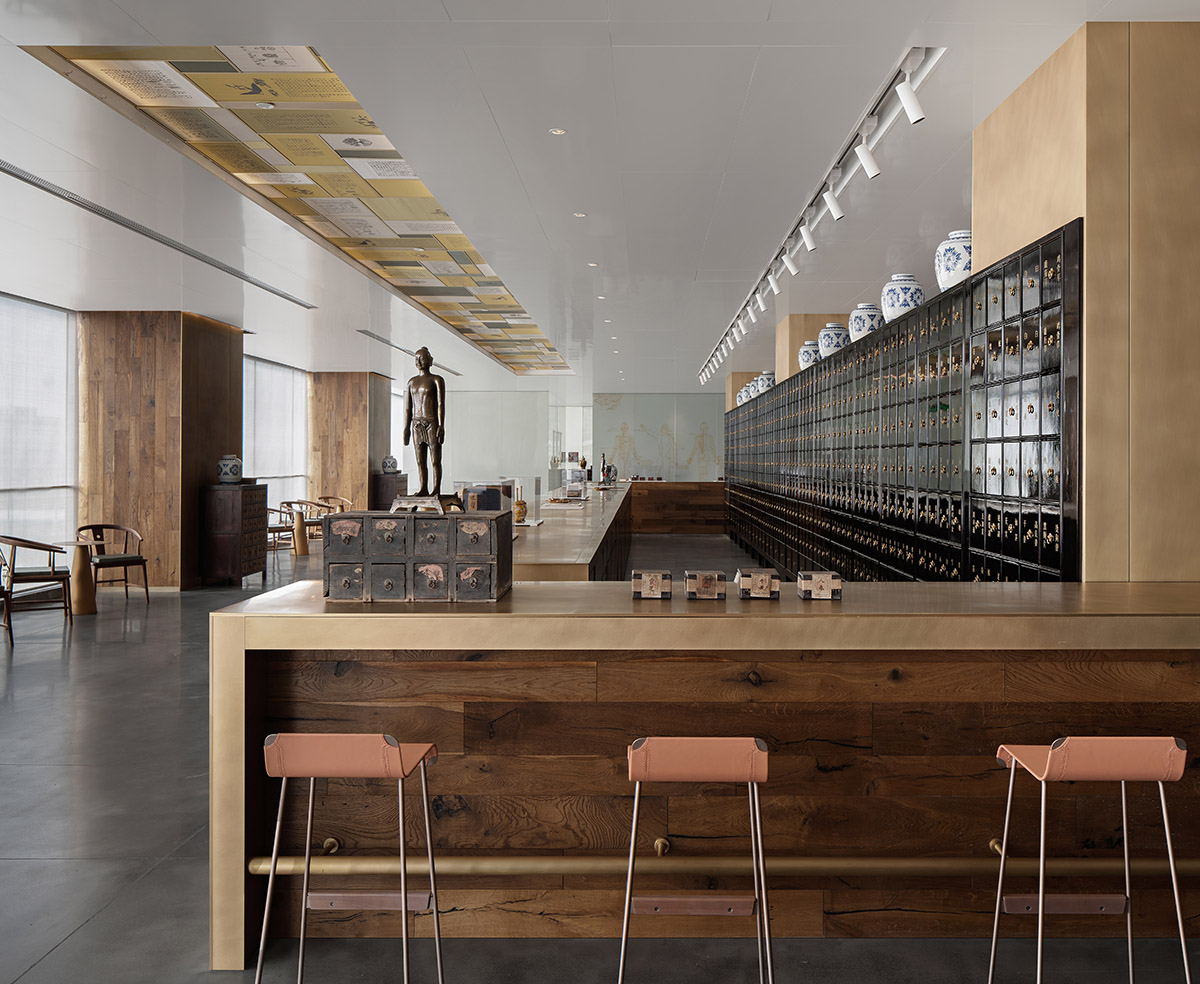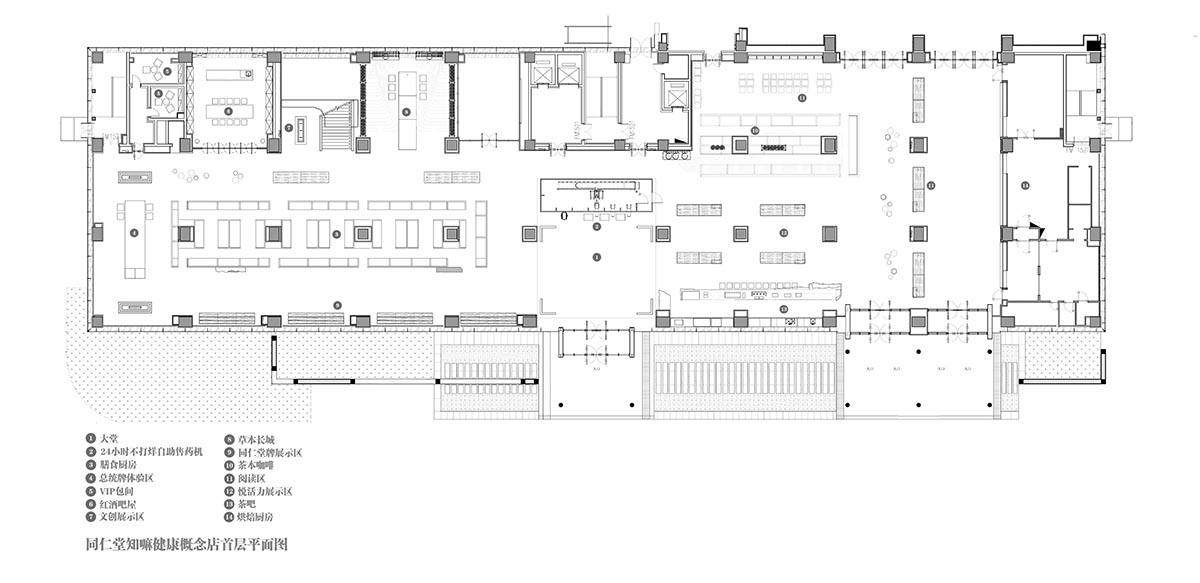 First floor plan
Second floor plan
Third floor plan
Space analysis diagram
Project facts
Project name: Tongrentang - Zhima Health Offline Experience Store
Constructor: Beijing Tongrentang Health
Project address: No. 39 Simiao Road, Daxing Pharmaceutical Production Base, Beijing, China
Design company: Beijing Wuxiang Space Architecture Design
Chief designer: Wang Yong
Design team: Tan Wei, Zhu Chenxu, Zhang Guiying, Jia Zhiyong, Yu Yue
On-site management: Peng Shanxiang, Lu Zhengkun, Chen Yixuan
Design area: 5000 square meters
Completion time: 2019
Lighting design: Beijing Yingzhuo Lighting Design
Lighting consultant: Fuzhou Maiguang Lighting Service Provider
Display consultant: Wuxiang Construction
Furniture brand: Camerich, Maxmarko
Brand consultant: B+P
Logo design: To Three
Video provided by: Beijing Tongrentang Health
Project planning: Lele Designer Branding Strategy Studio
All images © IN VIEW
All drawings © WUUX
> via WUUX