MAD designs Shenzhen Bay Culture Park with climbable, monumental stone-looking pavilions
MAD Architects has unveiled design for a new cultural complex which is set to be built within the Houhai area of Shenzhen's Nanshan district in China.
Called Shenzhen Bay Culture Park, the 182,000-square-metre complex, includes a Creative Design Hall, the Shenzhen Science and Technology Museum, as well as an expansive public green space along the waterfront in Shenzhen, China.
Currently in design process, the Shenzhen Bay Culture Park is expected to be completed in 2023. MAD's design scheme is enriched with undulating public green space with climbable, smooth and monumental stone-looking pavilions.
The project is set between the young vibrant city of Shenzhen, and the quiet oceanfront, the new masterplan juxtaposes two transcendental scales of time – the "ancient" and the "future" – through the setting of an ethereal artistic urban landscape.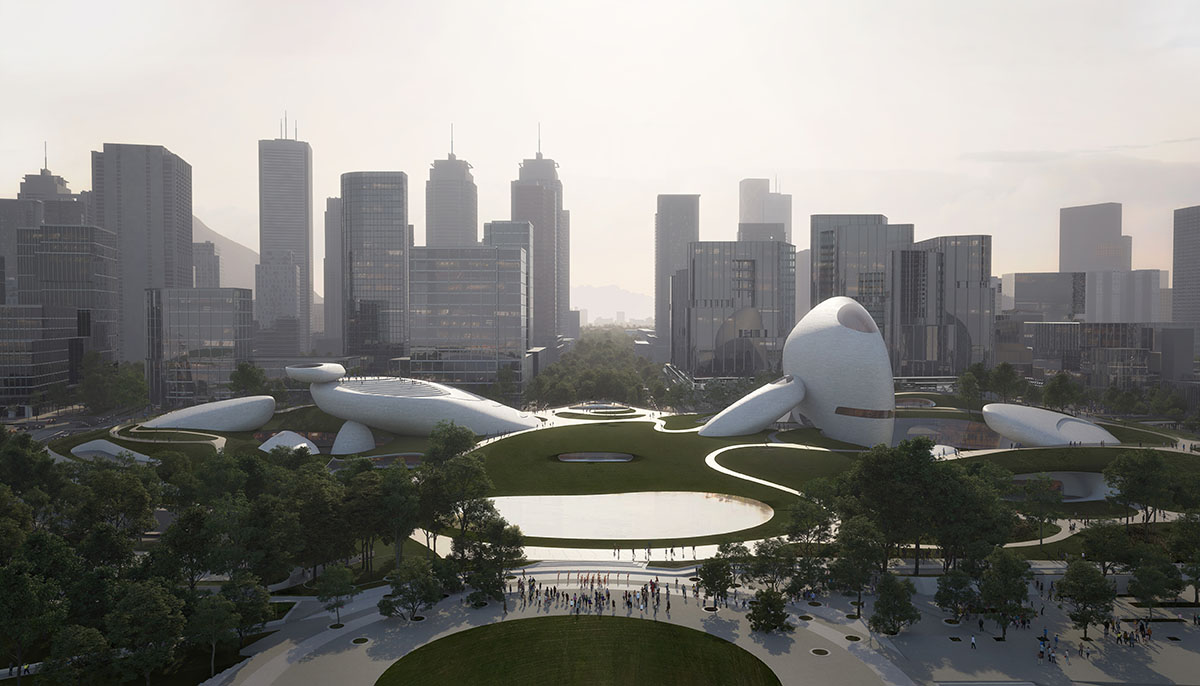 Image © Proloog
Led by MAD founder and principal Ma Yansong, he said: "I want to create a surreal atmosphere, so that the people who visit, relax or exercise here have the possibility of engaging in a dialogue with the past and the future."
"Time and space are dissolved and placed against each other, manifesting a sense of weightlessnes, and unrestrained imagination," Yansong added.
Image © MIR
MAD's scheme is formed by a sprawling green plaza. A reception area, standard exhibition halls, public education space, library, auditorium, theater, café and supporting business are spread out across the ground floor. Sunken into the terrain, these programmatic functions remain unseen.
"When building a cultural landmark on a site positioned between the dynamic energy of a modern city and quiet timelessness of nature, it should be imagined as a free civic space – at first a land art park, with its functions complementing its aesthetics," added Ma Yansong.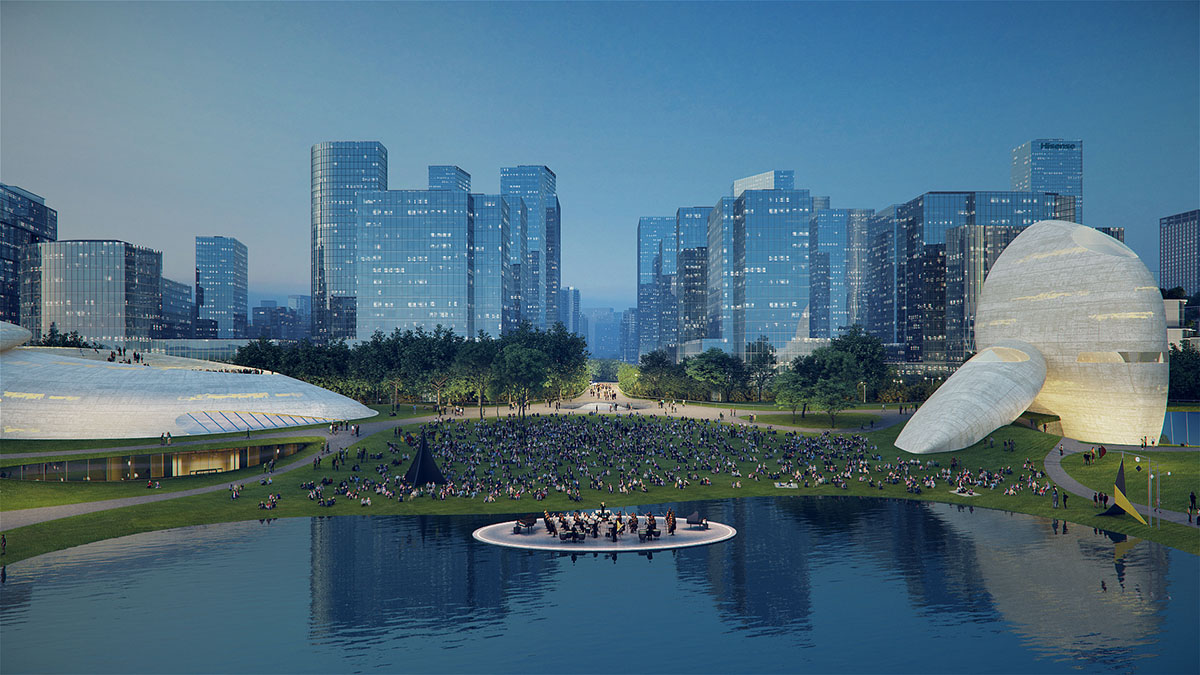 Image courtesy of MAD
Instead, they are visualized as an earth-art landscape. Pedestrian pathways that lead directly from the city over to the park, freely connect the greater urban area and public green space to one another.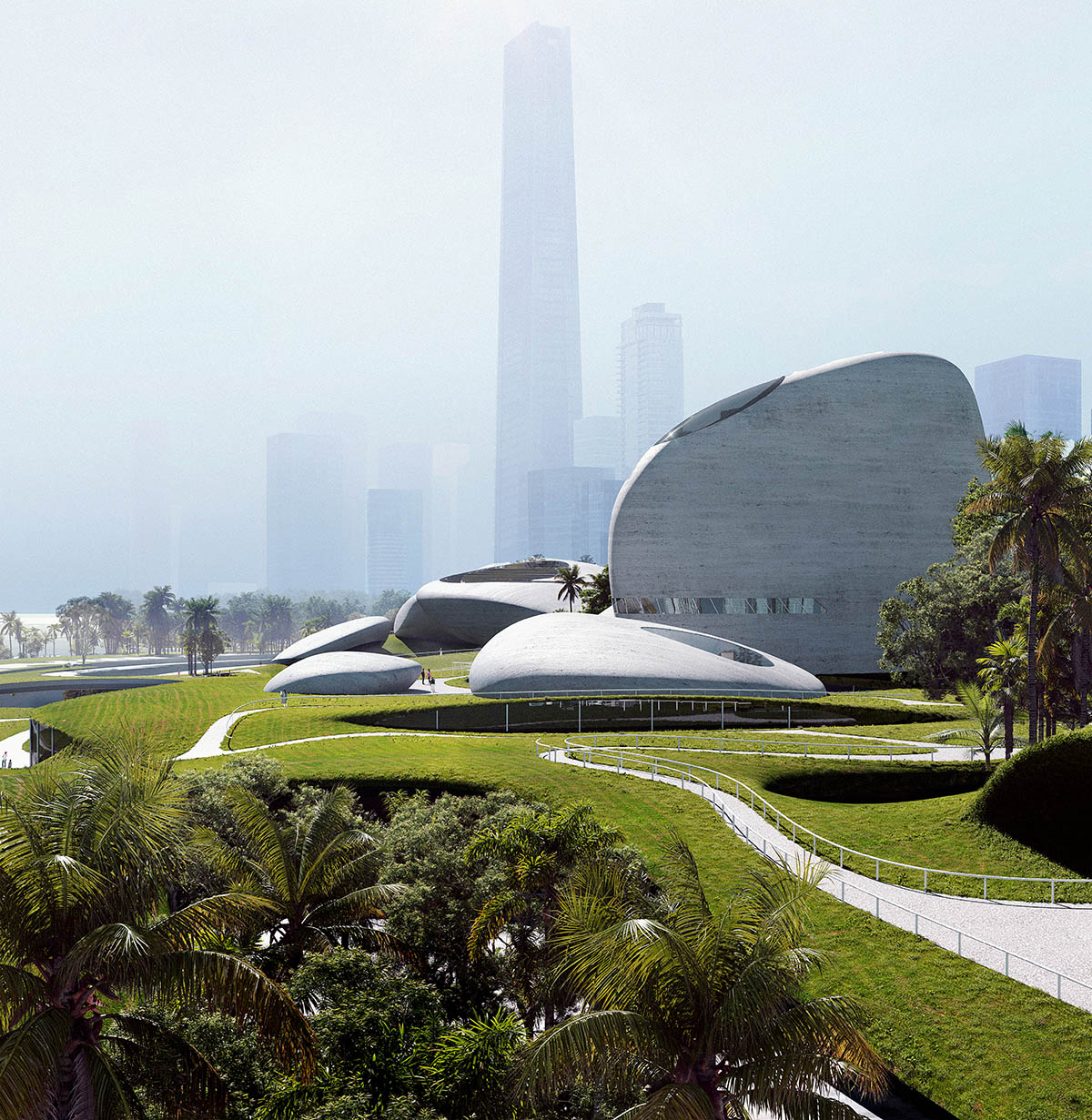 Image © MIR
The gentle sloping of the roof naturally falls into the ground, shaping several sunken courtyards of continuous height across the park.
"Architecture should be integrated into nature shaping a landscape where one can find spiritual belonging in the city," added Ma Yansong.
The north and south pavilions each sit on opposite sides of the axis, and stand as smooth monumental stones, quietly settling into the environment. They sit backed by the city's powerful development, and face the open calm of nature and the ocean in front of them, uniquely marking the passage of time.
Image courtesy of MAD
The sweeping green roofs and recessed courtyards form the foundation of this 'three-dimensional' citizen's park.
It not only serves as a 24-hour open public space, but it also functions as a performance venue and exhibition area.
Image © Proloog
A mirrored pool at the heart of the site serves as an en plein air seaside amphitheater that can accommodate 10,000 people.
Multiple platforms found across the enduring landscape provide outdoor performance venues and public art exhibition areas shaping a dynamic civic space for hosting art and music festivals, and other domestic and international events – a place of cultural exchange.
The park is an extension of the city's main road towards the water. Pedestrian walkways and cycling paths weave between the buildings and across the sprawling lawn, providing citizens with an expansive recreational space along the waterfront.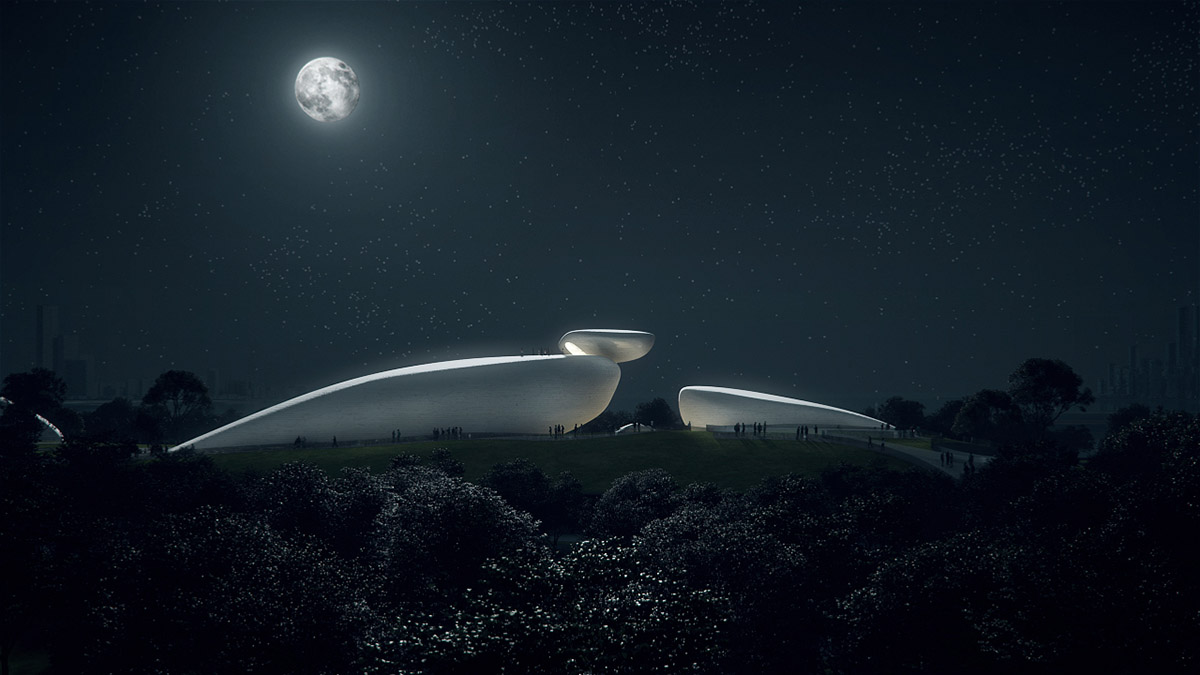 Image courtesy of MAD
Along the top floor of the south pavilion, visitors can walk through the exhibition space to reach a viewing platform that overlooks Shenzhen Bay and the city skyline.
The special exhibition hall's highest space soars to 30 meters. The unique gallery can accommodate a diverse display of large-scale installations, videos, multi-media, and performances, delivering stunning architectural spatial effects.
Image © MIR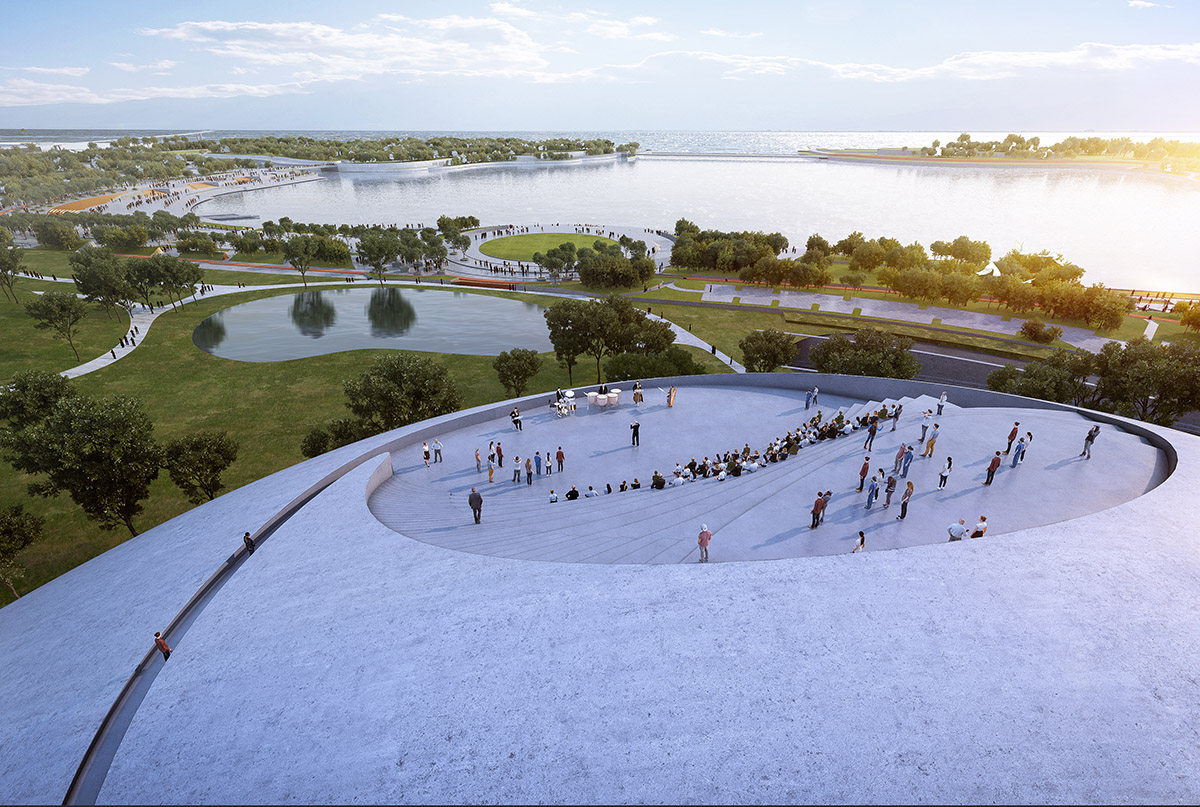 Image courtesy of MAD
Floor-to-ceiling windows and skylights throughout the main public space on the first floor, wash the interior with natural light, while also drawing the natural scenery and spirit of the park inwards, blurring the division between the indoors and outdoors.
Image courtesy of MAD
The main public area has several standardized exhibition halls that can host a range of works, such as sculptures and special collection displays. The versatility of these exhibition spaces allows them to accommodate a variety of programmatic needs.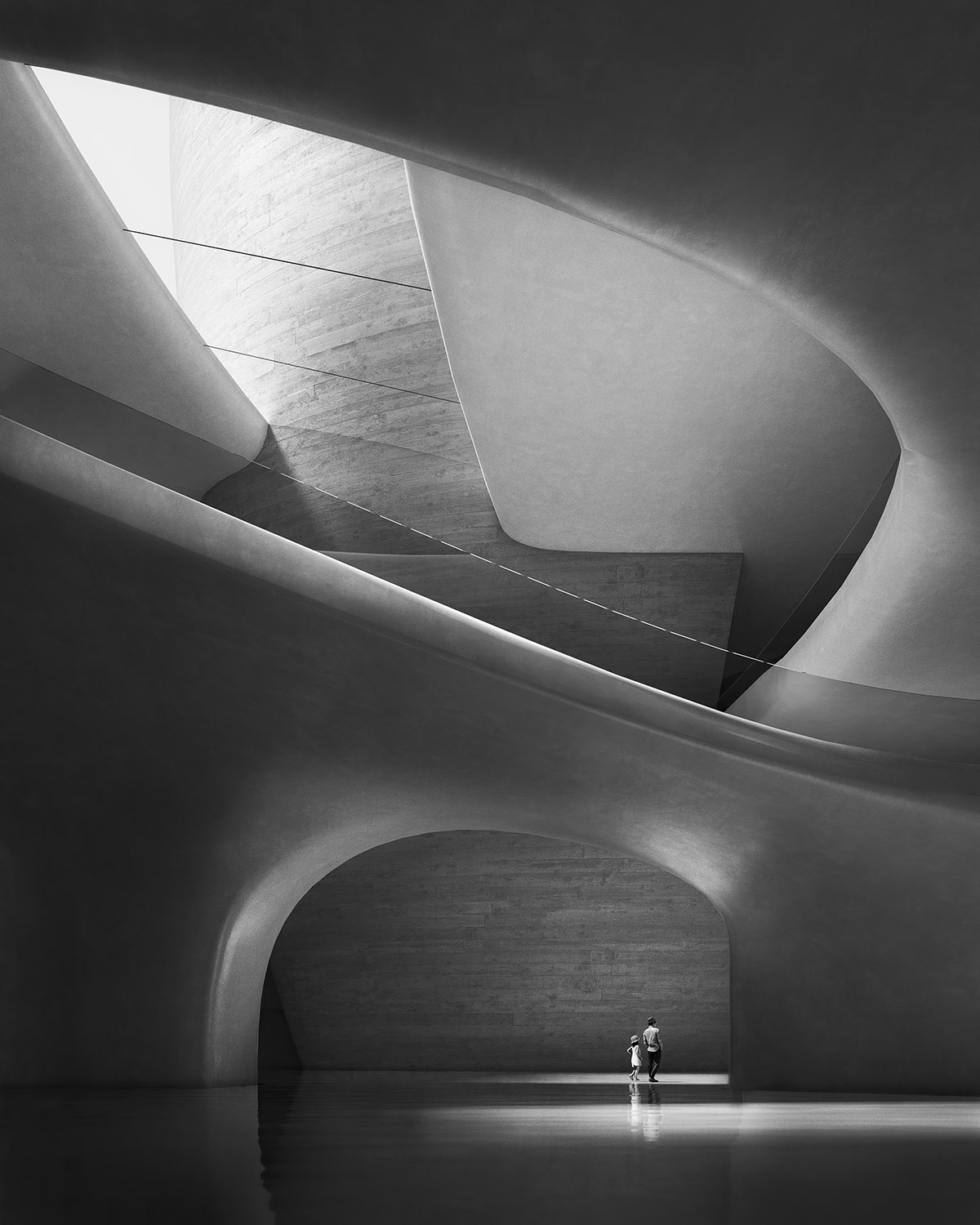 Image © Proloog
Image © Proloog
Image © Proloog
The Shenzhen Bay Culture Park is located within the Houhai area of Shenzhen's Nanshan district. "In the past decade, the economy of this area has developed rapidly into the city's financial and innovation hub," said MAD in a press statement.
"In 2019, the GDP of the district exceeded 600 billion RMB. It is home to world-class enterprises such as Alibaba Cloud, Huawei, and Tencent, which has coined it the nickname "China's Silicon Valley.""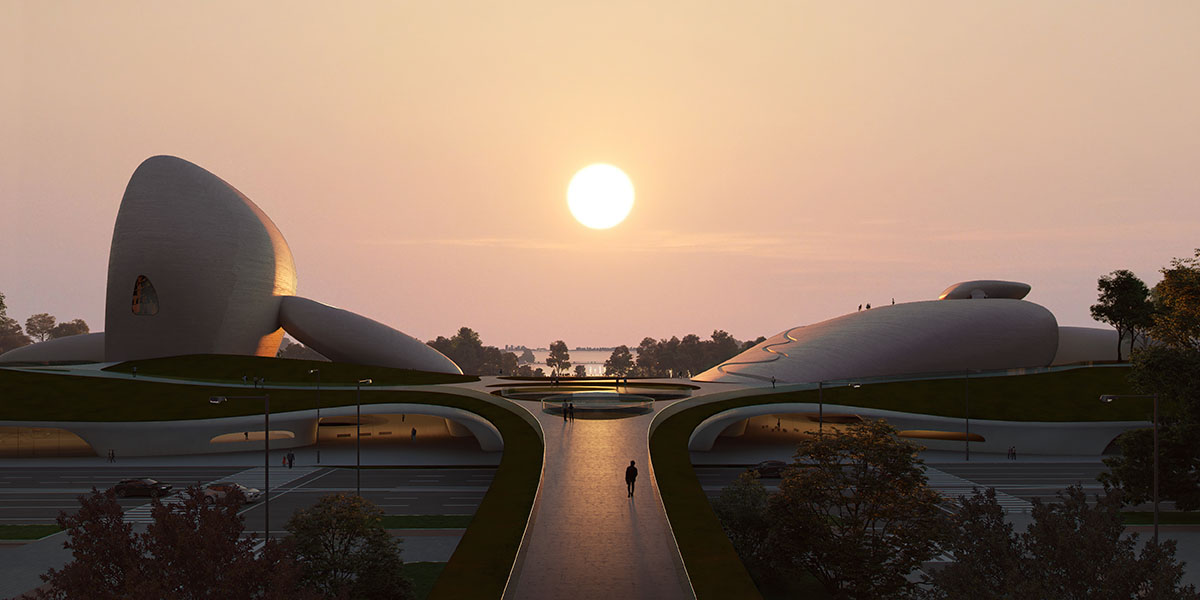 Image © Proloog
As MAD highlights," the numerous high-rises that have emerged as a result of economic and technological development now stand as a contrasting backdrop to MAD's design".
"As the city thrives economically it now seeks to establish itself on a more cultural level."
MAD's Shenzhen Bay Culture Park will be one of ten new cultural facilities spearheaded by the Shenzhen city development, and represents Shenzhen's ambitions of becoming a "city of culture with global influence."
Image © Guo Xuan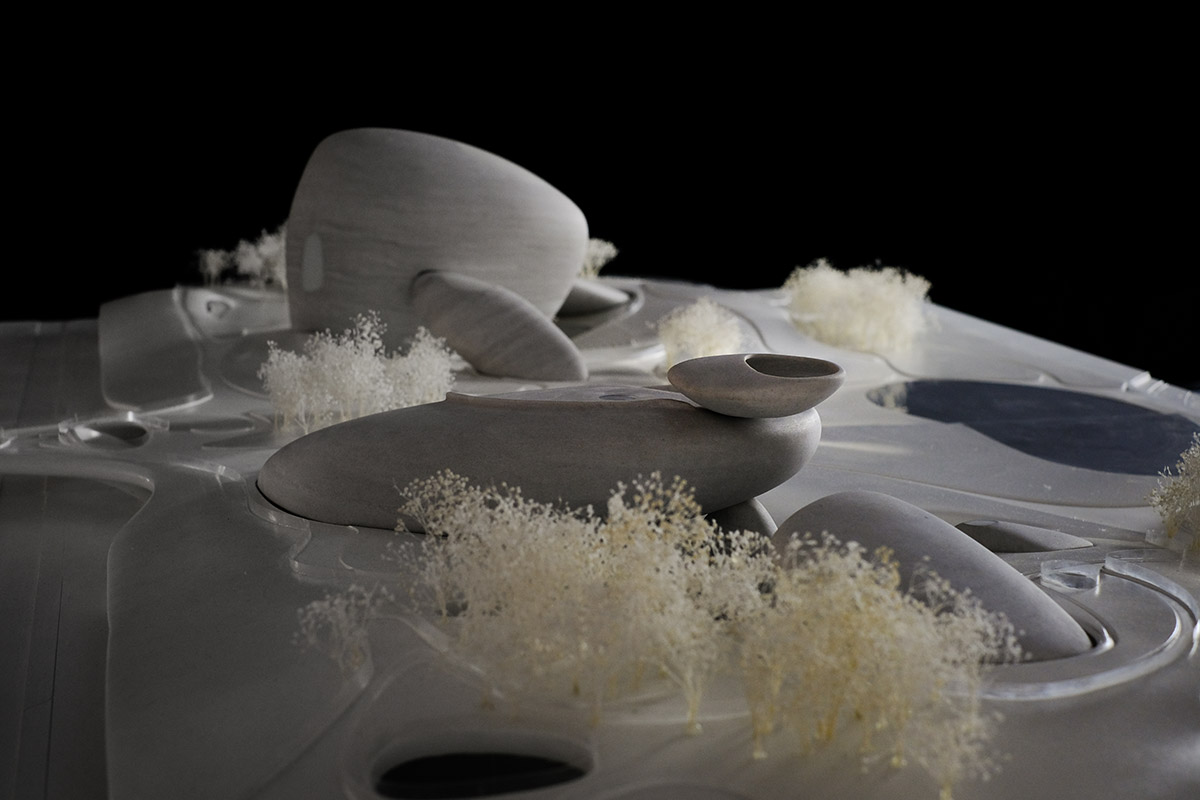 Image © Guo Xuan
Masterplan. Image courtesy of MAD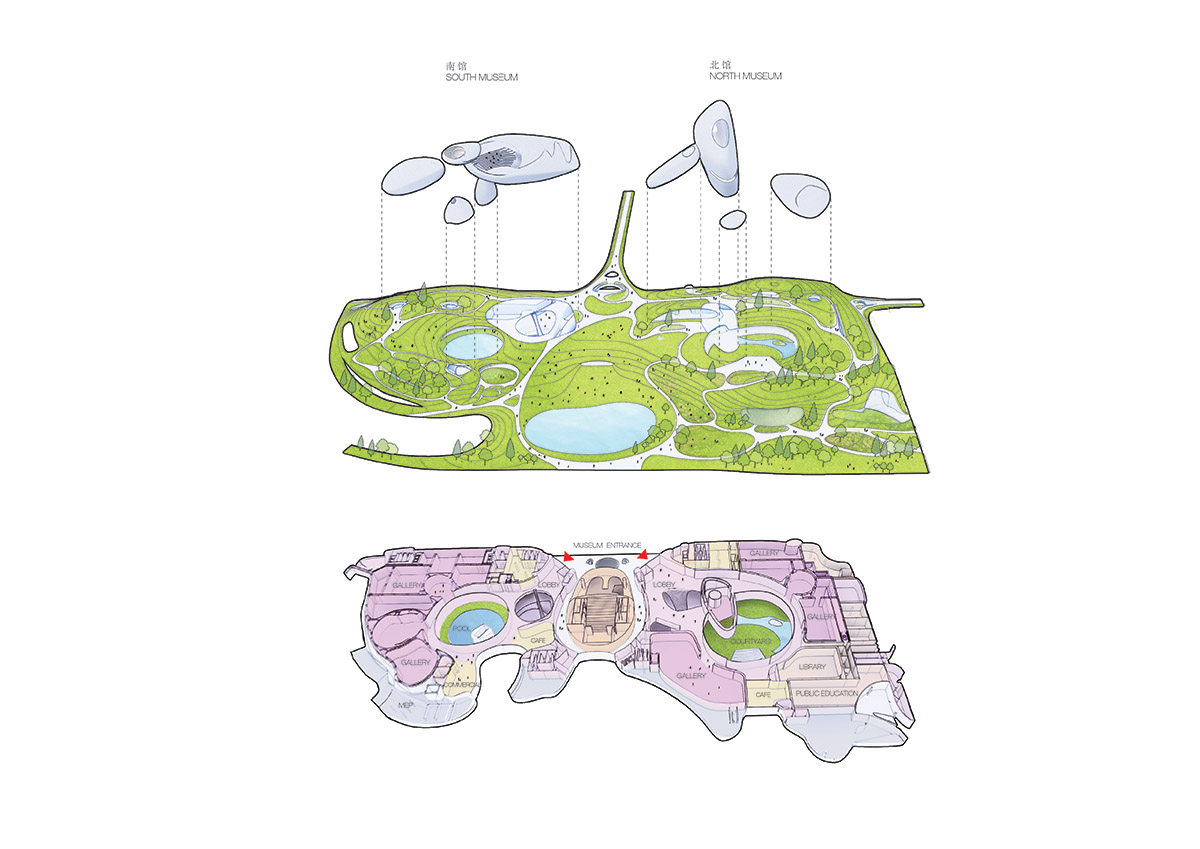 Exploded 3D diagram. Image courtesy of MAD
WAC has recently published MAD Partner Yosuke Hayano's exclusive keynote from the 2019 reSITE's Conference. In his keynote, Hayano explains how MAD's projects trigger people's emotions.
Beijing-based architecture studio MAD Architects was established by in 2004 by Ma Yansong. The studio produces projects in different scales, sizes and typologies taking into consideration Asian culture.
Project facts
Shenzhen Bay Culture Park
(Creative Design Hall and Shenzhen Science and Technology Museum)
Location: Shenzhen, China
Date: 2018-2023

Typology: Exhibition Halls, Park
Site Area: approx. 51,000 square meters
Building Area: 182,000 square meters

Principal Partners-in-Charge: Ma Yansong, Dang Qun, Yosuke Hayano
Associate Partners-in-Charge: Kin Li, Tiffany Dahlen
Design Team: Li Cunhao, Zhang Chao, Neeraj Mahajan, Sun Shouquan, Zhang Yaohui, Huang Jinkun, Maria Corella, Kenji Hada, Lin Zi Han, Yu Lin, Yan Ran, Chen Yi-en , Liu Hailun, Pittayapa Suriyapee, Lei Kaiyun, Alessandro Fisalli, Edgar Navarrete S., Haruka Tomoeda, Lu Zihao

Executive Architect: East China Architectural Design and Research Institute
Structural Consultant: Arup Engineering Consulting (Shanghai) Co., Ltd. Shenzhen Branch
Façade Consultant: RFR (Shanghai) Co., Ltd.
Interior Design: Shanghai Xian Dai Architectural Decoration & Landscape Design Research Institute Co., Ltd.
Lighting Design: Beijing NingXhiJing Lighting Design Co., Ltd.
Signage Design: Kenya Hara (Nippon Design Center)
Acoustic Design: Guangdong Qiyuan Architectural Engineering Design Institute Co., Ltd.
Traffic Consultant: Paimeng Transportation Consulting (Shanghai) Co., Ltd.
Traffic Assessment: China Urban Development Institute Co., Ltd.
Animation: SAN
Renderings: Proloog
Model Photography: Guo Xuan
Top image courtesy of MAD
> via MAD