RLDA explores other forms of architecture in WAC's exclusive video interview
World Architecture Community has kicked off a series of video interviews on the website and live interviews on WAC's Instagram account to hold short architectural conversations with outstanding architects from around the world.
WAC's online video and live interviews cover various issues and themes, starting from the architects' design approach, their current projects, establishments, the trace of their success on a global scale to the current situation cased by the global pandemic.
Lakshmi Chand Singh and Rahoul Singh, co-founders of Delhi-based RLDA Design and RLDA Re-Search, are WAC's fourth guest architects to delve into the studio's architectural approach and the studio's new initiative RLDA Re-Search, a new research practice analyzes and documents spatial and cultural patterns within the urban realm.
In WAC's 30-minute interview, Lakshmi Chand Singh and Rahoul Singh sit down with WAC's India Country Reporter Bineeta Ghoshal and discuss different forms of architecture through communication, the future scenarios regarding the impacts of the coronavirus pandemic, the relationship between research and the professional practice.
RLDA was established as a design studio in 1997 in New Delhi, India. The practice is led by Lakshmi Chand Singh and Rahoul Singh and produces projects in different scales, types and sizes, starting from single room renovations to resorts, real estate developments, large-scale buildings and offices.
Lakshmi Chand Singh and Rahoul Singh, partners of RLDA. Image courtesy of RLDA
The studio's recent initiative on research, called RLDA Re-Search, helps to understand the flow of spatial and cultural patterns better in en ever changing today's urbanism.
A they describe the studio's philosophy with their own terms, the practice is "guided by sensitivity to the culture and the climate of a place."
"This sensitivity is reflected in the friendly end product: friendly to the people who use it, to the culture within which it is built, towards the materials and processes of its construction."
Citadel House in Dubai, Atali Ganga Resort in India and interior design of APDS: Beauty + Hair Salon featuring bold red-color palette are among the three key projects of the office.
Citadel House. Image courtesy of RLDA
Citadel House is located on one of the last available plots of land in Dubai's (UAE) Jumeirah neighbourhood, the house is sited in the midst of a half acre plot of land and engages with its immediate landscape in a variety of ways.
Citadel House. Image courtesy of RLDA
The house is spatially defined by a large central art gallery that connects the two wings of the house and a courtyard around which the public spaces revolve.
A swimming pool and its associated lap and reflecting pools bind the eastern edge of the house while the western edge is defined by service and utility spaces that protect the house from the scorching Arabian sun.
Citadel House. Image courtesy of RLDA
Rahoul practices, teaches and researches both architecture and urbanism from New Delhi, India. He is a member of the visiting faculty team at the School of Planning and Architecture in New Delhi and in the past served as a senior consultant to the Delhi Urban Arts Commission.
He received his degrees in art, architecture and in the history, theory and criticism of art and architecture from the Rhode Island School of Design, USA.
An alumni of Sushant School of Architecture, New Delhi, Lakshmi began her architectural practice in Delhi in 2003. She spent a number of years practicing with design intensive multi-disciplinary studios in the city and in Singapore before relocating back to Delhi and joining Rahoul B. Singh in their design firm RLDA.
Lakshmi has also played an instrumental role in establishing Design x Design, a multi-disciplinary platform, that promotes cross pollination of ideas among members of various design fields. She is deeply involved in a community library programme for slum children of all ages, where her endeavour is to tap their imagination by fostering design thinking as a skill.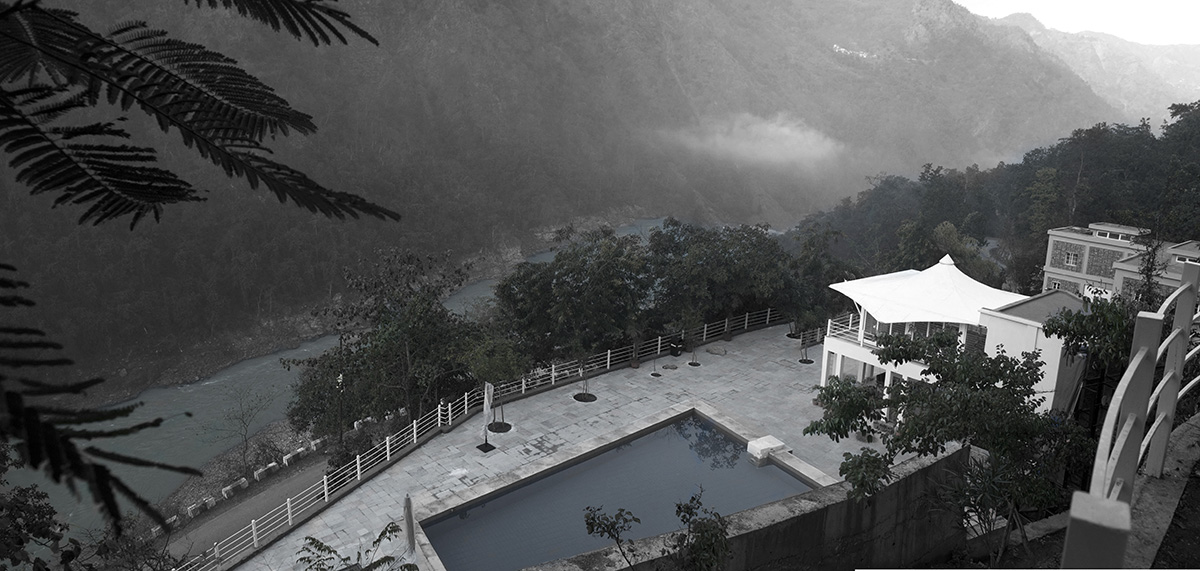 Atali Ganga. Image courtesy of RLDA
Atali Ganga is an adventure sports resort, 30 kilometers from Rishikesh on the banks of the river Ganga. Documenting the passage of time, the resort uses stone, shadow and steel to situate it within the social and religious continuum of the historic river Ganges. Twenty two cottages are spread over the hill side.
The stone is set either in Gabion, stacked or used with mortar while reed and other natural material knit the various elements of the project together.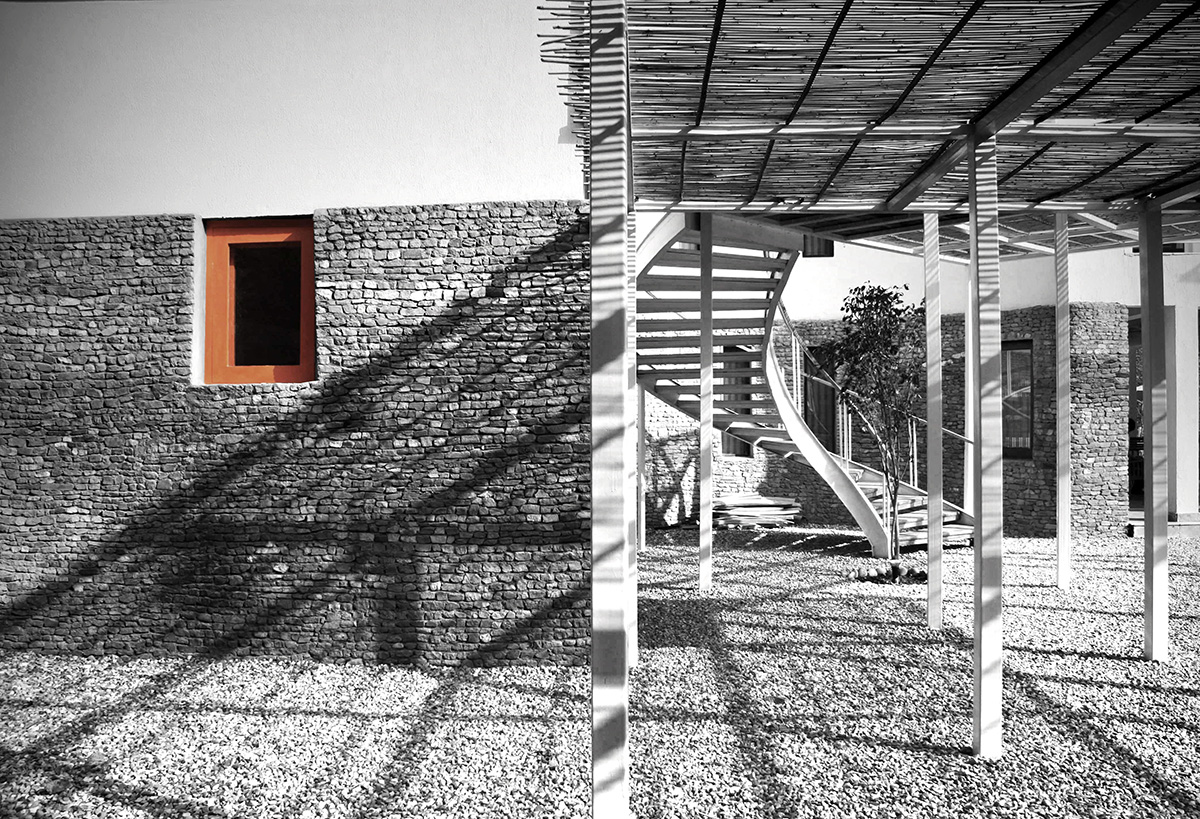 Atali Ganga. Image courtesy of RLDA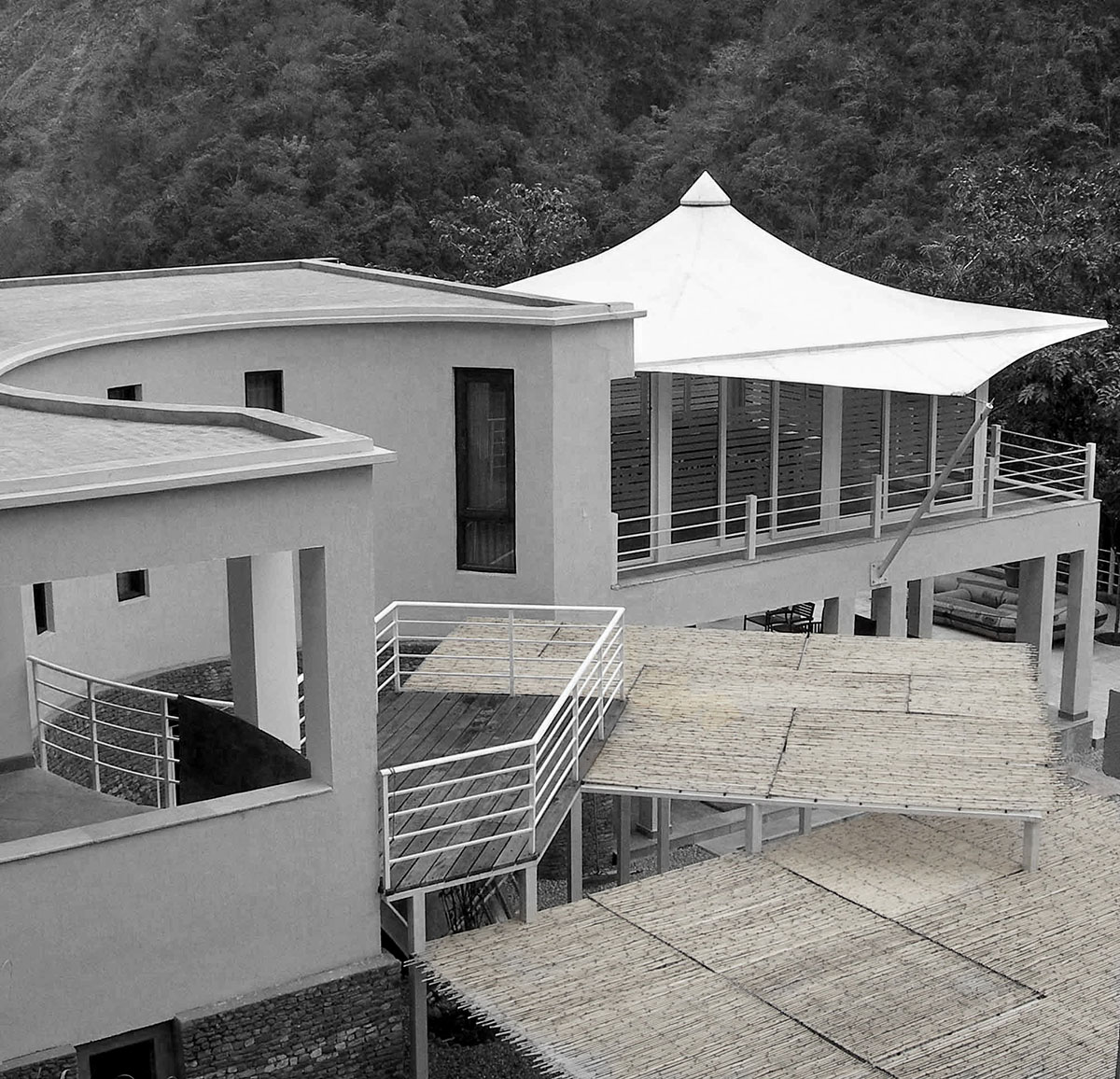 Atali Ganga. Image courtesy of RLDA
Atali Ganga preliminary sketch. Image courtesy of RLDA
RLDA Design + RLDA Re-Search are engaged with architecture, urbanism and the broader built environment as both a field of practice and a discipline of inquiry.
"Projects articulate through their form and image, material and detail, that which is unique and specific to their function and location," said the office.
"Working predominantly in an idiom that situates itself within current cultural production, design projects by RLDA are aligned with that mode of design inquiry that explores the materiality of "things" and how they are perceived sense perceptively.
The research practice analyzes and documents spatial and cultural patterns within the urban realm."
"Through it the production of knowledge and the cross pollination of ideas ensures that the work of the studio is both culturally situated and situating," the architects added.
APDS: Beauty + Hair Salon. Image courtesy of RLDA
The ten thousand square foot beauty salon is a combination of mezzanine spaces (used for speciality treatments and offices) and double height purpose built cabins interspersed with a series of glass planes with graphic motifs.
These elements, individually varied and collectively orchestrated define spaces that provide for the varying degrees of privacy needed in a beauty salon. The cavernous interior with its fourteen foot high ceilings was made more intimate by the insertion of these elements.
APDS: Beauty + Hair Salon. Image courtesy of RLDA
RLDA - Research is structured around a series of peer reviews, applications for research grants and the publication of texts and drawings of the city.
"The means and methods of representation inform a process of inquiry. Critical reflection and a constant review process ensure that the designs reach a level of maturity prior to entering a fabrication / constructional process," added the practice.
"The designs draw on the wisdom and richness of local craft and tradition while simultaneously being aligned with trans-cultural continuity and digital fabrication techniques."