Architect Nisha Ghosh selected to curate India Pavilion at the London Design Biennale 2021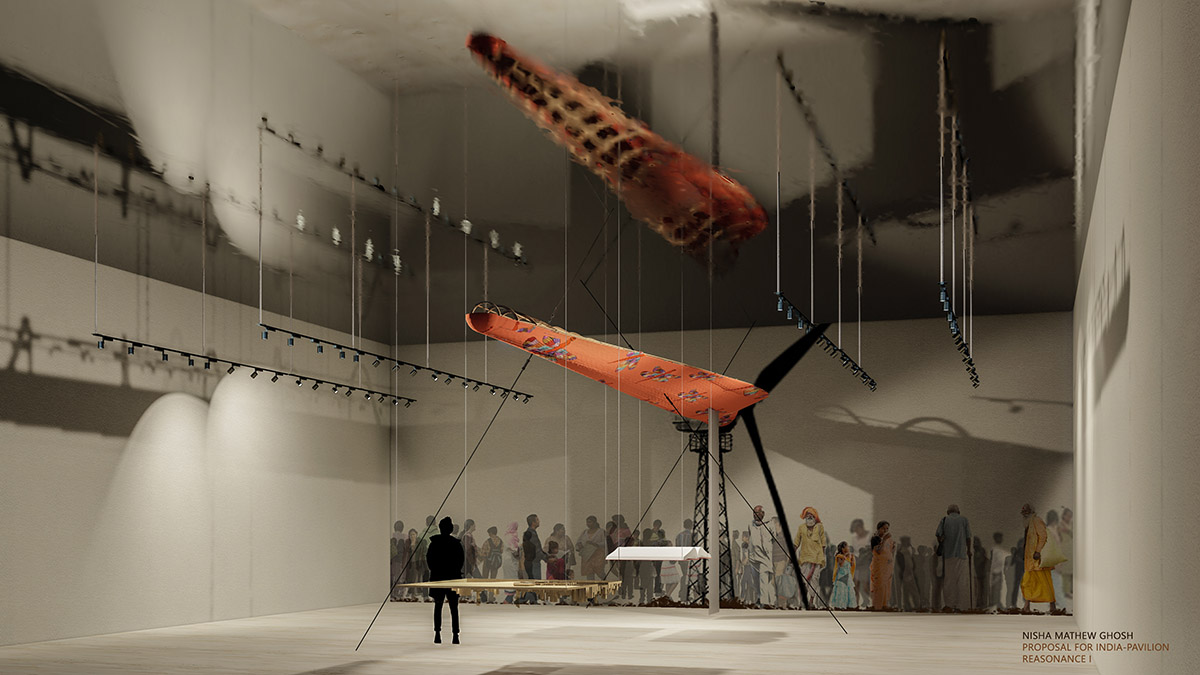 Architect Nisha Mathew Ghosh will represent India at London Design Biennale 2021, which was scheduled to take place in September this year, but has been rescheduled to be held in June 2021 due to Covid-19.
Themed "Resonance", the third edition of the biennale will feature installations by architects, designers, scientists, and artists from over 50 countries, who will respond to Artistic Director Es Devlin's call to action: "How can design provide solutions to the major crises of our time?".
The India Pavilion at the London Design Biennale 2021 will present "Small Is Beautiful. A Billion Stories", a new multi-sensory installation curated by Ghosh.
The installation pays homage to historical grassroots initiatives by communities and individuals in India, and signals the hope these community-based movements can provide in challenging the current ecological crises of India's booming cities.
Nisha Mathew Ghosh, Partner and Design Principal at Mathew and Ghosh Architects. Image courtesy of Mathew and Ghosh Architects
At the heart of the installation is a two-winged kinetic structure inspired by the modern form of a windmill blade and the traditional Indian Punkha, a manually operated fan. Bringing together art, craft, design, music, and technology, "Small Is Beautiful. A Billion Stories" assembles a labyrinth of radical ideas developed to combat the pollution of India's natural environment - its water, forest, earth, and air.
Ghosh, who is an architect, designer, researcher and co-founder of the Mathew and Ghosh Sustainable Creation Care Foundation, is working with an extended design team for this project, including advisor Soumitro Ghosh and design collaborator and bamboo fabricator Sandeep Sangaru.
Through the installation for the Indian Pavilion, Ghosh will showcase the story of India's landmark experiments, ideas, and acts of resistance in support of urban and environmental sustainability. These pioneering experiments include the iconic forest conservation movement "Chipko", innovations by activists and thinkers to restore the water ecology of an entire city, and a design project to restore a brownfield site poisoned by the Union Carbide gas tragedy in India, among others.
The research-led project considers disciplines that bridge Design and Ecology. From scientific research to architecture, textiles to cleaning brownfields, community movements to state-of-the-art manufacturing, upcycled waste to conceptual design - the myriad ideas that form the ethos and design language of the India Pavilion, slice across time and spatial domains to coalesce into a body of collective knowledge that represents our blueprint going forward from 2020.
It is hoped that this exhibition will be a catalyst to build ecosystems of collaborative design expertise that harnesses the power of design in order to address the critical needs of India and the world today.
"All across the landscape of India are IDEAS - isolated beacons of light that hold keys to a Future of Ideas for an Ecologically Resilient India. Be it forests, clean energy, restored brown fields and clean air - a blueprint of this tapestry of ideas creates exciting possibilities of building much needed Ecosystems of innovation and solutions for the future," said Nisha Mathew Ghosh.
"The next generation does not have enough benchmarks for sustainability, inspiration in order to build on older foundations to create a new ecologically conscious India. A mapping and documentation of what we have done so far is each of these domains is critical to move ahead. It has the possibility to Resonate a much needed Hope in the post-Covid rebuilding of the country," she added.
London Design Biennale was established by the founders of London Design Festival, Sir John Sorrell CBE and Ben Evans CBE, to present world-class design thinking from every corner of the globe and to interrogate current design practice: highlighting its role to better our lives.
The 2018 London Design Biennale welcomed the world's most exciting and ambitious designers, innovators and cultural bodies to the capital with over 200,000 visitors to Somerset House over the three-week period.
Top image: Installation view reference image of the earliest scheme now in its 3rd iteration. Image courtesy of Nisha Mathew Ghosh.
> via London Design Biennale