SCI-Arc hosted its Main E-vent and 2020 Spring Show with a constellation of stunning video interfaces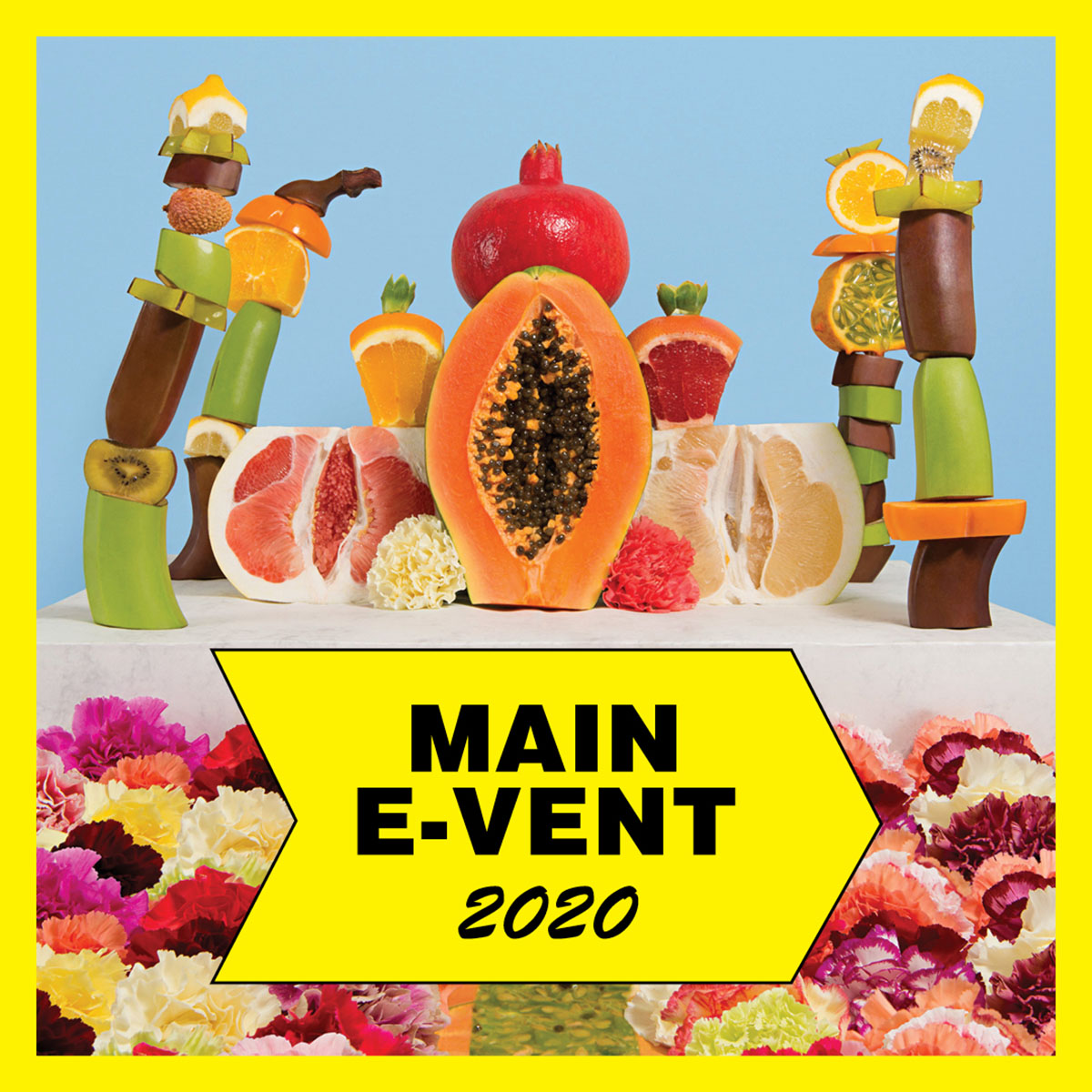 Southern California Institute of Architecture (SCI-Arc) has transformed its Main E-vent and 2020 Spring Show into a funny and playful medium on Twitch, the world's leading live streaming platform for gamers.
Kicked off on May 2, SCI-Arc's Main E-vent featured an exclusive preview and curator walkthrough of its 2020 Spring Show, the newest and strongest works from SCI-Arc's students, alongside a live online dance party with a DJ, digital cocktail lounge experiences, and other surprises.
You can explore SCI-Arc's 2020 Spring Show on Twitch.
SCI-Arc transformed its annual event and Spring Show into a vibrant atmosphere which is inviting and attracting for the faculty members, students and other participants.
"This year, Spring Show is reinvented in ways never done before through Twitch, complete with a full-scale, multi-channel, radically experiential, live-broadcast exhibition of student projects guaranteed to awe and impress," said the school.
SCI-Arc director Hernán Díaz Alonso kicked off the evening by addressing guests with an empowering message of gratitude and renewed purpose in raising funds for scholarships.
"These are complex times, but we are super thankful that you're here globally to support SCI-Arc students," said Díaz Alonso.
"Now, more than ever, the world needs architectural thinking, and we need to keep allowing our students to do their job—to realize their dreams, to pursue their imagination—with bravery, compassion, and innovation."
Alumna Ann Gutierrez (B.Arch '19) and M.Arch student and representative to SCI-Arc's the board of trustees Joy Dai emceed the evening with natural flair as they led digital attendees from around the globe from one segment to the next. The event, which benefits scholarships, was appropriately themed around Díaz Alonso's universal assertion that 'architecture is an act of optimism,' taking the form of filmed statements from SCI-Arc students and alumni, some even from the time of the school's founding, which injected the event with an air of galvanizing possibility and potential.
Alumnus Dean Nota, who was among SCI-Arc's founding students, recalled, "48 years ago, we were a group of individuals with a common passion for architecture. In an act of audacious optimism, SCI-Arc was born."
After a touching and powerful video illustrating the impact of scholarships on SCI-Arc students came beautiful film tributes honoring SCI-Arc founder Ray Kappe and longtime friend and trustee Merry Norris, both of whom sadly passed away in the past year.
The tributes were followed by a dialogue between Graduate Thesis Coordinator Florencia Pita, Graduate Programs Chair Elena Manferdini, Undergraduate Program Chair Tom Wiscombe, and Postgraduate Programs Chair David Ruy. The intimate group of academic leaders discussed the importance of SCI-Arc as an institution that trains architects to respond to a changing world with their talent, and Main E-vent is a dedicated moment for that talent to be celebrated.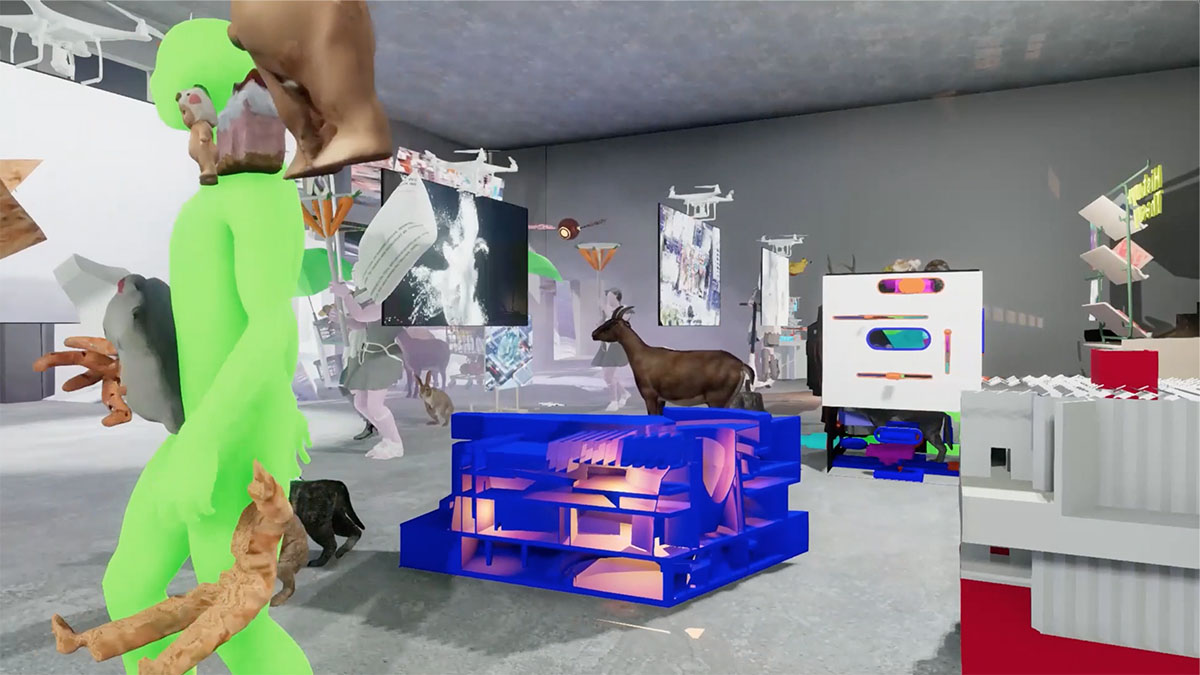 Still from the opening procession of Spring Show 2020
Punctuated by filmed dance interludes throughout the evening by guest artist and choreographer Jasmine Albuquerque and student Vincent Yung the climax of the night was most certainly the momentous opening of Spring Show, an immersive and boisterous 3-dimensional video procession, comprised of virtual animals, student videos, 3D models, choreographed undulating bodies, and more, with music composed by current Fiction and Entertainment student Mariana Curti.
After the conclusion of the procession, Spring Show curator John Cooper led viewers through a virtual tour of the exhibition on gaming platform Twitch, which included work from core and vertical studios across all programs.
For Cooper, the procession was "a full taste of some of the kinds of radical play and serious fun, and an example of the extraordinary work that the students are doing at SCI-Arc showing their willingness to push the boundaries of anything which is given to them in tremendous style and under extraordinary circumstances, to find completely new ways of raising."
The rest of Spring Show was presented as a constellation of stunning video interfaces, featuring a live chat allowing students whose work was featured to engage directly with donors and guests.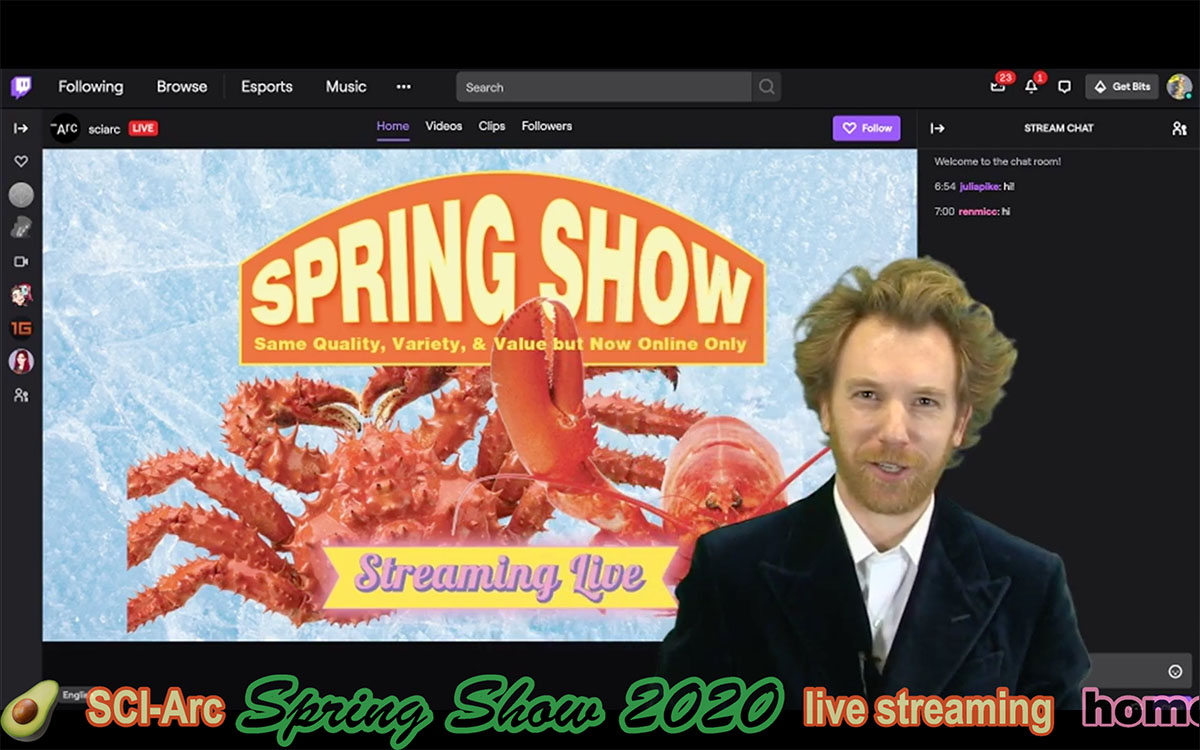 SCI-Arc Faculty and Spring Show 2020 curator John Cooper unveiling Spring Show on Twitch
The program highlighted conversations with faculty who led core and vertical studios this year, such as All-At-Onceness with Visual Studies Coordinator Devyn Weiser, corresponding with Run In Full 2019, led by Peter Testa; Nullius Phyllius by Lucy McRae; and Withdrawn Interior Studio, led by Russell Thompson along with Maxi Spina, Peter Trummer, and Mira Henry. Another featured example of the avant-garde work being done in the seam between production and theorization at SCI-Arc was a conversation on the Queer Aesthetics symposium with organizer and SCI-Arc faculty David Eskenazi.
Student work was presented from Enchanted Models, the studio of Tom Wiscombe, Playhouse with Florencia Pita, Invisible by Graduate Programs Chair Elena Manferdini, and x3 with Chief Academic Officer John Enright, among many others.
An interactive game show
Representatives from SCI-Arc's student publications including Offtopic and Offramp hosted an interactive game show, and an AI-generative game entitled Twitch Plays Architecture, designed by SCI-Arc faculty Damjan Jovanovic, Architectural Technologies program coordinator M. Casey Rehm, and network consultant Anthony Tran, converted guest comments from the live chat into buildings on-screen in real time. The night concluded with a raucous dance party on Zoom driven by the musical stylings of LA-based DJ, producer, and composer Nick Malkin.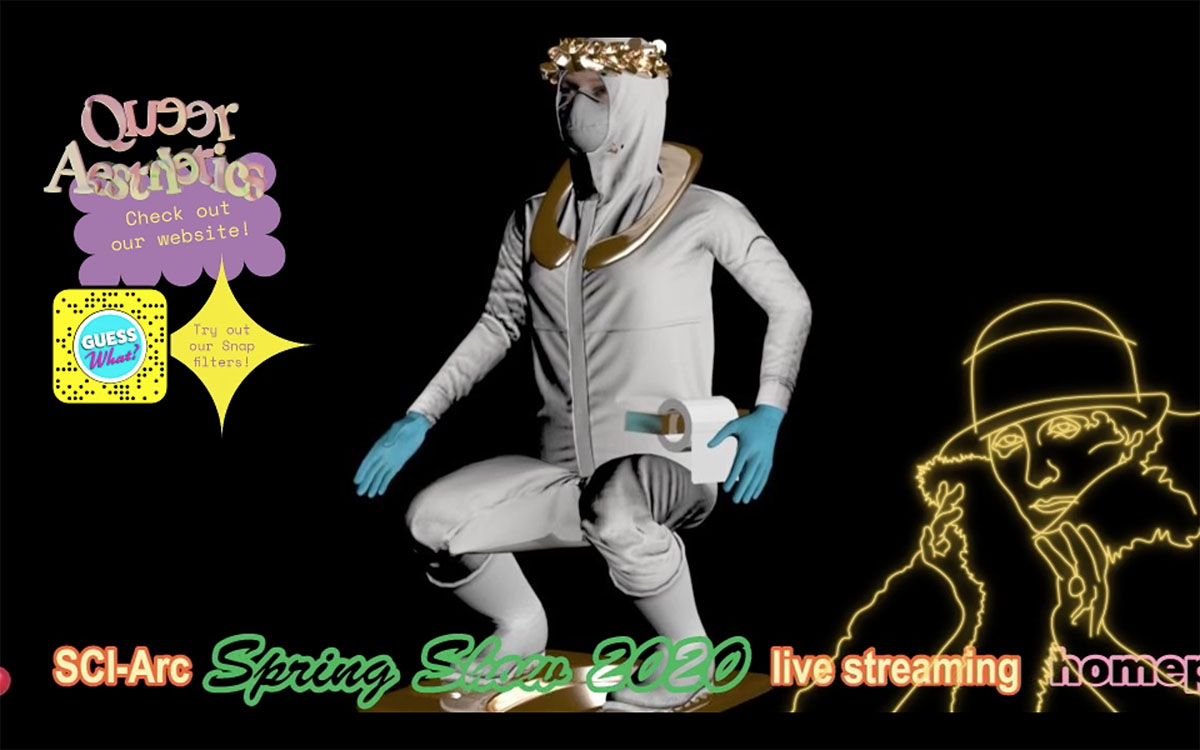 Still from Queer Aesthetics Twitch stream during Spring Show 2020
Those who attended found SCI-Arc Main E-vent to be a thrilling, refreshing, and well-attended gathering for those excited about the work being created at the school, while also missing being together in person on campus.
Alumni Council member Manori Sumanasinghe (B.Arch '14) commented, "I only planned to be there for a little bit, but ended up staying till the end. Spring Show was breathtaking—bravo to John for the curation, and the students and instructors for putting together one of the most avant-garde and entertaining architecture showcase events that I have had the privilege of participating in."
"SCI-Arc students give me hope that the newest generation of architects—with their proficiency in tools, impressively deep understanding of the world, and innate connectedness—will maintain and strengthen the good base which every contributor in the built environment works from: Optimism," offered trustee and sponsor Steven Song.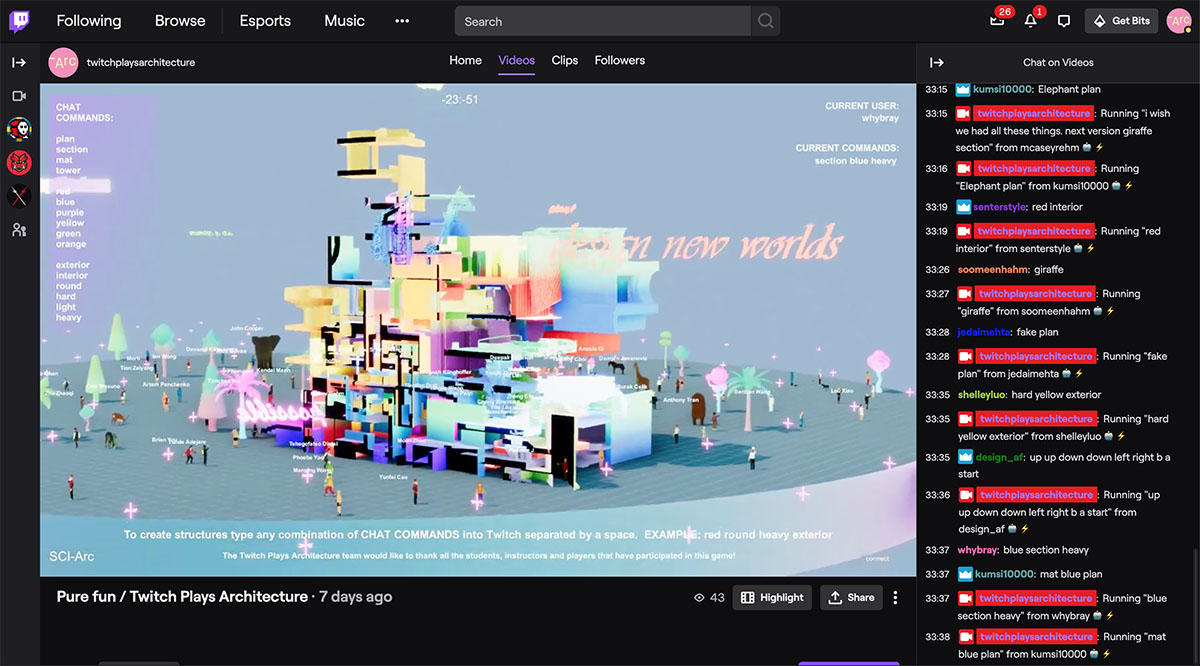 Still from Twitch Plays Architecture
Díaz Alonso summed up the evening by acknowledging that, "While Main Event is different this year, the ambitions are always the same," he concluded.
"The strength of bringing our community together is to support the scholarship endowment—to support our students, to support their efforts, to support them in keep pushing, keep moving forward, keep learning—but ultimately at the end of the day, to help them to be part of building a better world."
Main E-vent Zoom Afterparty
Main E-vent 2020 was made possible by Partner Sponsor STUN, and Supporter Sponsors US Bank, Steven Song (SCAAA), Adele Yellin, Tim Disney, Perkins + Will, Hsinming Fung and Craig Hodgetts, Tom Strickler, Elizabeth Koch and Jason Kakoyiannis, and American Airlines.
All images courtesy of SCI-Arc
> via SCI-Arc