Restoration Of Vikram Sarabhai Library & 3 More Indian Projects Bag UNESCO Asia-Pacific Awards
Restoration and conservation of Vikram Sarabhai Library at Louis Kahn-designed Indian Institute of Management (IIM), Ahmedabad bags UNESCO Asia-Pacific Award for Cultural Heritage Conservation 2019. This project has already been featured on WAC on June 5, 2019. Somaya & Kalappa Consultants (SNK) which spearheaded the restoration work received the Award of Distinction at an award ceremony conducted at the 20th UNESCO Asia-Pacific Heritage 20/20 Forum held in George Town in Penang, Malasia on October 14, 2019.
The Vikram Sarabhai Library conservation work was a part of the 16 projects which were selected by a jury from among 57 entries from 14 countries across the Asia-Pacific region.
India's other entries that won awards include Keneseth Eliyahoo Synagogue, Mumbai done by Abha Narain Lambah Associates; Our Lady of Glory Church, Mumbai dealt by architects David Cardoz and Ainsley Lewis; and, Flora Fountain, Mumbai dealt by Vikas Dilawari Architects.
This was the first time when a 20th Century Modern Heritage building in India was awarded the UNESCO Asia-Pacific Award for Cultural Heritage Conservation. The UNESCO Award Jury cited on the conservation of Vikram Sarabhai Library:
"The restoration of the monumental Vikram Sarabhai Library heralds an important step forward in the preservation of 20th-century architecture in India. The linchpin of Louis Kahn's iconic Indian Institute of Management campus in Ahmedabad, the library was rehabilitated from a state of extensive material dilapidation. Through careful studies and extensive modelling, the conservation team has conquered a range of difficult technical challenges to extend the life of the composite brick and concrete structure with its distinctive geometric forms. The project has recovered configurations and uses of space in line with the architect's original vision while upgrading functionality to ensure that the library is ready to meet contemporary requirements and provide universal access. With Modernist heritage enjoying increasing acclaim, but still facing the widespread threat of demolition, this initiative promises to have major policy impact within Ahmedabad and throughout India."
Speaking about the award SNK's Principal Architect Brinda Somaya said, "We are extremely honoured to have won this prestigious award for our work on the Vikram Sarabhai Library at IIM, Ahmedabad. The award is recognition of team effort from different groups of people who collaborated for this restoration project. The UNESCO distinction is extremely important to create awareness about India's 20th Century Modern Heritage and for the future conservation of all such buildings in the country."
Nandini Somaya Sampat, Director of SNK, added, "SNK has been at the forefront of restoration and conservation work in India, having undertaken several important projects, including the monumental Vikram Sarabhai Library at IIM, Ahmedabad. With each restoration project, we hope to create awareness of the importance of preserving the country's architecture. The challenge with such an iconic structure was to ensure that we work in line with the original Architect's vision for the building and, at the same time, upgrade its functionality and equip it to deal with modern-day requirements."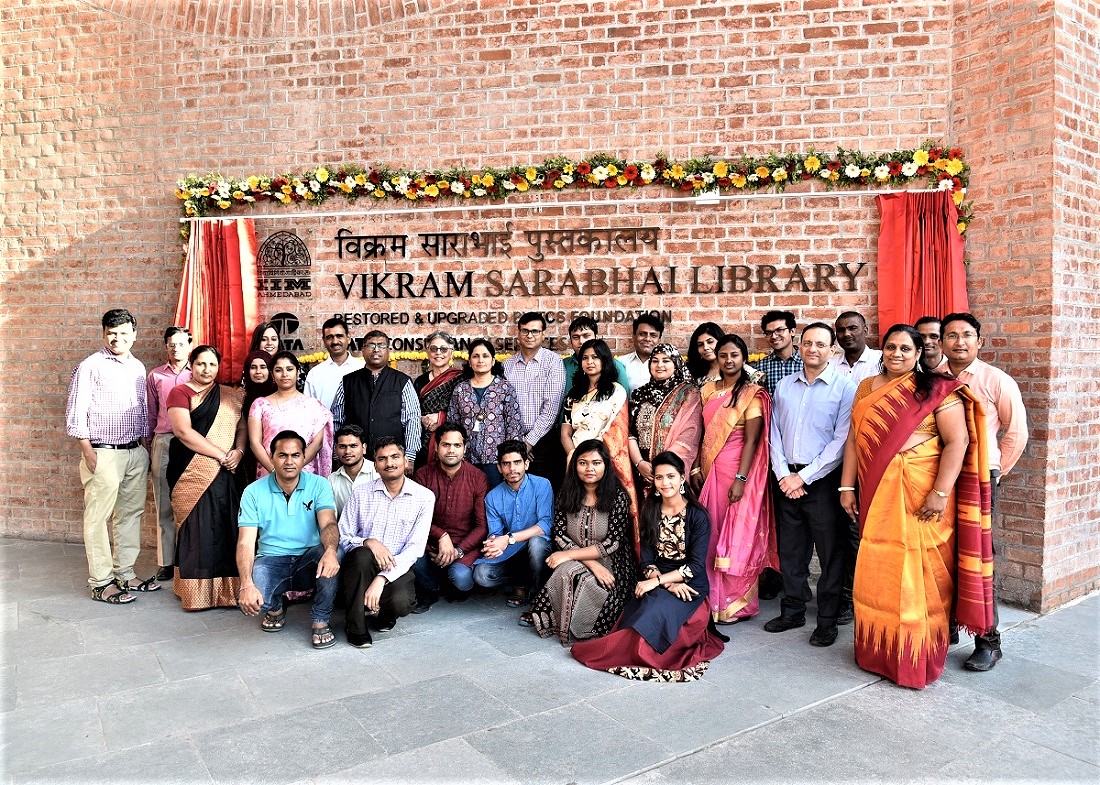 The UNESCO Asia-Pacific Awards for Cultural Heritage Conservation programme recognizes the efforts of private individuals and organizations that have successfully restored and conserved structures and buildings of heritage value in the region. By recognizing private efforts to restore and adapt historic properties, the Awards aim to encourage other property owners to undertake conservation projects within their communities, either independently or by seeking public-private partnerships.
Awarded projects reflect a clear understanding and application of various criteria, such as the articulation of the spirit of place, technical achievement, appropriate use or adaption, and the project's contribution to the surrounding environment as well as the local community's cultural and historical continuity.
Complete list of awards:
Award of Excellence
Tai Kwun - Centre for Heritage and Arts, Hong Kong
Award of Distinction
Keyuan Garden, Suzhou, China
Vikram Sarabhai Library, Indian Institute of Management, Ahmedabad, India
Nelson School of Music, Nelson, New Zealand
Award of Merit
Tseto Goenpa, Paro, Bhutan
Guyue Bridge, Chi'an Town, Zhejiang, China
Keneseth Eliyahoo Synagogue, Mumbai, India
Our Lady of Glory Church, Mumbai, India
Lyttelton Timeball Station, Christchurch, New Zealand
Honourable Mention
The 5s Classroom, Preshil The Margaret Lyttle Memorial School, Kew, Australia
Westpac Long Gallery, Australian Museum, Sydney, Australia
Liddell Bros. Packing Plant, Wuhan, China
Flora Fountain, Mumbai, India
New Design in Heritage Contexts
Joan Sutherland Theatre Passageway and Lift, Sydney Opera House, Sydney, Australia
Dry Pit Latrine in Jiaxian Ancient Jujube Garden, Nihegou Village, Shaanxi, China
The Mills, Hong Kong SAR, China
All images courtesy of SNK.
> via inputs from SNK & Award website.