WOHA unveils its vision for sustainable inner-city campus and public park in Dhaka, Bangladesh
Singapore-based architecture practice WOHA and BRAC University have unveiled design for sustainable inner-City campus and public park in Dhaka, Bangladesh, the redevelopment of a 5.3-acre university campus broke ground in 2017 and is scheduled for completion in 2021.
WOHA's design creates a new model for sustainable development in the region and tropical spaces that do not require full air conditioning.
WOHA is known for its green-community-based architecture that is inspired by the local climate of that region. As a reference to their architectural approach, the firm's Kampung Admiralty building in Singapore won the World Building Of The Year Award in 2018.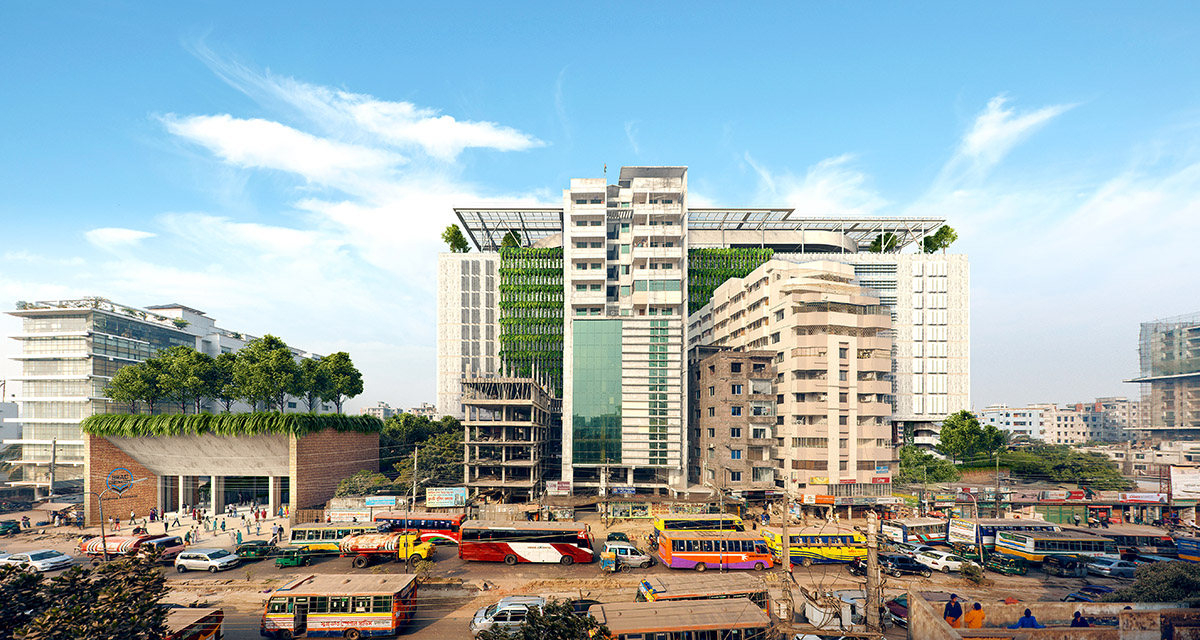 Developed as an extension of BRAC, the largest non-governmental organization (NGO) in the world, BRAC University was established in 2001 and aims to instil in its students a commitment to working towards national development and progress.
This mission is reflected in WOHA's new campus design for the university, which will transform a former flooded wasteland into a liveable, tropical, and sustainable inner-city campus and public park.
The masterplan takes inspiration from the region's Sundarbans, which have separate ecosystems above and below tidal level, WOHA's 950,000 square foot design for the campus is divided into two distinct programming layers: a private "Academia" raised canopy for learning and the ground-level public "Campus Park" created by remediating the existing polluted swamp into a bio-retention pond with lush native landscaping.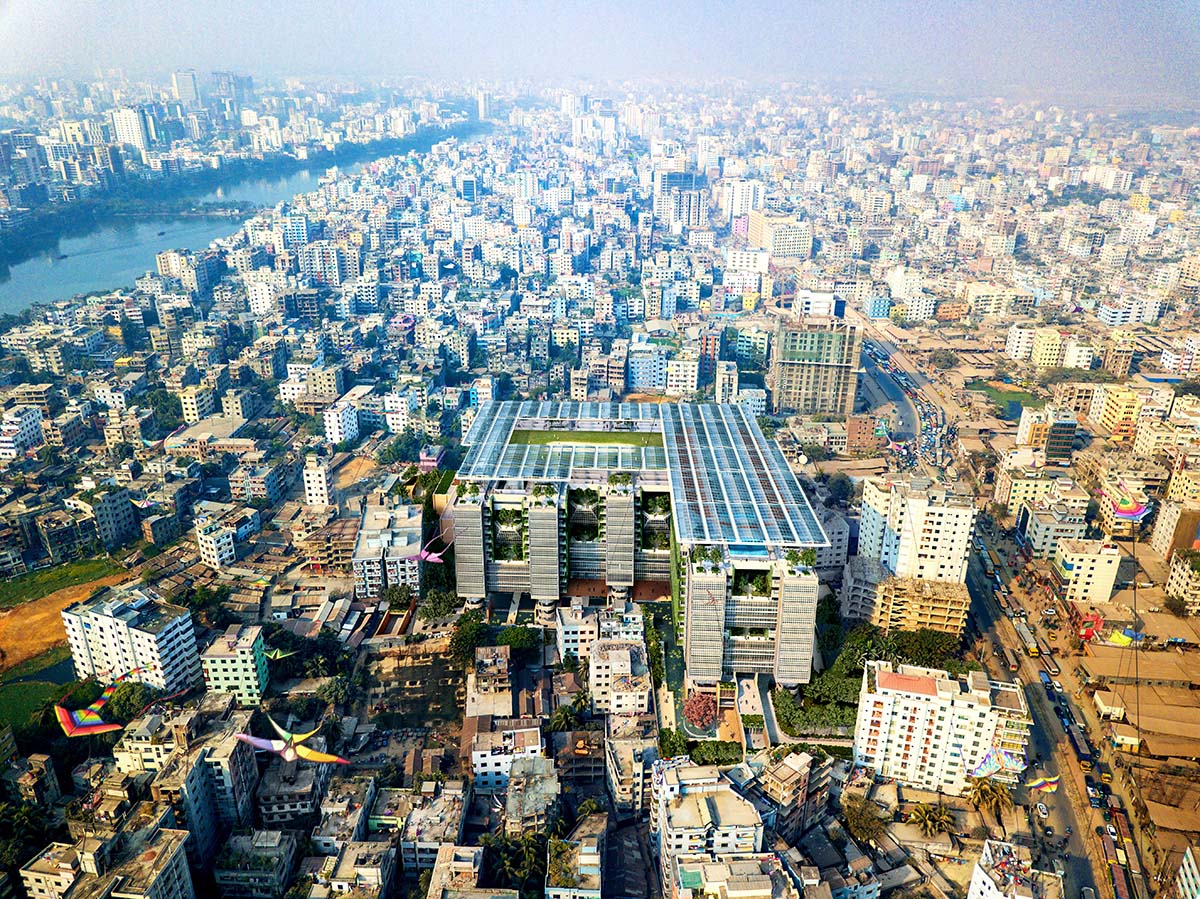 As the heart and social nucleus for over 10,000 students and the wider community, the lower stratum will act as a gathering place complete with the University's auditorium, multi-purpose hall, and public gallery.
The "Academia" will shelter the "Campus Park" from Dhaka's strong sun and heavy monsoon rains, while water-enhanced evaporative cooling will further reduce the ambient temperature, creating a comfortable micro-climate.
With space at a premium due to Dhaka's urban density, the roof will serve as the "University Green," a large recreation sky park that accommodates a recreational field, a swimming pool and a 200m running track under the shade of a large photovoltaic (PV) solar canopy. The solar energy harvested will power giant High Volume Low Speed (HVLS) fans as well as common area lighting.
WOHA's design for BRAC University employs architectural and environmental strategies that will achieve a new model for sustainable development in the region and university campuses worldwide. Innovative adaptive cooling strategies developed with world-class engineers and sustainability consultants will create tropical learning spaces that do not require full air conditioning, while a matrix of sun-shading fins and vertical green walls address solar heat gain.
The building's green facades - composed of simple, low-cost technology - translate to more than 280,000 square feet of landscaping and act as environmental filters that cut out glare and dust, help keep rooms cool, and dampen traffic noise.
In section, WOHA's design reveals how a visually connected series of vertical spaces promote a learning environment that breathes. Open and airy, yet sheltered from the sun and rain, WOHA's 'single-room-thick' floor plans further facilitate cross ventilation and daylighting to every classroom.
Based on a 9x9-meter structural module, all rooms are flexible and can combine to form larger units or be subdivided as required. This potential, combined with the block's compact, continuous form, allows for resizing the faculties in the future.
"We were inspired by BRAC University's mission to foster development process of Bangladesh by creating opportunity for excellence in higher education that is responsive to the local communities' needs," said Richard Hassell, WOHA Co-Founder.
"The new campus will provide an environment that is conducive to learning and human interaction and its integrated landscaping will enhance urban biodiversity."
"Where there used to be a flooded wasteland, the design of the new building implements strategies that help to reduce waste as well as save energy and water," added Hassell.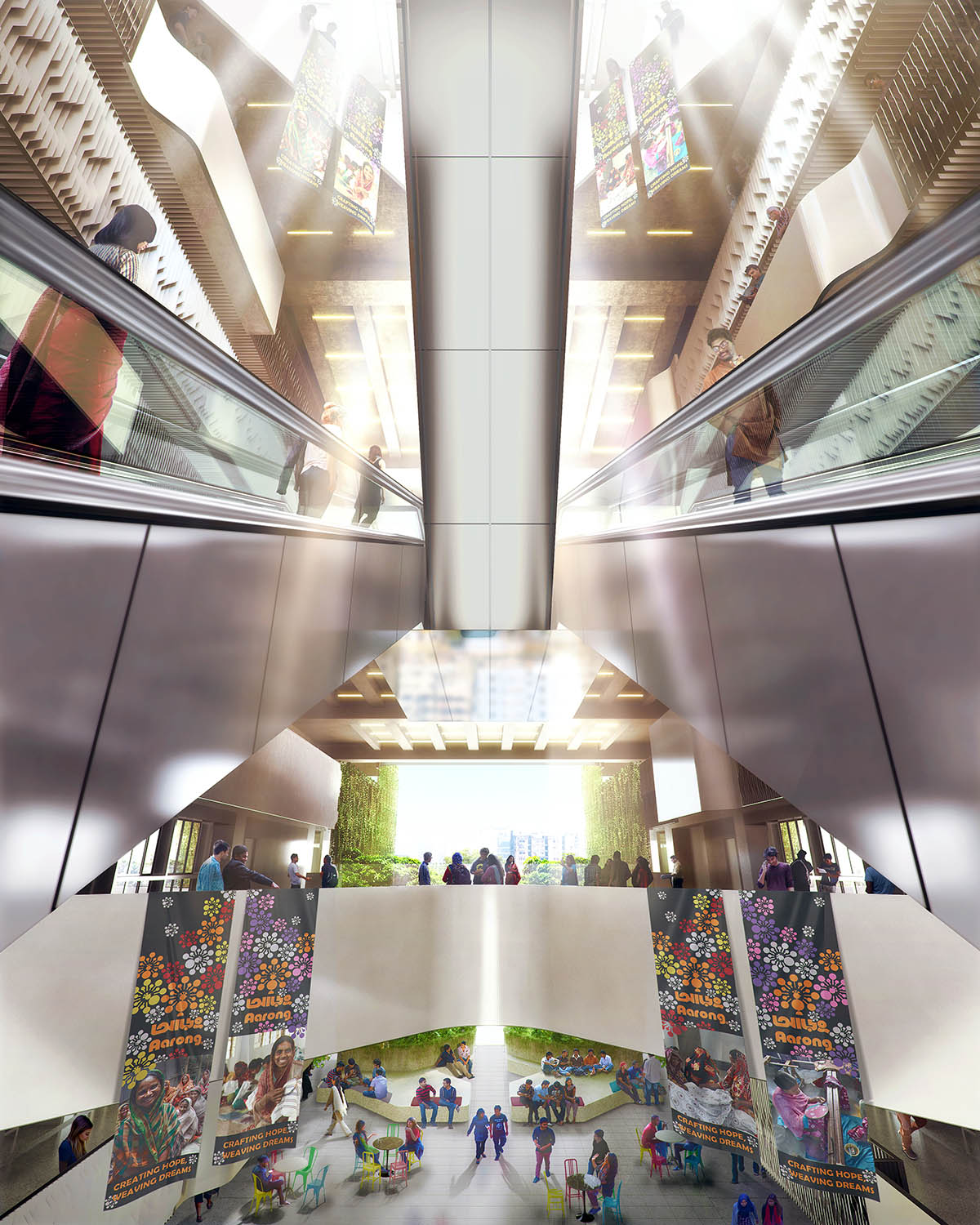 The campus also adopts a robust aesthetic that maximises the use of local materials, traditional crafts and skills. For ease of maintenance and cost effectiveness, minimal applied finishes are used within the general teaching areas.
The backdrop of bare concrete floors and exposed slab soffit ceilings are made colourful and vibrant by student life and activities.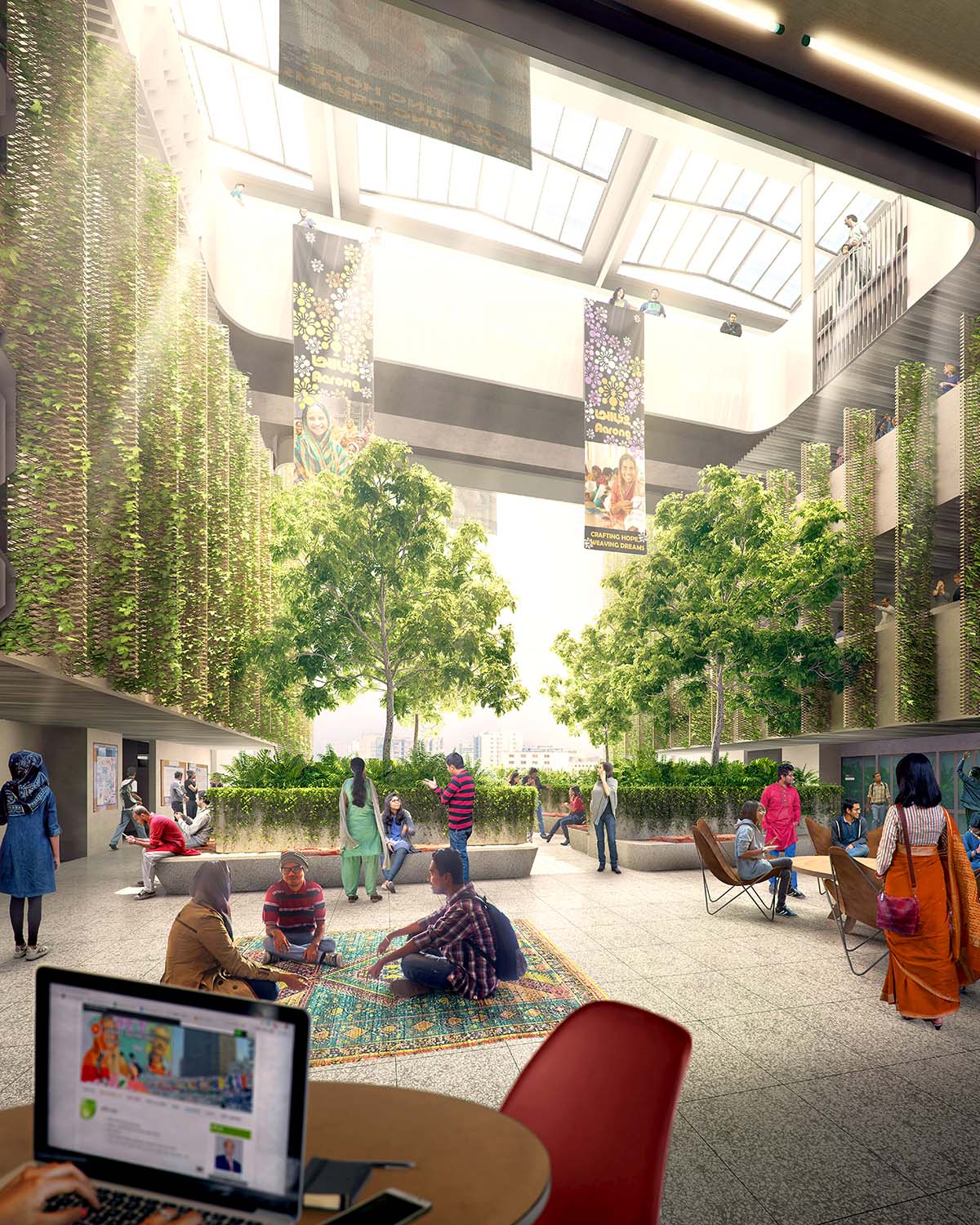 WOHA was founded by Wong Mun Summ and Richard Hassell in 1994. Rather than being overwhelmed by the challenges of climate change, population growth and urbanisation, the Singapore-based practice researches and innovates new architectural and urban solutions to tackle the problems of the 21st century.
The practice currently has projects under construction in Singapore, India, Bangladesh, China, and Australia.
Project facts
Design Inception: September 2011
Start of Construction: July 2017
Completion: 2021
Plot Area: 232,500 sq. ft.
Gross Floor Area: 950,000 sq. ft.
Height of Building: 150 ft.
No. of Stories: 13
Client: BRAC University
Architects: WOHA Architects Pte Ltd
Consultants: 7+ total including Transsolar, Atelier Dreiseitl, and Arup Singapore
Contractor: 1 total
All images courtesy of WOHA
> via WOHA