10 Days Left To Enter WA Awards 10+5+X 33rd Cycle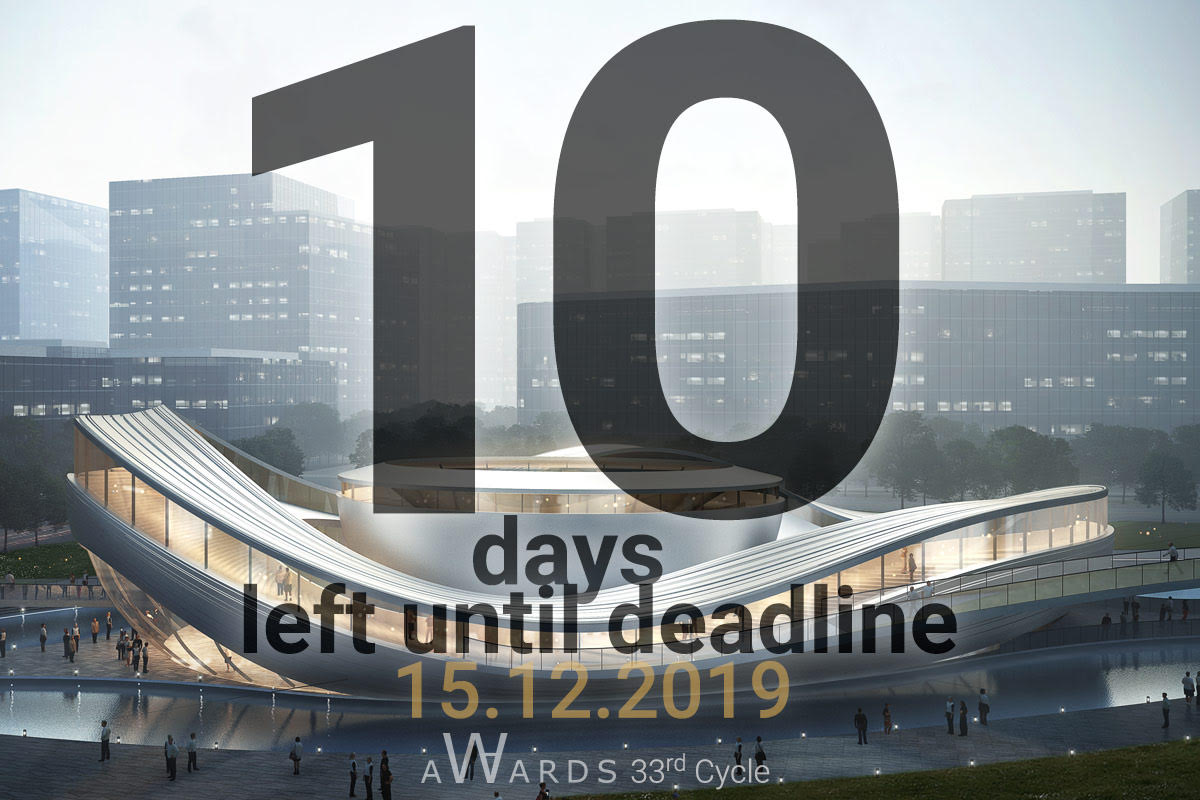 Only 10 days left to submit your entries to the WA Awards 10+5+X 33rd Cycle, but there is still time to send your architecture, interior design and student projects into the WA Awards 33rd Cycle to get globally recognized, the time is running, and start your entry today. You can send your entries until December 15, 2019 (23:59 GMT).
WA Awards is accepting entries from architects, architecture offices, interior designers, interior design offices, architecture and interior design students from all around.
Once more to mark the importance of WA Awards 10+5+X, we have highlighted the top 50 most WA Award Winners so far. Sanjay Puri, Zaha Hadid Architects, Yazgan Design and Architecture and Tabanlioglu Architects, NORR Architects And Engineers, KACI International, Matra Architects are among WA Awards' top list.
WAC Honorary Member and Professional Member Indian architect Sanjay Puri ranked first in the list.
Read on for a look at the 50 architects and architecture offices who have won the most WA Awards, according to the WAC's statistics:
1. Sanjay Puri
2. Yazgan Design and Architecture
5. NORR Architects And Engineers
6. Kyeongsik Yoon/KACI International
8. Hadi Baghlaf/TeleArchitects
9. Selim Senin
11. Arash Mozafari
12. Heesoo Kwak
13. Studio Symbiosis
15. Manco Architects
16. Romi Khosla Design Studios
17. Kikuma Watanabe/D Environmental Design System Laboratory
18. EAA-Emre Arolat Architecture
21. Oleg Drozdov
22. Rafiq Azam/SHATOTTO Architecture For Green Living
23. Hyo Man Kim
24. 3LHD Architects
25. Marco Casagrande/C-Laboratory
27. Syed Fawad Hussain/Metropolitan Studio Of Architecture (MSA)
29. Matteo Cainer Architecture
30. Darcy Chang/BE-Hive Building And Environment Design
32. Kâat Architects
33. AND Studio
34. FREA
36. Mohsen Marizad/United Design Architects
37. Gruposp
38. Ryuichi Ashizawa
39. Teruo Miyahara/Miyahara Architect Office
41. Mafalda Carmona
44. Sargis Sardaryan
48. rgg Architects
50. Creativegroup
10 days left to enter
Do you want to be on the list or add new WA Awards to your success? Then hurry up...! You can start your submissions by registering to World Architecture Community from here. After register, you can upload your projects, upgrade your membership to Professional and send them to WA Awards 33rd Cycle!
WA Awards 33rd Cycle submission deadline will end on December 15, 2019 (23:59 GMT).
To read more details about WA Awards, visit our How To Participate page.
Top image in the poster: BE-Hive Building And Environment Design's Sichuan International Creative Design Campus Community Center-Energy-Bowl from China won the WA Award in the 32nd Cycle.