Visual Tour of a Palatial Gurdwara designed by Architect Thakur Udayveer Singh
This article takes you to a visual tour of a Palatial Gurdwara designed by Thakur Udayveer Singh, Principal Architect, Space Race Architects; Jalandhar, Punjab. The contemporary take of this Gurdwara creates its presence internationally and is visited by a good number of pilgrims having ardent faith in Sikhism from across the globe.
The Religious Setup with Holy book placed at the rear end of the Hall
Anciently Sikhism, as a religion did not have any particular symbol of architecture in their spiritual structures like Gurdwaras. For instance, where Guru Nanak Dev Ji (The founder of Sikhism) was born, it was originally a residence and due to lack of knowledge and resources unluckily it couldn't be restored and halls of Gurdwara came up with elements of architecture that were prevalent at that time mostly derived from Muslim and Persian architecture.
Grayscale Image of the Hall depicting serenity
It is the vision of the architect that, after a centenary, when visitors shall pay homage to this sacred place. The contemporary nature of the building and palatial interior design will take them down to the memory lane of the 21st-century architecture of a Gurdwara.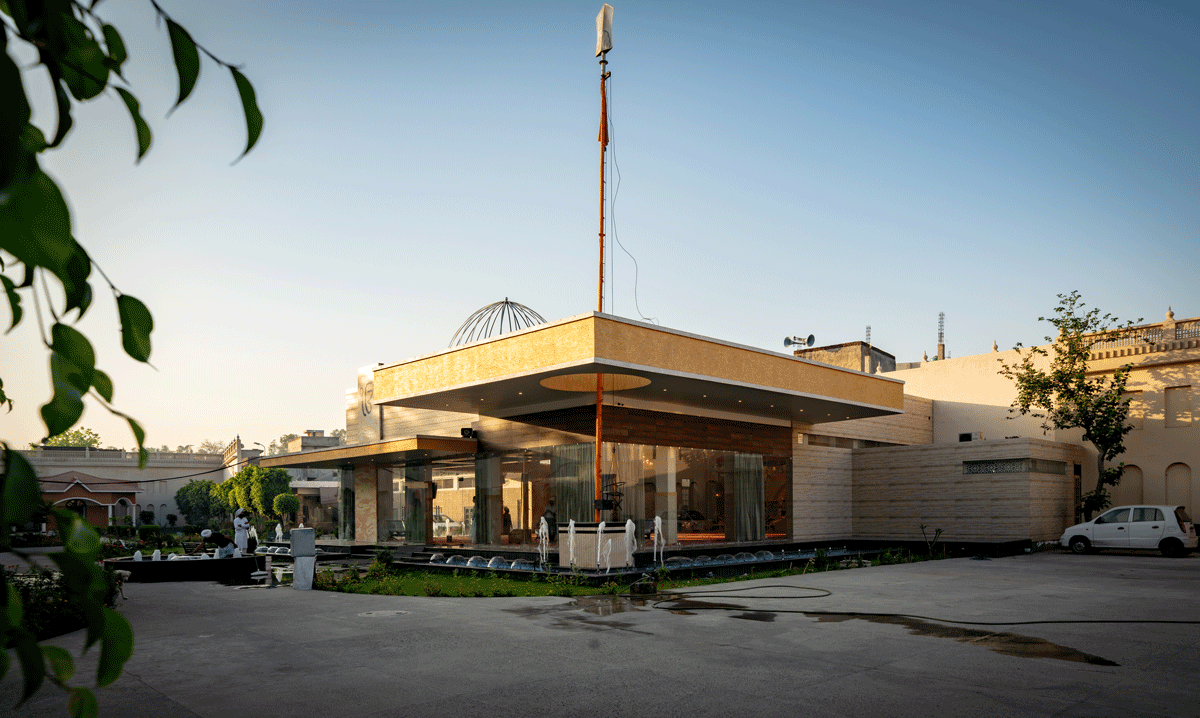 Perspective View of the Building clearly demarcating the Cantilevered slab, skeleton dome & the flagpole
Contemporary elements of the building include cantilever slabs, linear block with travertine stone cladding and a large glass for transparency at the exterior façade. A skeleton Dome marks the pinnacle of the Gurdwara and solely depicts its presence from a distance. There is a splendid fountain erected outside the main entrance directly aligned with the dome above.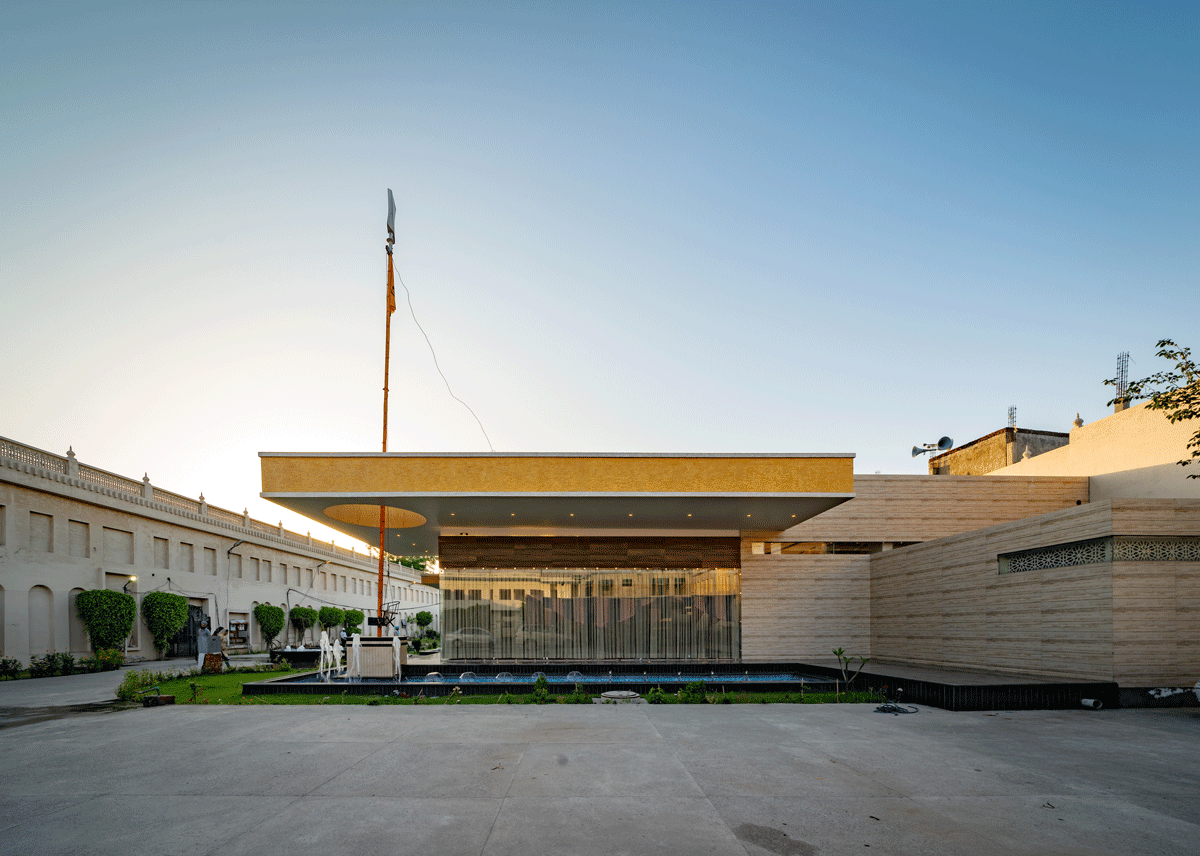 Side Elevation of the Gurudwara
A water source is prevalent on both the ends of the structure to witness its reflection. One can see the refraction of a floating Nishan Sahib (Sacred symbol at the top of a flagpole) with onyx light at the bottom. Further, the building cantilever playfully subtracts the flagpole to cross through it. This onyx flagpole truly depicts the contemporary element of Sikh Architecture.
Opulent use of the diffused sunlight from the east end to create Spiritual Feel
The interior of the building is beautifully canvased with chandeliers, blind pointed arches at the rear wall, floral-patterned carpet floors and shades of beige at the embellishments. There is also an opulent use of the diffused sunlight from the east direction that adds spiritual ambience to the palatial interiors of the building.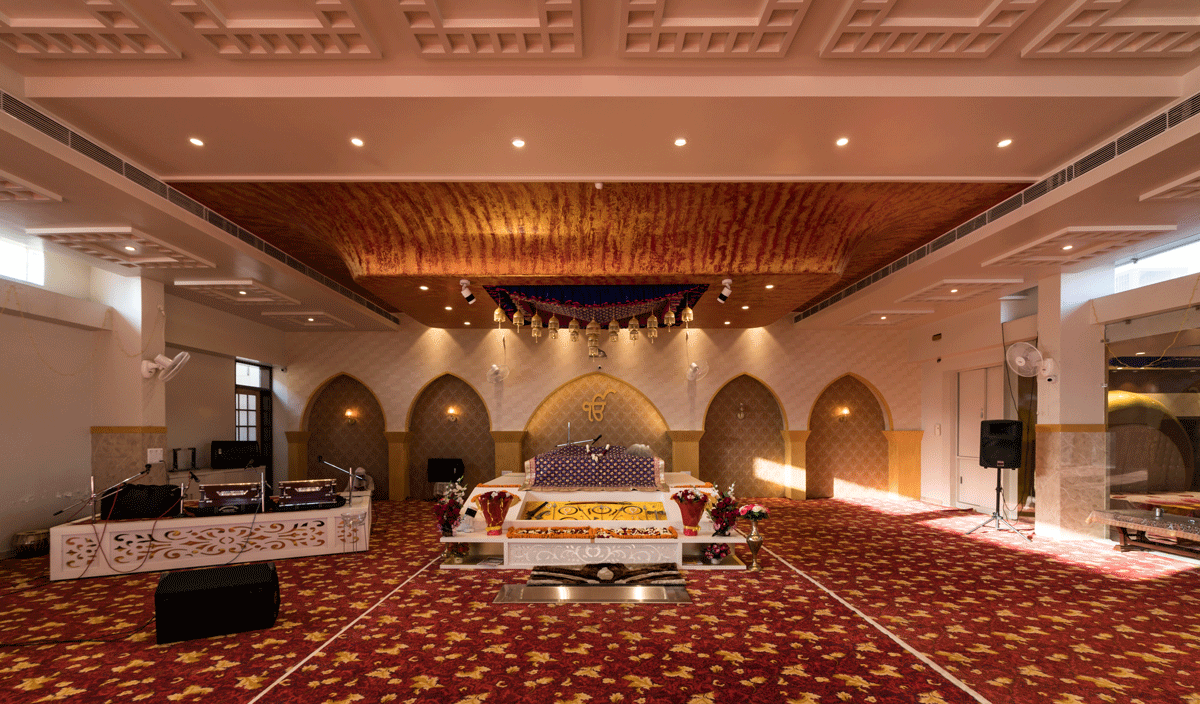 A Closer look at the Spatial set up of the Hall
Fact File
Project Name: Gurdwara Nirmal Kutiya
Name of the Firm: Space Race Architects
Project Year: March 2018
Category: Religious Project
Principal Architect: Ar. Thakur Udayveer Singh
Specialist Design Team Member: Ritika Singh
Built-Up Area: 7209.1 Sq. M
Location: Arjun Nagar, Jalandhar, Punjab
All Images © Nakul Jain unless otherwise stated
> via Space Race Architects