Craft Before Common Era-The Northern Black Polished Ware
The Northern Black Polished Ware (NBPW) is a pottery type from Ancient India, dating to the millennia Before Common Era (BCE). NBPW is known for its lustrous black finishes and the varieties of organic forms it was made into.
Three dimensional vocabulary of NBPW. Drawings © of Archaeological Survey of India.
The Cultural Value of NBPW
Beyond its elegance, the pottery ware continues to help Archaeologists reconstruct India's history. The NBPW is a determinant to how the country's several political and technological myths are cracked open, impacting current societal affairs. The NBPW throws light on the skills that the ancients possessed, guiding us to new sparks on how to craft.
A fragment of the NBPW. Image © Wikipedia.org.
How Was It Made?
The method used for the black lustre of the pottery seems uncertain so far. Typically, NBPW contained Ferruginous (of iron oxide or rust) compounds applied to their molds and then fired. The black showed off once the compound got fired in a reducing condition. This condition (Reduction) in the kiln has more fuel than air, thus lacking oxygen for complete combustion.
NBPW potsherds found in Sri Lanka, part of the Indian Subcontinent. Image © ResearchGate.
Another evidence suggests that oil or plant juice was applied post firing the pots, while they were still hot. Yet another study suggests that magnetic iron oxide, plus liquid clay, plus Haemetite, plus a natural alkali were applied before reduction firing. The glossy finish comes from the iron oxides and the rest contribute to the shine. Very few evidences showed painting of lines and wavy designs on the surface with yellow and vermilion.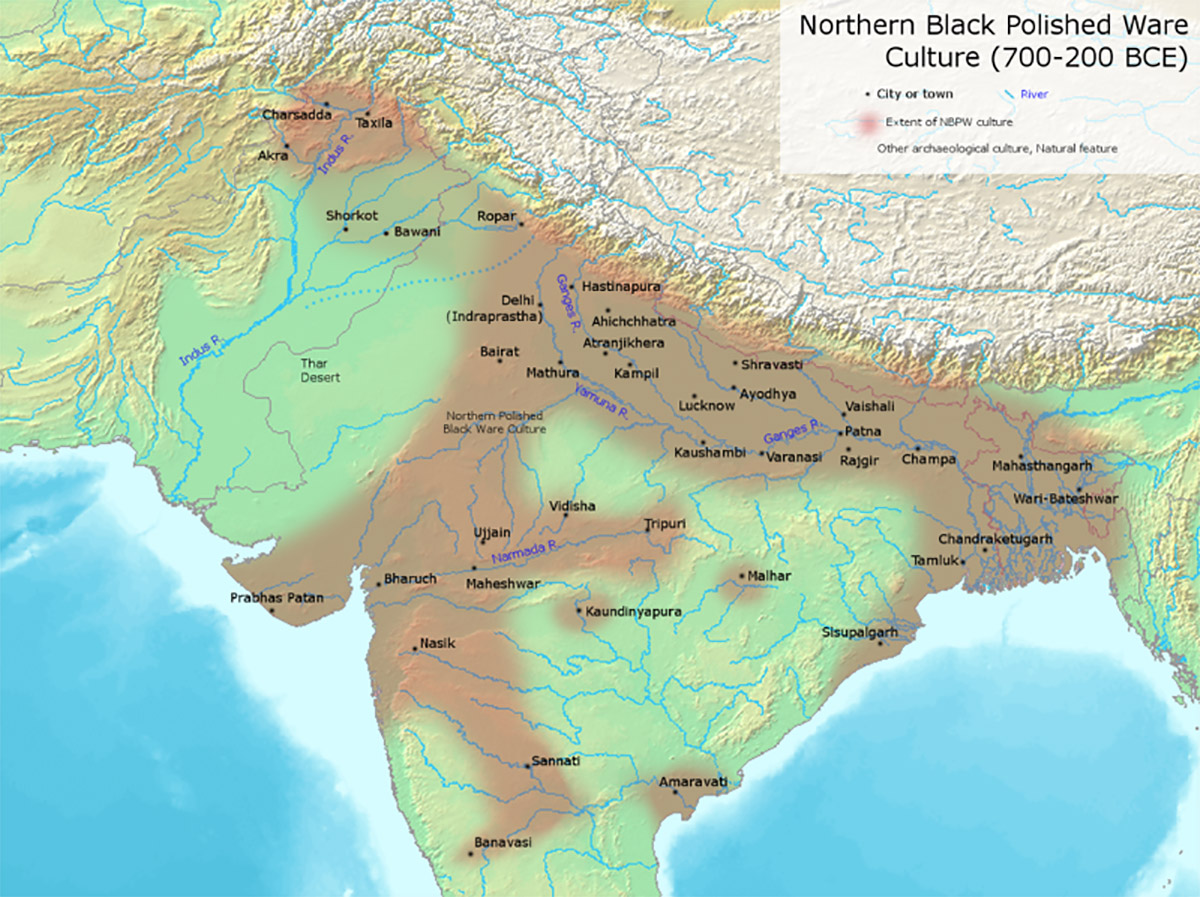 Map © Wikipedia.org.
Places where NBPW surfaced
The first sites where the pottery was discovered are Taxila, Charsada, Amaravati, Prabhas Patan and Tamluk, all cities of the Mahajanapadas-Ancient Urban India of the Iron Age at circa 700-200 BCE. These sites cover the subcontinent form Northwest to West, to South to West Bengal. Later, a concentration was found at Punjab, Haryana, North Rajastan and Uttar Pradesh. The NBPW succeeded the pottery of earlier millennia-the Painted Grey Ware and the Black and Red Ware cultures.
Cover Image © nbpw.blogspot.com
> via A History of Ancient and Early Medieval India, by Upinder Singh.