Mohammad Reza Domiri Ganji: The Mastermind Behind Amazing Photos Of Iranian Architecture
Mohammad Reza Domiri Ganji is the photographer who introduced the amazing atmosphere of Iranian architecture to the world. His photos are unique and they are the first photos that revealed the aesthetics and the atmosphere of interiors in Iranian architecture. His photos are widely used in public spaces to introduce different parts of Iran even to Iranians themselves.
World Architecture Community's Iran Country Reporter Farzam Kharvari had the opportunity to interview with Mohammad Reza and please scroll down to read their conversation for knowing him and his opinions more.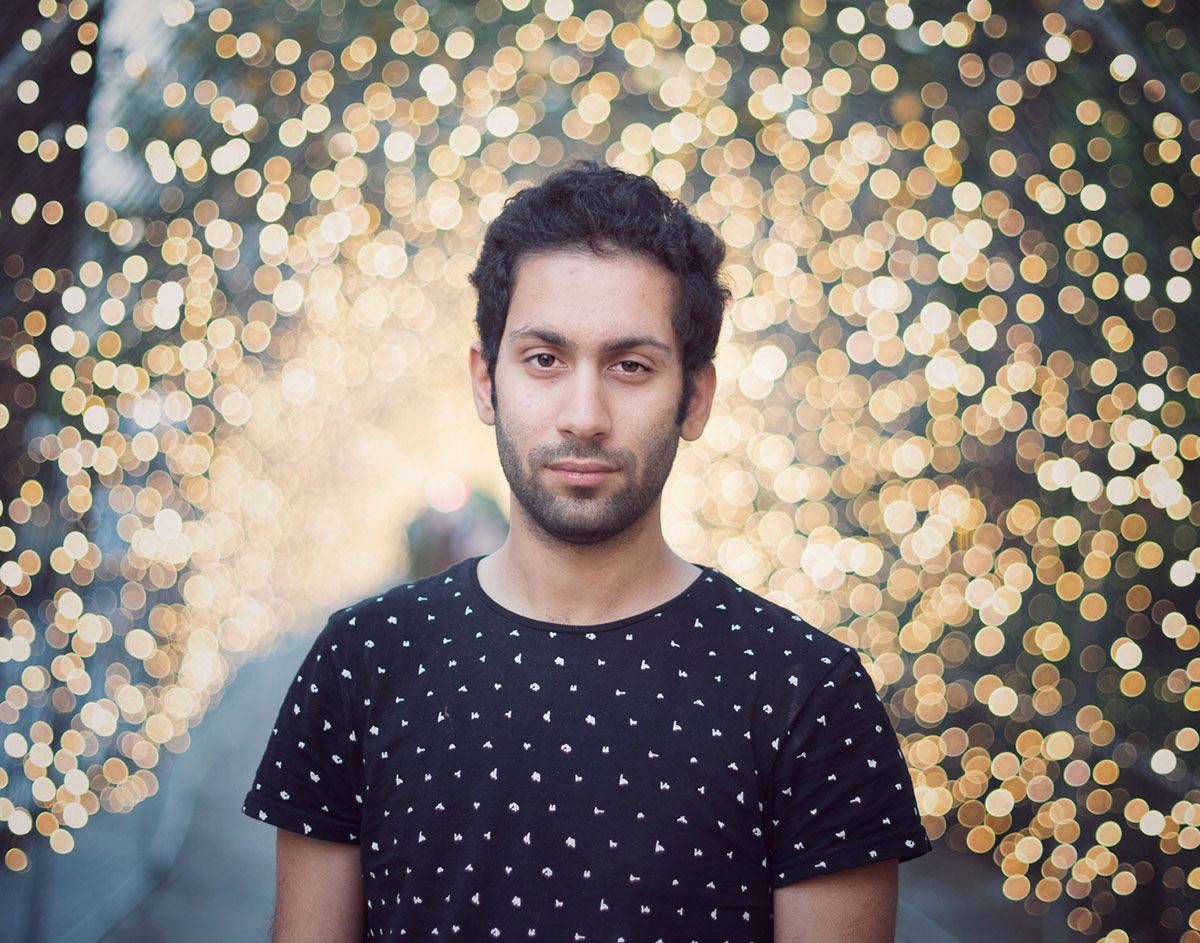 Mohammad Reza Domiri Ganji
Farzam Kharvari: Mr. Domiri Ganji, thank you very much for your time and this interview. Would you please introduce yourself to our readers and tell us a little bit more about your background and the passion you are having for the photography?
Mohammad Reza Domiri Ganji: My name is Mohammad-Reza Domiri Ganji, I am 28 years old and live in Tehran. Since I was a child, I loved taking photos, especially with my grandfather`s camera, When I grew older in the 7th year of my school, I bought my first digital camera and was taking pictures of interesting places nearby like forests and the Caspian Sea. I first studied Physics at university but changed my field of study to Architecture for my MA degree.
Fire Temple of Yazd
Farzam Kharvari: You have this amazing knowledge and skill of photography of architecture, but let me ask you, was it first architecture or was it photography? Did you have a feeling that Iranian architecture has extraordinary views and then you thought about how you can introduce Iranian architecture to the world or did you just find architecture as an interesting subject for photography?
Mohammad Reza: Let me start from the beginning, I was so amazed by Photos of ancient architectures of Egypt, especially interiors of Pyramids and I am in love with ancient architecture, I love how they show me kind of an archetype in architecture.
Ghare Kelisa (St. Thaddeus Monastery)
By the time I bought my first camera, I wondered why we do not have good photos of historical architecture in Iran, so I started my photography job more seriously by taking photos of the most important landmarks in Iranian architecture.
Farzam Kharvari: In my opinion, you were the first photographer who paid attention to the glorious interior views of Iranian architecture and you captured these atmospheres as one can experience them. As one of the pioneers who introduced Iran in a very different way with its elaborated architecture and atmosphere, do you consider yourself an ambassador of Iran through photos and how far do you believe your photos have changed the big picture of Iran since we know you and your photos have appeared in numerous international media such as CNN and design magazines?
Mohammad Reza: Maybe, Somehow. It was the main reason I started my photo collection.
Tomb of Cyrus the Great
Farzam Kharvari: I would like to start talking about the photos by asking a question about how you were feeling while you were capturing the famous photo of the tomb of Cyrus the Great. It is an amazing photo that not so many people can experience it since it is taken at night and generally, visitors visit the tomb during the day.
Mohammad Reza: For a moment I was stunned, thinking about how everything was going on there 2000 years ago, it really feels good when all the lights are turned off and it is just you and a big monument under the starry sky. It gave me inspiration on how I should take my photo.
Sheikh Lotfollah Mosque
Farzam Kharvari: The first thing that stands out in your photos is the symmetrical quality of many of your images. Do you think that this symmetry in architecture is the essence of spectacular Iranian architecture? For instance, Timche-ye Amin -od-Dowleh, Vakil bath, Zoroastrian Fire Temple, Shah Abbasi Mosque or even Azadi Tower which is a contemporary building, are all offering the symmetrical views to visitors.
Mohammad Reza: One of the main things that I concentrate on it when taking my pictures is to emphasize on the most distinguished elements of the architecture I am taking photos of, because symmetry is one of those distinguished elements in Iranian architecture as you mentioned in above places, I always try to take my photos completely symmetric so that others can see the symmetry in their first look at my photos.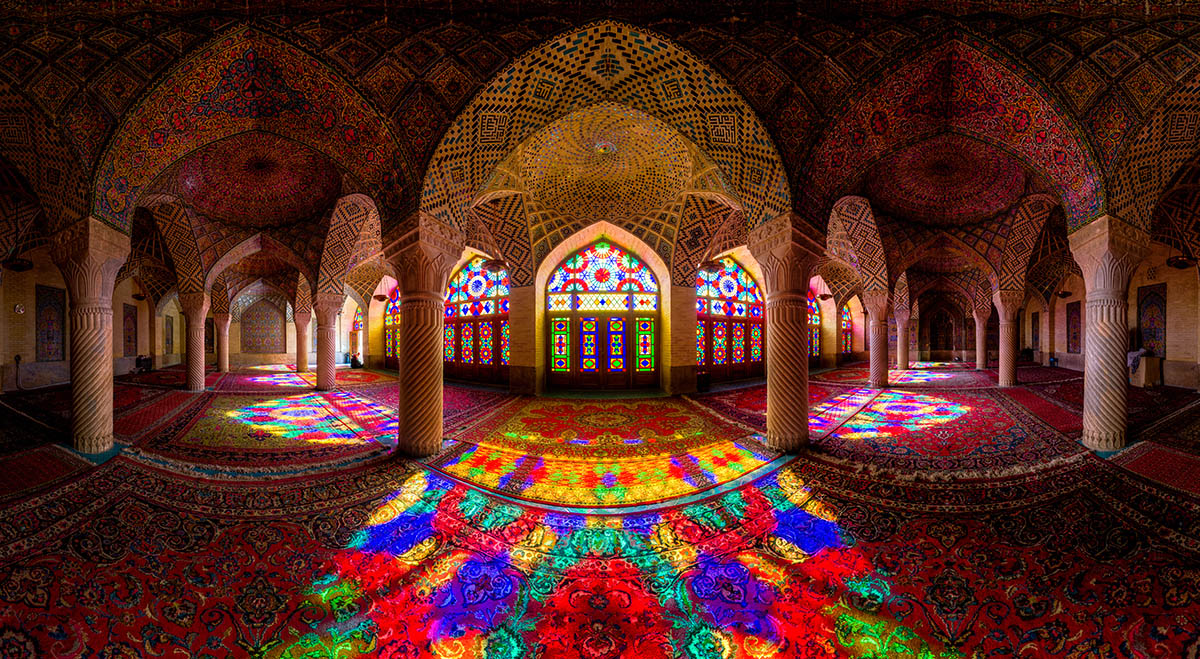 Nasir al-Mulk Mosque
Farzam Kharvari: Nasir al-Mulk Mosque is one of the images that appears on so many different media. What is your opinion on the building, its interior, and its atmosphere?
Mohammad Reza: It is a masterpiece, the harmony of mosaic colors and artworks, stained glasses and the light coming inside through stained glasses on Persian handmade carpets are amazing I had not seen any Modern structure that is comparable to the beauty of this mosque.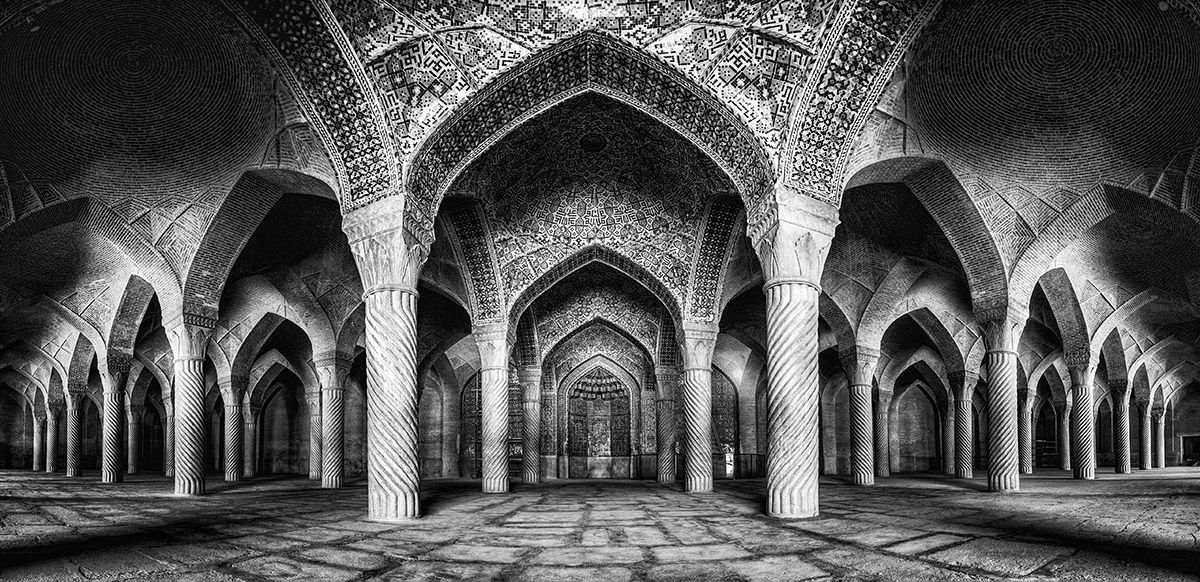 Vakil Mosque
Seyyed Mosque
Farzam Kharvari: We know that Georg Gerster was an aerial photographer and took so many images of Iranian landmarks both in nature and architecture. In contrast, your photos mainly focus on the interior and the atmosphere of Iranian architecture. Is Iranian architecture more about the fabulous distant views or is it more about how a user or a visitor is going to feel inside the architecture? For instance, Mahan Garden is just a garden with its walls in the heart of dessert from the distant view but when you enter the garden, it is indeed the paradise in the heart of nature.
Mohammad Reza: Exactly, I believe when talking about original Iranian architecture, the interior and the atmosphere inside have many things to tell us, imagine when you enter Sheikh Lotfollah mosque in Isfahan It`s Mandala shaped ceiling and mosaic works has a concept with it. It shows a peacock whose wings are around and reach the center (the head). We know that Art has an important societal function. It should connect people spiritually, open up minds, and inspire. It should also touch emotionally and enable communications and finally, pure art as we define it, empowers the observer. Similar to domes, our mission should be to broaden the awareness of such eternal principles of beauty, to connect people, and to increase the energy of humankind in general.
Si-o-se-pol
Farzam Kharvari: You have visited many different countries around the globe, what are the major differences between the atmosphere of Iranian architecture with other countries and their styles? And do you think Iranian architecture shared any component or quality with the architecture of other countries?
Mohammad Reza: I believe the combination of colorful mosaics, different shapes, concept, and the culture behind the Iranian architecture are unique. We have a pure Iranian culture behind building this ancient architecture. When the culture is pure and ancient, for sure, you can see some major differences between Iranian structures and other structures around the world.
Palace of Ardeshir
Farzam Kharvari: Iranian Architecture is quite a broad range of styles and a long history and expands from east to west and north to south; How would you describe Iranian Architecture?
Mohammad Reza: Along with aesthetic and structural properties like amazing mosaic works and colors, scientific design, huge domes and spaces, and mathematical calculations, I believe every Iranian architecture is a great source for inspiration, I mean there is a spiritual or sacred concept behind the beauty of these buildings. Especially when you enter these architectures at the right time you can feel it.
Boroujerdiha's House
Ameriha's house
Farzam Kharvari: One of your photos is Ameriha's house, would you rather live in Ameriha House or would you rather live in a contemporary house? For instance, do you prefer Le Corbusier's Villa Savoy or Ameriha house?
Mohammad Reza: Although modernism is good but somehow I prefer those traditional houses to live in, I believe still there are many traditional houses that have more soul and relaxing atmosphere than modern buildings. After all, it depends, both have their own benefits.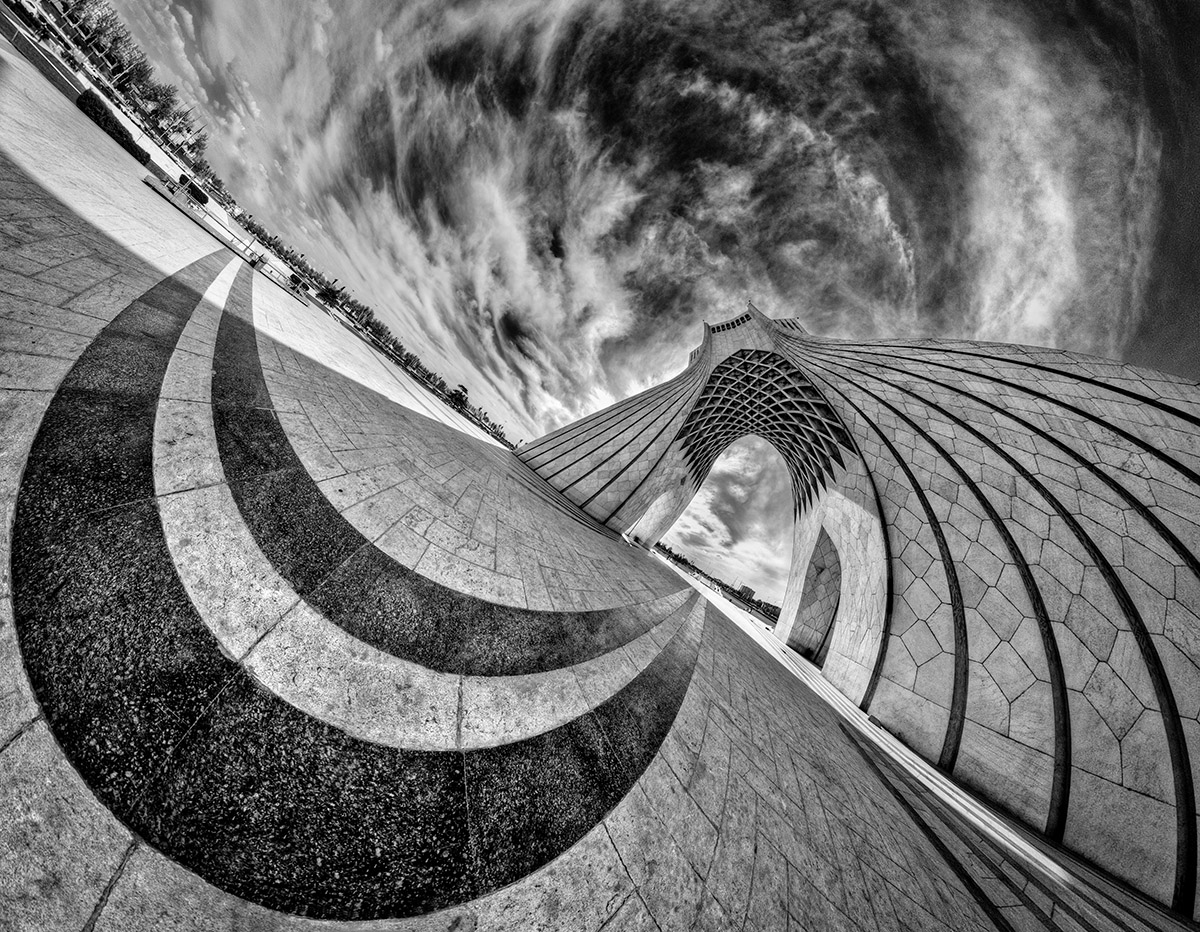 Azadi Tower (Smiling Tower)
Farzam Kharvari: I know it is not a fair question to ask a photographer to pick one of his photos, but if you could only pick one, which one of your photos was your favorite?
Mohammad Reza: Smiling tower, which shows Aazadi tower in a different way. It looks like the tower is smiling and all the lines are connecting the tower to the sky.
Persepolis
Farzam Kharvari: What do you think would your legacy be?
Mohammad Reza: It would be nice if by my pictures people get more connected to the soul inside the architecture and also the culture behind it. I believe if we can do something to have a better interaction between people and architecture, it will be very useful and help the quality of living on this planet. Photography or the other word "Art" is a tool to exhibit the Power of Architecture to People.
Shah Mosque
Farzam Kharvari: I am pretty sure many young photographers will follow you and your legacy, what are your advice to them?
Mohammad Reza: My advice is to try to be creative, try to know what they want to do and what benefits they can bring with their works. If they do this, they will find the way. Art and Photography are about having more and more inspirations, by looking at the architecture deeply, by studying, by comparing and by thinking the same way as the original architect built that structure; they can have some new inspirations that make their work unique.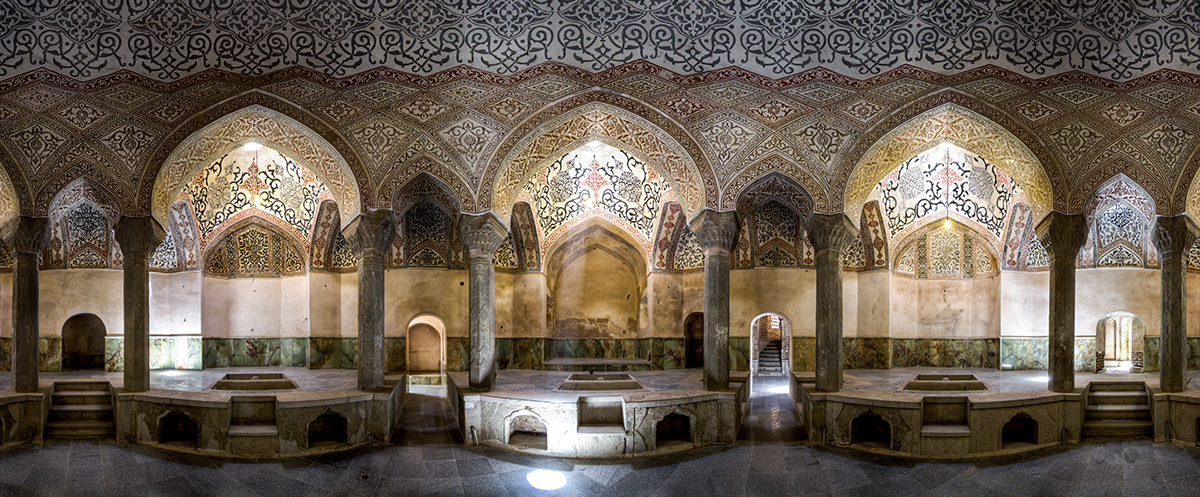 Kordasht Bath
Farzam Kharvari: Are you going to publish your photos as a book for future generations? Are you planning any special event or campaign for introducing Iranian architecture more?
Mohammad Reza: Yes, I am trying to find a good sponsor and publisher for that, I hope I can find it in the near future. I usually have a photo exhibition once a year, this year it will be in the Salento Film festival, Italy. Unfortunately, there is no Support in Iran or from the government for expanding this work, Also I have a problem with many illegal uses of my photos everywhere.
Timche Amin-o-dowleh
Farzam Kharvari: Do you see any barriers on your way to photography?
Mohammad Reza: The main barrier is the culture; many people and government in Iran do not have a clear definition of Art or a perspective that how such Activities (To Exhibit Iranian Architecture to the world) can be useful for them. I usually receive negative comments, such as "You don't do anything important than just putting your camera inside a historical place and taking a photo" these comments are dissatisfying.
Farzam Kharvari: Is there anything you would like to change about Iranian Architecture?
Mohammad Reza: I don't like the way nowadays every small town or even Villages are filled with apartments. For Example, I am originally from Babol in northern Iran, near the Caspian Sea. Nowadays old houses with a yard and gardens are gone and every place is full of high-rise buildings such as apartments; you can't see the Mountains (Especially mount Damavand) Anymore. This will have negative impacts and shouldn't be this way.
Vakil Bath (Small Planet)
Farzam Kharvari: Is there anything you would like to add?
Mohammad Reza: Architecture is powerful, not only it is art but It provides us a place in which we live inside. Culture is connected to architecture and architecture develops in the heart of cultures. when you provide a way for people to become more familiar with their or other architectural styles, you have actually provided a way for them to touch the culture behind that architecture.
Farzam Kharvari: I really appreciate your time and World Architecture Community and I wish you all the best both in career and life.
Top Image: Ceiling of Alighapu
All Images © Mohammad Reza Domiri Ganji