I. M. Pei Dies at the Age of 102
The Chinese-American architect Ieoh Ming Pei, known as I. M. Pei, has passed away at the age of 102, the news was confirmed by his firm Pei Cobb Freed & Partners. The Pritzker Prize-winning architect is known for his bold and iconic designs embodied with strict and explicit geometries.
The Louvre Pyramid (built in 1989) in Paris, the Bank of China Tower (built in 1990) in Hong Kong and the East Building of the National Gallery of Art (built in 1978), in Washington, D.C. are among Pei's the most celebrated projects. His project portfolio comprises arts facilities, university buildings, libraries and civic centers.
The West Wing of the Boston Museum of Fine Arts, the New York City Convention and Exhibition Center, the John Fitzgerald Kennedy Library in Dorchester, Massachusetts, and the Texas Commerce Tower in Houston. Abroad, two of his well-known office complexes: the Gateway and the Oversea-Chinese Banking Corporation in Singapore are also among the most significant projects of the architect.
Ieoh Ming Pei was one of World Architecture Community's first Members (since 2007).
Ieoh Ming Pei. Image © Stuart Smith/Conde Nast Collection Editorial
Receiving the Pritzker Prize in 1983, in the jury statement Pei was praised as "he has given this century some of its most beautiful interior spaces and exterior forms. Yet the significance of his work goes far beyond that. His concern has always been the surroundings in which his buildings rise."
Architecture critic, educator and writer Paul Goldberger said on his Twitter account: "I've just learned that I.M. Pei died last night, at 102. The end of an architectural era, truly. A sad moment, but a career—and a life—worthy of celebration."
Michael Kimmelman, architecture critic at New York Times, also said on his Twitter: "Like others, I deeply admire Pei's beautiful and thoughtful Islamic museum in Qatar, respect the sculptural power of the East Building in D.C. and the Pyramid in Paris, among obvious landmarks, but it's the memory of visiting friends in Kips Bay + Silver Towers as a child and feeling what was then an undefined thrill at their modernity (yes, Freed and others deserve credit too), and then feeling the same sense of discovery as an adult coming upon his sculpture wing in Des Moines. He could be such a poet."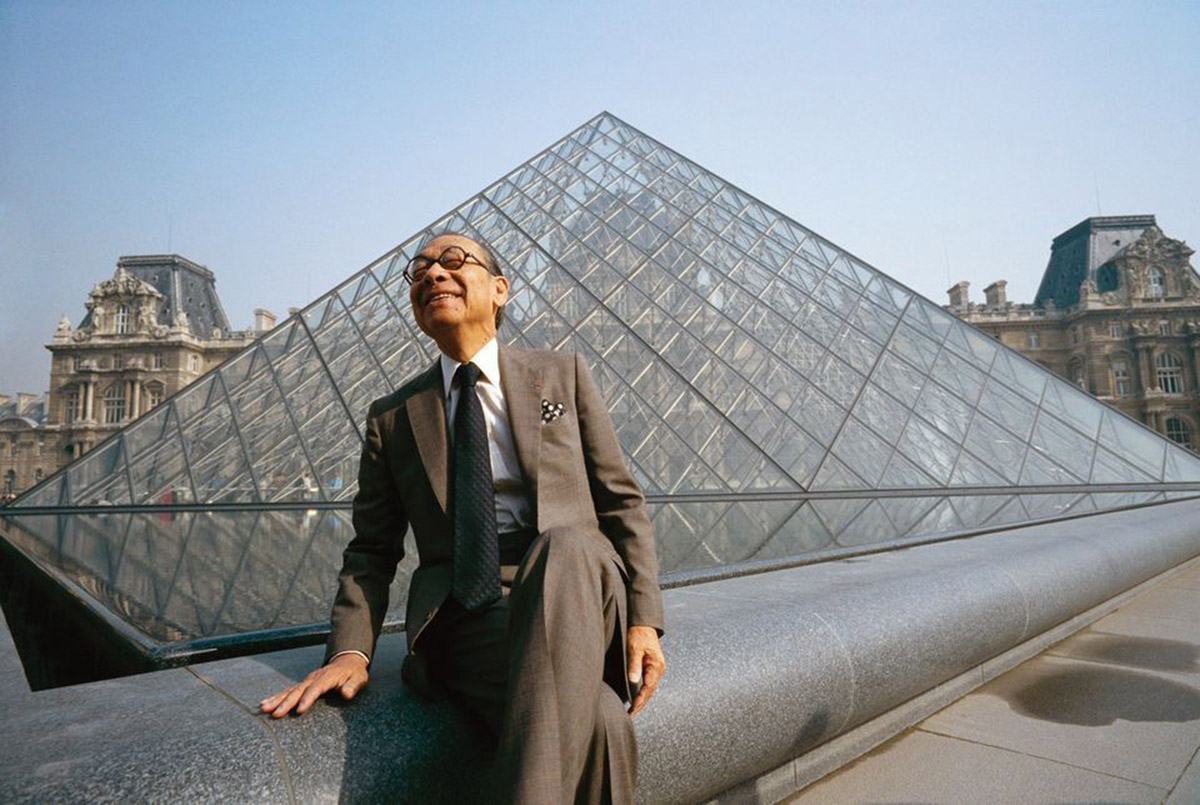 I.M. Pei-designed the Louvre's monumental glass pyramid in Paris received more than 10 million last year. Image © Bernard Bisson/Sygma/Getty Images
Pei was born in Canton China in 1917 and came to the United States in 1935 to study first at the University of Pennsylvania and then at the Massachusetts Institute of Technology (B. Arch. 1940) and the Harvard Graduate School of Design (M. Arch. 1946).
In 1948, he accepted the newly created post of Director of Architecture at Webb & Knapp, Inc., the real estate development firm, and this association resulted in major architectural and planning projects in Chicago, Philadelphia, Washington, Pittsburgh and other cities. In 1955, he formed the partnership of I.M. Pei & Associates, which became I.M. Pei & Partners in 1966.
Bank of China Tower, Hong Kong, China, 1990. Image courtesy of Wikipedia
The partnership received the 1968 Architectural Firm Award of The American Institute of Architects. In 1989, the firm was renamed Pei Cobb Freed and Partners. Pei received a number of prestigious awards during his career, even by starting in his student years. As a student, he was awarded the MIT Traveling Fellowship, and the Wheelwright Traveling Fellowship at Harvard.
He was also awarded the Gold Medal for Architecture of the American Academy of Arts and Letters in 1979, the Gold Medal of The American Institute of Architects in 1979, and the Gold Medal of the French Académie d'Architecture in 1981.
In 1990, Pei retired from his full-time practice but later he continued to consult on many projects, progressively reducing his over-load on projects.
Pei was strong defendant of contextual development and variation in style
As a strong defendant of modernism, Pei rejected the implications of globalism inherent in the "International Style" of architecture that emerged in the 1920s and 1930s - was a key movement of the formative decades of modernist architecture.
In his architecture, playing with plane surfaces, squares, circles, triangles, rectilinear forms can be seen as common characteristics in his projects. His favorite materials were glass and steel with the combination of visible reinforced concrete.
Pei adapted to the style's characteristics, but instead of creating globally homogenized structures, he advocated contextual development and variation in style, inspired by the locality and the purpose of a project.
A spokesman in the Priztker Prize jury citation said: "I.M. Pei has refused to limit himself to a narrow range of architectural problems. His work over the past forty years includes not only palaces of industry, government and culture, but also some of the best moderate and low-income housing. Through his skill he has elevated the use of materials to an art."
Top image: Ieoh Ming Pei, courtesy of The Telegraph.