Mário Martins Atelier completes a pair of all-white holiday villas on a poetic landscape of Lagos
Lagos-based architecture firm Mário Martins Atelier has completed a pair of two holiday villas on a poetic landscape of Lagos, Portugal. The houses, named LuxMare Houses - and separately named Casa L and Casa M, they to establish an emotional relationship with the Portuguese landscape and, in particular, with the people of the Algarve, with its cultural heritage, natural beauty, arts and gastronomy.
Situated on different plots that close to each other, each villas draw a different form that shapes itself according to the view and the landscape. The two houses were built among the gardens and the historic city houses built in the 1970s.
When the architects examined the previous houses, they saw that a two-floor house which is in a very poor state of repair. The other house had an unfinished construction that was in the wrong place with the wrong size. This means that it would be the better solution to design these houses from scratch.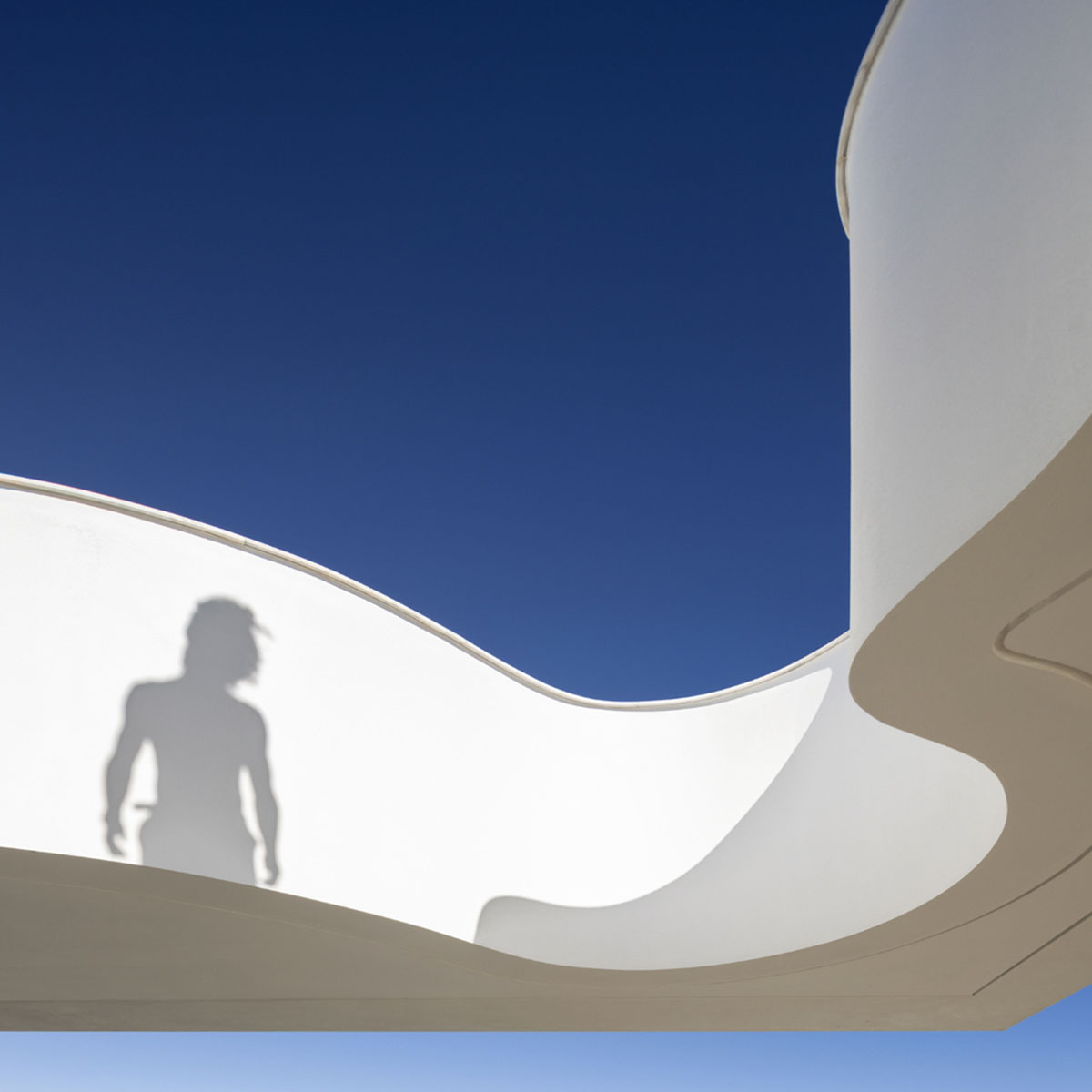 The houses have different characteristics in terms of arrangement, placement and visual presense in the context. The two-storey Casa L is built from a fluid form and smooth surfaces. The building is oriented towards the view and thanks to its recessed upper volume, the house provides a large terrace to enjoy the sunset.
Casa L includes living area and dining room, kitchen, games/entertainment room, 2 en suite bedrooms, guest bathroom, laundry, barbecue area, garage. Indoor area covers a 270-square-metre area and its terrace covers 133-square-metre area.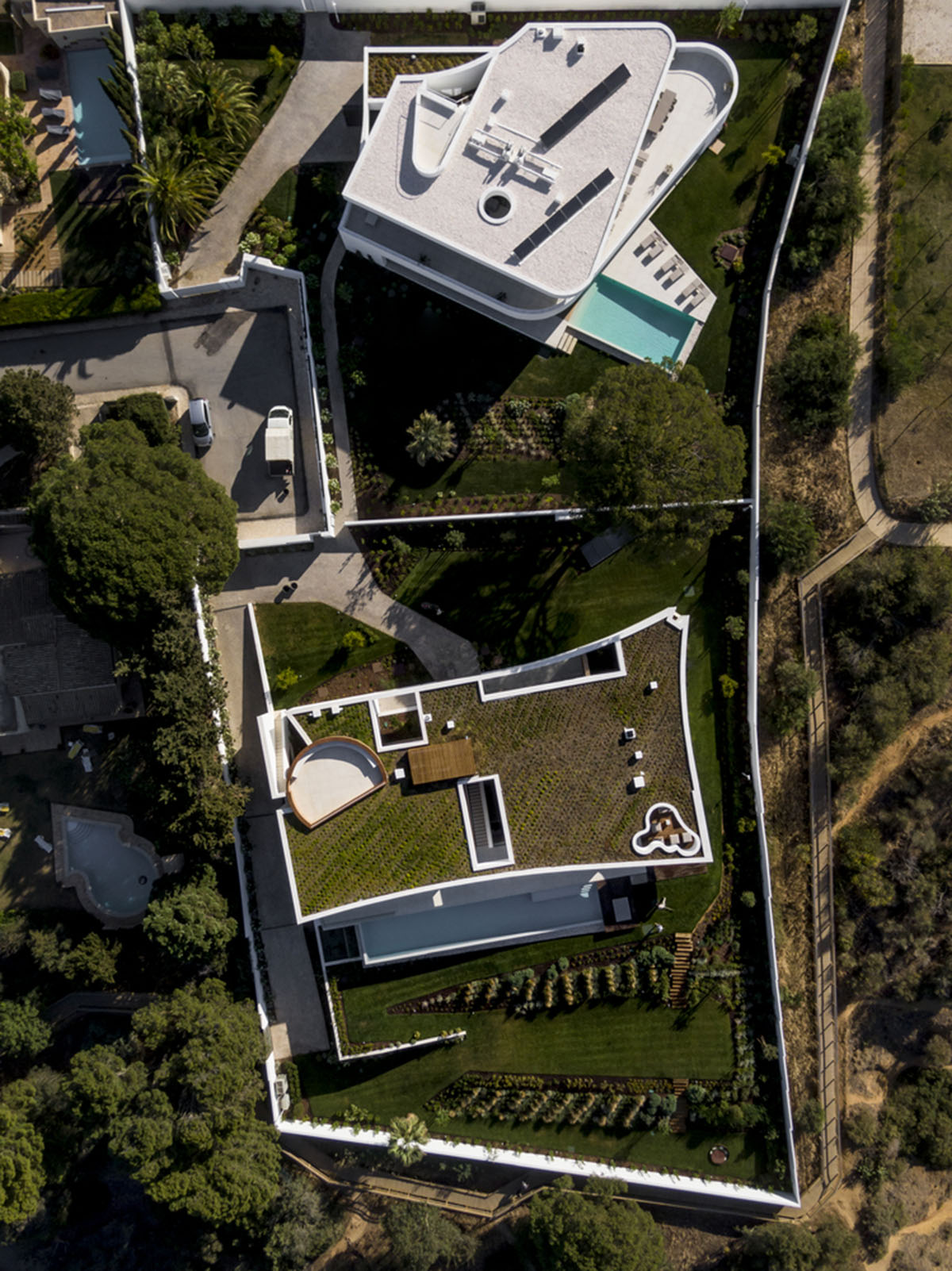 On the upper floor, there is a lounge area with kitchenette, with studio, 4 bedrooms, 2 with en-suite bathrooms, 2 with shared bathroom. Its indoor area covers a 210-square-metre area, with a 123-square-metre terrace area. Outdoor area includes a terrace with garden, exercise area, infinity pool, bathroom and shower.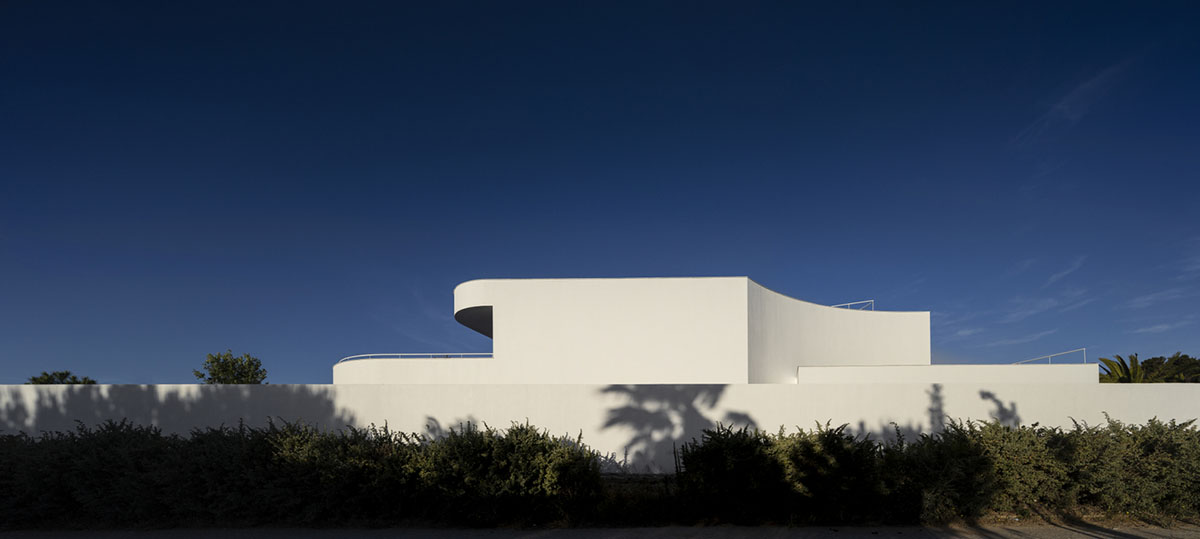 "It is like a piece of magic, where nothing has been left to chance, where every detail makes sense and good taste invades our senses. With two brightly illuminated floors, Casa L invites us to experience hospitality linking sustainable architecture to the most advanced technology in a very singular fashion."
"The vast layout of Casa L, with its high ceilings and panoramic windows, gives a great feeling of space and comfort. Each room has been specially designed and decorated with your comfort in mind, with heated floors, air-conditioning with adjustable temperature and windows of tempered glass."
There is a garden around the villa with native plants and trees showing us the way, guiding us to enjoy the comforts that the interior of Casa L has to offer, to plunge into the infinity pool of crystal-clear water or to discover the breath-taking view of the Atlantic from the terrace. As it is a smart house, it can monitor and adjust all the technical functionalities to your liking: heating, lights, blinds, entrance gates and video surveillance systems.
Guests can also listen to their favourite music in any part of the villa, including the swimming pool area, with the convenience of being able to connect your own smartphone to the entertainment system.
Casa M is differentiated with its playful roof, featuring circles, flower-shaped opening and square-formed hole. This haven of astonishing views over the Atlantic highlights the blend of Nordic and Portuguese styles.
Casa M is inspired by Nordic design and typical wooden constructions, Casa M surprises us with a wonderful combination of pinewood panels, open spaces and light colours in perfect harmony with the vivid tones of the nature around it.
The ground floor covers the main area of the villa. The large garden includes several areas for relaxation, in a carefully designed setting of plants, bushes and trees native to Algarve.
The ground floor opens on to a bright terrace with an infinity pool and an amazing view of the ocean directly ahead. It will be guests favourite spot for a dinner with friends or for time spent relaxing in the sun during the day.
"It is also here that we find a trace of Nordic inspiration that gives Casa M a special touch – a roof design inspired by the work of the artist and architect Alvar Aalto, which underscores his characteristic classical form."
On the roof garden, which blends the villa totally into the landscape, another terrace invites guests to contemplate the cliffs and the vibrant colours of the sunset over the Atlantic Ocean.
The ground floor of Casa M contains six en suite bedrooms (5 bedrooms + 1 main bedroom in a separate area), open kitchen, dining room and living room. Its indoor area covers 420 square meters, and its terrace covers 160 square meters.
There is also a lower floor in the building. The basement includes a cinema room, games room, swimming pool bathroom, utility rooms and a garage. Its indoor area covers a 162-square-metre area. Casa M's outdoor area contains infinity pool of 22.5 square meters with an ocean view. There is a panoramic terrace on the roof garden.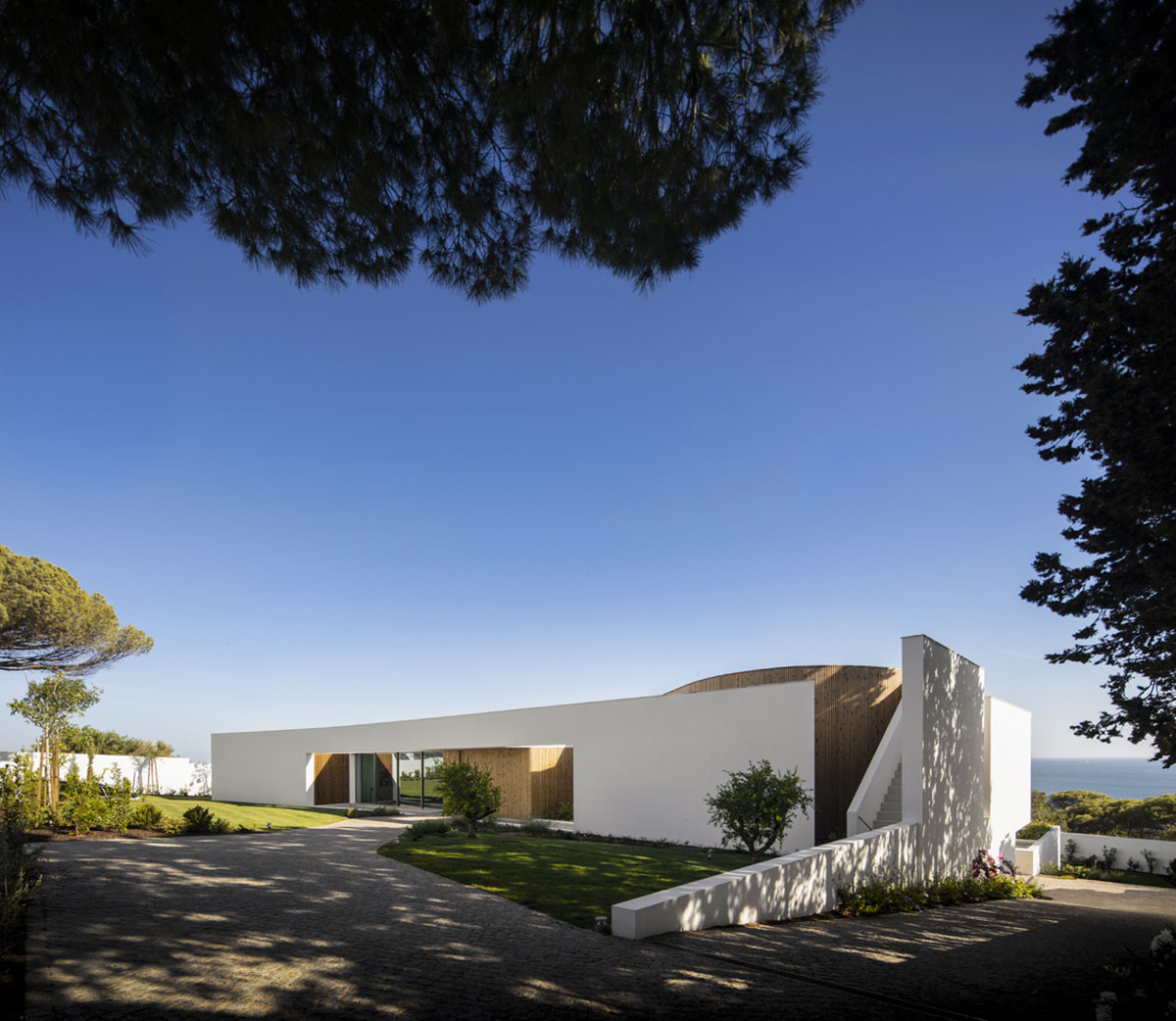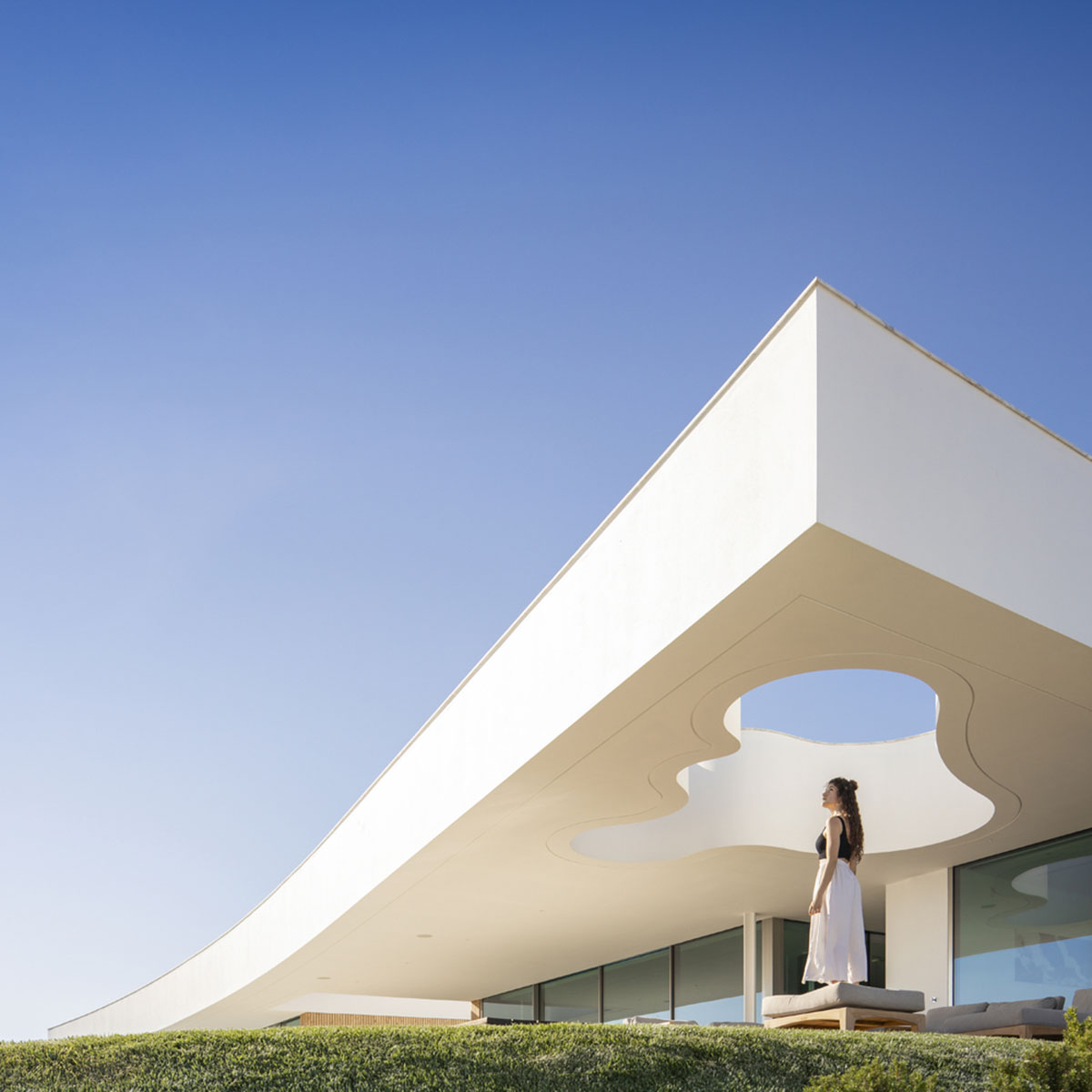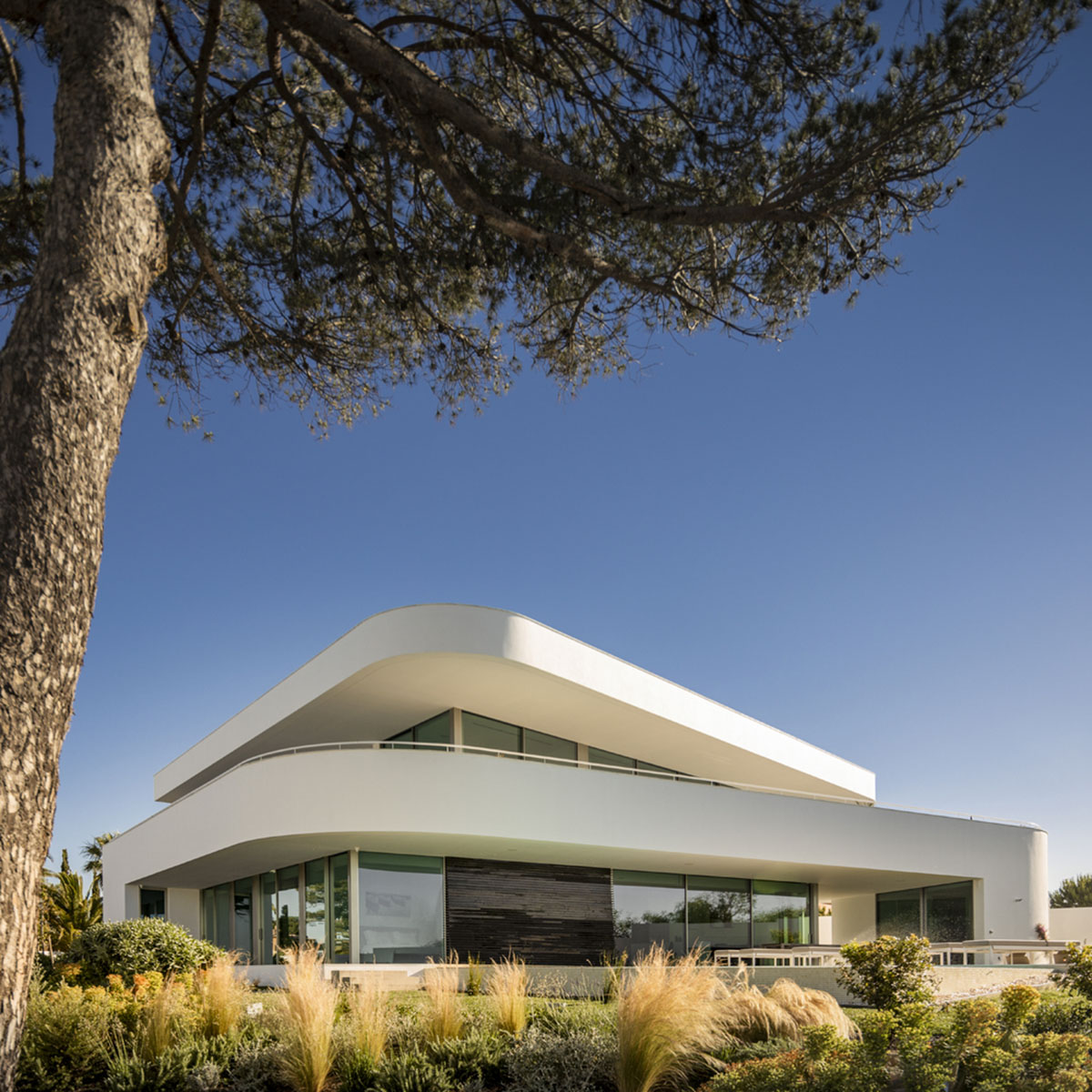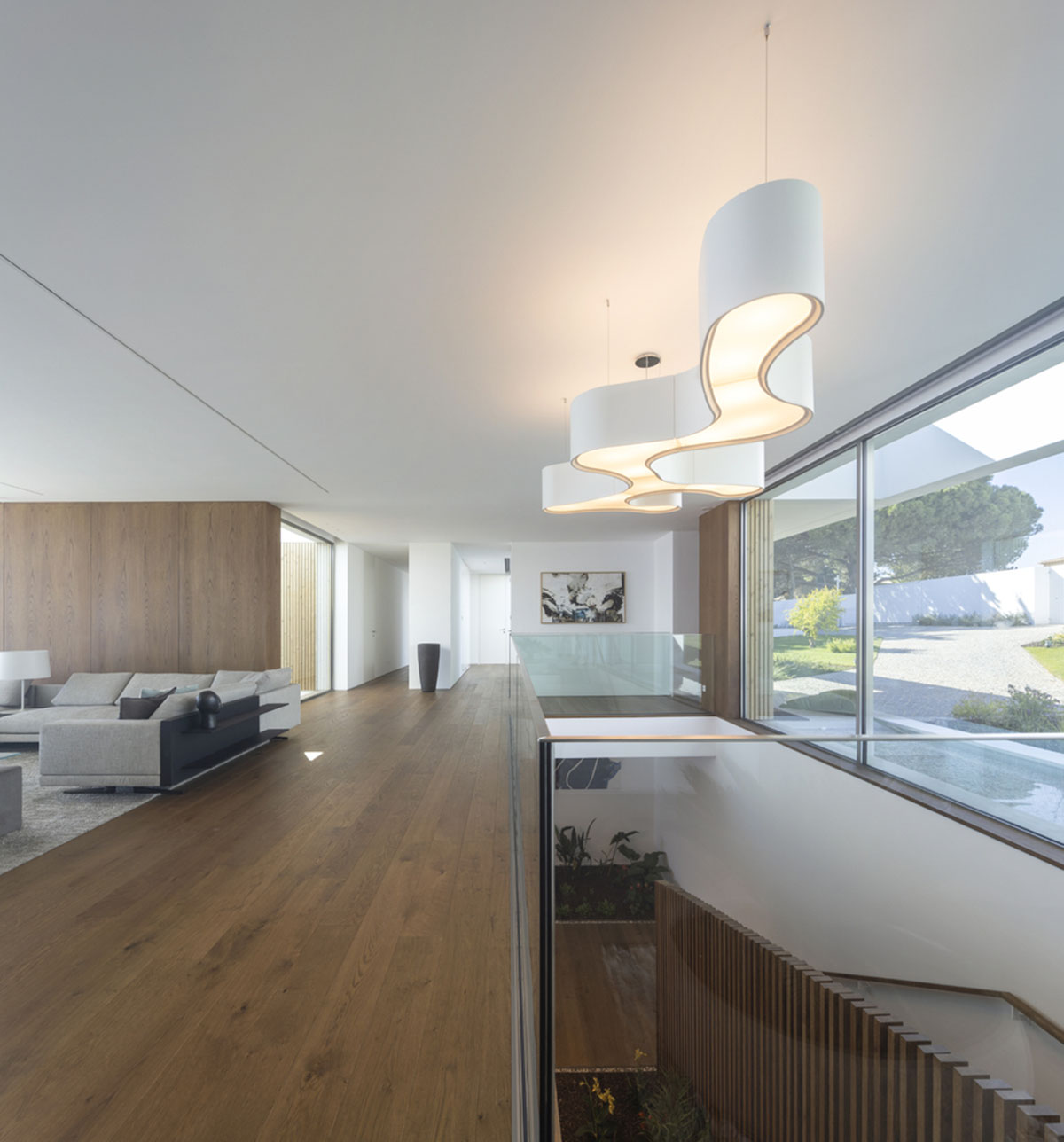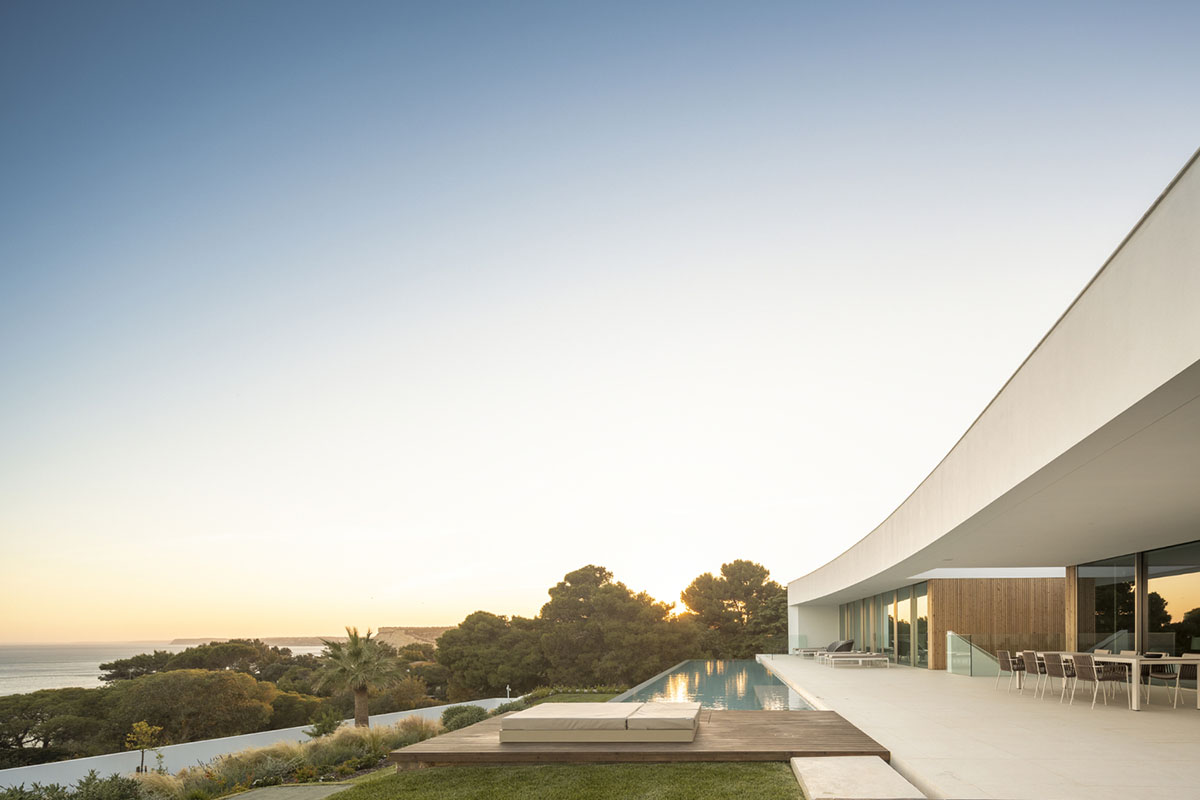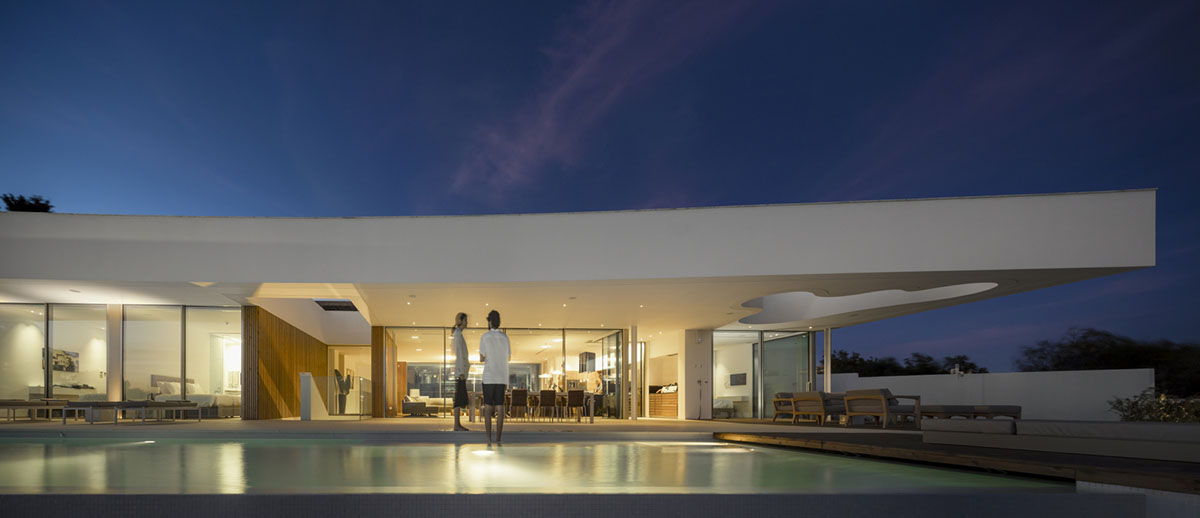 All images © Fernando Guerra FG+SG
All drawings © Mário Martins Atelier
> via LuxMare Houses