5 million deposit to bid for Govt. Project of National Importance in India!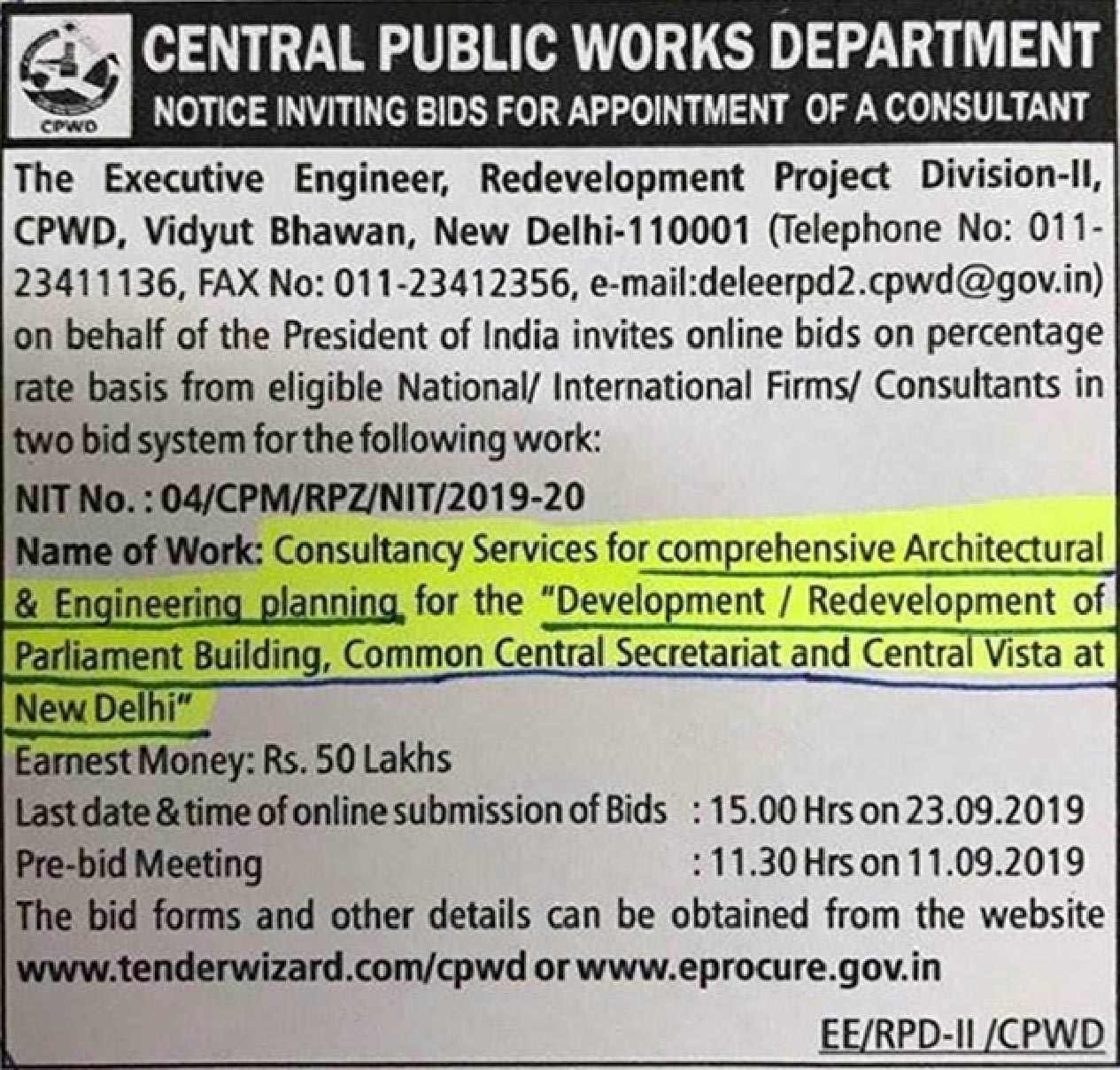 The architecture fraternity of India has gone abuzz in a new development that has taken place last week. In one of the tenders rolled out by the Central Public Works Department, Govt. of India inviting bids for a project of national relevance, the Earnest Money Deposit has been set at 5 Million Indian Rupees (or 50 lakhs). The amount falls a little short of 70,000 USD according to the market rate as on 8th Sept 2019.
The tender which reads "Notice Inviting Bids from National International Design and Planning Firms for Consultancy Services for comprehensive Architectural and Engineering Planning for the Development Redevelopment of Parliament Building Common Central Secretariat and Central Vista at New Delhi", has drawn considerable flak from the fraternity. It isn't very hard to imagine that 50 lakhs isn't a very affordable price to pay for submitting a bid for the job. With the onset of economic depression, it is harder even!
Architects have taken to social media to express their resentment. In what can be interpreted as satirical protest, an architect mentioned that initially, he saw it as a bad typing job. However, upon realizing that the EMD is indeed 50 lakhs, he went on to mention that there aren't many (or even a few) Indian firms who will be able to bid for it, the insanely high EMD being the limiting factor. He goes on to ask if Ratan Tata, ex-CEO, TATA Group will be eligible to apply. (For the uninitiated, noted industrialist Ratan Tata is an architect by degree, holding a valid CoA license.)
Well, given the circumstances, it is quite likely that he might be the only individual who will be able to bid for the job smoothly. Other Indian firms will have to take a huge beating if they submit a bid.
The Indian Institute of Architects has rolled out an official letter on September 4th, 2019 to Shri Hardeep Singh Puri, Hon'ble Minister of State (Independent Charge), Ministry of Housing & Urban Affairs regarding the same.
An extract from the letter states:
"But it is noted with regret that, the advertisement stipulate conditions which will lead to exclusion from participation by most of the Indian Architects / Architecture Firms. These conditions include- 1. Annual turnover criteria. 2. EMD of Rs. 50 Lakhs. 3. Over-emphasis on non-technical criteria."
It further states rightfully that, "You will appreciate that even the largest & the most established Indian Architects / Architecture Firms with proven track record find it difficult to match up with the very ordinary Foreign Architects/Architecture Firms in terms of annual turnover and other PQ criteria's only due to rupee to dollar disparity."
On the sensitive and pertinent issue of appointing non-architectural individuals/consultancy firms for architecture/design-related projects, the letter points out, "Further, no responsibility for deficiency in professional work can be fixed if non-architects & consultancy organizations without any experienced architects as a majority stakeholder are appointed."
In the letter, IIA has "requested that the architect for this project of national importance and unique iconicity be selected through a two-stage design competition strictly as per the guidelines prescribed by the Council of Architecture, a body constituted by an act of the parliament itself."
The Council of Architecture, India too has written to Shri Hardeep Singh Puri on the same on the 9th September 2019. In its letter, the CoA has stated, "A project of such high profile in nature as Parliament Building & its Secretariat & Offices should be executed on the basis of 'Best Design Solution and Concept', rather than on the basis of low bid-price as has been called for."
Maintaining unanimity with the letter issued by the IIA, it states that an 'Open Architectural Design Competition' for selecting 'Best Creative Design Solution' should be conducted among the designs submitted by Architects as per the Architectural Competition Guidelines prescribed by the CoA.
This letter further states that "The Architects being professionals like Doctors, Lawyers, Chartered Accountants whose conduct and ethics are regulated and governed under the Architects Act 1972 (ahem, ahem!), should not be insisted on paying processing fees, deposit earnest money, or quote the lowest fee on the lines of Contractors for rendering professional services."
The letter also mentions the urgent necessity of fixing a fee for architectural consultancy on the basis of percentage as prescribed by the CoA will only ensure a fair selection of Architect on the basis of the Best Design Proposal.
The letter has also criticized the stringent criteria of the high annual turnover by noting that this clause will deprive many competent architects from participating in the project, and therefore, needs to be re-considered.
However, given the status of politics and fiascos involving recent competitions in the country, a fresh design competition, though the aptest solution, might open up newer avenues of favoritism and undercutting at levels hidden to the public eye. An example of the above would be the National War Memorial competition fiasco, memories of which are still fresh! The key lies in a competition that is hosted fairly on a well-designed brief, giving each architect an equal chance to compete on grounds that are non-discriminating, apolitical, and devoid of the power-corridor influences.
This also brings in strong self-contradiction on part of the GoI which, currently, is on a roller coaster endorsement of Prime Minister Narendra Modi's pet initiative Make-In-India. With many important projects like the Amaravati Capital Complex being designed by International Design Conglomerates, questions related to the trust bestowed upon Indian Architects by the Govt. has been raised. While the fraternity struggles to survive, it has been a topic of debate as to why should such projects be allowed to be designed by overseas architects. Does this mean that the Govt. considers foreign architects to be more capable of designing in-country projects than homegrown architects, who have for long, served his/her motherland, and knows its legacy inside out? Clearly, the endorsement is pretty much on paper, as actions speak otherwise.
The extreme high EMD deposit might indirectly hint at the same - a deliberate attempt to stop Indian Architects from bidding even, let alone propose a design. It indeed will be a sorry state of affairs if this turns out to be another mindful attempt in nipping Indian competition at the bud in order to invite international giants into the country, and handing over projects of historic significance to players whose stakes involved in the same are abnormally low.
In the face of the current dismal state of Architecture in the country, such letters issued by the IIA and the CoA revives many hopes and wishes from these institutions.
The last date for submitting the tender is 23rd September 2019. No response to both the letters has been received from the MHUA yet.
Further reporting will be done as and when new data surfaces and events unfold.
Written by Ar. Shubhayan M, Design Journalist, India. The tender image and COA letter image received from Ar. Ramaraju Rengasami (via Facebook), and the letter courtesy to IIA Website.