Best Self-study guide for GATE Architecture by Ar. Jinisha Jain Released in India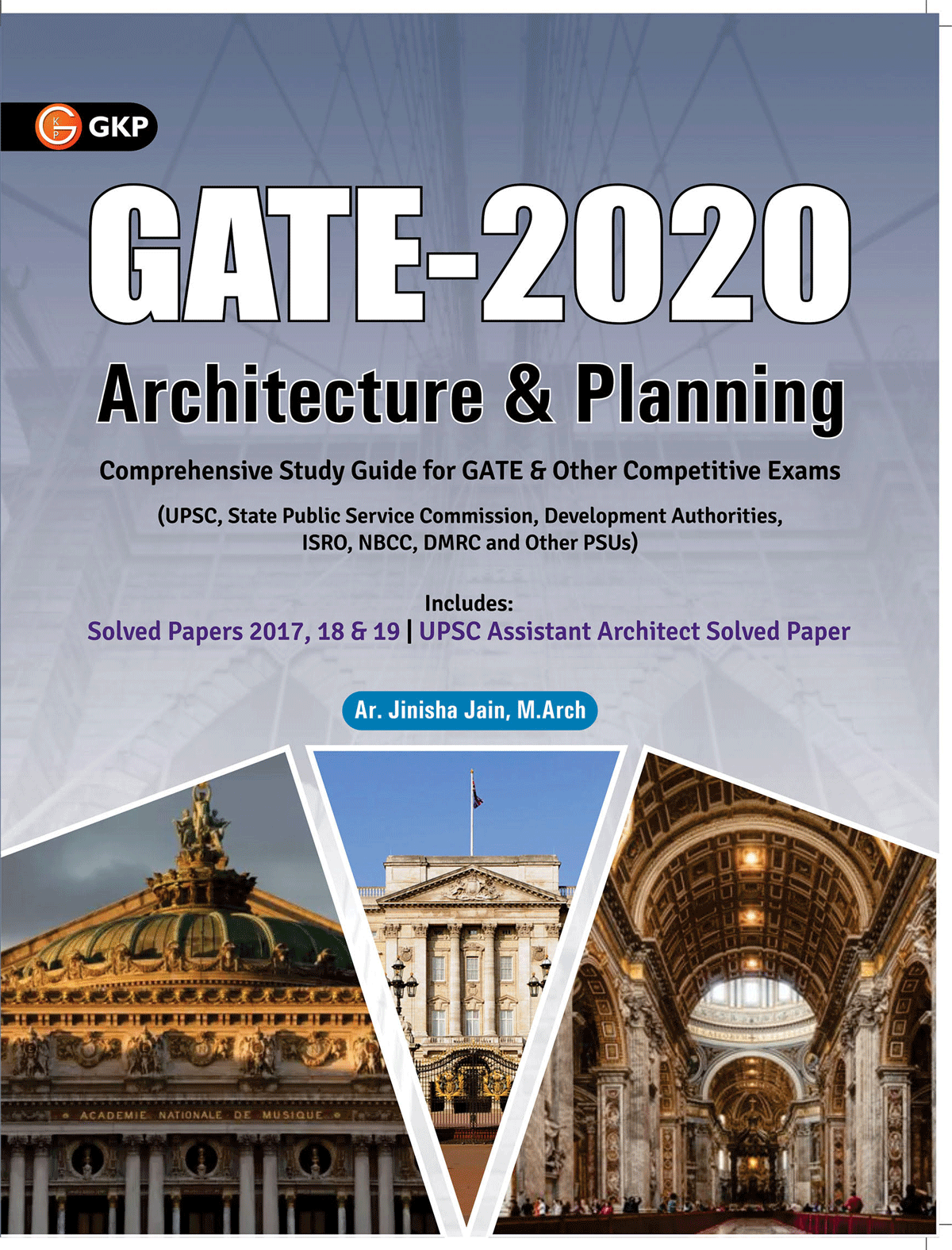 The new book GATE 2020: Architecture & Planning guide authored by Jinisha Jain and published by GK Publications Pvt. Ltd is released recently. GATE AR: The Graduate Aptitude Test in architecture is an examination that primarily tests the comprehensive understanding of various undergraduate subjects for higher education admissions and job prospects in India. It is the time when students have to start the preparation for different exams related to architecture which can definitely build their career. But, how formidable they find it in the lack of right resources and rackets ready to extract money out of their sheer innocence. The market survey leads you to one of the best self-study guides that not only covers solved question papers but is rather a comprehensive work with thoroughness and grip on diverse subjects of an undergraduate course of architecture. It is a must buy for anyone preparing to appear for a reputed competitive exam related to architecture in India.
A gold medalist from the School of Planning and Architecture; New Delhi, Jinisha Jain is an architect with a deep interest in architectural pedagogy. She has been active in training and education for more than a decade now. She has been a teaching faculty in Architecture and Design Institutions- the Faculty of Architecture and Ekistics at Jamia Millia Islamia University, New Delhi, and the Department of Architectural Conservation, School of Planning and Architecture, New Delhi, to name a few. An active alumnus of the Attingham Trust, London, she has many published research papers to her credit and has presented in many International seminars/conferences. The author hopes the book empowers the young students and aspiring architects with all the necessary knowledge to land into their dream institutions and careers.
This learning material for the preparation of GATE Architecture and Planning exam has been prepared meticulously considering both the recent syllabus for GATE Architecture and the B.Arch syllabus of a few prominent Universities in the country along with a thorough review of all the past GATE question papers. It is a very useful and concise resource for the preparation of this important entrance exam as well as others conducted for prestigious architect jobs in UPSC, State Public Service Commission, Development Authorities, ISRO, NBCC, and other PSUs. It is also a one-stop study destination for all exams for the admission into Postgraduate and Ph.D. Study Programmes of various reputed institutions. The comprehensive text helps in developing a foundational understanding of streams and theories such as urban design, landscape, urban planning, transport planning, building services, building construction and management, and others which are full-fledged postgraduate courses in most universities offering a masters degree in architecture and planning. This book is also helpful for practicing architects and engineers as it presents clear fundamentals in many areas and subjects of practice. Most books on the subject are a collection of solved papers from the previous years, however, the reader of this book empowered with extensive knowledge on the subject matter can not only clear most advanced competition exams but be a better and more learned future professional. The book comes with an additional set of practice questions to develop skills and enhance learning and has a separate unit for general aptitude as well.
One should Keep these additional points in mind while preparing for GATE AR exam:
Don't use the internet as your only study resource as it gives you access to a lot of information and on a lot of subjects but you don't yet have the discretion to choose the right or appropriate information, so be careful.
Do not solely depend on any textbook or question banks. This book is indeed helpful for brushing up concepts and revising in concise the important architectural subjects relevant for the GATE exam. It will help you answer each and every question of the past GATE question papers and may be the best book around for preparing this exam but remember it does not intend to be a ready-mix. Be prepared to refer to more books on each subject for further details if required.
Go to libraries, talk to people, discuss with your friends or colleagues, read newspapers and journals, attend seminars, workshops, and exhibitions. Please do not limit your exposure and have a hunger for knowledge.
Give time to all subjects. A close examination and chapter wise analysis of the past question papers would inform you that there is no definite pattern or weight to any one chapter or subject. They are all important.
Understand concepts. This shall help you in solving both theoretical and numerical questions.
Make notes or summaries of each subject
While the theory is vast, most GATE numerical appearing each year are based on certain key concepts, specific area of application and standard formulas; these, when practiced sufficiently, can be mastered and help you get a good score.
Practice previous year question papers and new exercises. Try reasoning than memorizing. It is less likely that any of those questions would be repeated however new questions may be based on similar concepts and reasoning skills.
Identify your weak areas or subjects, and practice more. Take the help of your friends and mentors
Book details
Binding: Hardbound
Author: Ar. Jinisha Jain
Publisher: GK Publications Pvt. Ltd.; first edition (28 June 2019)
Language: English
ISBN-10: 9389161886
ISBN-13: 978-9389161885
Price: 1995 INR
No. of Pages: 1300
Product Dimensions: 20 x 14 x 4 cm
The book is also can be ordered online from Amazon, India
For any guidance related to the same, Future aspirants may contact the Author at [email protected]
Top Image © GK Publications Pvt. Ltd