Sanzhi UFO Houses
The original idea for the UFOs came from Sanjhih Township plastics manufacturer Yu-chou Co. The first construction license was issued in 1978 and the idea for the design came from Matti Suuronen, an architect from Finland, but construction stopped in 1980 when Yu-chou went bankrupt.
Image:flickrhivemind.net
This area called Sanzhi was originally a vacation resort catering to U.S. servicemen north of Taipei. The architecture could be called UFO futuro chic, and the abandoned resort community had difficulties from the beginning. During construction, many workers perished in car accidents, and other freak accidents were common. The urban legend online search trail places the death count close to twenty. The deaths were attributed to supernatural causes. Some speculated that the resort was built on a Dutch burial ground while others attributed the misfortunes to a dragon statue destroyed during construction. Either way, the ruins never took their first guest, and the stillborn project was abandoned.
Abandoned since: 1980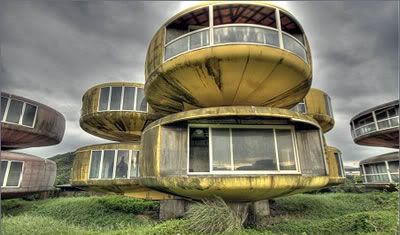 Image:flickrhivemind.net
The UFO houses were constructed beginning in 1978 and were intended as a vacation resort. Building was abandoned in 1980 and in 2008 demolition began despite a petition to keep one of the structures as a museum.
Image:curious-places.blogspot.com.tr
The abandonment, finding its way onto many a list of eerie old ghost towns, has come to be known informally as the "ruins of the future". During its dereliction, Sanzhi Pod City has served as the subject of a film and been used as a filming location by MTV. It has been photographed countless times, appeared in numerous great articles (see here, here and here for starters) and contributed to the clamorous chatter of online discussions.
Image:yeowatzup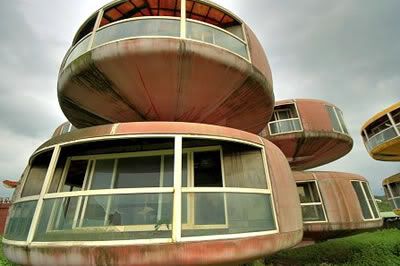 Image:curious-places.blogspot.com.tr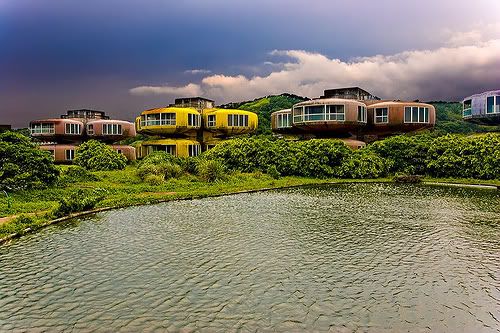 Image:curious-places.blogspot.com.tr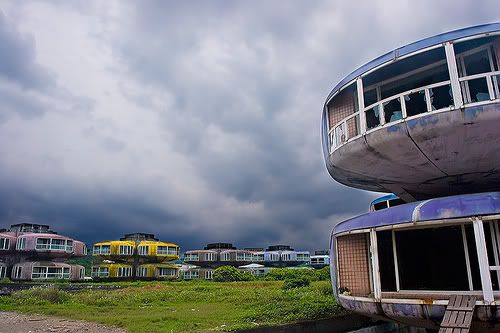 Image:curious-places.blogspot.com.tr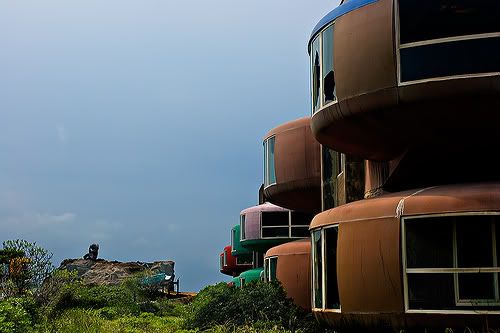 Image:curious-places.blogspot.com.tr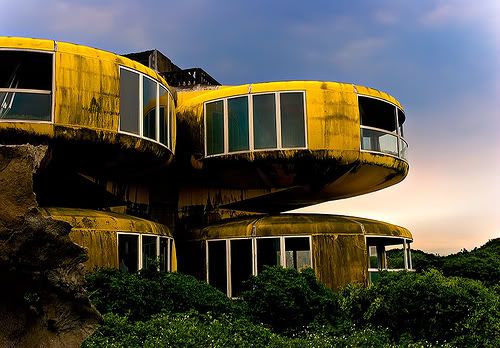 Image:curious-places.blogspot.com.tr
Image:curious-places.blogspot.com.tr
Image:flickrhivemind.net
Image:flickrhivemind.net
Image:flickrhivemind.net
Image:flickrhivemind.net
Image:flickrhivemind.net
Vista aérea de San Zhi con Google Maps.Image:lugarra.wordpress.com
Image:giveartspace.net/#!__serial-instinct
source:curious-places.blogspot.com.tr,urbanghostsmedia.com,flickrhivemind.net,gadling.com,