Microsoft created treehouse campus to boost its employees' creativity and focus within the nature
Giant American multinational tech company Microsoft has created a plenty of tree houses to increase its employees' creativity and focus within the nature. The treehouse campus presents a new kind of workspace located in Redmond, Washington - a suburb of Seattle, where is surrounded by a 500-acre woods, with greenspace and wildlife galore.
The decision came after Microsoft's recent employee survey done by the company and according to the survey, "many of employees cared about more living and working outside," said said Bret Boulter, who works in Real Estate & Facilities on Microsoft's Redmond campus and who headed up the project.
The treehouse is one of three new branch-based meeting spaces created by renowned builder Pete Nelson of Nelson Treehouse and Supply and the campus is comprised of 120 buildings spread across Redmond.
The treehouses are fully equipped with technology and other additional fixtures such as Wi-Fi, electricity, weatherproof bench, an outdoor gas fireplace, and a shipping container that houses a barbecue restaurant.
"On a recent sunny day, an employee perched, legs crossed, on a soft grassy knoll below a treehouse. For several minutes, she sat with her hands on her knees, eyes closed, head tilted toward the sky, breathing deeply. Then she grabbed her laptop and typed furiously. After a spate of work, she set her computer aside, rested her palms on her knees, gazed up, and then closed her eyes again," said Natalie Singer-Velush, from Microsoft.
"It beat out all rumours," said Shanon Bernstine, a business manager who helped plan the spaces. "People didn't believe it was really happening: there was a lot of excitement."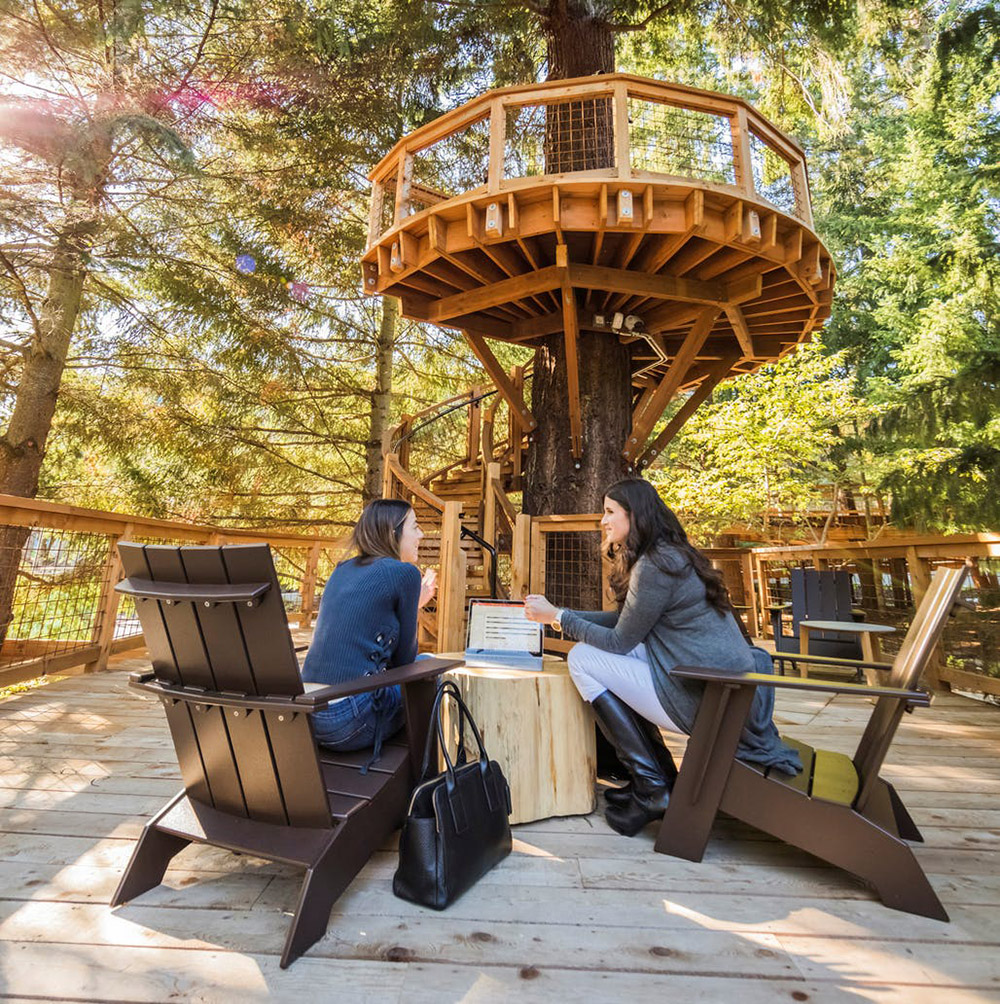 Raised above 60 cm from the ground, treehouse consists of charred-wood walls and a soaring ceiling with a round skylight that lets in just a bubble of blue. "It's more Hobbit than HQ, with cinnamon-colored shingles and a gingerbread-house feel," added the company.
"A hand-carved arched double door glides open at the swipe of a badge. The almost mustardy fragrance of rough-hewn cedar is instantaneous. Inside the small room nests a simple farmhouse table with rust-red seats. Box benches line the reclaimed-wood walls, dark as campfire smoke."
The treehouse campus has no AV system or calibrated climate control. "The first thing when you walk into the space is that everyone is really quiet. You stop talking and are just present," said Boulter."
"It's fascinating. People absorb the environment, and it changes the perception of their work and how they can do it."
"We don't have to bring nature to urbanity—we are in nature. It's at our back door," said Boulter. "Many employees who come to the region from elsewhere are drawn to the eco ethic and recreational opportunities; longtime Pacific Northwest residents feel a kinship with and comfort in nature that can be summed up by this fact: we barely see the need for umbrellas in the rain."

That relationship to nature is rooted in the company's history. Four years after it was founded in New Mexico, Microsoft made the jump to the Pacific Northwest, filling a series of buildings in the region while realizing it needed a long-term strategic plan for growth. A guiding document laid out five criteria for a headquarters, including this: provide an attractive "park-like" location for employees.
In the interior, there is a cafeteria extended outside, with a barbecue restaurant built into a shipping container. Tactile surfaces help people who are blind or have low vision navigate. The space has rust-proof rocking chairs; an outdoor gas fireplace that brings the warmth of a ski lodge and attracts an after-work crowd; and a weatherproof awning that, when the sun shines, stencils the Microsoft logo onto the manicured lawn.
Many materials are local or reclaimed, and with its abundant wood canopies and steel accents the space pays homage to the site's history as a former sawmill.
"We want to bring more human touch back into the workplace," Boulter said. "For people to be the most productive and create the best products, we want them to have that opportunity for collaboration. Any employee can take their device outside, have a meeting—even in a treehouse—and be just as productive."
"We made sure we were intentional about how we made the space," said Genise Dawson, an executive business administrator who helped plan the outdoor district for Buildings 30–32. "And people love it. Even though it rains, they still sit out there."
Two of the three treehouses, which are accessible to all employees, are open. The cedar meeting room takes reservations, as with many of Microsoft's more traditional meeting spaces; the Crow's Nest is first-come, first-served.
The third, a sheltered lounge space, will be ready later this year. The building is already taking shape in the boughs of a tree Pete Nelson selected—"Nothing formal," said Dawson. "A place you can chill inside or out of, sit, work."
Increasing employees' creativity or happiness is not the major issue focused only by Microsoft, Apple's eagerly anticipated mega campus in Cupertino, California and Amazon's biospheric offices in Seattle aim to create more green and connected environment with extra entertainment facilities.
All images courtesy of Microsoft
> via Microsoft