Shishang Architecture designed multi-tech interior with pixelated islands for ZANADU travel company
Shishang Architecture created a series of pixelated islands for Chinese travel space company to explore boundaries of ''the travel agency of the future''. With ZANADU Travel Experience Space, the architecture firm requestions China's offline agencies, which are never popular in China.
Shishang Architecture aims to reflect how travel will be booked and experienced in the near future by using tech-driven language in multiple contexts. The space feels like an exploded pixel landscape. Digital clouds hang from the ceiling. Digital cubes are scattered in islands across the space. The pixels represent the digital origin of the travel brand, translated into a physical environment.
Entrance of the exhibition space
ZANADU is a 4 years old e-commerce startup-company in the premium travel space in China. They provide a suite of travel products to affluent Chinese travellers with journeys, international luxury vacations, high-end cruises, domestic short vacations, private villas and a large selection of the world's best boutique and luxury hotels.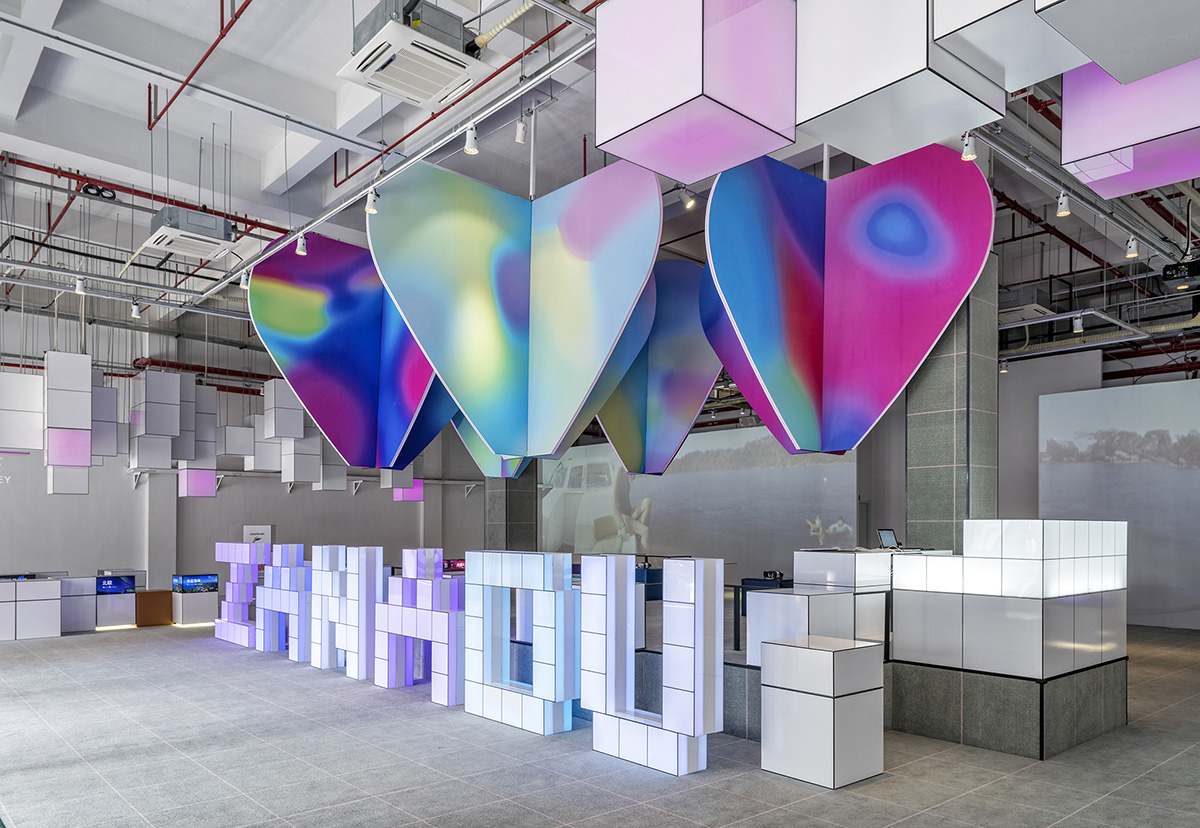 VR experience area
''Since the Chinese travel market is comparatively young, many consumers are not clear about the aspects of luxury vacations. What are boutique hotels? What to expect on an exclusive luxury journey? How are high-end cruises different from the usual cruises?,'' said Shishang Architecture.
To answer these questions for their prospective customers, ZANADU has used a variety of media. They operate a very successful WeChat channel, they publish a quarterly magazine, they shoot video content, and in 2015 they started to shoot 360° virtual reality videos.
These so called VR videos make it possible to experience destinations and hotels before customers make a booking.
ZANADU has held many road shows and offline events where they provide these VR experiences to prospective customers. Because of the success with this technology, they decided to create a permanent space where customers can experience their travel products in innovative ways, including VR technology.
Value Retail, the world's largest operator of luxury outlets, offered ZANADU a 600sqm space at the newly opened Shanghai Village in Shanghai Pudong, right next to Disney. Shishang Architecture was hired to design the space considering several aspects and stakeholders.
''The space should reflect the ZANADU brand. This is a very young brand, and this space is the first offline location for the brand. Lots of consideration was put into how to portrait this online brand in an offline environment,'' added Shishang Architecture.
''The space should feature the VR technology and VR experience as a center piece and attraction for walk-in customers.''
''There should be more functionality to showcase popular destinations and travel products in an interactive way using touchscreen terminals. VR experiences can be very individual and quiet, since the users wear a VR glass. The challenge was to make the place exciting and immersive at the same time.''
Product display area
Five gigantic digitally stylized balloons are the center-piece of the space, inviting visitors to take a seat beneath them and start a virtual journey. 20 interactive destination cubes were fitted with touchscreen monitors, displaying interactive stories about journeys, products and destinations.
Two 10-meter-wide projection screens and a surround sound system made for dramatic audio-visual effects. Every 15 minutes a 2-minute-long cinematic brand film plays out across the 20m width of the screen.
Everything in the store is linked via WeChat and QR codes to ZANADU's customer relationship management system. Every visitor will scan a QR code to receive a VR experience or link to specific products.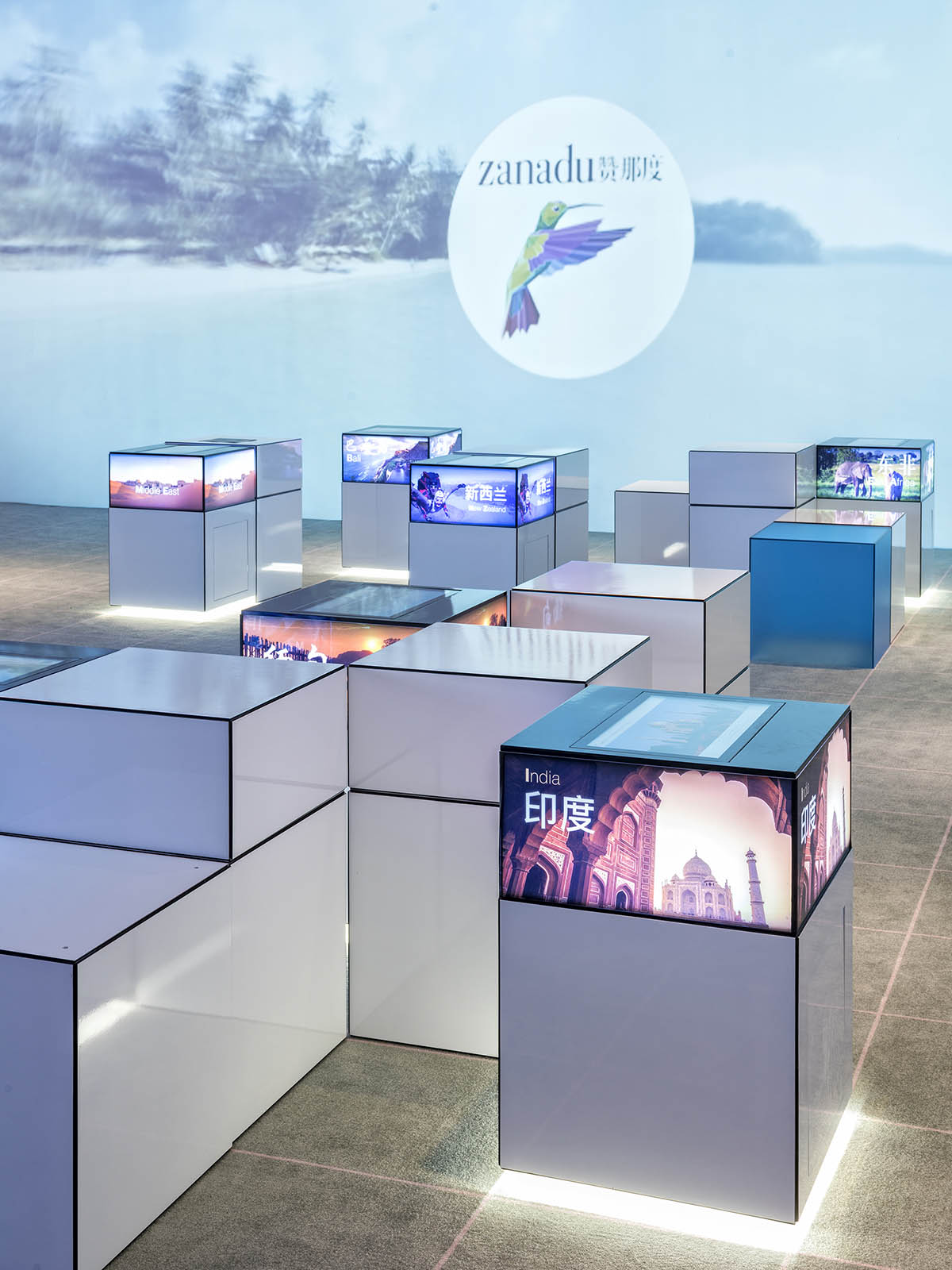 Luxury product display area, projection screen
The ZANADU Space in the Shanghai Village had a soft opening in May 2016 and an official opening event on August 3rd 2016. Shanghai Village has more than 100 retail outlets, and since the very beginning the ZANADU space has been the most visited place in the entire village. There is a monthly footfall of 10.000 visitors, 75% of which have the VR experience and join the CRM program.
Plan of the interior
Elevation
Project facts
Location: Shanghai Village, Shanghai, China
Area: 600 m2
Client: ZANADU
Design Company: Shishang Architecture
Design Team: Chen Xuan, Zhang Tuo, Wang Zhijia
Opening Time: 2016.08
All images © Sui Sicong
> via Shishang Architecture