Architecture competitions by Archasm are India's own International Creative Forum
Archasm is an ideas competition enterprise by three Chandigarh College of Architecture (CCA) alumni. With its eighth competition in play, Archasm is witnessing over an average of 300 entrants from world over, with commendable creative responses to each design brief.
Recent debates on ideas competitions being worth the Architect's time and energy or not allude to engaging with other worthwhile activities. But such competitions have their perks among young folks in design. Regardless of winning or not, students and fresh graduates will find competitions benefiting to participate in and season themselves.
One may argue that open competitions aren't challenging as briefs set the target list. But for young minds in design, it sets up creative realms to exercise their visions in, hence tapping their idea generating potential.
Archasm's Inception
Archasm's exciting design briefs extract fresh ideas from students and the team continues to grow in what they do. Here's birth and growth story of Archasm:
"In architecture school we were inclined towards conceptual competitions to widen our horizons. We then realized that the education system didn't encourage students to experiment, hence the lack of innovative ideas in students. This sparked us to launch a competition portal in 2014, while still in school. India had not many ideas competitions and we wanted to make one for young minds as a chance to design as they will," says Archasm.
"We aimed to present to the world an Indian run global competition and made our opening with redesigning Chandigarh's un-built Museum of Knowledge by Le Corbusier. It was befitting to the 21st century audience too."
"Archasm is short for architectural orgasm. We wanted people to feel and experience the immense pleasure of idea generation. This will also help all spectators feel the rush to loosen their rigid sensibilities as they glance through the proposals. Archasm should liberate people."
The Frequency of Competitions
With Archasm, there's not much waiting to participate. All competitions have a time frame of three months, the next week of which a consecutive one opens for participation.
The competitions have different typologies, scale, contexts and audiences. Sometimes, a competition clicks with one participant and not with the other. This challenges the team not to have a gap between subsequent competitions so that participants don't wait long for the right one.
Creating the Briefs
"Choosing competition titles is simple: it should reflect the typology, context and purpose of the project. The titles are clear and self-explanatory for participants to get hold of in one go," says Archasm. But creating briefs is the challenging phase for the team. They brainstorm for days till the final piece is ready. Their briefs carry a background, a mission statement, site location and project vision.
"We've to process by thinking and discussing critically within ourselves," says Archasm. "We take the participant's position while we compose it. We reveal the right amount of information for the participants to think the story through to all the loose ends, which is the paramount motive of the brief. Presentation of sheets is a very important criterion for us. We restrict presentations to one A1 board to push entrants to keep their stories short and sweet. This helps them create innovative concept portrayals."
Remarkable Reception
Intending to be open without much regulation hassles, they've received entries from USA, Bulgaria, Venezuela, Slovakia, Spain, Malaysia, France, Bangladesh, China, Belgium, Poland, Italy, Serbia, Sweden, Indonesia, Thailand and more. The number of entries reached a highest of 406 with the Berlin School project.
1st prize in Archasm latest's competition by Carla Sentieri, Lucas Vidal, Alba Carinena (Spain)
Archasm's website is also a platform to learn from, for the many Architecture students and graduates of India. With the top 50 entries of each project published, the website is a booklet in itself to study presentations and ideas from around the world.

"The quality of work" says Archasm, "is breathtaking. The jury is always tough. The competition is intense and the Indian proposals match their foreign counterparts at every level. In fact, Indians are regular honorable mentions and have been on the podium twice."
Partnered with over 20 media portals, including Bustler, ArchiCompetitions and Architecture + Design magazine, Archasm puts a quite a few spotlights on its winners, fetching them value and credibility.

The Team
Archasm was founded by Anirudh Nanda, Harmeet Singh Bhalla and Nikhil Pratap Singh. Their work culture is quite collaborative now with management and editorial teams.
"We work with interns and fresher architects who form our teams. As we keep venturing, we'd enjoy having more young minds with us in creating and managing events. Archasm is all about team work and it's one of our organization's core values."
Future Endeavors
On leveling up as bigger architectural enterprise in the future, Archasm says "we want to make more people understand architecture as a profession. We want to bring the fraternity together and indulge them in a thoughtful architectural discourse. Right now, we are doing it virtually through our web portal. But we will have a physical presence soon to invest in curating and organizing events on a global scale."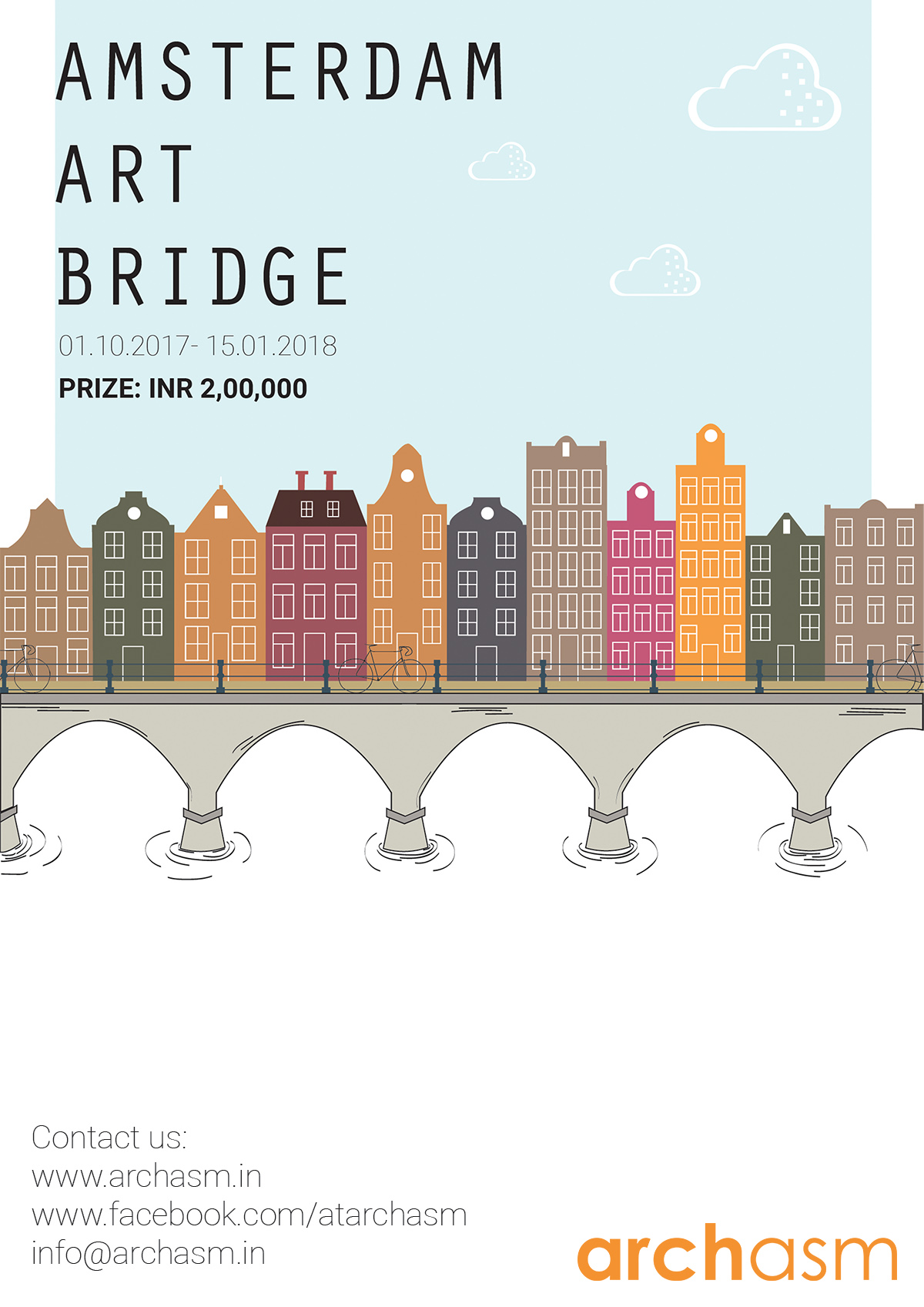 Archasm's ninth edition is titled "Amsterdam Art Bridge", scheduled for competing between 1st October 2017 and 15th January 2018.
Top image: 1st prize in Archasm latest competition by Carla Sentieri, Lucas Vidal, Alba Carinena (Spain)
All images courtesy of Archasm
> Archasm