London Design Festival 2017 closed its doors: Welcome London Design Biennale 2018
In this September, throughout the nine days from 16 to 24 2017, "London has provided the stage of thousands of individual designers and artists, companies, organizations and nations come together to present their latest works through London Design Festival, 2017." London, which is accepted as the capital of the many things, has opened its doors to representatives of design and visitors - "which shows that London is open to ideas, innovation and to people from around the world to celebrate imagination and creativity," said the Mayor of London, Saiq Khan.
Surface at 100%Design in Olympia. Image © Hatice Ozhisar
Throughout the festival, the organisation committee has mentioned that they invited visitors to "take a closer look at the diverse output, from the understated to the flamboyant, the commercial to the conceptual, and the practical to the improbable."
Transmission by Ross Lovegrove at the Victoria and Albert Museum (V&A). Image © Edmund Sumner
The Victoria and Albert Museum (V&A) was the official hub of the LDF 2017 for the displays, exhibitions, Global Design Forum, talks and workshops. However, the exhibitions were not limited within the boundaries of V&A in which London has been transformed into the centre for design - ranging from product to graphic design, architecture and to the textile.
"Design is everywhere, from the smallest paper clip to the tallest building," said Sir John Sorrell CBE, the chairman of the LDF 2017, and he cotinued to remark that "each year, London Design Festival shines a light on design's impact, reminding us how it affects our to lives," published in The Guide of London Design Festival 2017.
Fabric Rainfall by Sandro L'Abbate in collaboration with Ramfil at 100%Design. Image © Hatice Ozhisar
In these nine days, London has announced festival venues, places, disricts and routes as;
- five Design Destinations that are the commercial pillars of the festival for 'anyone wanting to discover new product releases or identify current trends': 100%Design, Decorex International, designjunction, Focus/17 and the London Design Fair,
- two Landmark Highlights that are Villa Walala by Camille Walala at Exchange Square, Broadgate and MINI LIVING Urban Cabin by Sam Jacob at the Oxo Tower Wharf Courtyard,
- the nine Design Districts: Bankside Design District, Brixton Design Trail, Brompton Design District, Chelsea Design Quarter, Clerkenwell Design Quarter, Islington Design District, Mayfair Design District, Pimlico Road deign District, Shoreditch Design Triangle,
- three Design Routes that are rich in design activity and a navigational component of the design Festival: Maker Mile Design Route, Notting Hill Design Route and South East Makers Club Design Route,
- plus Design Frontiers: an exhibition has added to this year 'exploring the connections between innovation and the marketplace' as said by Sir John Sorrell CBE, Chairman
- and several hundred partners.
Read on for World Architecture Community's photo shoots and glimpses from LDF 2017 events: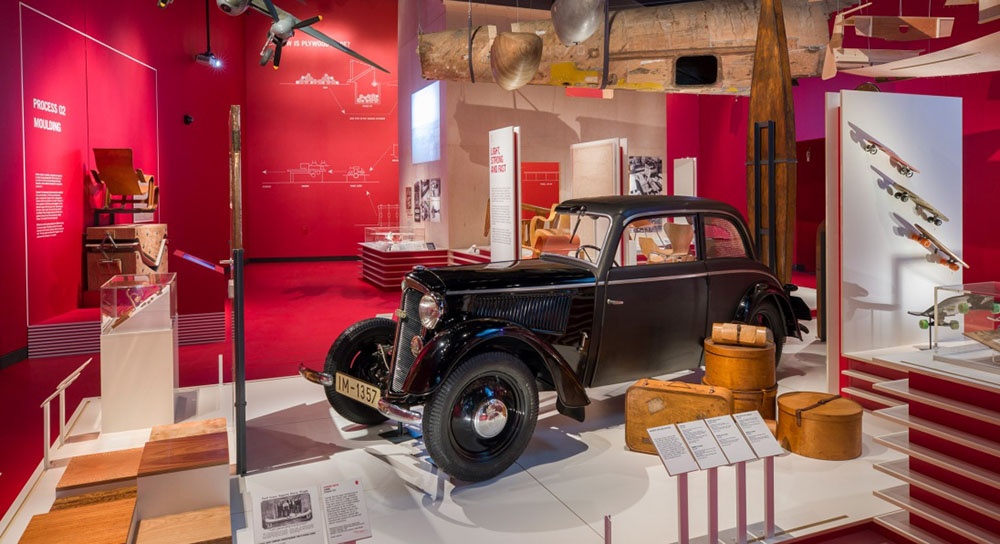 Plywood: Material of the Modern World exhibition at the V&A. Image courtesy of V&A
High Tide for Carmen installation at the V&A. Image courtesy of V&A
Hight Tide For Carmen
Remarked by the LDF, "this production pushed the limits of modern technology, created by Susanna Boehm, Head of the Art Department at Bregenz, has brought set models and designs to the V&A."
The note for this special display has continued that "the installation was created to show how the George Bizet's opera Carmen was created to be presented on a huge scale on the lake stage of Bregenz Festival, in Austria, with the direction of Kasper Holten, stage design by Es Devlin - who is the recipient of the Panerai London Design Medal 2017- and video design by Luke Halls."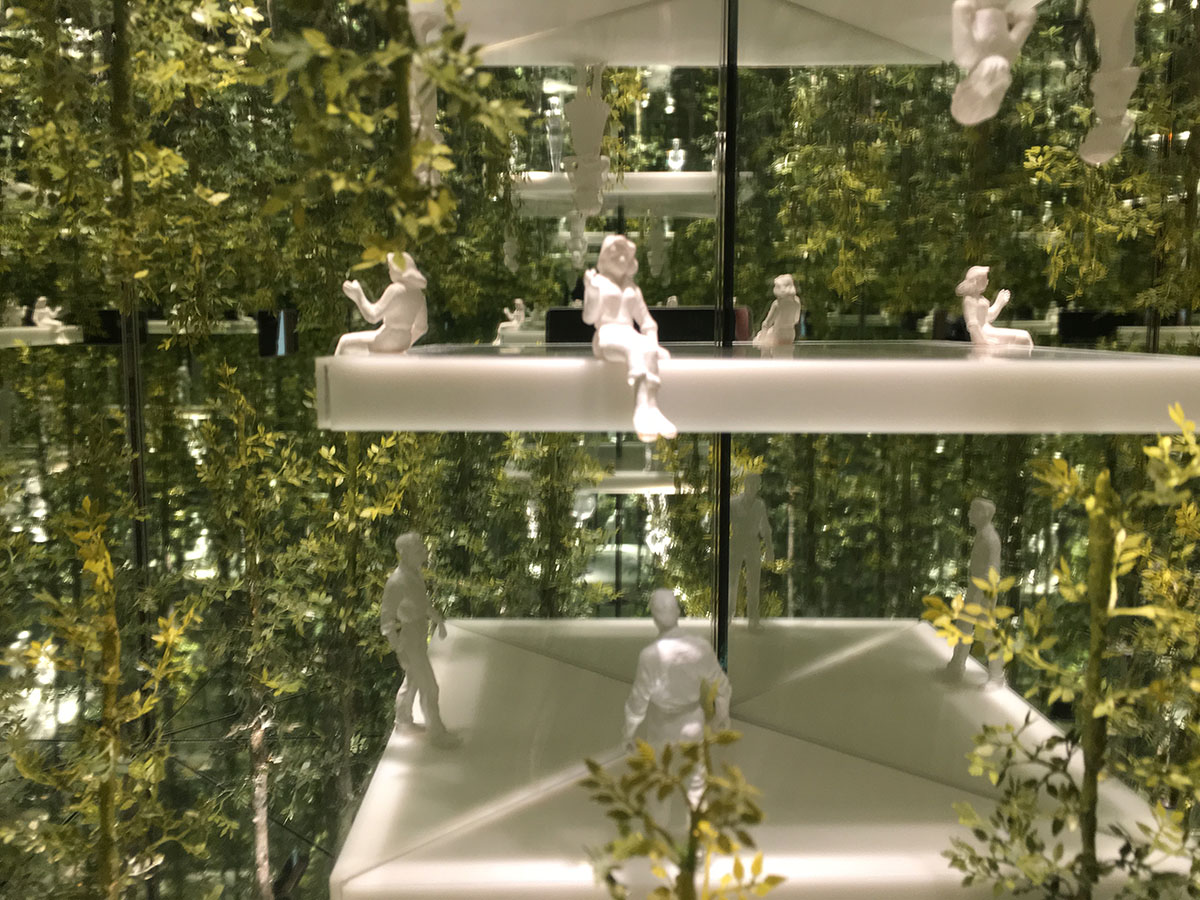 Magicbox, fusing the 19th-century theatrical optical illusion techniques with contemporary LED technology by Es Devlin, The Panerai London Design Medal winner, exhibited at the V&A. Image © Hatice Ozhisar
The British Land Celebration Of Design Medal Exhibition
LDF mentioned that "for the third year, they presented an exhibition featuring the work of four winners of the British Land Celebration of Design Awards like each year. The Medal exhibition has illustrated the breadth of work and scale of achievement of each of the winners" - in categories which range from Emerging Talent to Lifetime Achievement and World Architecture Community has explored the each Medal winner earlier this month.
'Exhale' 3D printed small scale chandelier by Julian Melchiorri, the Emerging Talent Medal winner. Exhibited at the V&A. Image © Hatice Ozhisar
New warning sign for school children crossing the road by Margaret Calvert. The Lifetime Achievement Medal winner. Exhibited at the V&A. Image © Hatice Ozhisar
Scooter for Life by Paul Priestman. The Design Innovation Medal winner. Exhibited at the V&A. Image © Hatice Ozhisar

Slave/Master by the Brooke Roberts Innovation Agency (BRIA)
Slave/Master was the installation with a dichotomy of the perception of robots as fearful on the one side and as helpful on the other side. Having introduced this, BIRA said that "they wanted to explore the borders around human/robot interaction and reverse the traditional 'fear' thought to us by cautionary science fiction tales, instead creating a physical dialogue and demonstrating the impact that humans can have on robots' 'behaviour', with the larger aim of challenging the public's perception of the increased prevalence of robotic technology and making it feel more accessible and less daunting."
It was explained that "the installation has used the collaborative robots, sometimes referred as cobots, which were able to work alongside human co-workers and can interact with them safely in a common working environment. It materialized via working with leading expert that "they could able to program their robotic performers to act and re-act in response to the movements of the human dancers on stage with them, all the while maintaining a safe place for all of them to perform in."
Future Heritage at Decorex International
Main entrance installation at Decorex International. Image © Hatice Ozhisar
Main entrance installation at Decorex International. Image © Hatice Ozhisar
It was "introduced Decorex International with more than 400 exhibitors and 14,000 visitors, as the only UK show of its kind for the luxury interiors market." This year, the main entrance has installations with the theme of "Disruptive Dining."
Ate my Table by artist Zachary Eastwood-Bloom. Image © Hatice Ozhisar, courtesy of the Future Heritage
In Decorex International, it was presented as "Future Heritage has returned with a showcase of new work and techniques by the leading names in British craft." LDF 2017 has announced that "Corinne Julius, the renowned design and applied arts critic, was the curator and has selected 14 participating designers including Lauren Nauman, Simon Hasan and Matt Davis."
Outdoor installations at Somerset House. Image © Hatice Ozhisar
Design Frontiers
Design Frontiers was a group of an exhibition of various practitioners, each is renowned and leading artists - their respective disciplines from automotive to fashion, product to graphic design, digital to performance comprise the thinking and working processes and challenges boundaries.
With Design Frontiers, it has aimed to be "explored the intersection between future-thinking and commerce, innovation and the demands of the modern marketplace," because of the fact that "progress in design has only been possible with enlightened clients, and the exhibition has looked in detail at some of these engaged conversations and presented the fruits of these collaborations."
Jaguar at Somerset House. Image © Hatice Ozhisar
From Creativity To Reality And Beyond
Ian Callum/ Jaguar
#designfrontiers
It was said that "by embracing autonomy, connectivity and electrification Jaguar Director of design, Ian Callum, has been creating the beautiful cars of the future. This interactive, immersive experience has offered a glimpse of what such a Jaguar could look like."
Materialise installation of Pentland Brands at Somerset House. Image © Hatice Ozhisar
Materialise
The Big Studio/ Pentland Brands
#designfrontiers
The Big Studio has showcased "how smart materials could help our athletes swim faster, climb higher and train harder by spotlighting the creative pattern cuts, fabric technology and pioneering design."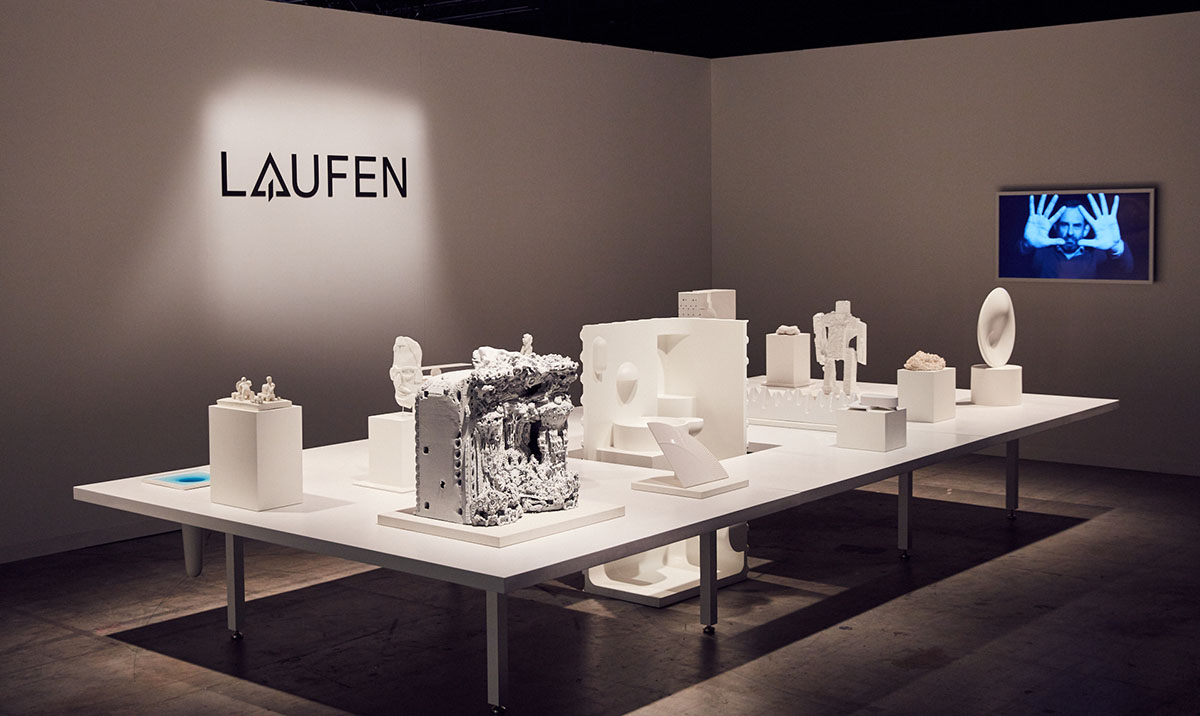 Exhibition of Laufen at the Design Museum. Image © Laufen, courtesy of Laufen
What?
A curated art show/ Laufen at the Design Museum
Laufen Bathrooms presented "A Curated Art Show at The London Design Museum - featuring exclusive seventeen objects that were curated by Beda Achermann. The exhibition included sculptures by personalities from the world of art, architecture, and design, including atelier oï, Stefano Giovannoni, Konstantin Grcic, Alfredo Häberli, Benjamin Dillenburger and Michael Hansmeyer, Toan Nguyen, Ludovica and Roberto Palomba, Patricia Urquiola, Nissen Wentzlaff and Peter Wirz."
It has pointed that the concept was based on a three-dimensional platform of art, a collection of high-tech, abstract and crafty objects which was added to the artistic element, parts of the sculptures have been produced using new technologies, some of which are making a world premiere in ceramics.
Brand Architecture by Nissen Wentzlaff. Image © Laufen, courtesy of Laufen
Open Mindness by Alfredo Häberli. Image © Laufen, courtesy of Laufen
The World by Roberto Palomba. Image © Laufen, courtesy of Laufen
Visions by Patricia Urquiola. Image © Laufen, courtesy of Laufen
Welcome London Design Biennale 2018
Though the LDF 2017 has closed its doors, the adventure in design in London has not ended.
As it is introduced, "London Design Biennale will be held at Somerset House from September 4 to 23, 2018 bringing over 40 countries to the heart of London capital."
It is remarked that "the second edition of the Biennale will explore the theme, Emotional States, asking how design might make us happier, by increasing social cohesion, health and quality of life. The discipline is at the front of change-making, with architects and designers working imaginatively to create positive conditions for human flourishing, and countries and territories will explore such socially responsive designs at the Biennale."
"Emotions are universal, with shared meanings that transcend borders. Thoughtful design and technology might serve as an aid to creating positive emotional experiences, facilitating new social possibilities by enabling connectivity and contact, and the forging of meaningful connections between people. The Biennale will imagine such possible futures, and what such a positive transformation through design might look like. But design teams are encouraged to examine the full spectrum of experience, looking at how design often serves also to divide us;" which is also launched in The Guidebook of LDF.
Continued that, "among other questions, national entries will ask:
- How can design evoke, visualise, communicate and manipulate emotions?
- How can designers help to strengthen citizen and community engagement by encouraging positive feelings, promoting and supporting well-being?
- Conversely, how can design provoke and address negative effects, such as anger and stress?
- What are the possible consequences of creating robots that are emotional machines?
- How can we create emotionally durable designs that increase sustainability and reduce the impact of consumption and waste?'
For more information and follow-up, visit the Biennale's website.
Top image: Transmission by Ross Lovegrove at the Victoria and Albert Museum (V&A). Image © Edmund Sumner
> via The official guidebook of LDF 2017 / LDF 2017