Mecanoo selected to renovate Perth City Hall with number of 'light touch' interventions
Perth & Kinross Council has selected Mecanoo Architecten for the renovation of Perth City Hall - the category B-listed building will be transformed into a cultural facility with exhibition spaces, learning suite, café and retail space. The Council revealed five shortlisted projects and exhibited first concepts in a new exhibition in the Civic Hall from 12 June to 24 June to collect public comments.
The world renowned Dutch firm Mecanoo has been named to transform Perth's long-unused existing building with a new contemporary design, beating most of global architecture firms in the competition including MVRDV, Austin-Smith: Lord, Hoskins Architects, LDN Architects and Richard Murphy Architects.
Cafe features bold wooden furnitures creating contrast with all-white ceilings and walls
Mecanoo's flexible and transparent scheme creates a new gateway to Perth; to its history and its pride. The scheme proposal seeks to re-activate Perth City Hall by a number of 'light touch' interventions that embrace the building's beauty and character, whilst improving accessibility and reinforcing existing connections.
The studio increases transparency on all elevations and provides levelled access, people are encouraged to come inside. The public 'internal vennel' allows the public to walk through the building with the possibility entering the exhibition spaces and café.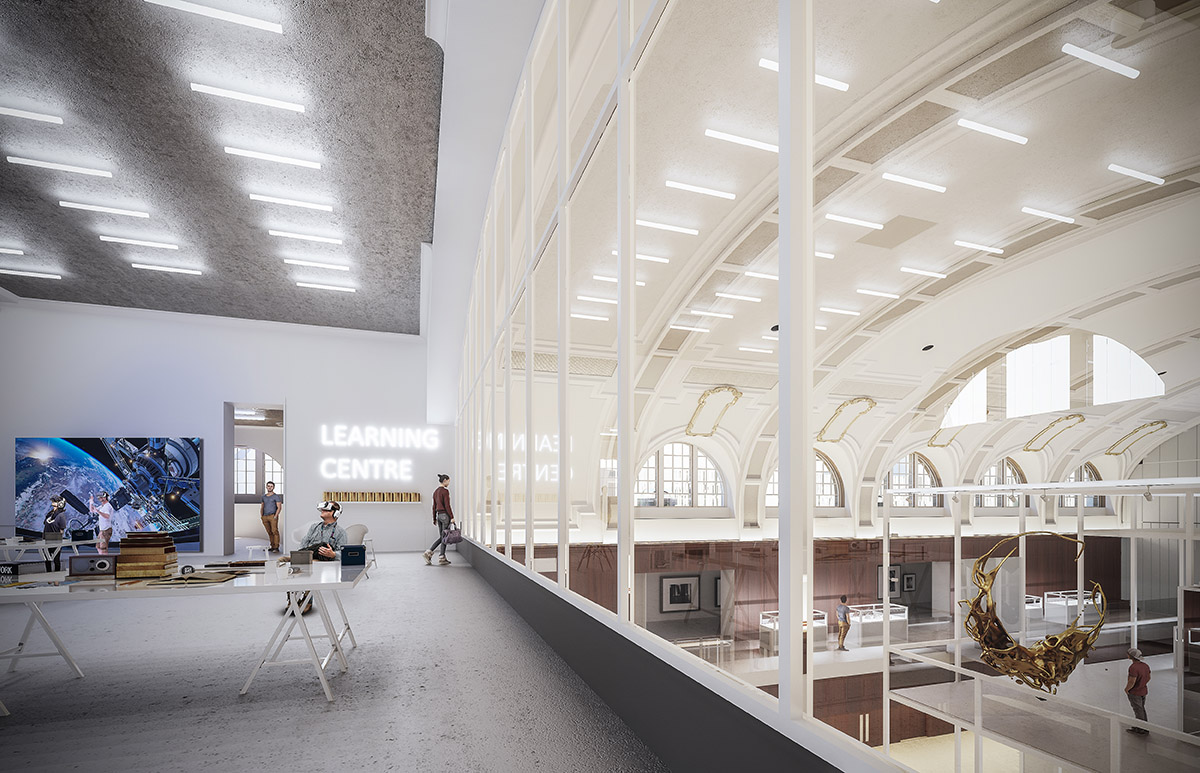 Learning Centre - looking to the main hall with slender columns
Inside the characteristic main hall, an inserted volume offers optimal flexibility to exhibit Perth & Kinross Council's permanent and temporary collections. The renewed public realm between the city hall and St John's Kirk will feature a comfortable seating area. A new lighting scheme threads the design for the building and public realm together.
"We're delighted to have been appointed for this prestigious project. We look forward to working together with the local community and Perth and Kinross Council to create an exciting new cultural destination for Perth," said Francine Houben, Founding Architect and Creative Director of Mecanoo.
"Mecanoo stood out as having responded sensitively to the brief, conserving much of the historic building with an innovative and flexible design that will stand the test of time. The panel felt that Mecanoo paid particular attention to the needs of a wide range of visitors and the transformation of the area surrounding City Hall into a vibrant, inclusive civic space of which we can be truly proud, said Councillor Ian Campbell, Leader of the Council.
Areal view of the Pert City Hall
"Culture Perth & Kinross are delighted that the next phase of this transformational project is now underway and look forward to working with Mecanoo and Perth & Kinross Council to deliver an exciting and imaginative new venue for Perth which will make our collections and rich local heritage more accessible," added a spokesperson for Culture Perth and Kinross.
Mecanoo has extensive experience with listed buildings, transforming them into inviting public spaces whilst retaining their original character, examples include Mies van der Rohe's Martin Luther King Jr. Memorial Library in Washington, DC, Het Hof van Nederland heritage museum in Dordrecht, and New York Public Library's Stephen A. Schwarzman Building.
Perth & Kinross Council has committed £20 million to the combined transformation of City Hall, Perth Museum & Art Gallery and the new collections store. A further £10 million is being sought from the Tay Cities Deal and other sources. The Council has committed further funding of £2.8 million towards improvements in the area surrounding the building and routes to and from it. This is part of an additional £14 million to improve public spaces and lighting.
Mecanoo will now develop detailed designs and construction work is expected to start on the site in 2019 and take two years.
All images © Mecanoo
> via Mecanoo / Perth & Kinross Council