RPBW completes sail-roofed art gallery in the heart of grapevines of France
Renzo Piano's studio Renzo Piano Workshop (RPBW) has completed a new photography and sculpture gallery in the heart of the grapevines of the prestigious Château La Coste realm in France.
The new art gallery was designed to house both displaying art and preserving wine within an elongated structure, partly buried in a 6-metre deep valley in the earth to fully incorporate the building into the vineyard.
Named Château La Coste Art Gallery, the 285-square-metre pavilion is differentiated with its white and light roof structure, highlighted with sail fastened pieces - made of metal arches.
When you look from the top, it can easily be perceived that this roof structure mimics the graphical layout of the grapevines, enabling to integrate the sail into the vineyard. Within this fully green vineyards, the roof structure acts as a "shining art element" with its irregularly-formed small green valley, located in the backyard of the pavilion.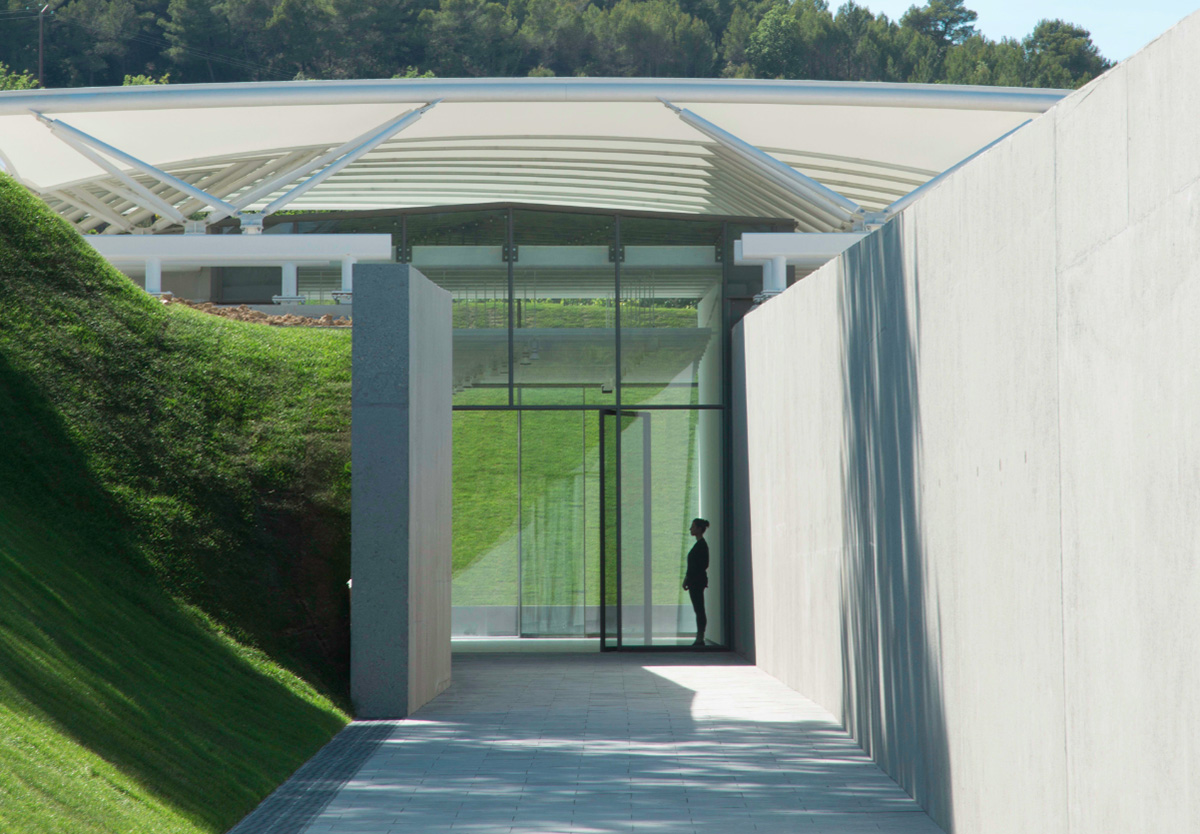 "As a kite, the sail flies and lands, emphasizing all at once the lightness and horizontalness of the building," said RPBW.
The studio uses only a 160-square-metre space for its gallery - for sculpture and photography exhibitions - to benefit from natural light. The remaining area of the pavilion is dedicated to wine preservation. The exhibition space is surrounded by wine cellars whose scale is evidenced by the alcoves at the entrance of the gallery.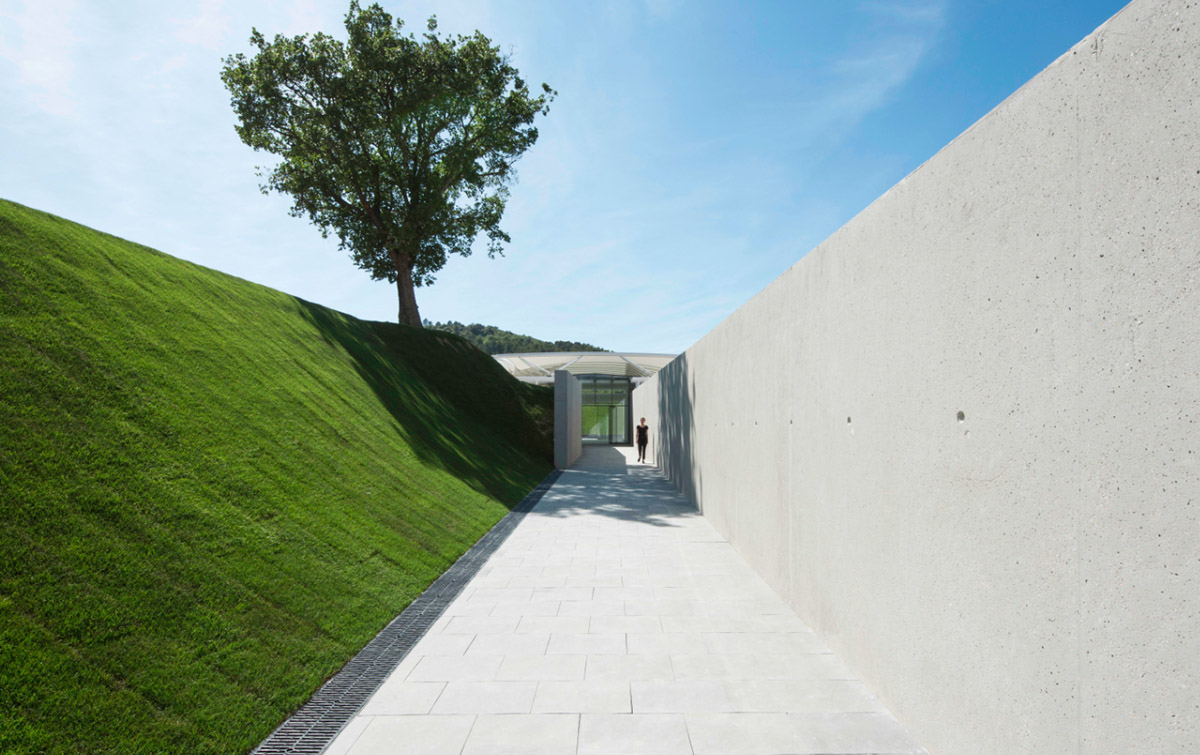 From the reception building, the visitors follow a path to the RPBW pavilion. At the end of the trail, a slight slope leads the visitors to the exhibition gallery's entrance. At the back of the building, a space dedicated to sculpture is extended by a water mirror that largely reflects the full width of the pavilion.
The backyard of the art gallery features a concrete base to house sculptural shows, which will be reflected onto water and extended through the green sloped valley. This open space is only surrounded by structural walls that prevent interaction with its environment.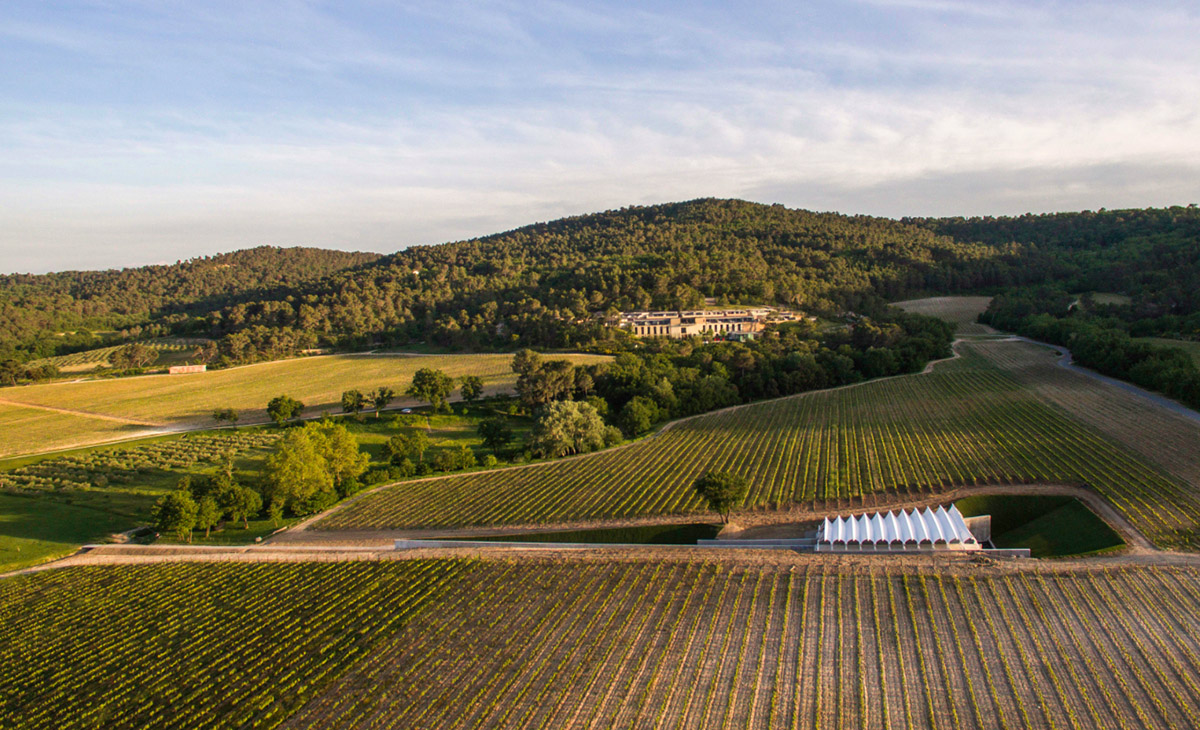 Site plan
Sketch-1
Sketch-2
Project facts
Project name: Château La Coste Art Gallery
Location: Aix-en-Provence, France
Status: Completed
Client: SCEA Château La Coste
Design: Renzo Piano Building Workshop, architects
Design team: J. Moolhuijzen, D.Rat, M.Van der Staay (partner and associates in charge) with K.Lim; O.Aubert, C.Colson and Y.Kyrkos (models)
Consultants: Arup (roof structure); AECOM (main structure); LSD (MEP); Tangram Architectes (local architect for concept design); Rainey Best (project & construction management)
Main contractor: Architen Landrell (tensile fabric structure); Newsky (glazing); iGuzzini (lighting)
All images © Stephane Aboudaram | WE ARE CONTENT
All drawings © RPBW
> via RPBW