The world's most influential architects and tours of Prague's underground at reSITE 2017
reSITE, one of the world's most dynamic and propelling festivals, finally kicks off this week with the most prestigious architects, mayors, city leaders, urbanists, economists and investors exploring this year's theme under the title of "In/visible City". reSITE 2017 will be held between 22 - 23 June, 2017 in Prague's Forum Karlin, Czech Republic and you can still buy your festival tickets today before the conference prices rising - register to the event from here.
For its sixth edition, reSITE is preparing a 360-degree custom podium to showcase 54 of the world's leading architects, investors, mayors, economists, and chiefs of transportation, water and waste management companies. They will explore infrastructure topics under the banner of the In/visible City.
Apart from an influential female speaker list of the event, respected American architect Teddy Cruz from Estudio Teddy Cruz+Forman and Dutch mastermind Winy Maas from MVRDV will be giving a special lecture and presenting their latest award-winning works at this year's conference on June 23, 2017, as newly announced speakers. Participants will experience a once in a lifetime moment when meeting the Japanese Pritzker Prize winner, architecture's highest praise, Kazuyo Sejima of SANAA.
World Architecture Community is media partner for this year's reSITE and we'll be bringing you all the highlights from the two-day event this June. World Architecture community's previous coverage about reSITE 2016 can be seen on WAC's Urban Development section.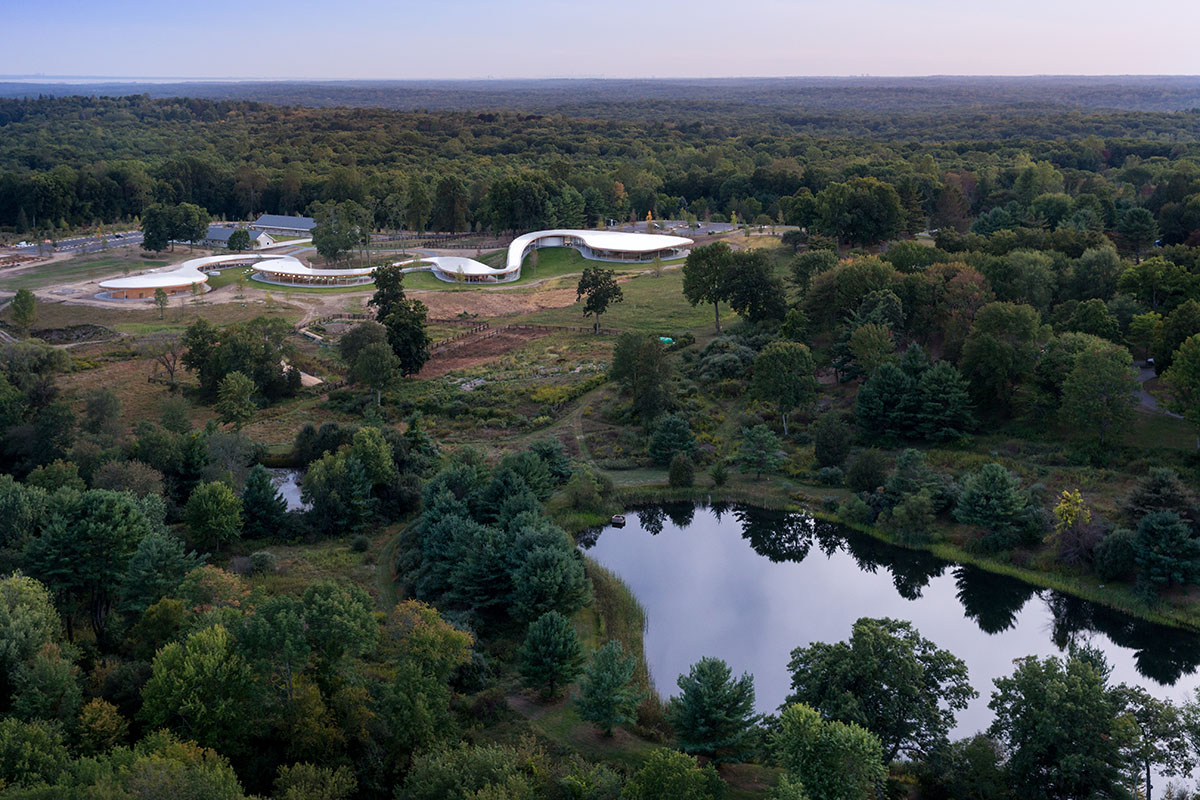 Grace Farms by Kazuyo Sejima/SANAA in New Canaan, US. Image © Iwan Baan
"Invisible infrastructure is an underlying theme. The general public will be able to explore all secrets of the invisible city, thanks to over one dozen guided tours of underground city infrastructure, and the very first NightSeeingTM in Prague with Leni Schwendinger. Between June 21st and 25th, Prague will be the very center of a global discussion about the future of our cities," stated the team of reSITE.
Architect Kazuyo Sejima, Deputy Mayor of Paris Jean-Louis Missika, transportation hubs specialist Caroline Bos, the urban economist Gabriel Ahlfeldt from LSE, or the acclaimed US urbanist Teddy Cruz. These five influential voices in designing cities and other 50 admired architects, experts and inspiring mayors will meet at the 6th annual reSITE conference on the In/visible City at Forum Karlin, a venue designed by Ricardo Bofill. More than a half of the speakers are women.
SUTD by Caroline Bos/UNStudio in Singapore. Image © Hufton+Crow
"Infrastructure is literally the beating heart and veins of the city. We're looking to expose the design of infrastructure while stressing that we need to think about it as an investment tool for private and cultural development in the city," explains reSITE's Chairman Martin Barry.
This year's exceptional program offers 11 interactive workshops and 3 discussion panels, moderated by brilliant editors of leading media such as Monocle, The Atlantic Citylab and Forbes. reSITE will confirm its position of one the most interactive architecture events.
With the help of digital apps, fieldwork, smart devices and 1:1 scale building sets, the participants will explore the potential of unpleasant neighborhoods (Just Add People), try to save the ferry between two Prague's districts Holesovice and and Karlin (Luxus for all!), give back the public space occupied by cars to pedestrians (Highways to Hell), display and visualize city data, improve citizen's engagement in public space, discuss the sharing economy with Shareable and address the future of the brownfield area around Smichov Railway Station.
All the workshops are organized as part of Shared Cities: Creative Momentum project and are included in the regular registration fee for the conference.
In addition to the conference, there are 17 extra day and nighttime events planned for the public. On June 21st, global urban lighting expert Leni Schwendinger will lead her first NightSeeingTM tour through the streets of Prague's Old Town and riverbank.
Garraf Waste Landfill by Enric Batlle in Barcelona, Spain. Image © Jordi Surroca
The evening program will feature several bar crawls to different legendary places in four Prague's neighborhoods, including Old Town, as well as the most dynamic places of Letna and Holesovice. Bar crawls will be followed by a party in one of the most charming Renaissance courtyards, the Bokovka wine bar.
During the weekend on Saturday and Sunday (June 24-25), anyone can enjoy free tours of "invisible Prague". This includes exploring Prague's underground and infrastructures with the insights of experienced guides.
"We wanted the visitors of reSITE to experience and touch the inner structure of the city, as we usually don't even realize its existence as far as everything is functioning," explains Osamu Okamura, reSITE's Program Director.
The tours will include a trip on the old subway train, visits of waste and water treatment plants, or a graffiti workshop in the stock of urban furniture. The public is also invited to discover the Big Bang Data exhibition in the DOX Center for Contemporary Art.
Smithsonian Robert and Arlene Kogod Courtyard by Kathryn Gustafson in Washington. Image courtesy of reSITE 2017
See reSITE's detailed program from here and buy your discounted tickets to register the event to meet the world-renowned speakers of reSITE 2017. Tickets are available in three price levels for professionals, municipalities, non-profit organizations and students. Workshops, conference materials, meals for both days, application and preferential offers for other events are included in the fees.
Founded in 2011 by Martin Barry - a landscape architect from New York - reSITE is a non-profit platform that is supporting the understanding and synergies of architecture, urbanism, politics, culture and economics. It presents the ideas and projects of internationally renowned experts to professionals and to the wider public.
For the past five years, reSITE has been inviting the world's top experts to Prague in the fields of urban planning, architecture and urban development, and political leaders of inspirational cities. reSITE is not a closed-door conference. It brings a multitude of side events, debates, film screenings, exhibitions and bike rides for the general public.
Top image: Jean-Louis Missika_Réalimenter Masséna, Ville de Paris, Paris, courtesy of reSITE 2017
> via reSITE