New initiative will showcase fair labor practices in architecture
A new initiative has been announced to form best labor practices in architecture, which has been discussed acridly over the last decades by the Architecture Lobby, architects, students, intern architects and the public. The new formation has been developed by The Architecture Lobby, Yale School of Architecture's Equity in Design, and Harvard Graduate School of Design's Women in Design in order to structure fair conditions in the architecture industry.
Named JustDesign.Us, the new accreditation program will highlight and certificate the architecture practices who contribute equally and fully in the goals of the office, maintain agency over their own careers, and provide fair pay and benefits for architect-workers.
The collaborative project "aims to provide potential employees with a robust tool for gaining a sense of which firms will treat them fairly, with respect, and support their development as architects, while giving certified JustDesign firms an edge in attracting the best possible designers," mentioned in a press release.
JustDesign.Us is developed within the scope of a certification system, which starts by seeking online nominations by employees at first. The certification system will work with in two-stages. Stage I is based on "Identification and Nomination" process and employees who want to nominate their firms will answer an online questionnaire prepared by The Architecture Lobby, Yale School of Architecture's Equity in Design, and Harvard Graduate School of Design's Women in Design. In this process, submissions will be kept anonymous.
The online questionnaire basically feature the major issues of labor conditions pertaining to flexibility, agency, fair pay, salary transparency, employee diversity, and family-friendly policies.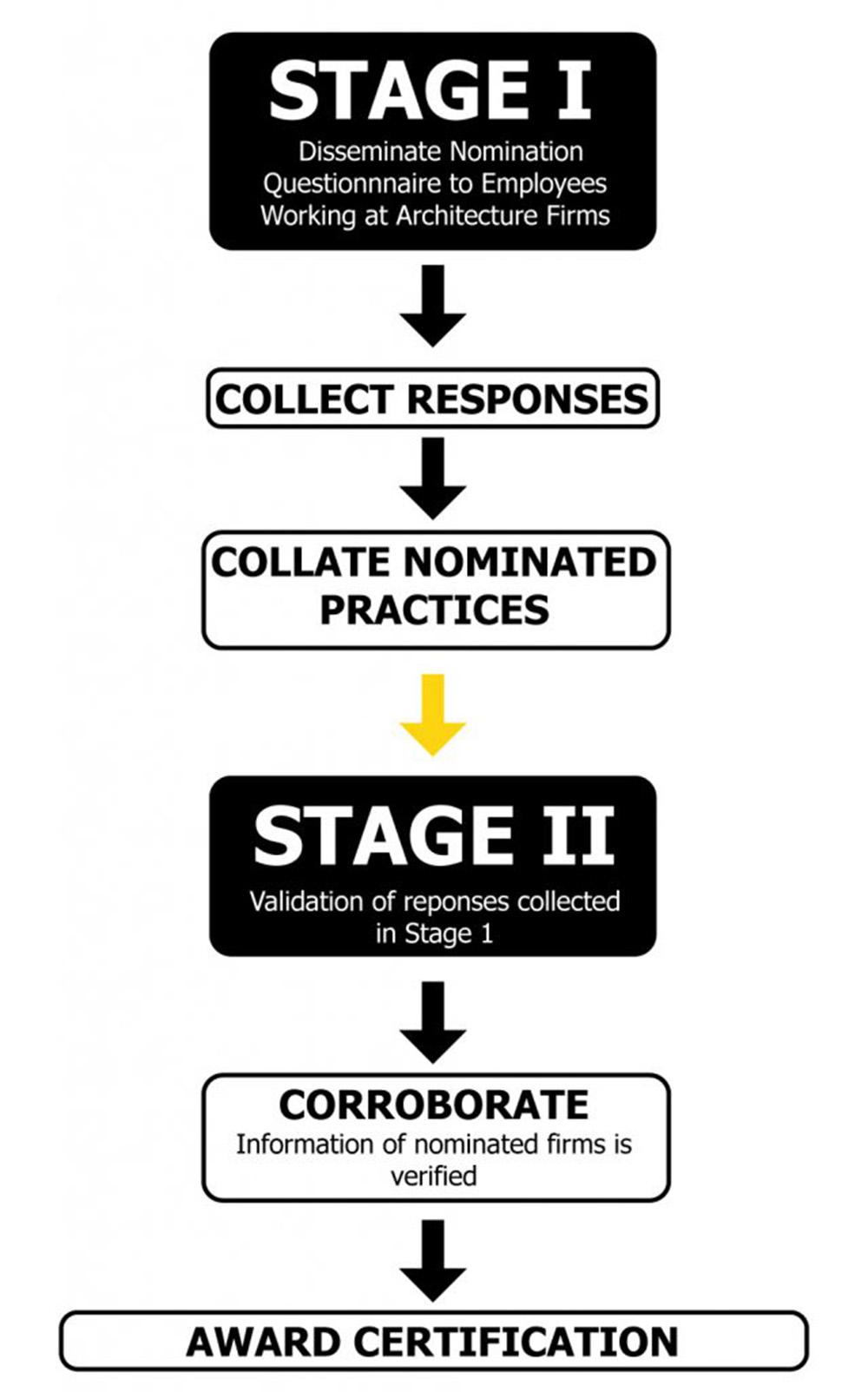 Image © JustDesign.Us
In the Second Stage II - after a firm is identified by its employees - "Confirmation and Certification" process starts and JustDesign.Us will ask the firm corresponding questions that will hopefully lead to certification. If the firm is certified, the selected offices will be listed in a publicly accessible database and featured on the JustDesign.Us website. JustDesign.Us will apply this process annually, ongoing follow-ups to maintain certification.
The chosen offices will be certified by JustDesign.Us and as well as its affiliated organizations like SEED, ArchiteXX, and the American Colleges and Schools of Architecture.
"Issues of sustainability, diversity, inclusivity, and equality have gained currency in recent years, yet labor practices remain in the shadows. Architectural workers–a highly educated and technically skilled group–are too often subject to unpaid overtime, inadequate benefits, scant agency, archaic family policies, and meagre pay," said the The Architecture Lobby.
"With massive student debt, stagnating wages, and an overabundance of skilled applicants coming out of professional schools, working conditions are of the utmost importance for the health and future of the profession."
"The goal is to identify firms with "just practices" so that potential employees will have a sense of which firms will treat them fairly and with respect. We believe that this is an important factor in an architect's development," stated in JustDesign.Us' website.
Nominations are accepted for the first round of review until July 15, 2017 and the inaugural list is planned to be announced in December 2017. Start your nomination process here!
Top image: Image by Don McPhedran, 1963 for the APA, via the State Library, NSW.
> via JustDesign.Us