Ross Lovegrove's solo exhibition at Pompidou: An architectural perspective
The Pompidou Centre has recently opened a series of events titled "Mutations/Créations" in Paris, which is dedicated to the interaction of digital technology and creation in more futuristic way. One of the exhibitions of the Pompidou Centre presents a solo show of Welsh industrial designer Ross Lovegrove.
Called "Convergence", the designer's new exhibition is a great lesson and bringing a new perspective for today's architects to reflect on the relationships between technology, nature, design and fabrication. Ross Lovegrove's solo exhibition will be on view until July 3, 2017 at the museum.
The museum's other seminal exhibition "Imprimer Le Monde (Printing The World)'', a collective exhibition, brings Kengo Kuma's critical perspective to the stage the role of human in today's 3D printing world. The exhibition of Printing The World can be visited until June 19, 2017 at the Gallery 4 of Pompidou Centre.

Ross Lovegrove. Image © modissimo
Lovegrove is one of the earliest industrial designers to materialized biological ideas into dynamic forms with advanced industrial processes. Already in 1990, he designed the Eye Digital Camera for Olympus Optical Company in Japan.
Eye Camera, 1990 / Image © Ross Lovegrove
Works of Lovegrove are often presented as one single object, like a single organism, which differs himself from earlier biomorphic designers like Isamu Noguchi and Alvar Aalto.
Like the Eye Camera, the use of elastomeric material allows one to design the camera as an organic form that is connected but not bounded by the mechanical functions. The design process is indeed a growth process, which reminds one Greg Lynn's Embryological House.
Go Chair, 1998 / Image © Ross Lovegrove

The exhibition showcases most of the important works of Lovegrove across disciplines. Works shown in "Convergence" include but not limited to architectural, furniture and object design. Two works are presented for the first time in this exhibition: Swarovski Crystal Aerospace and Generator House.
Generator House, 2006-2008 / Image © Pompidou Center

The Swarovski Crystal Aerospace aims to explore solar energy to obtain the actual movement in automobile design. It contains one thousand specifically cut crystals, mounted on a thousand photovoltaic polycrystaline cell by means of 3D-printed transparent supports.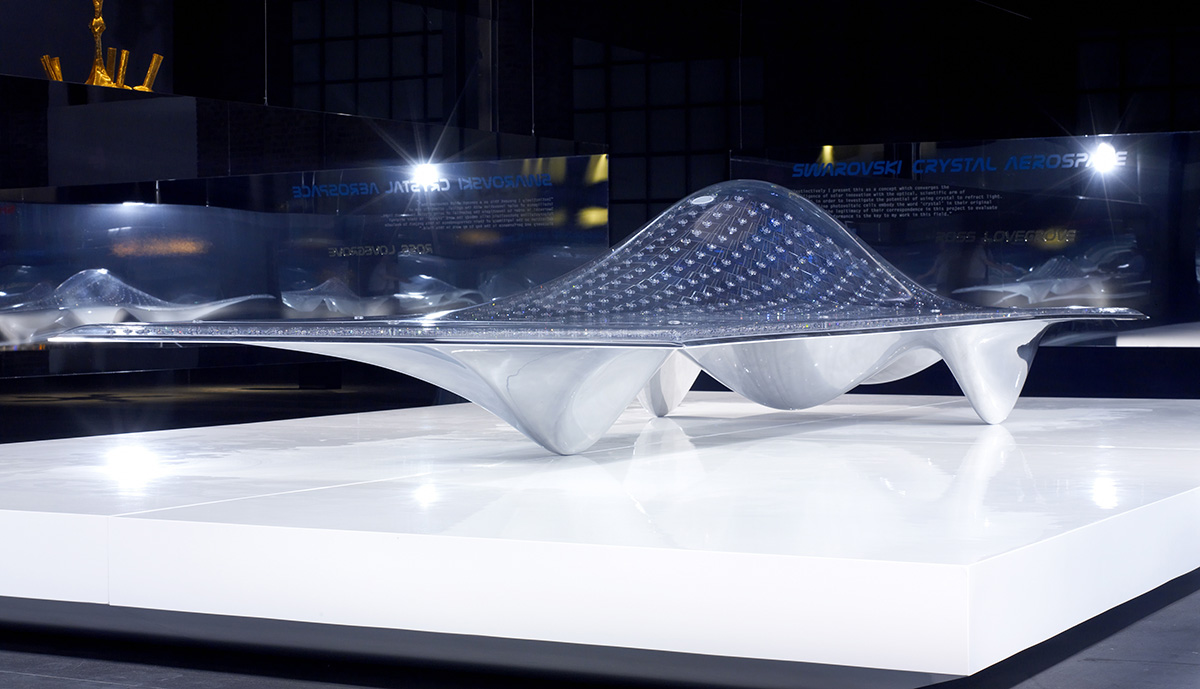 Swarovski Crystal Aerospace, 2005-2006 / Image © John Ross, courtesy of Swarovski
"Design is a sphere that is continually being reinvented. Because it involves transforming natural resources into useful objects, the designer is at the very heart of today's technological issues, which affect not only our own emotional and aesthetic state but also our collective awareness as human beings – a species that is ever rapidly evolving and needs to adapt continuously," said Ross Lovegrove.
Ilabo Shoes, 2015 / Image © United Nude, courtesy of Ross Lovegrove
Lovegrove's work adopted a strong biomimetics design approach, which is to imitate models, systems or elements of nature to solve complex human problems. Lovegrove described his methodology as "organic essentialism", alchemising the essential elements of the natural systems into the final design.
The Andromeda Lamp, 2006-2008 / Image © Etapes
No Doubt that Lovegrove is the master of dynamic forms. One may understand his form creation as a scientific and mathematical process of analyzing nature's system. But in his 2012 project Instinctive Override, Lovegrove challenged our primordial reflex response to form, thus how we create form. This biological "reflex", according to Lovegrove, is over and above science and its calculation.



Instinctive Override - Future Primitivism from Ross Lovegrove on Vimeo.

Lovegrove has also been experimenting with materials and advanced industrial processes. Like the Lasvit LiquidKristal Pavillon which Lovegrove worked with glass manufacturer Lasvit and architecture educator Alisa Andrasek to create a fluid-like glass pavilion. The glass behavior was modeled and simulated digitally to study their thermo induction.
Lasvit LiquidKristal Pavillon, 2012 / Image © Clarence Gorton
The undulating surface creates different opacity and visibility on the glass surface. With the digital projection of Alisa Andrasek "Smarmology", the space is constantly dynamic like fluid with its changes in color and light.
Lasvit LiquidKristal Pavillon, 2012 / Image © Clarence Gorton

Top Image: Ross Lovegrove's Lasvit LiquidKristal Pavilion, 2012 / Image © Lasvit

> via Pompidou Center