Dakshineswar Sky Walk by Design Forum International to Improve Traffic Circulation in Kolkata
New Delhi-based Design Forum International has recently unveiled plans for the Dakshineswar Sky Walk, an urban intervention designed to improve traffic and movement leading to the Dakshineswar Kali temple in Kolkata, India.
The pedestrian bridge, 380 meters long and 10.5 meters wide, will connect a nearby traffic rotary with the gates of the temple compound; 12 escalators, four elevators, and eight staircases will help users to embark and disembark.
The Dakshineswar Temple, located on the banks of the Ganges river at the northern tip of the metropolis, is a highly revered place of worship for Hindus.
It draws a large number of devotees all around the year, which in turn has lead to the appearance of several small shops and kiosks; the approach road to the temple, as a result, has become increasingly congested.
The Sky Walk aims to provide a dynamic solution to the site's problems: it proposes to segregate pedestrian and vehicular traffic, while ensuring means of livelihood for individuals whose shops line the street.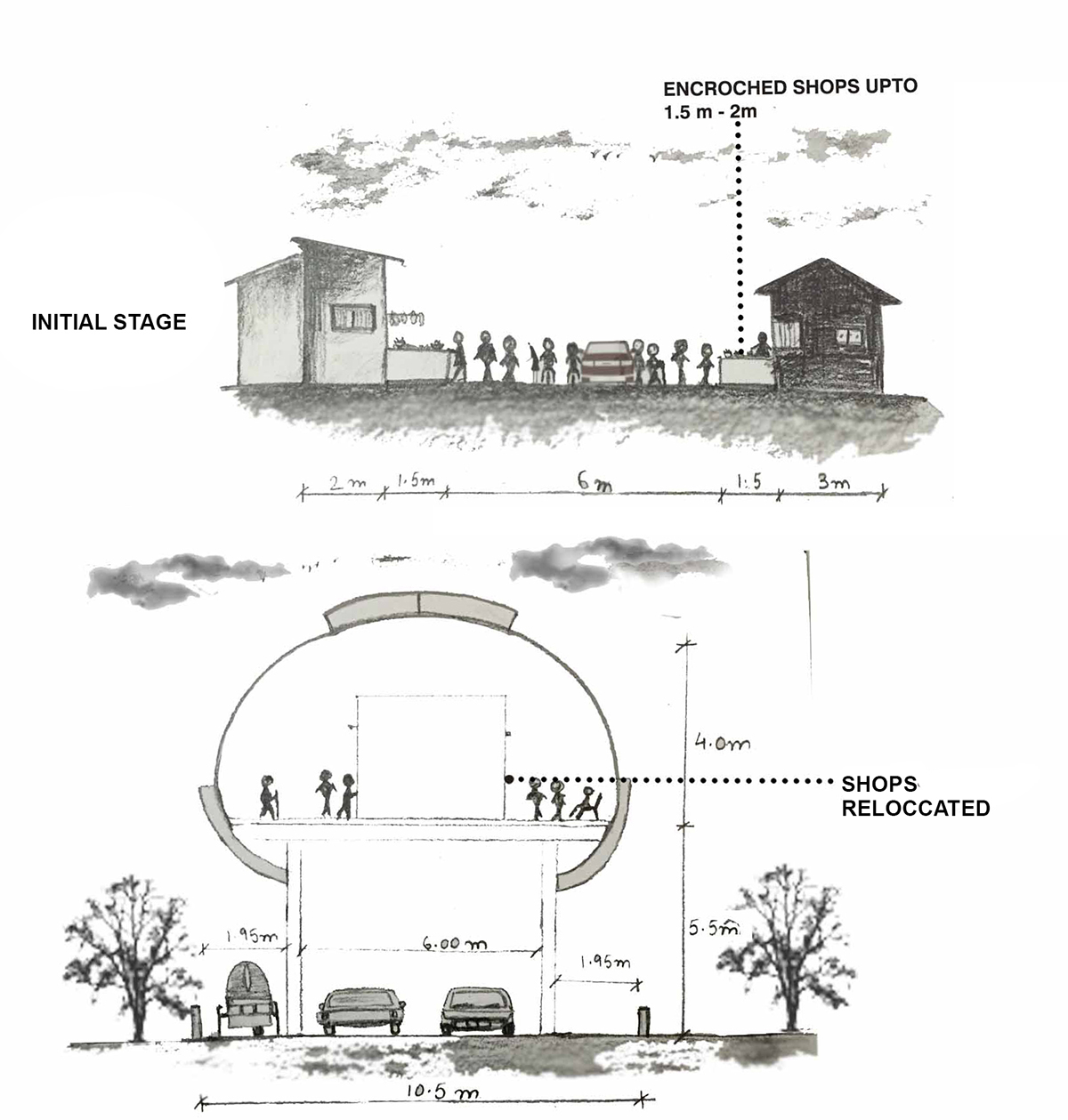 The pedestrian circulation and the relocated shops – 200 in number – are conceptualized at an elevated concourse, thereby leaving the grade-level space for vehicular traffic, which is further segregated: the two-legged structure of the structure will provide a 6-meter-wide central lane earmarked for motorized transport going in both directions, and 2-meter-wide lanes on the peripheries for slow-moving traffic like rickshaws and bicycles. This will enhance ease of movement and safety of the visitors, providing seamless connectivity between the rotary and the temple gates.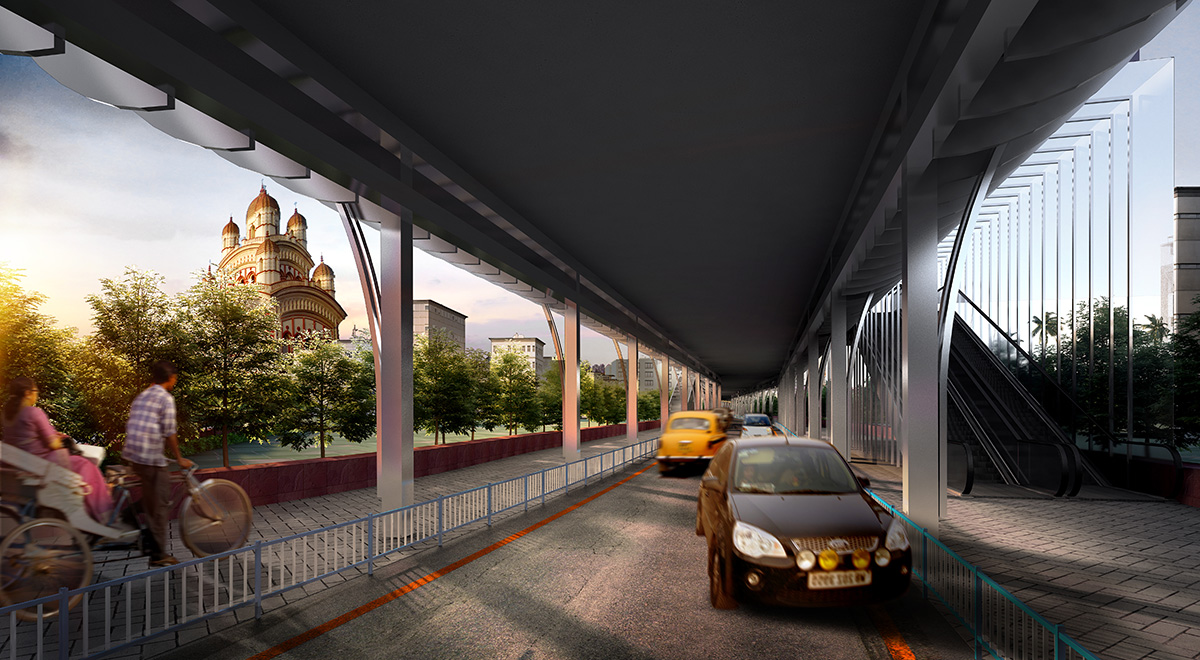 Conceived structurally as an extremely basic formation, the Sky Walk is designed as a tube mounted on the top of a platform, which is supported on two legs. The platform and the tube twist and turn in sync, adapting to the street structure.
The curvilinear form, seamless along the entire length, is accentuated by a pulsating wave pattern – the support structure of the tube is superimposed with aluminium fins of varying lengths that reduce and increase in a cyclic fashion, appearing like a wave formation when seen in continuity.
The Sky Walk is divided into modules of approximately eight meters in length, each of which is a complete unit in itself and can house four shops. At the junction of every six modules, there will be a buffer space of about 85 square meters. This plaza is envisioned as a space for interchange, rest and relaxation, and will house amenities such as cafés, water fountains, and information desks.
The peripheral placement of circulation is a conscious decision: it will allow clash-free, unidirectional visitor movement, reducing hazard risk and enabling faster evacuation in the case of an emergency.

Furthermore, the project is proposed to be linked to the neighboring railway station, allowing users to travel to the temple directly.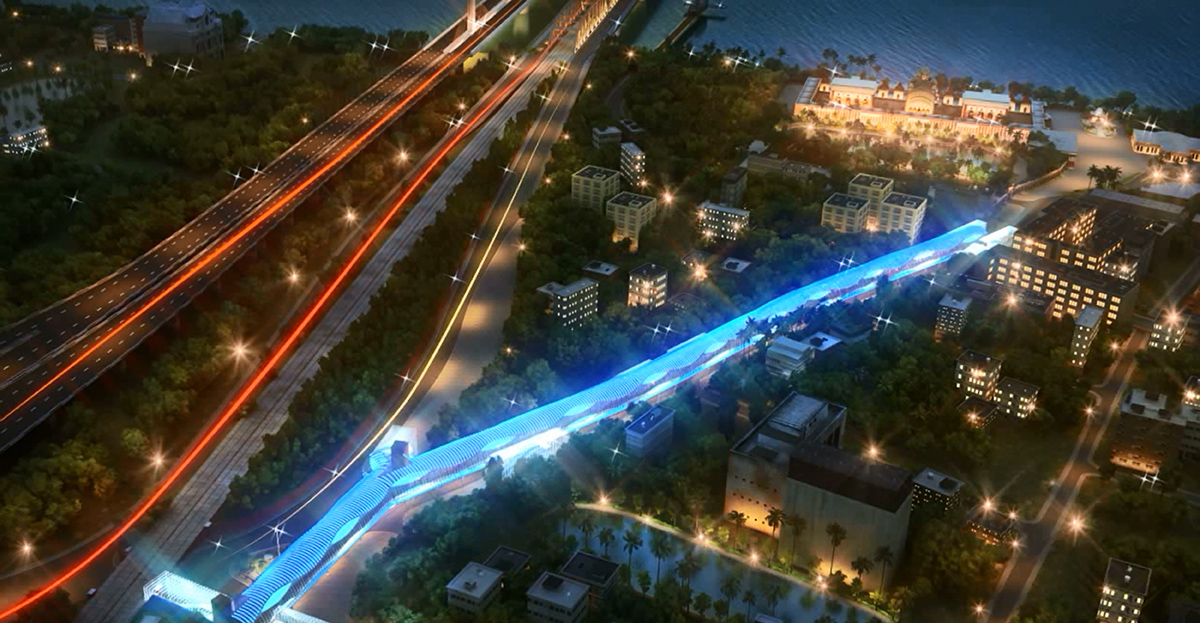 Project facts
Location: Kolkata, India
Length: 380 meters
Width: 10.5 meters
Principal Architect: Anand Sharma
Design Team: Navin Singh, Abhishek Sinha
Client: Kolkata Metropolitan Development Authority
All images © Design Forum International