Yuan Architects enhances dinosaur's gigantic scope with mechanical scaffolding in an exhibition
Yuan Architects has designed a new exhibition space, combining dinosaur's gigantic scope with a mechanical modular scaffolding system. The exhibition creates a dialogue with the life force of the dinosaurs that is "primal and organic".
Named Cloud Space, the exhibition was installed in a gallery in Taipei, which aimed to stress "rational and mechanical" approach simultaneously.
"While the rough scaffolding balances out the dinosaur's gigantic scope, the gradient of the lighting, which seems to breathe, creates a spatial concept that is contrasting yet harmonious between the cold, blue-light scaffolding and the warm, yellow-light dinosaurs. The exhibition area is like a cloud in the space, fusing with the dinosaur to become one being," said Yuan Architects.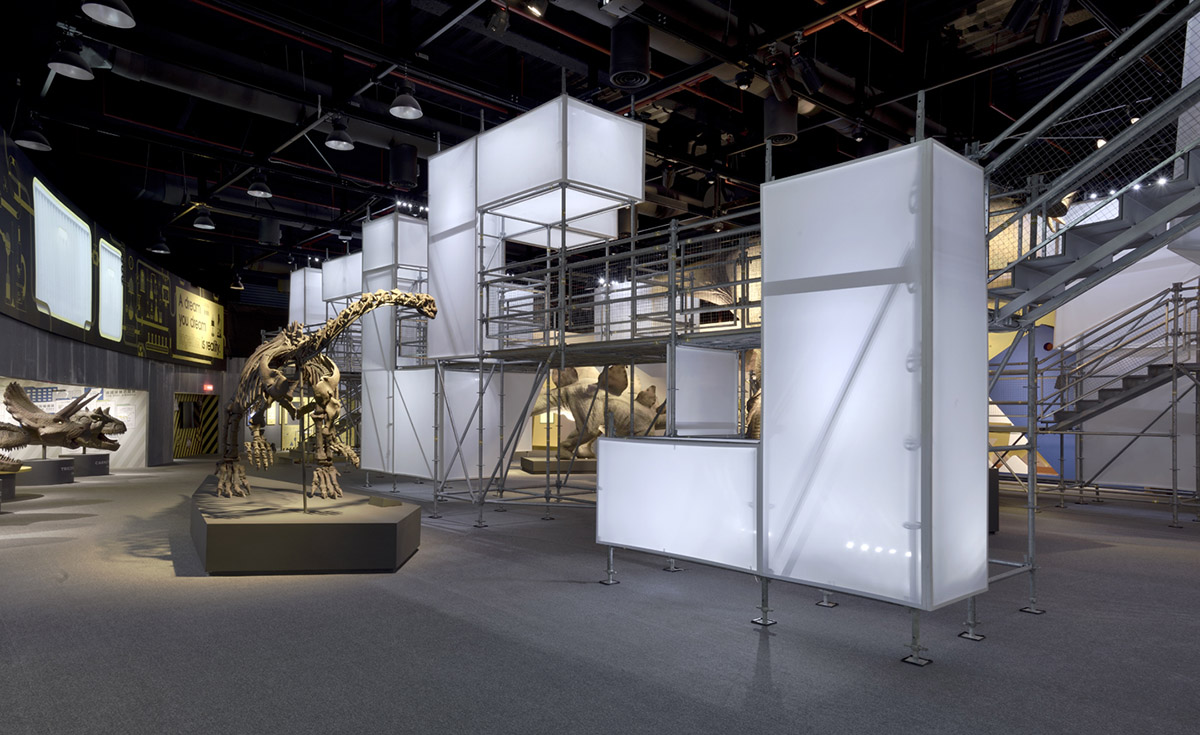 The main spatial elements of the design are the scaffolding and the light screens, which also indicate the line-volume contrast between the dinosaur skeleton and the full dinosaur in the exhibition.
The "linear" scaffolding constructs the main spatial frame of the space, whereas the "planar" light screens climb onto the scaffolding, folding and forming white volumes that surround the dinosaurs, like melodic notes jumping forward rhythmically.
"Through our spatial designs, we hope that, as the adults and children appreciate the dinosaurs, we may provide them with an unforgettable spatial experience, conveying new possibilities for dialogue between mankind and nature, as well as between the viewer and the view," added the studio.
Through frames formed by the hollow scaffolding and the gaps between the light screens, the features of the dinosaurs inside are gradually revealed. Those frames also form a vague boundary within the exhibition hall that blurs the areas of the inside and the outside.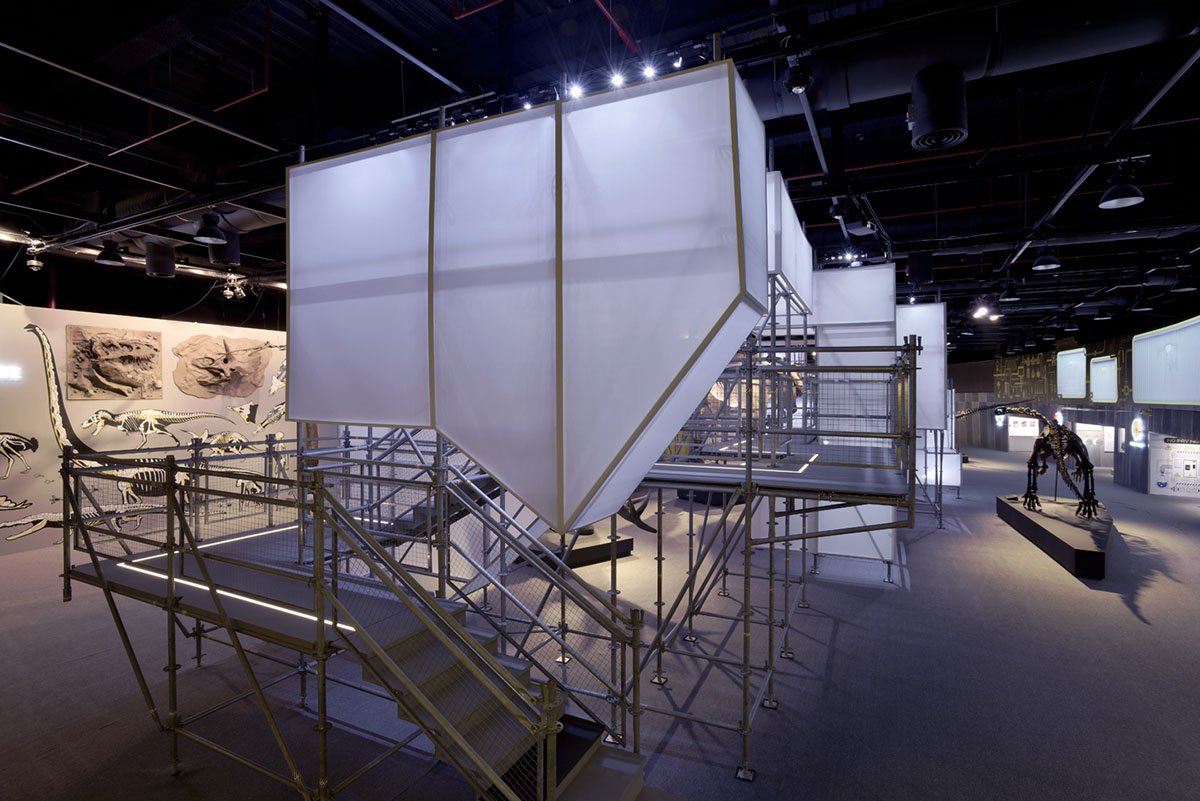 The space features a belt of lights like a lightning bolt. As if a three-dimensional trail for sightseeing, it directs people's attention among the scaffolding, creating diverse points of view from various angles, high and low.
The viewers are like dinosaurs of different sizes looking at their companions. This design provides the viewer with unique feeling of interaction with the art.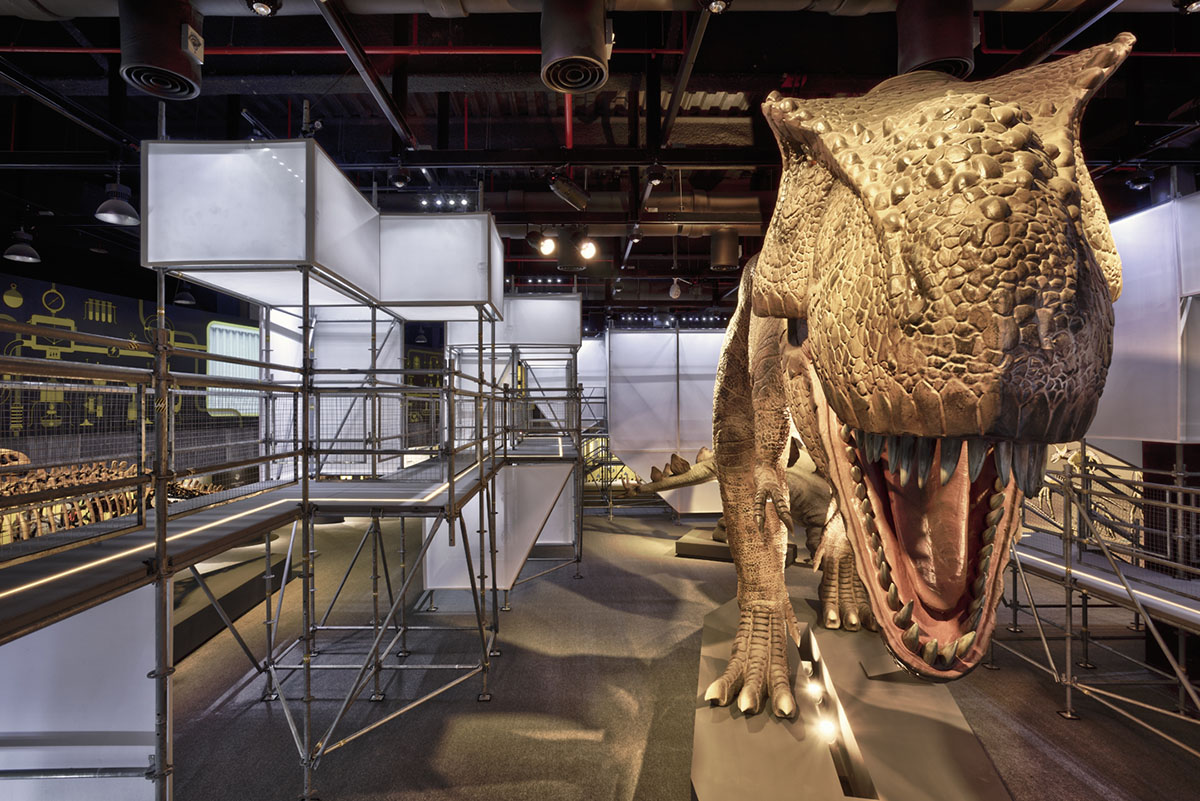 Exploded drawing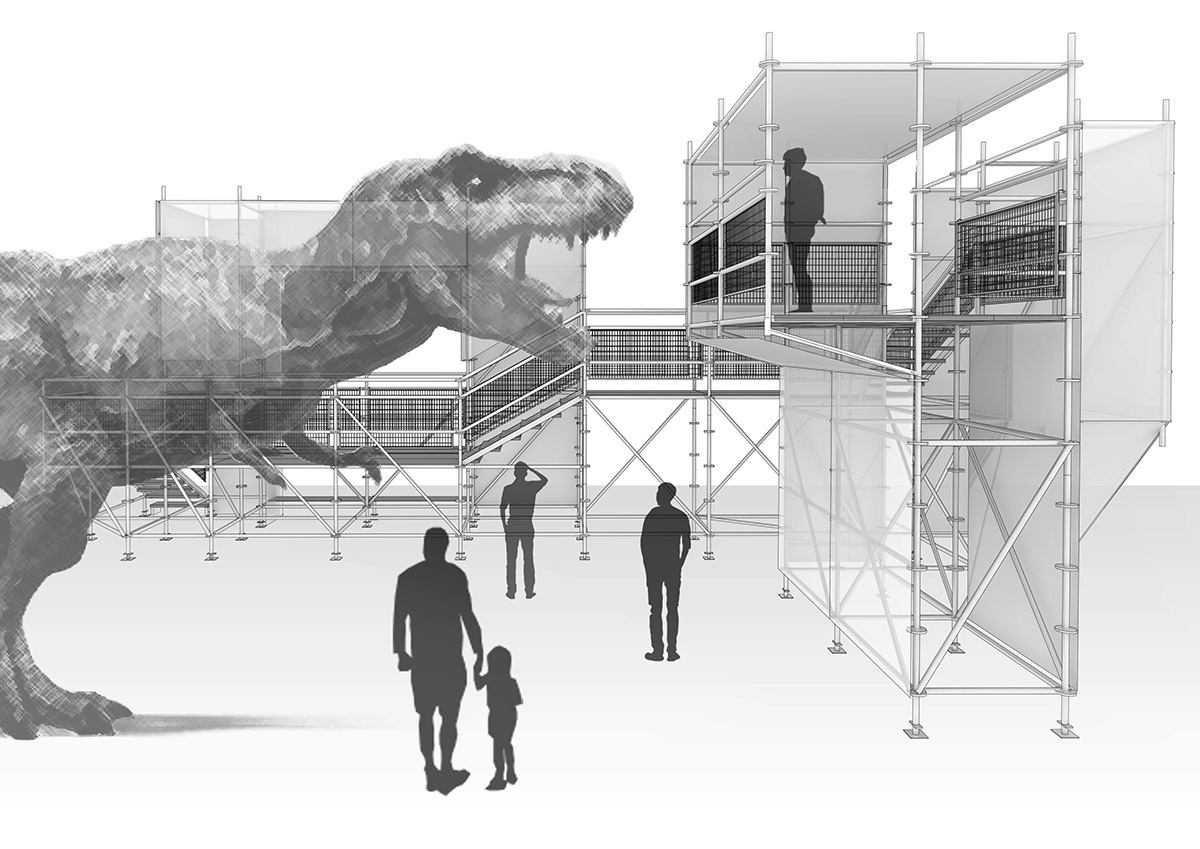 Section
Project facts
Project: Space Cloud
Architect: Yuan Architects
Location: Taipei, Taiwan
Type: Exhibition Space
Status: Completed in 2017
Client: Inception Limited
Designers: Wenyuan Peng, Max Lee
All images © Te-Fan Wang, Max Lee
> via Yuan Architects