Incubis-designed International Hockey Stadium Is Latest Landmark In Mohali, Punjab
India is one of the top hockey-playing nations in the world. It joined the Olympic movement in 1928, played its first hockey competition at Amsterdam and won the gold medal. Thereafter there was no looking back, and it won eight gold medals, one silver medal and two bronze medals in the subsequent Olympic Games. It is evident from these facts that the country remained a force to reckon with for about four decades. During this period, hockey was played on natural grass.
In the early 1970s, the FIH introduced synthetic surface popularly known as Astroturf for playing the game. With the switch from natural-grass to artificial turf, the Indian dominance ended in hockey. Since these artificial turfs were extremely costly, most of the developing nations could not afford these facilities. As a matter of fact, India is still struggling to cope with this problem.
It is also a well-known fact that the state of Punjab has played a key role in the upliftment of Indian hockey. Every time India played hockey at the Olympics, there was a large participation of players from the state. The introduction of Astroturf in the field hockey and lack of sufficient numbers of such grounds in the country, including Punjab, played a key role in the decline of hockey in this subcontinent.
But with all-out efforts by the Union Government and number of state governments, the situation is improving slowly but surely. During the last couple of years, the Punjab Government has set up number of hockey stadiums with Astroturf in the state.
State-of-the-art Hockey Stadium at Mohali, is one of these newly-built stadiums in Punjab. The stadium is located on a site of about 11.8 acres adjacent to the famous International Cricket Stadium, in Sector 63, Mohali. This hockey stadium also serves as the home ground for the hockey club, Punjab Warriors, of Hockey India League.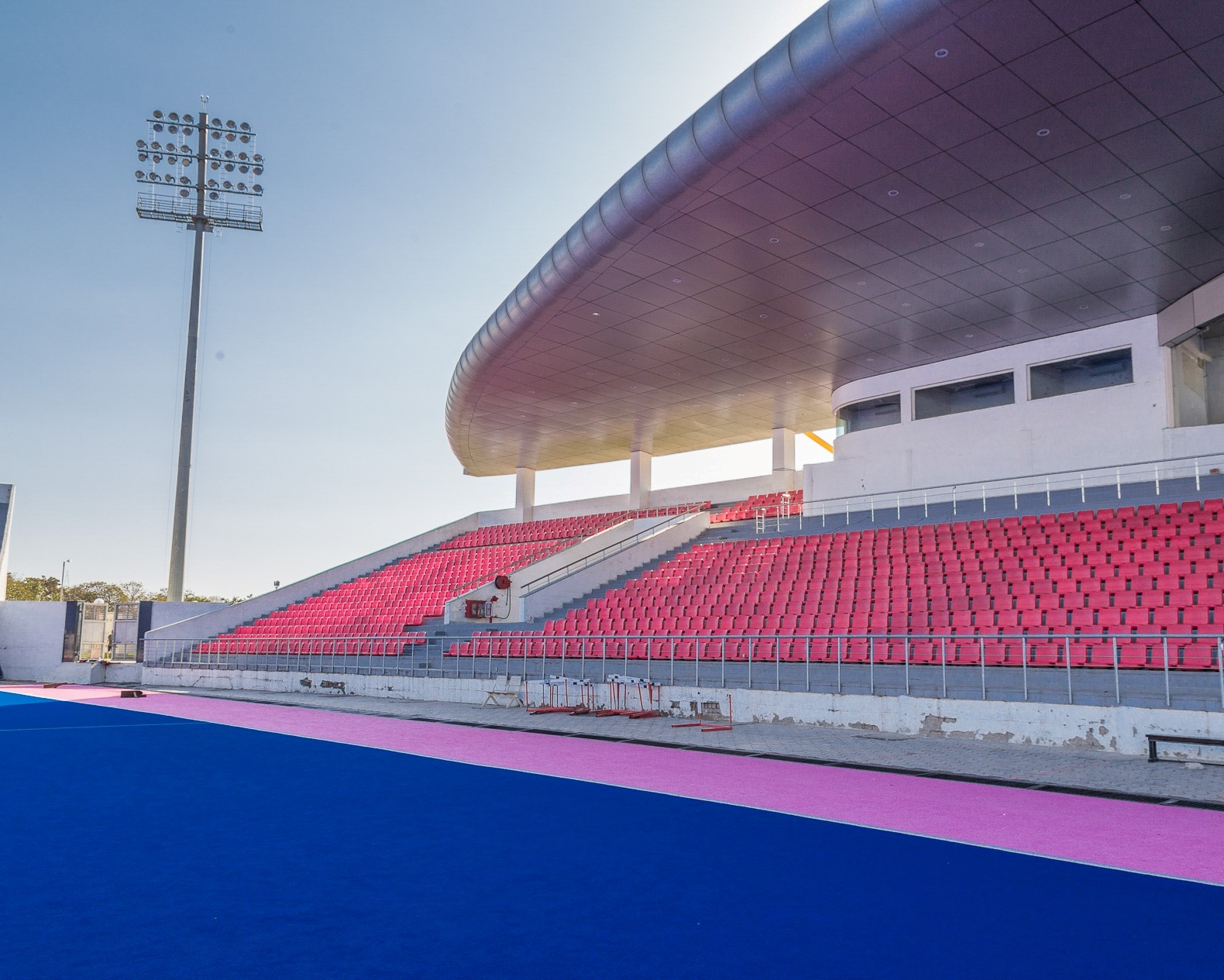 Tastefully designed by the New Delhi based practice - Incubis Consultants (India) Private Limited, and built by Deepak Builders, the stadium is equipped with latest pink-blue Astroturf and has a seating capacity of 13,600. Hallmark of the design is a giant, curved, suspended /cantilevered canopy on the VIP seating area.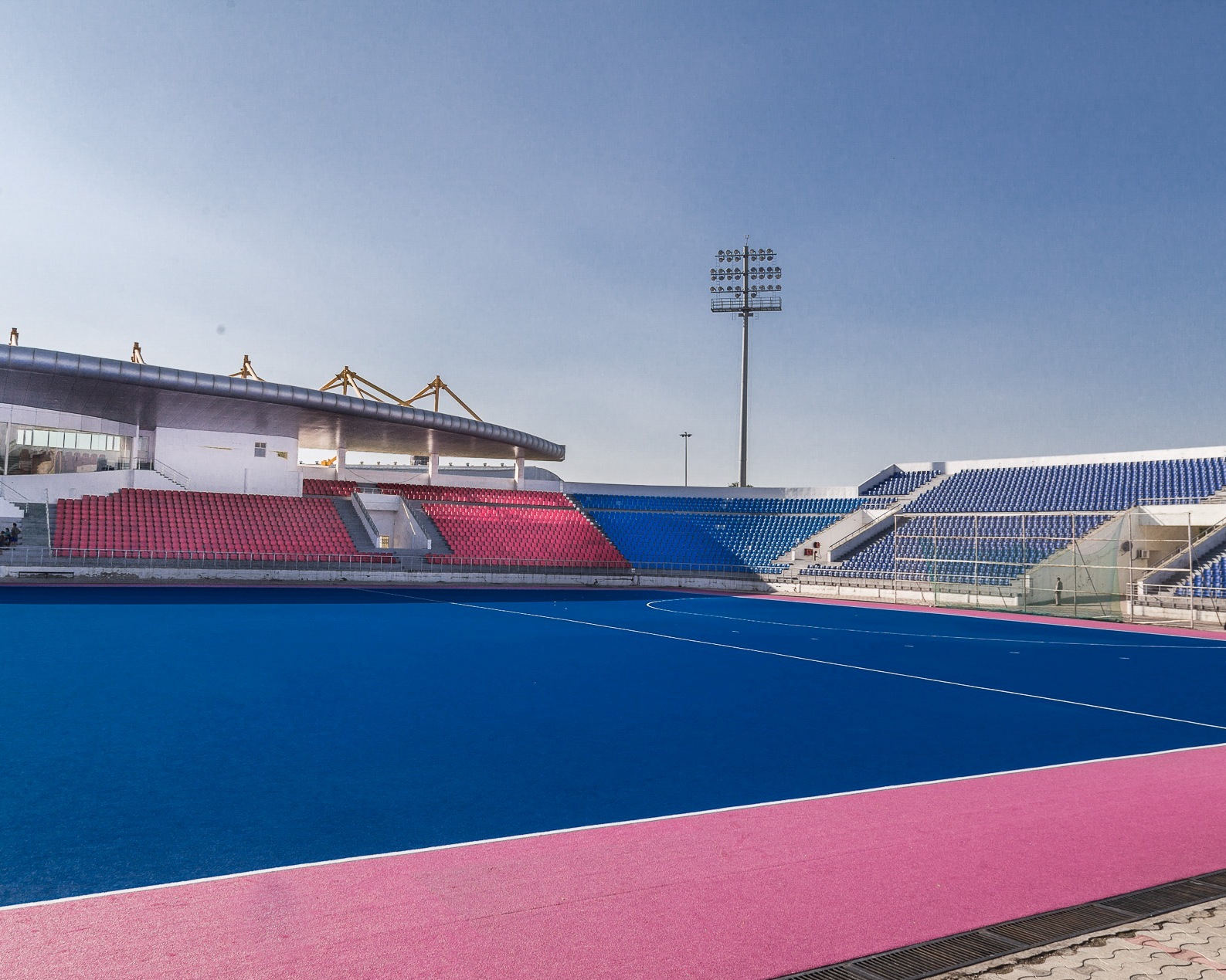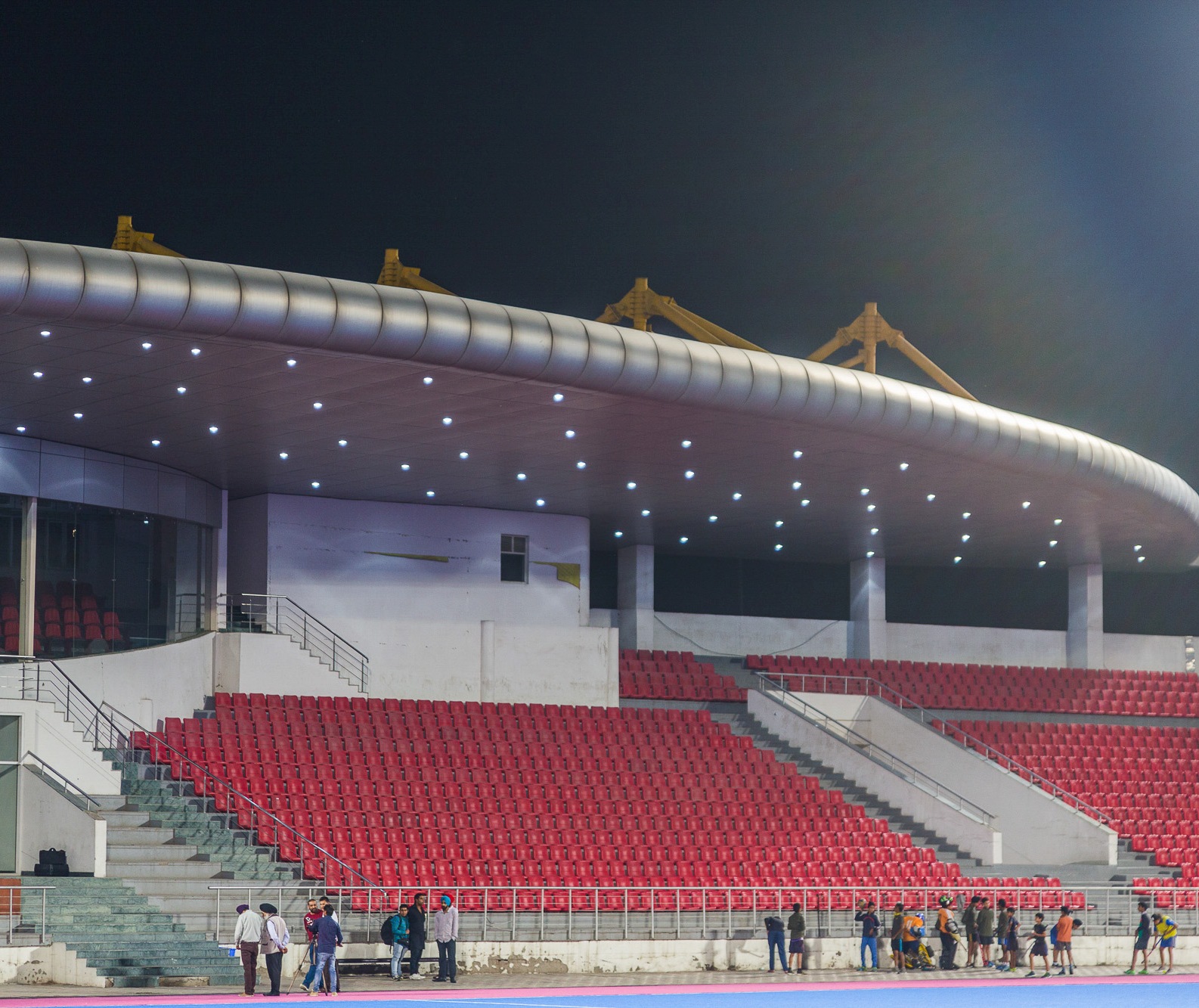 A middle segment of the VIP pavilion has been enclosed with toughened glass and provided with air-conditioning so as to make it comfortable for the VVIP guests and press. Colour of the seats in this VIP pavilion has been kept red to make more conspicuous than the rest of the seating areas which are provided with blue seats in sync with the colour of the Astroturf.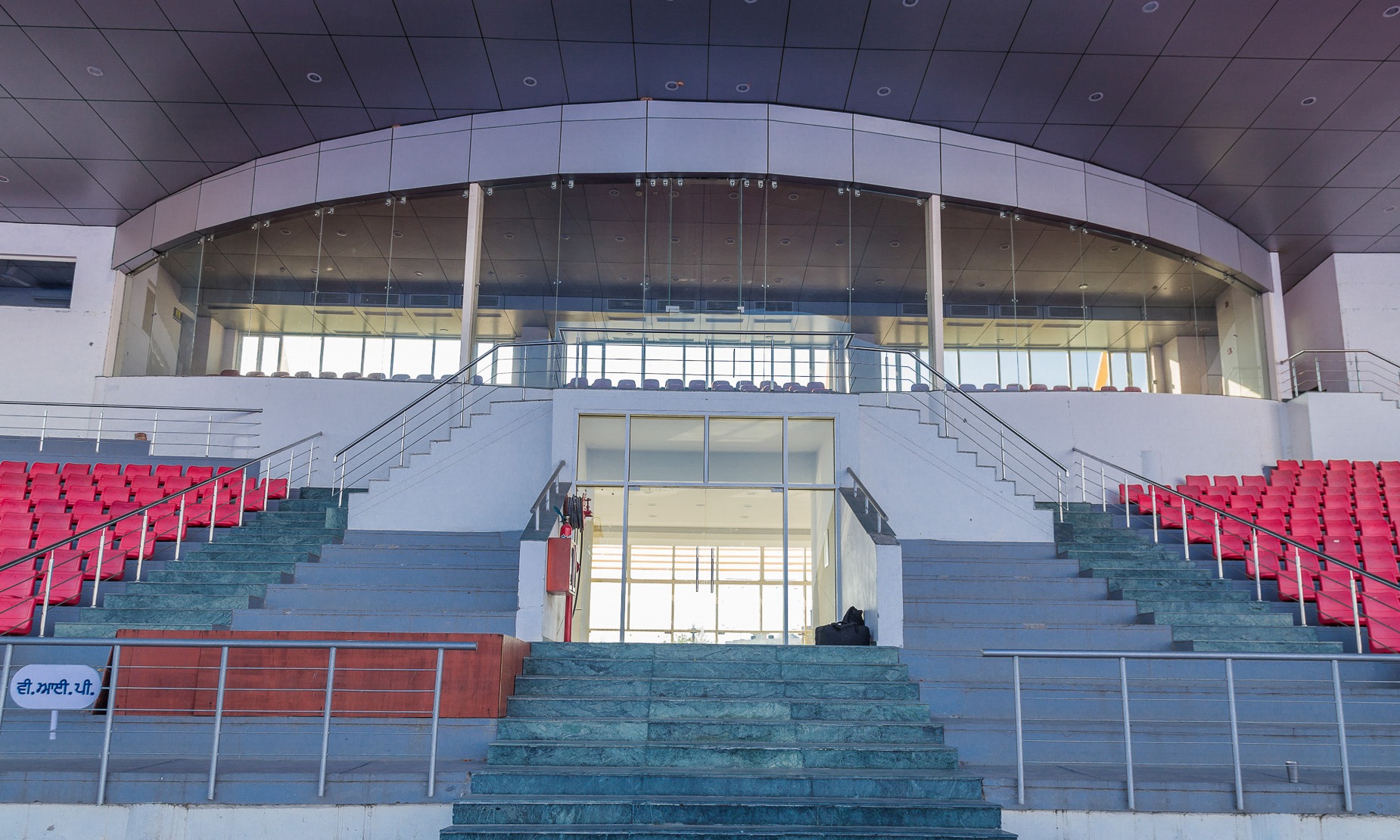 Keeping in view the architectonics of the stadium, and the perfection of its execution, it can easily be termed as one of best hockey venues not only in India but in the whole world.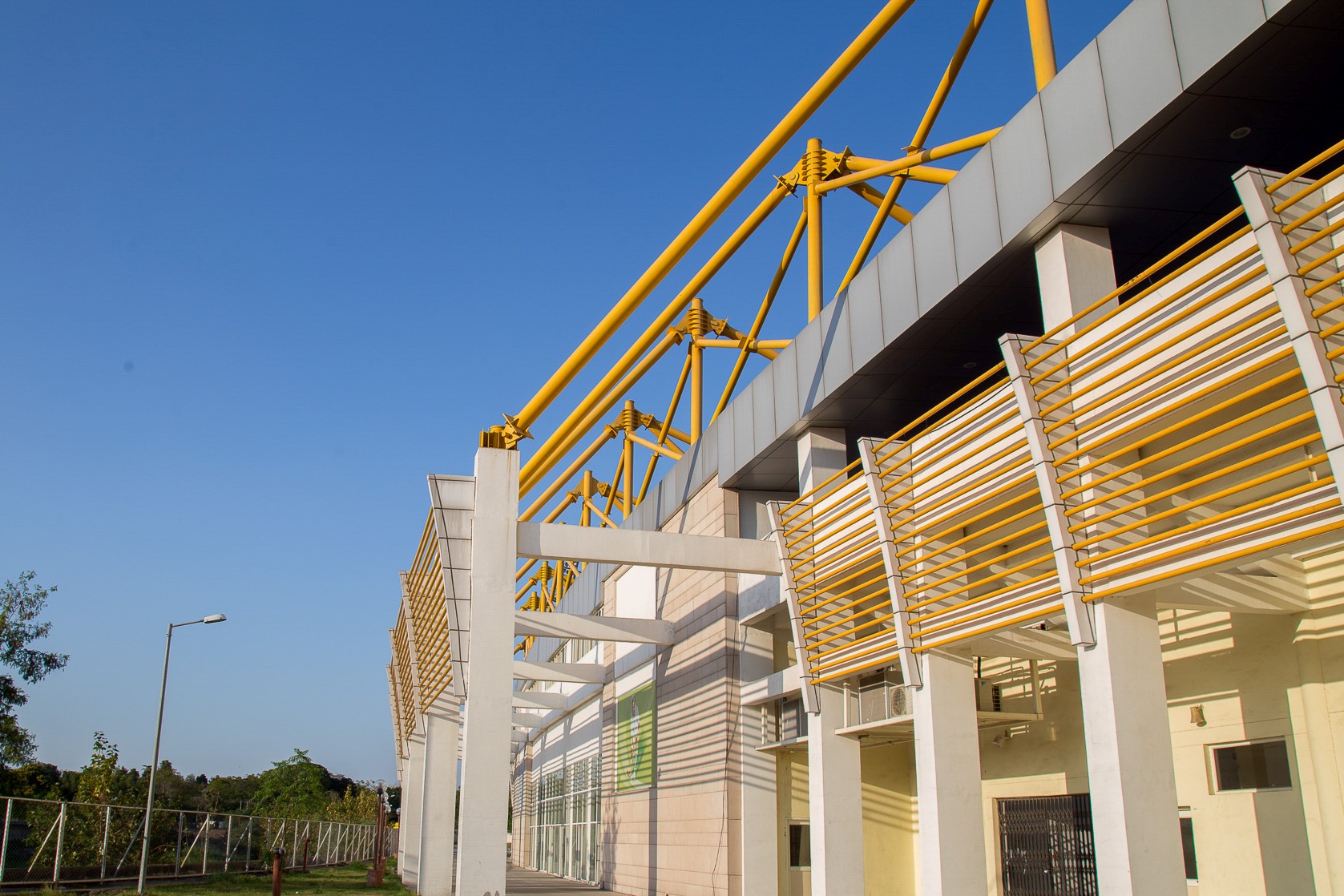 Google Image
All images courtesy of Shiromani Akali Dal except where mentioned.
> via Incubis