Belgian Architect Aude-Line Dulière Wins Harvard GSD's 2018 Wheelwright Prize
Brussels-based architect Aude-Line Dulière has been named as the winner of Harvard GSD's 2018 Wheelwright Prize, a $100,000 fellowship supporting travel-based research and investigative approaches to contemporary design.
Beating other 3 finalists in the shortlist, Aude-Line Dulière's winning proposal "Crafted Images: Material Flows, Techniques, and Uses in Set Design Construction" will examine construction methods and supply systems in the global film industry, engaging the space-making elements of film and set design as well as potential innovations around material use and reuse throughout architecture and construction generally.
Selected from among four finalists - selected from more than 125 applications from nearly 40 countries, Dulière previously worked as an architect at David Chipperfield Architects in London and at Rotor Deconstruction in Brussels, as well as a movie-production design assistant at studios throughout Europe.
Pavilions at the Frank House: detailed model of copper facade for project completed while enrolled in 2008 GSD option studio "The Bauhaus in America" with Monica Ponce de Leon
Dulière's Wheelwright proposal Crafted Images argues that film-set construction, through its cyclical and fast-paced nature, is the ideal incubator for testing innovative practices of material reuse. Through visits to a variety of film sets in Russia, India, Nigeria, the United Kingdom, and elsewhere, Dulière will research material reuse strategies for the film industry, with an eye to applications for long-lasting building and contemporary architecture practice.
"The movie industry has the potential to offer clues for streamlining material flows and offers opportunities for experimentation on sustainability for contemporary architectural practice," Dulière writes. At the same time, finding solutions to reduce waste within the film industry is also integral to Dulière's mission, she continues. "How much waste for an image?" she asks.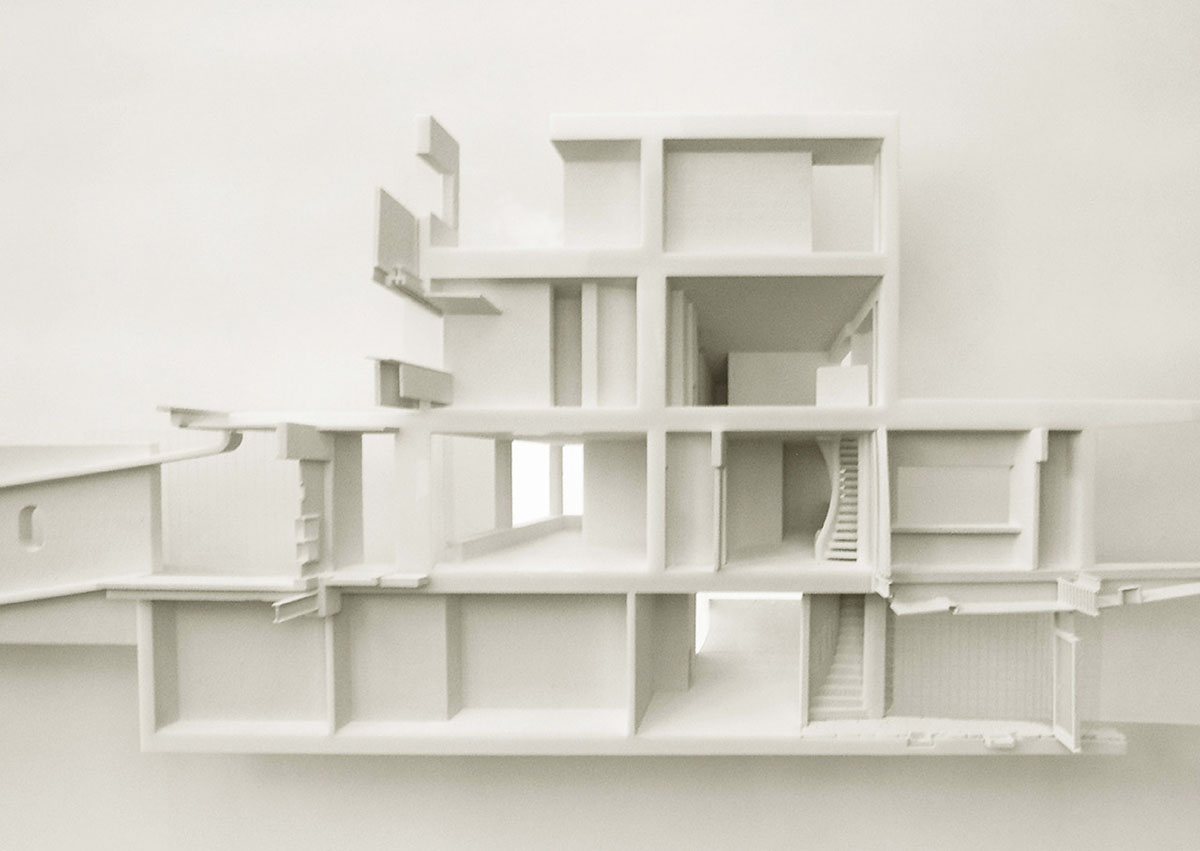 An analytical model of the Frank House, built and designed by Walter Gropius and Marcel Breuer in 1939 in Pittsburgh, Pennsylvania. Produced for GSD option studio "The Bauhaus in America", Duliere's model presents deformation of one vanishing point that procedures a sense of depth. It shows the spaces, their relationship, and other building details. Image: collaboration with Darby Foreman; studio faculty: Monica Ponce de Leon
Through an itinerary responsive to strategic moments in film schedules—from initial construction to ultimate demolition—Dulière expects to visit a number of studios in several countries, including the United Kingdom, Germany, Hungary, China, India, Nigeria, Hong Kong, and Russia. Additionally, Dulière plans to visit on-site productions as they occur around the world. To fuel this itinerary, she plans to organize a network of set-design suppliers and resellers operating globally.
Refurbishment of a neoclassical corner house in Brussels; currently on site. The house preserved its original atmosphere from 1830. The design presents only punctual surgical intervention to enhance light and connections between spaces. In order to leave most of the fabric of the historical room, the kitchen and bathroom are fulfilling their function thanks to reused "found objects"
"Aude-Line's work demonstrates a sophisticated vision of spatial quality in a variety of forms that translates into her interest in the architecture of set design," said Mohsen Mostafavi, Dean and Alexander and Victoria Wiley Professor of Design at Harvard GSD.
"By exploring material reuse strategies at the intersection of film, construction, and architecture, Aude-Line's project offers exciting possibilities for innovative approaches to sustainability, infused with an equally important and very sensitive consideration of aesthetic beauty."
Dulière holds a Master of Architecture degree from Harvard GSD and previously studied in Brussels at the Institut Superieur d'Architecture La Cambre and at Sint-Lucas (KU Leuven). Since 2003, Dulière has worked as an architect and film-production design assistant. She was a designer at David Chipperfield Architects between 2010 and 2015 and later at Rotor Deconstruction in Brussels, which focuses on material flows in the construction industry.
In addition to being a registered architect, Dulière is a member of the British Film Design Guild, and a board member of the Brussels-based space La Loge, dedicated to contemporary art, architecture, and theory. With Clara Wong, she co-authored Once Upon a Time… Monsterpieces of the 2000s! (ORO Editions), presented at the Architectural Association (AA) and at the Storefront for Art and Architecture. Dulière is currently teaching at the Ecole Nationale Supérieure des Arts Visuels of La Cambre and has taught at the KADK and the AA Summer program. At Rotor, Dulière was involved in large-scale projects relating to the reuse of building materials through "deconstruction" and design projects.
Conceptual model of an refurbishment of a 1000-square-foot, listed Georgian house in London into an artist residence, a project on which Duliere worked while at David Chipperfield Architects. The main interventions are enlargement of a historic staircase enlargement, a new spatial arrangement of the program, and custom-made furniture
Dulière follows 2017 Wheelwright Prize winner Samuel Bravo, whose proposal Projectless: Architecture of Informal Settlements is taking him to the Amazon, Peru, Colombia, Brazil, Nigeria, Bangladesh, Nepal, India, and elsewhere.
Now in its sixth year as an open international competition, the Wheelwright Prize supports travel-based research initiatives proposed by extraordinary early-career architects. Previous winners have circled the globe, pursuing inquiries into a broad range of social, cultural, environmental, and technological issues.
The 2018 Wheelwright Prize jury consisted of Jose Ahedo (2014 Wheelwright Prize winner), Edward Eigen, Frida Escobedo, Mark Lee, Michelle Wilkinson, and standing Committee members Mohsen Mostafavi and K. Michael Hays.
2018 Wheelwright Prize finalists included: José Esparza Chong Cuy — MCA, Chicago, Illinois, United States, Gustavo Utrabo — ALEPH ZERO, São Paulo, Brazil and Catty Dan Zhang — UNC CHARLOTTE, Charlotte, North Carolina, United States. See their proposals on Wheelwright Prize's website.
All images courtesy of Harvard GSD/Wheelwright Prize
> via Wheelwright Prize