2018 Fairy Tales Architecture competition announced its winners at National Building Museum
Blank Space has announced its winners for the 2018 Fairy Tales competition in front of a live audience at the National Building Museum in Washington D.C. First prize went to Louis Liu and Senyao Wei for "Deep Pool That Never Dries" fairy tales story.
Organized in collaboration with the National Building Museum, Blank Space celebrated its fifth annual "Fairy Tales" competition by receiving submissions from over 65 countries, the award-winning entries explore current events and the creative process through wonderfully crafted short stories and artwork.
The winners were chosen by a jury of more than 20 leading architects, designers and storytellers, including Daniel Libeskind, Bjarke Ingels, Jenny Sabin, Cornelia Funke, Maria Aiolova and Roman Mars, among many other distinguished judges.
"Over the past five years, the Fairy Tales architecture competition has captured the imagination of thousands of participants from around the world – from students and aspiring architects to multinational firms and Pritzker prize-winning architects. The competition has become a repository for the social and environmental issues that are at the forefront of architects' minds and captures the most pressing themes in highly imaginative and sometimes provocative ways," said Francesca Giuliani, a co-founder of Blank Space.
Since its inception in 2013, the annual Fairy Tales challenge has attracted thousands of participants, and winners have gone on to develop their stories into successful Kickstarter campaigns, short films, comic books, and exhibitions. This year's winner's will join the top ten entries from every year of the competition in a high quality crowdfunded anthology.
This year's jury selected 3 prize winners, a runner up and 9 honourable mentions. See the winners with their short excerpts below: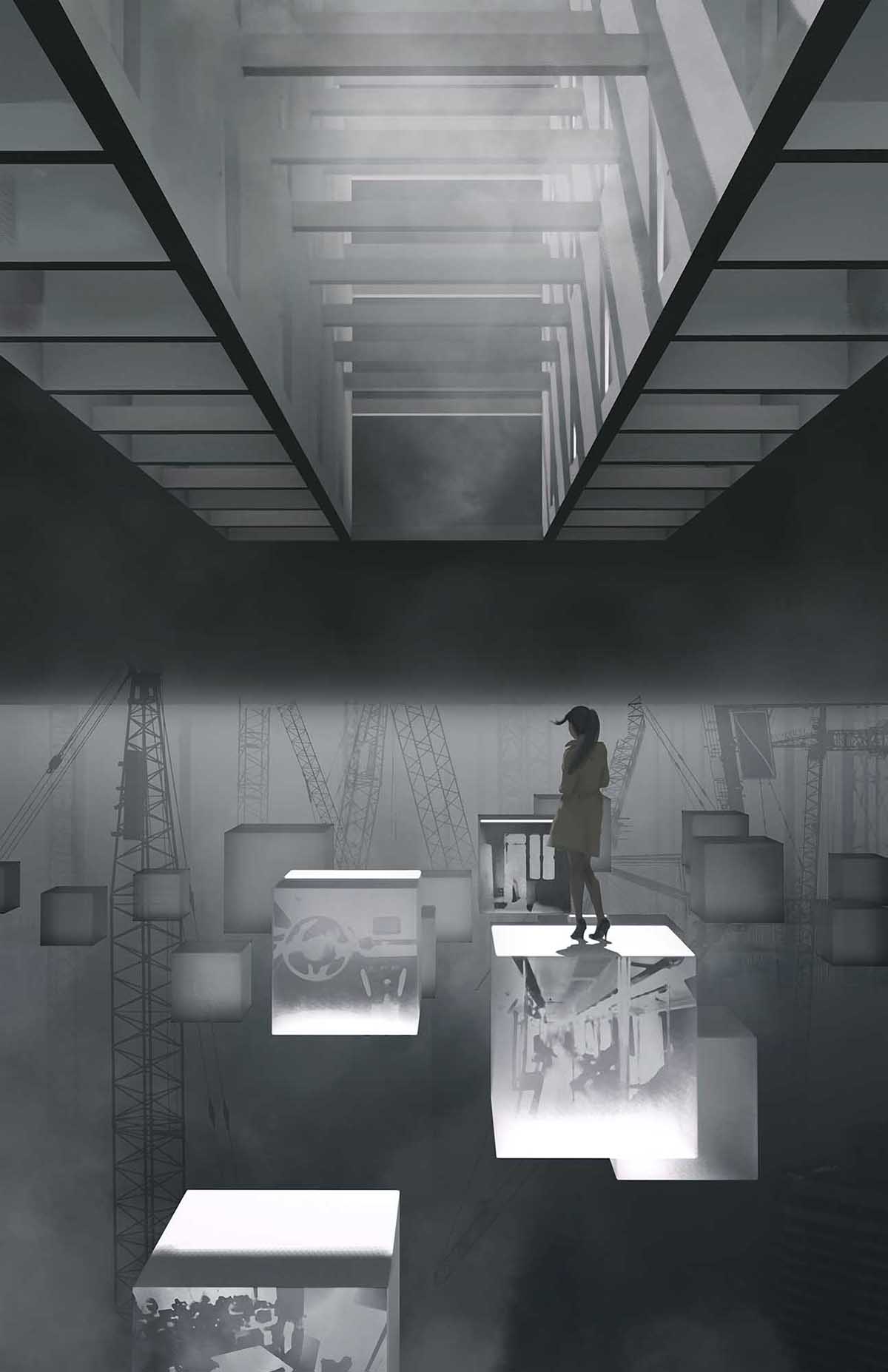 First prize goes to Louis Liu and Senyao Wei for "Deep Pool That Never Dries"
"On the evening of November 18, the Beijing municipal government held a press conference, Su was sent to attend.
Su heard from the government that the destroyed apartment was 80 meters long and 76 meters wide, occupied by 400 migrant workers. The fire caused the government to hasten the removal of these "slums."
According to Beijing's official statistics, in 2016, the long-term resident population in Beijing was 21.7 million. The entire urban ecology was on the brink of collapse and the government proposed redistributing urban population to ease the crowdedness in the city centre.
The whole city is divided into boxes — homes, offices, neighbourhoods, transportation. People travel from box to box, and a Beijinger spends lots of money to buy bigger and more private boxes to show their achievements. People's lives are related to the purchase of space; the conditions of marriage is to have a house, and the proximity of the house to a good school. These boxes represent one's life. And now the government will expel those who don't own a box".....Read more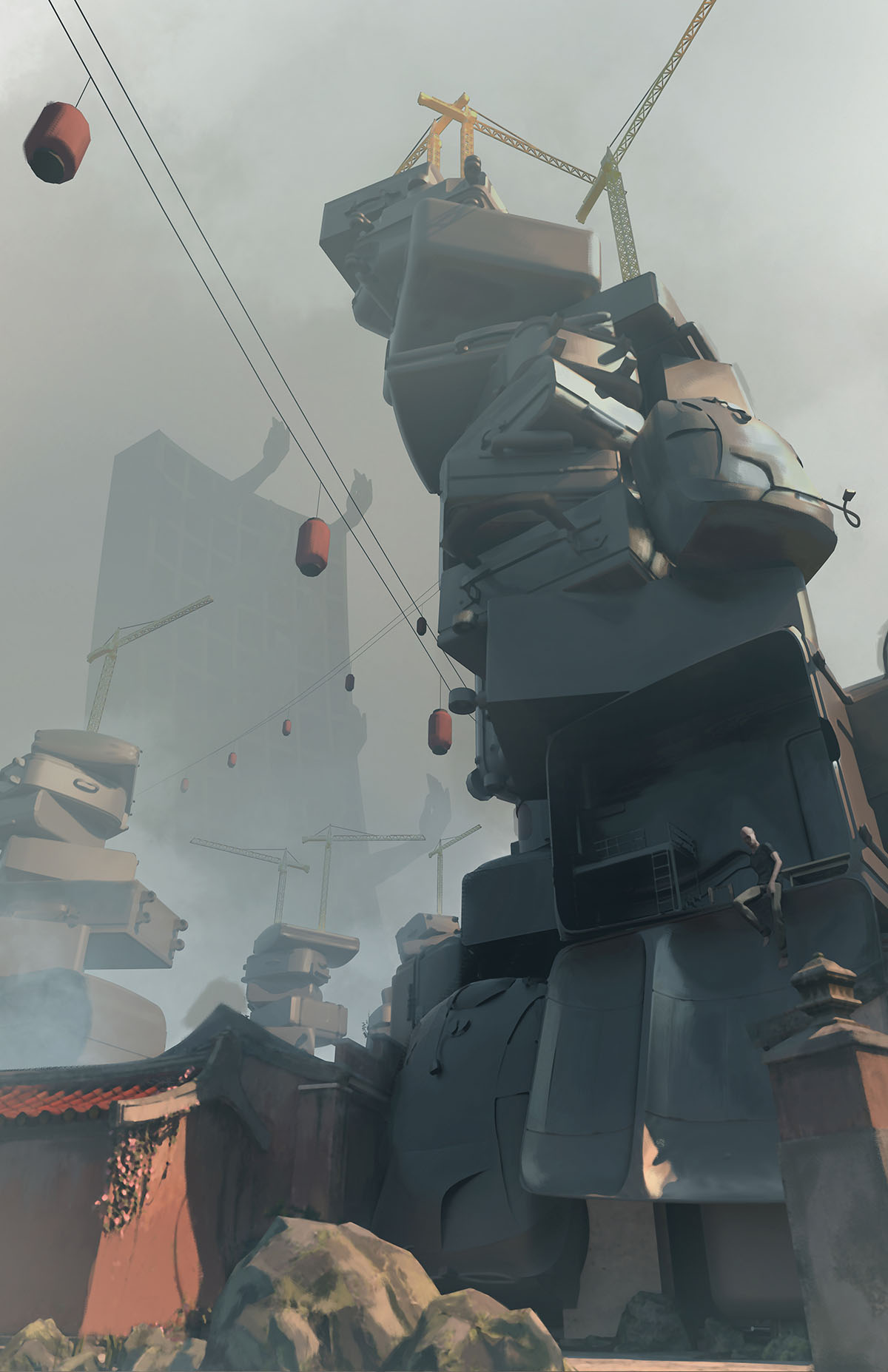 Second prize goes to Sasha Topolnytska, for her story "Ascension"
"From the diary of the unknown survivor.
"I woke up laying on my back. My head hurt and I felt dizzy. I pulled away a chair that was laying on my leg. I felt a terrible pain in my right shoulder. I was still in my apartment, or at least it looked like it, except it was upside down and I was sitting on a ceiling. All of my furniture sprawled around me. I tried to think of the last thing that I could remember before I woke up: I was sitting in my chair in my living room and reading the news on my laptop and then…nothing. I remember nothing. I woke up. I'm staring at my room. I'm confused. It almost looks like someone rotated it 180 degrees. Is this why my shoulder hurts? Because I landed on it as I was falling down (up)? Nonsense. There is a giant hole in a floor (or what was a ceiling the last time I remember). Where is my coffee table? When I got up, I walked toward the window, in search for any sign of explanation. As I looked out, I suddenly remembered the headline of the news I was reading right before it happened: "The World is Losing Its Gravity."
…
"Nothing manmade had to be: it was made by choice"…Read More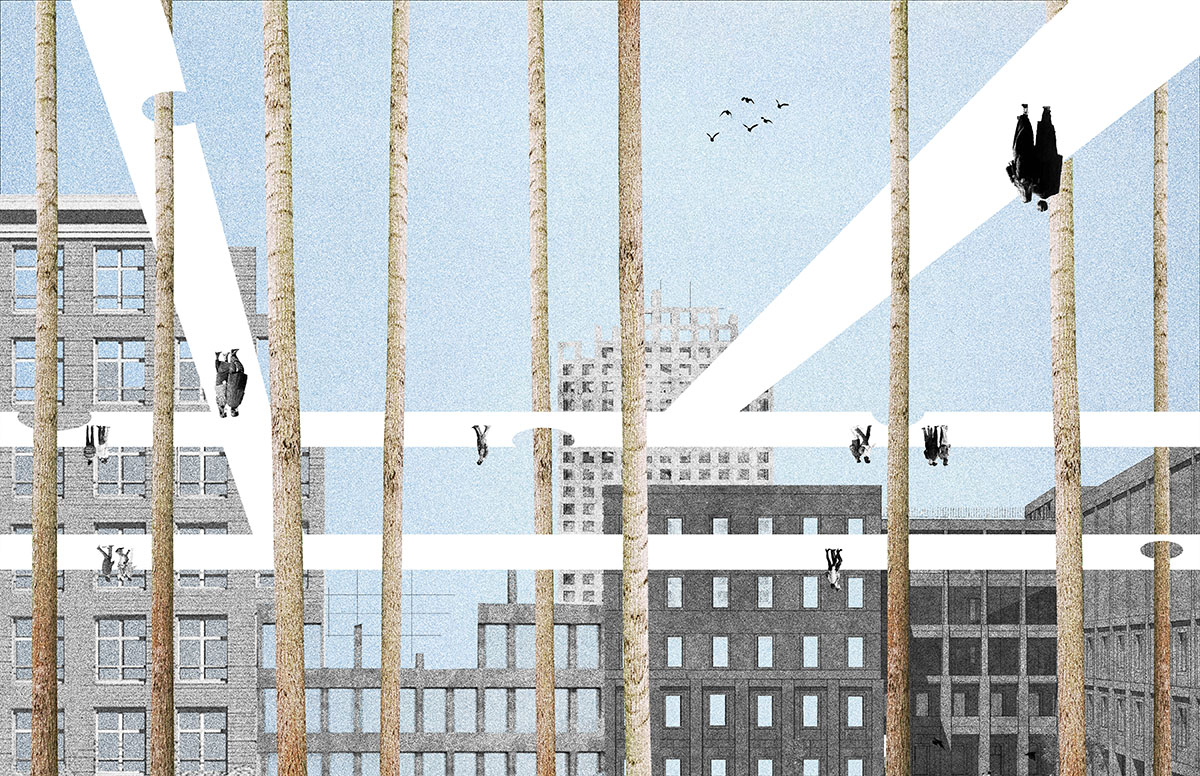 Third prize goes to Ifigeneia Liangi for "The Paper Moon"
"I am well made. I am round. It's a good shape. Sometimes I'm oblique. At least that's what they say. I'm also papery. But not that thin paper that you can see through. I'm made of good quality paper. Thick and textured. Yes it is! If I really wanted I could make shapes with my body. Yes I could! I could fold into a paper boat. Or a paper frog. Or even a paper wolf. And then I'd swim and I'd jump and I'd howl! And then I'd shine from joy… Yes… I would…!"
"And I will."
"Once Upon a Time, there was a paper moon. It was pinned in the sky and wanted to shine like the stars. So it decided to go to a witch. After the big flood, the sea level could touch the sky with the high tide. One starry night, the paper moon approached a star who was shining because it had fallen in love. With a starfish. The star would meet the starfish with the high tide. The moment it reached its peak, the paper moon rolled on the starfish and drifted into the sea to get to the house of Electra Hoover, the witch with the electric hoover."....Read More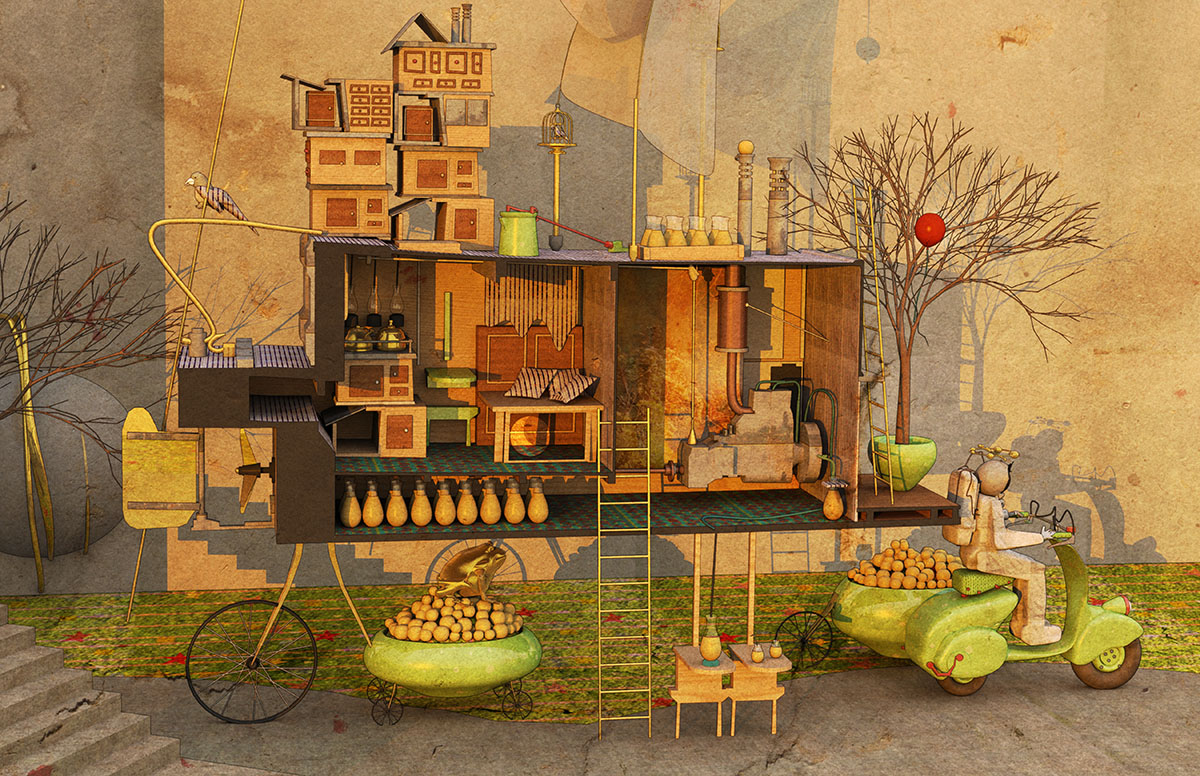 The Runner Up this year was NEMESTUDIO for "Middle Earth: Diaramas for the Planet"
"Once upon a time, the climate of the Earth finally changed. Glaciers have shrunk. Global carbon dioxide, temperature and sea levels all rose to unprecedented levels. Land ice sheets in Antarctica and Greenland saw an acceleration of ice mass loss. There was no discussion of climate change at this time. It was just a fact of life. There were no climate change skeptics, no deniers, and not even any indifference to this matter. Children books contained many tales of climate change, in which it was usually depicted as this bothersome wolf that kept coming back. The word "nature" was deemed as a term that belonged to the ancient humans."
"To regulate conflicts that arose between nations because of the negative consequences of climate change and to maintain harmony between countries, International Council of Environments was founded. In its inaugural meeting, the Declaration on Post-Natural Environment was drafted and signed by all countries, whose major item was to build the first International Museum of Post-Natural History. The museum was going to exhibit records, collections, historical specimens in relation to climate change with stories on animals, fungi, ecosystems, geology, paleontology and climatology and improve the humanity's understanding of this new post-natural world."...Read More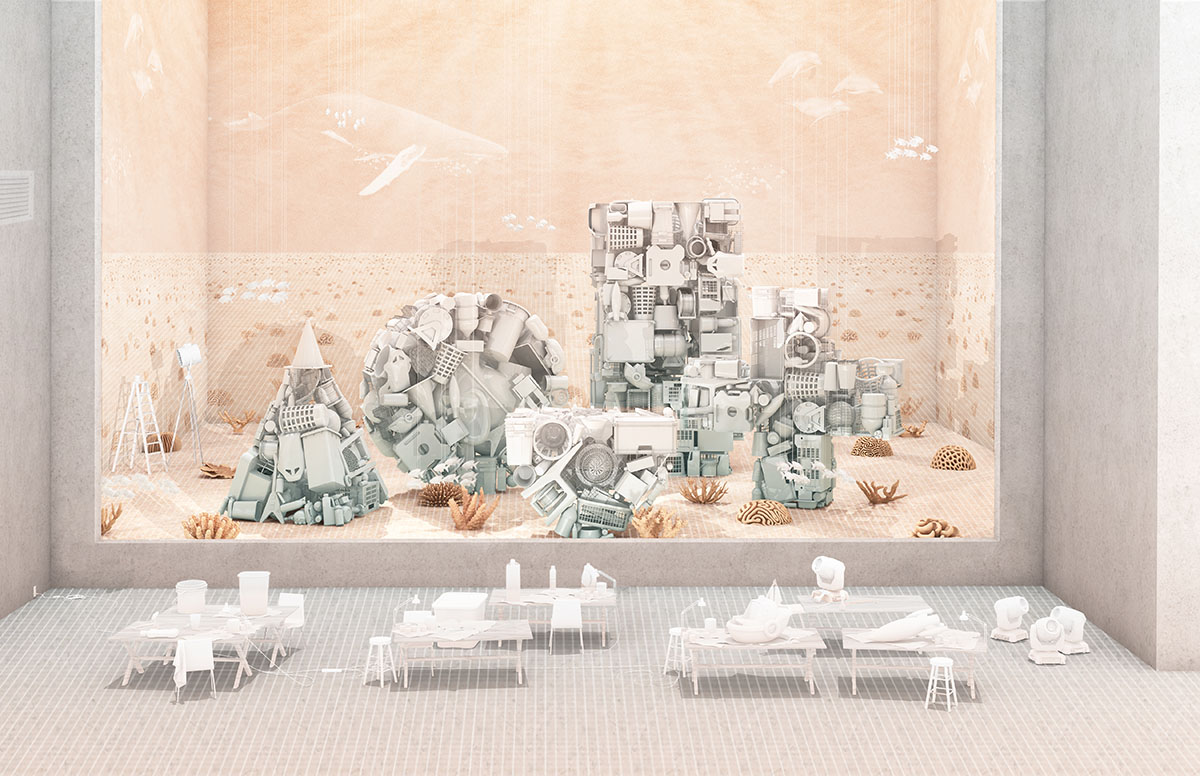 The Jury awarded 9 honorable mentions to: Zhang Haotian and Li Tianying; Carl Ydergård; Kah Mun Tham; Lorena Cano Acosta and Nicolás Mendoza Ramos; Eric Wong; Lambert David; Fouad Addou and Sulejman Gusic; Samantha Anderson; and Alberto de Salvatierra. See Honorable Mentions on Blank Space's website.
This year, to cap the competition, the best stories from the last five years of the Fairy Tales have been compiled in a high quality hardback anthology for the first time ever. The book, "Storytelling Architecture," is made possible by Volume, a new publishing platform. The book is crowdfunding now at Volume.
All images courtesy of Blank Space
> via Blank Space