Crossboundaries' Newly Finished School in Beijing Represents an Evolution of Traditional Education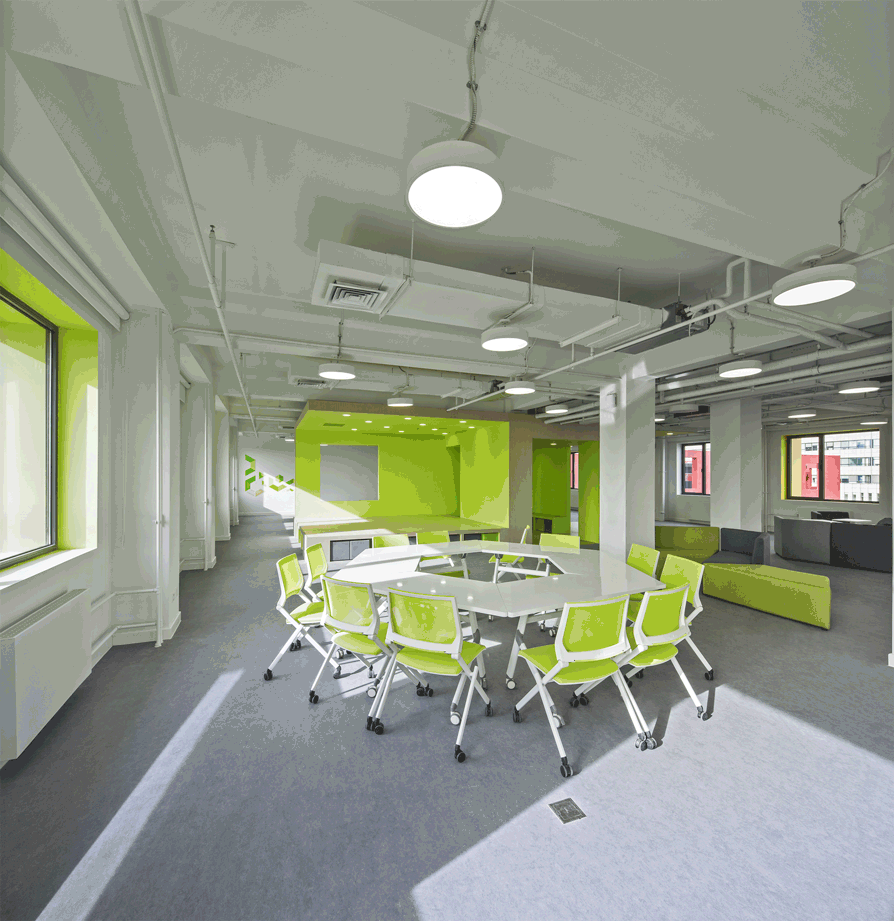 Chaoyang Future School in Beijing, designed by Crossboundaries, is the latest iteration of Peking University's pedagogic model for China's future creators. There are no fixed chairs and tables but user-controlled, modular furniture. There are no teacher-centric podiums and blackboards but stimulating, collaborative work and learning spaces. With a new way of thinking and unique design ideas, Crossboundaries gave a new life to this school which has a history of more than 30 years.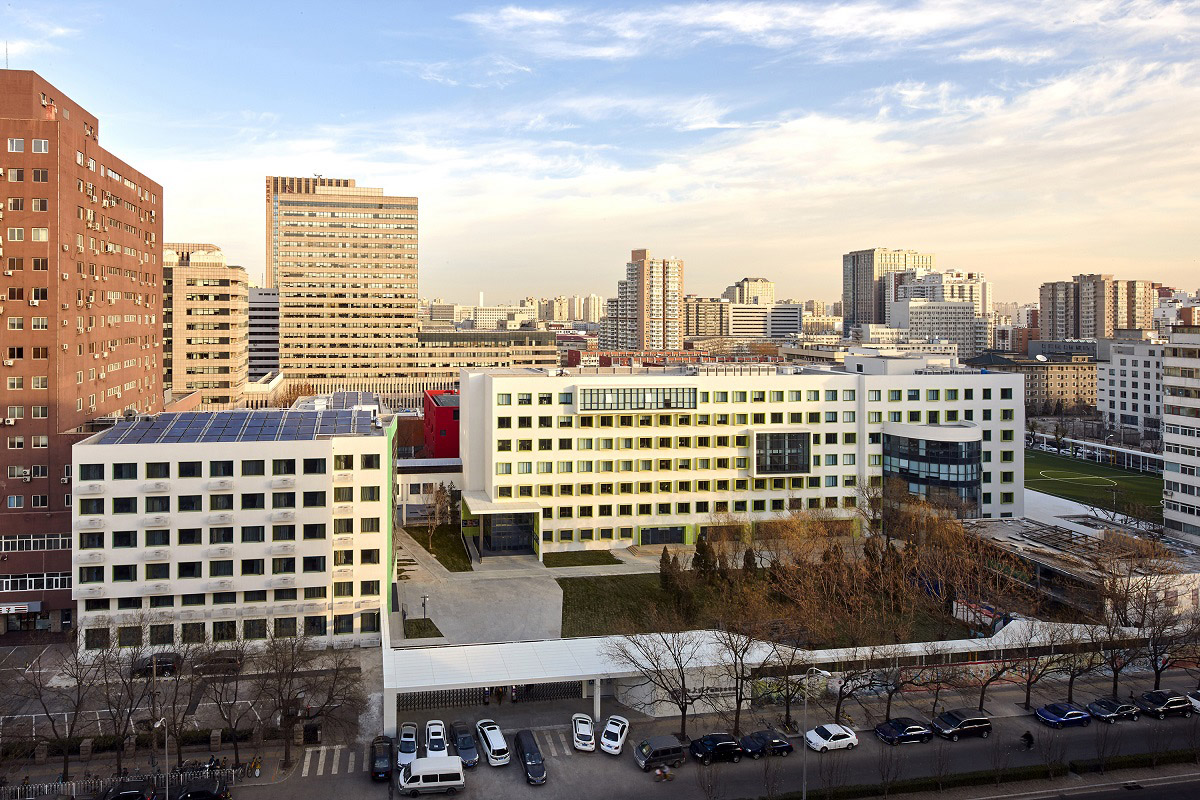 "Born of Confucius thinking the Chinese value system is centered on collectivism. Since China's economic opening in the 1970s the nation's development has been nothing short of a race. Transforming its historically powerful workforce to engage with a global economy, the urgent call is for educational reform to deliver future generations to the stage as global actors. In this context, Crossboundaries responds to this by exploring the translation of China's strong cultural history into a modern paradigm that develops independent thinkers and autonomous citizens – creating spaces that encourage and support their necessary interactions," Crossboundaries explained in its design brief.
The modification started with a student-oriented multi-functional teaching space, by means of colorful elements. From the urban environment, to the landscape, architecture and interior, Crossboundaries gave comprehensive consideration to the outside and inside, to the wide scope and detailed scope. Not only does the 26,000-square-meters campus look brand-new, but it also helps the school and education industry better reflect the community's vision.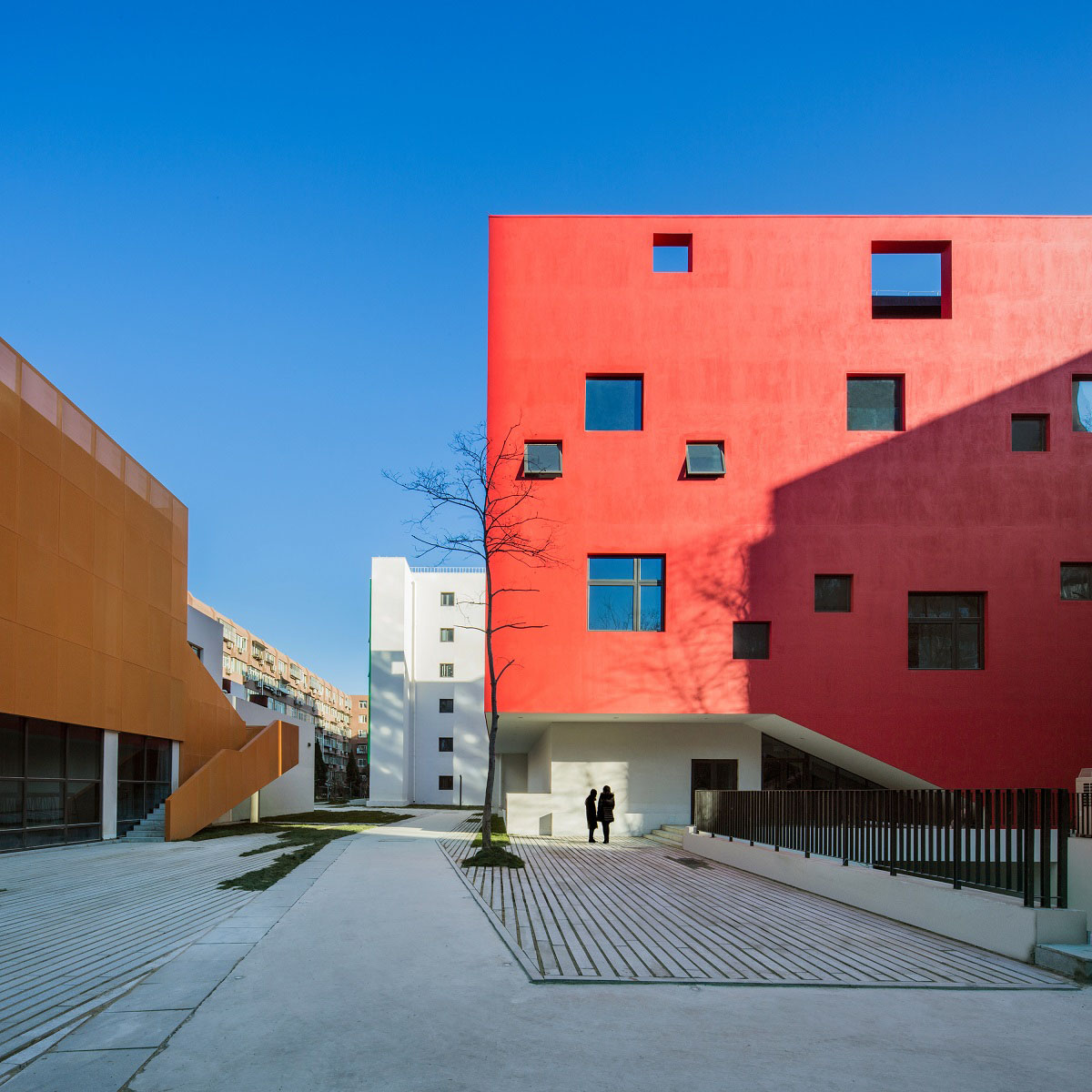 Based on the existing curriculums and teaching methods of Peking University, Crossboundaries thought about what kind of spatial pattern could match them, and finally interpreted it through the transformation of space. As a result, they not only "conventionally" renovated the old and damaged buildings and facilities, but achieved a modern campus; besides, they "unconventionally" gave the previous spaces more functions that enable them to remain active and add long-term value over time.
The color scheme is the most identifiable element in this school, according to Crossboundaries, this was inspired by the rich deciduous and evergreen vines that drenched the campus in its previous state.
The color changes from green to yellow in the teaching building, not only improving the guiding function, but making every building unique. Window frames in different colors correspond to different space functions, the unity of the design language achieves a future school that has a unique visual image.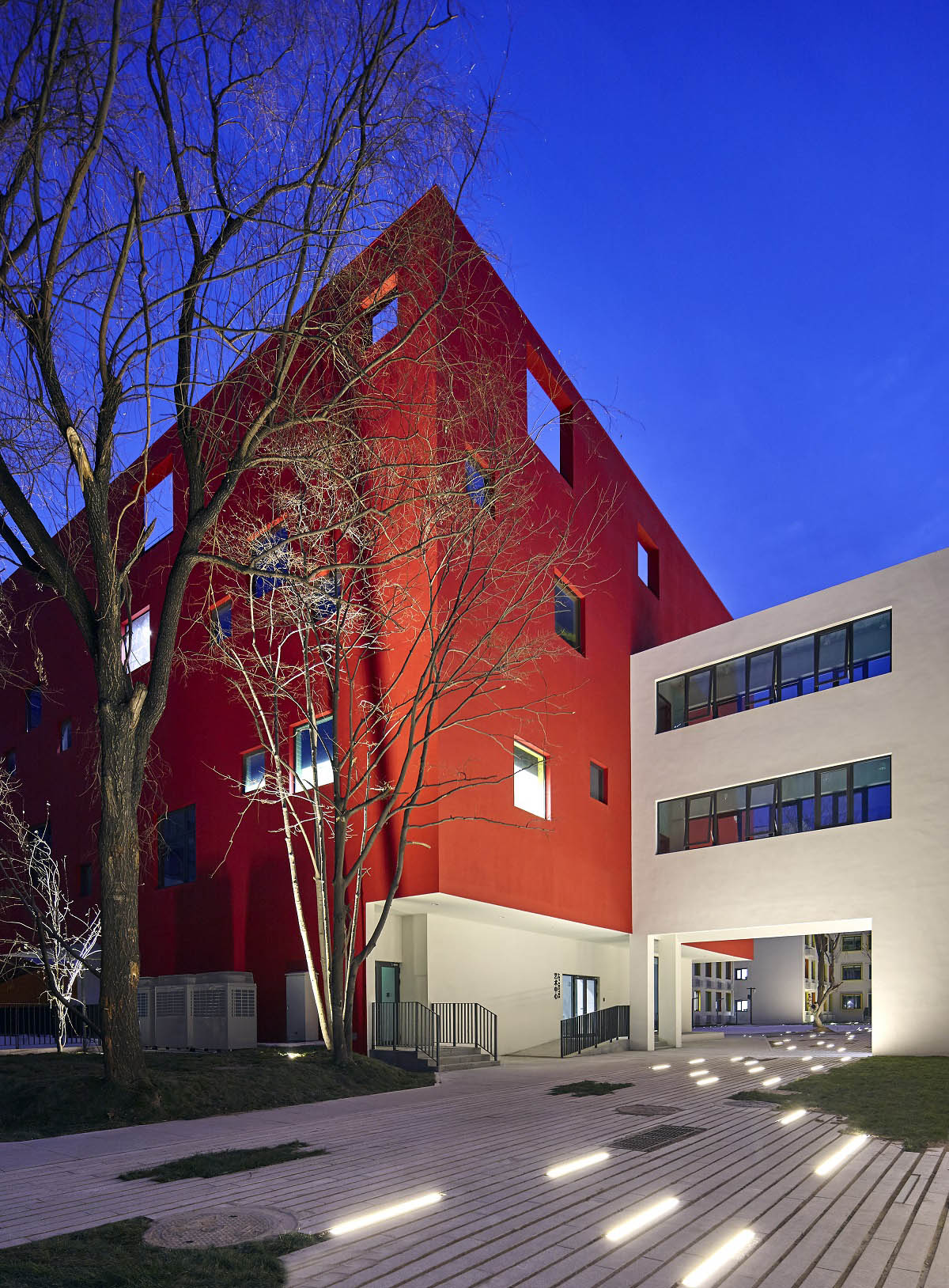 Art Center is located in the center of the campus, with a new face and its circulation reconfigured and the scarlet red "box" symbolizes the vigor and vitality of the future school. "Meandering past it is the bright yellow running track, a path that ties together the existing with the lives of the new inhabitants - old and new, inside and out," explained the firm.
The designers rejected former conventions of separating functions and activities, and achieved a new efficiency by more than doubling the length of a track in its default location. Even the edges of campus become colorful and interesting boundary fences, creating a living interaction with the city beyond to serve both utility and play.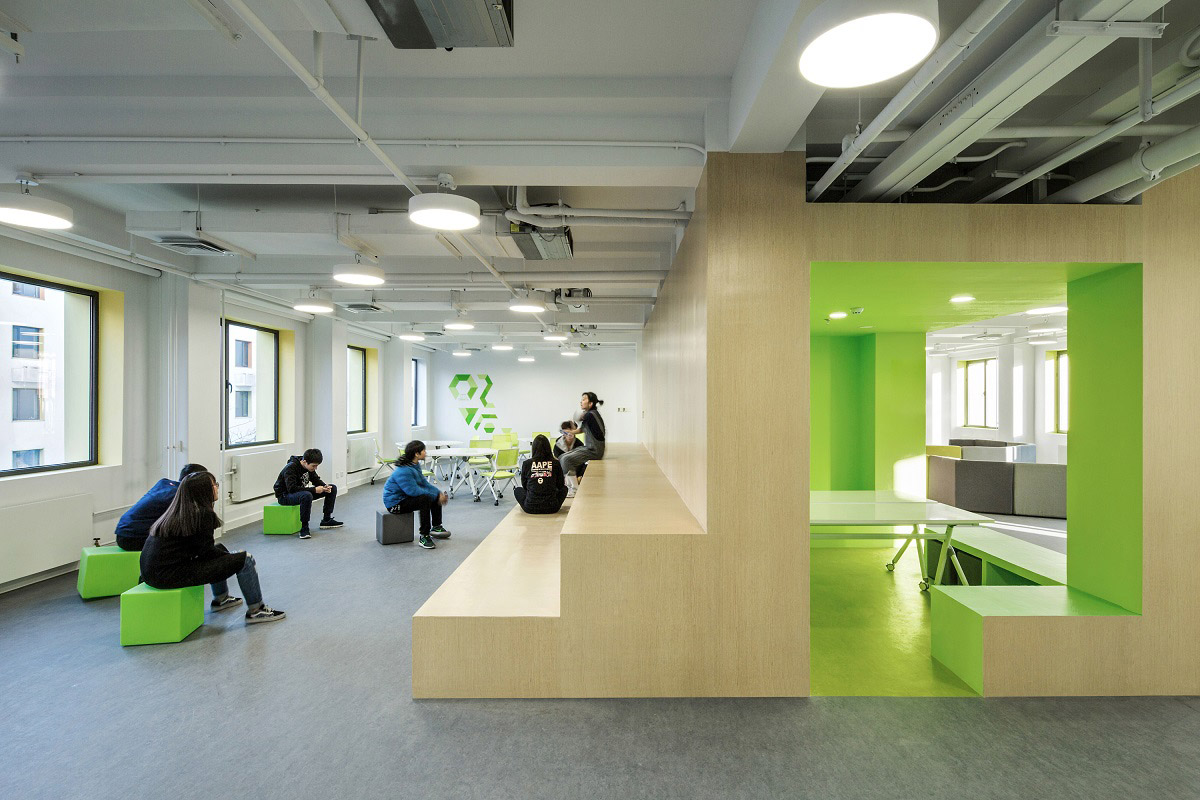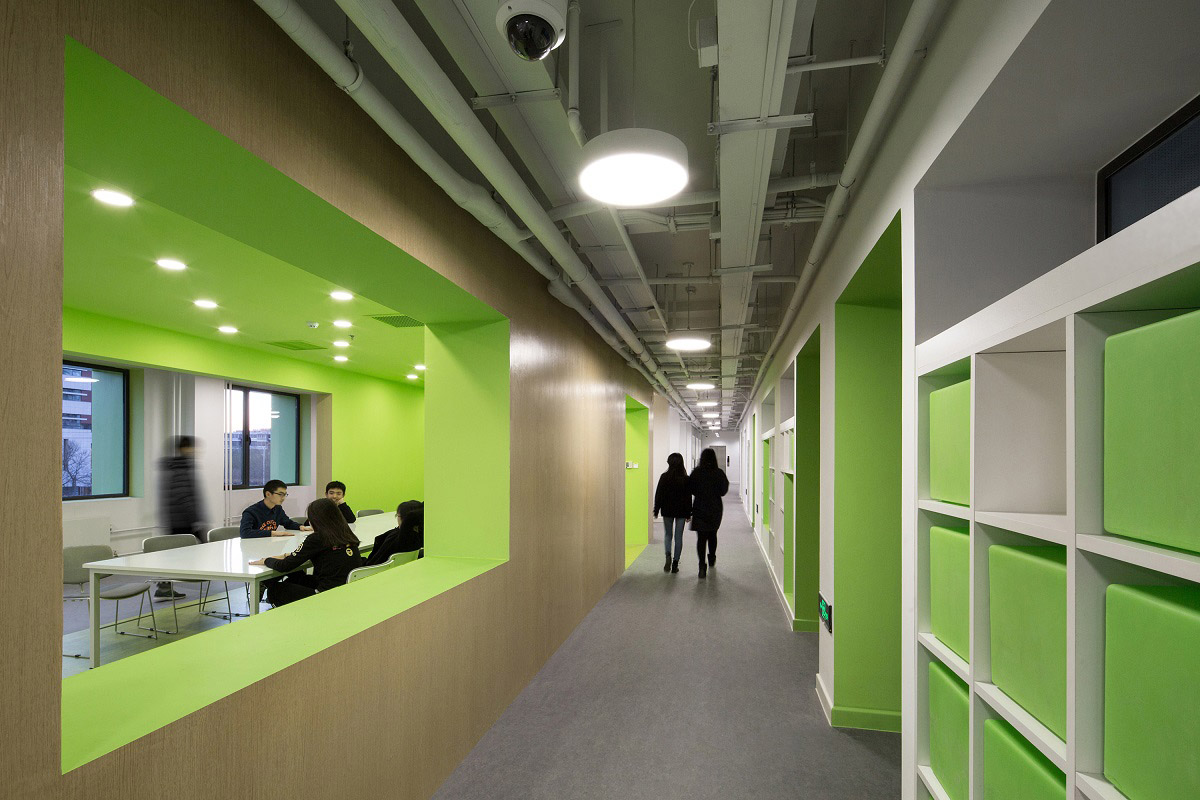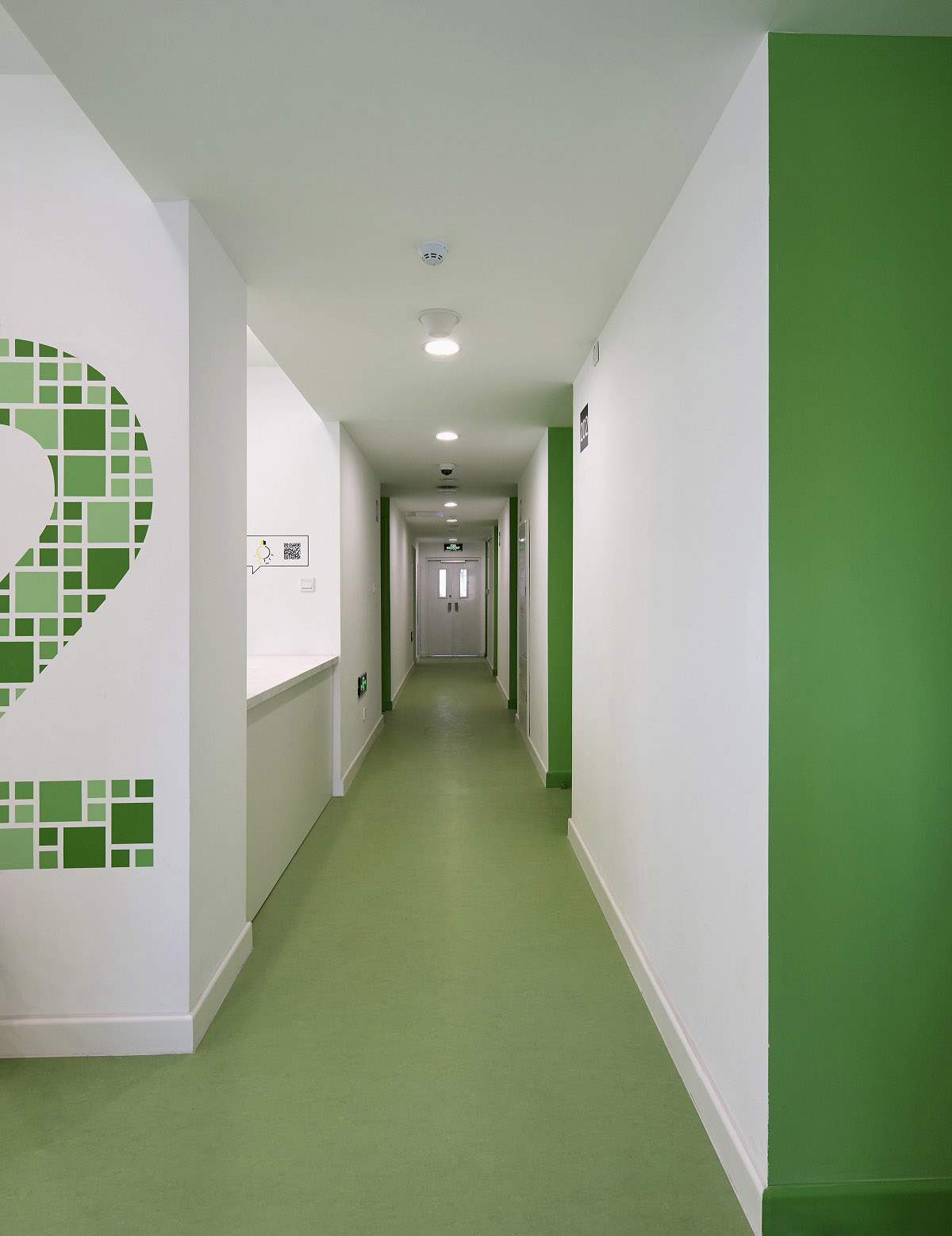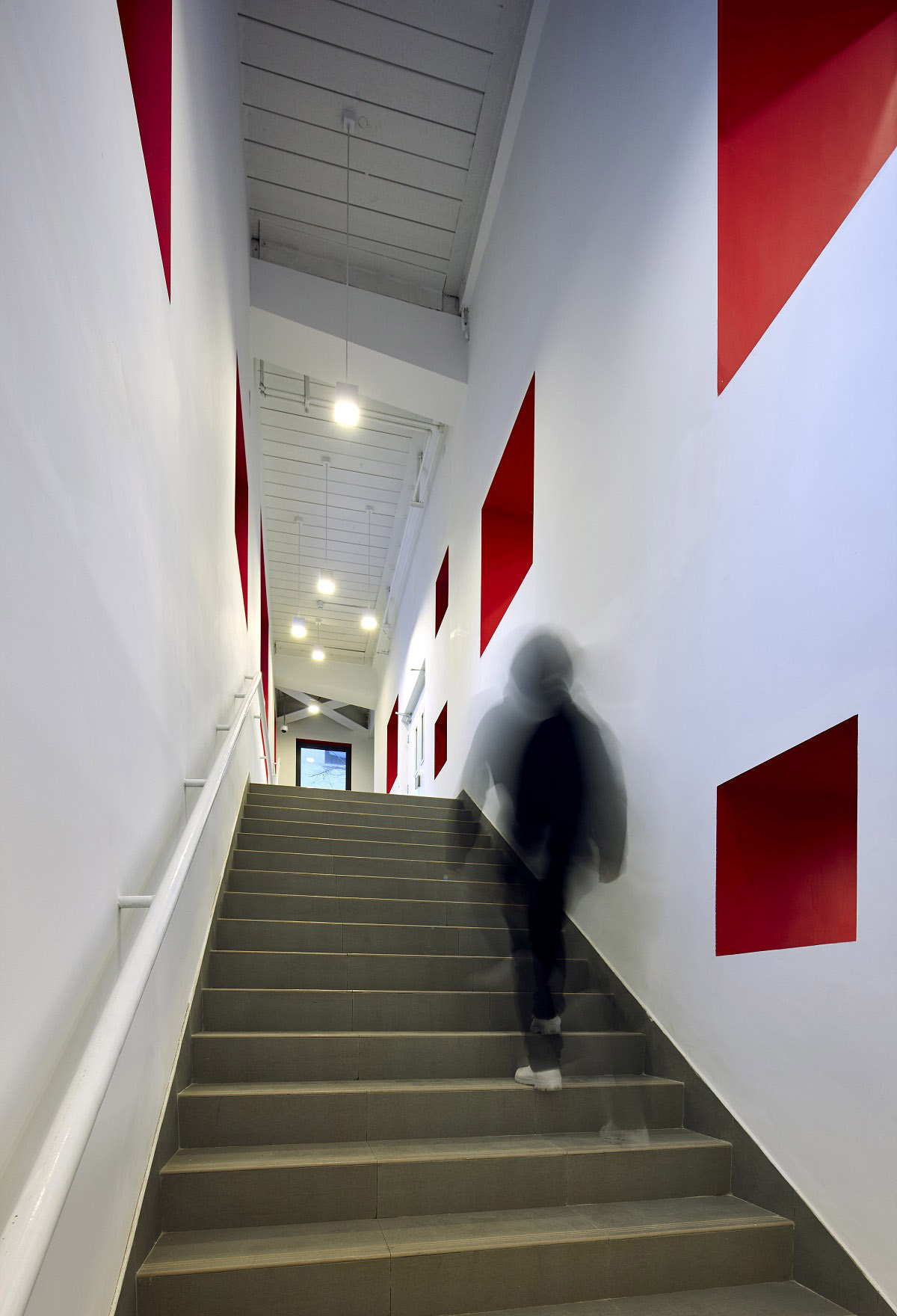 Before renovation, the traditional configuration of rooms and corridors deprived the identification and flexibility of the teaching building and campus. Therefore, only by breaking the limitation of the previous layout and adding flexibility to the space can make the building breath freely, and meet the space requirements of the curriculums and activities.
"New visual connections promote previously impossible user interactions. Subject-specific 'islands' develop several functioning zones out of a singular open space on each floor. Vertical 'bridges' connect two floors with multifunctional activity spaces between related subjects on adjacent floors," Crossboundaries mentioned.
Some of the closed classrooms that have been preserved have been transformed into an activity space for six academies. The academy is a unique organizational structure of Peking University, similar to the academy in Harry Potter, which is operated by students themselves.
This minimally modified space has become a unique place through students' creative transformation and self-development. Such reshaping form not only stimulates the cooperation and innovation of students, but also enhances the interaction between space and people, and actively promotes exploration practice.
While highlighting the distinct personality of the school, it also shows its unique understanding and individual thinking in the education field. The renovated student restaurant is flexible and changeable, except for dining, it can also meet the needs of studying, chatting, watching movies and dancing parties.
Crossboundaries added that, "The collaborative renovation brings to life every element of the program. From each traditional learning space, across the landscape and administration, into the apartments and the canteen that delivers more than food, the design optimizes spaces and endorses a campus life that facilitates continuous learning around every corner."
The spirit of flexibility, interconnectedness and identity in Chaoyang Future School generates more than new uses, functions and value, it also represents an evolution within the lifespan of a building and the resilience to adapt over time.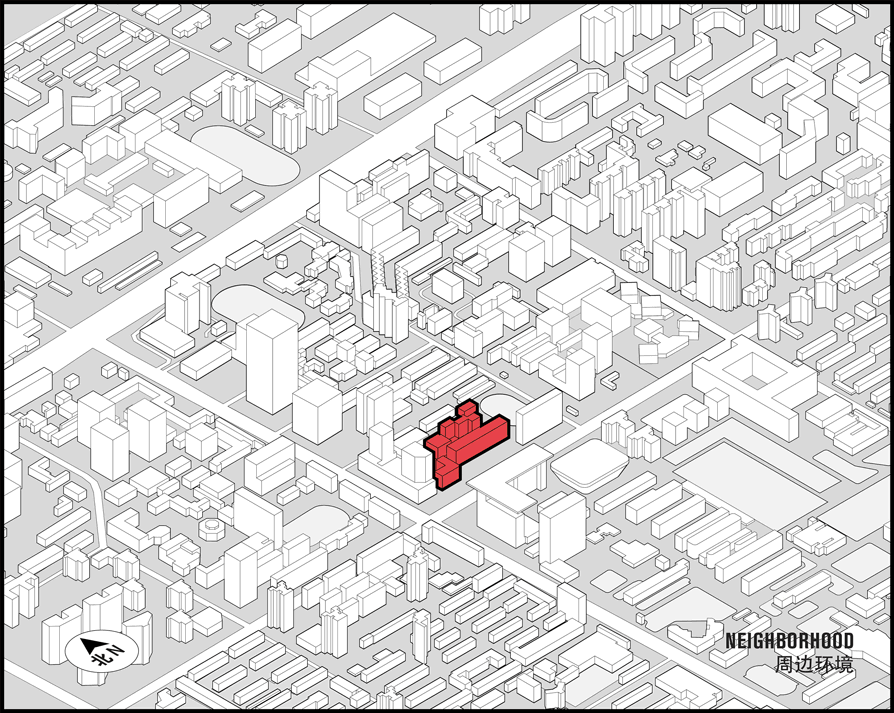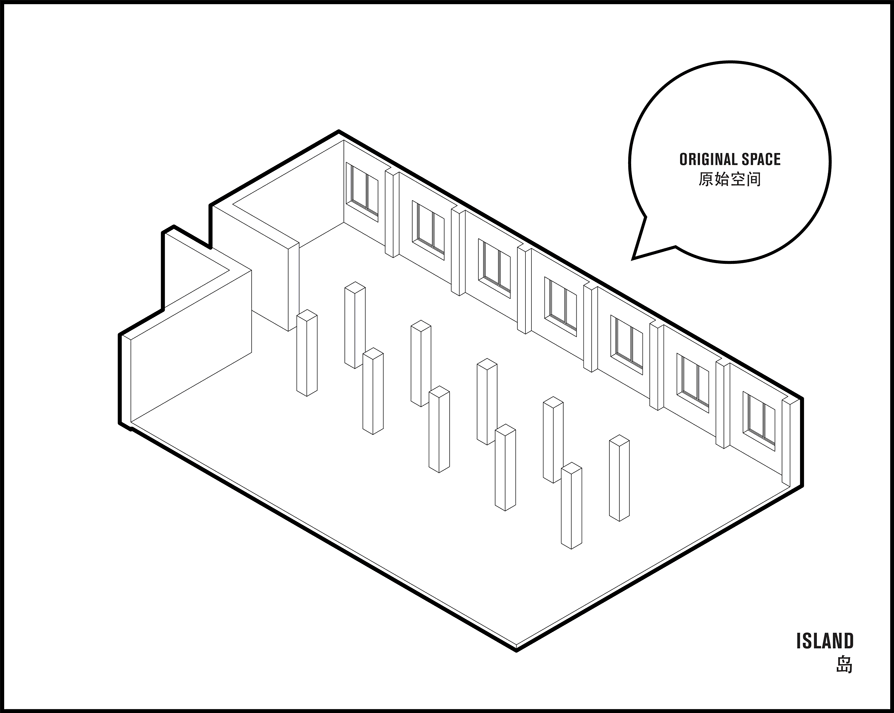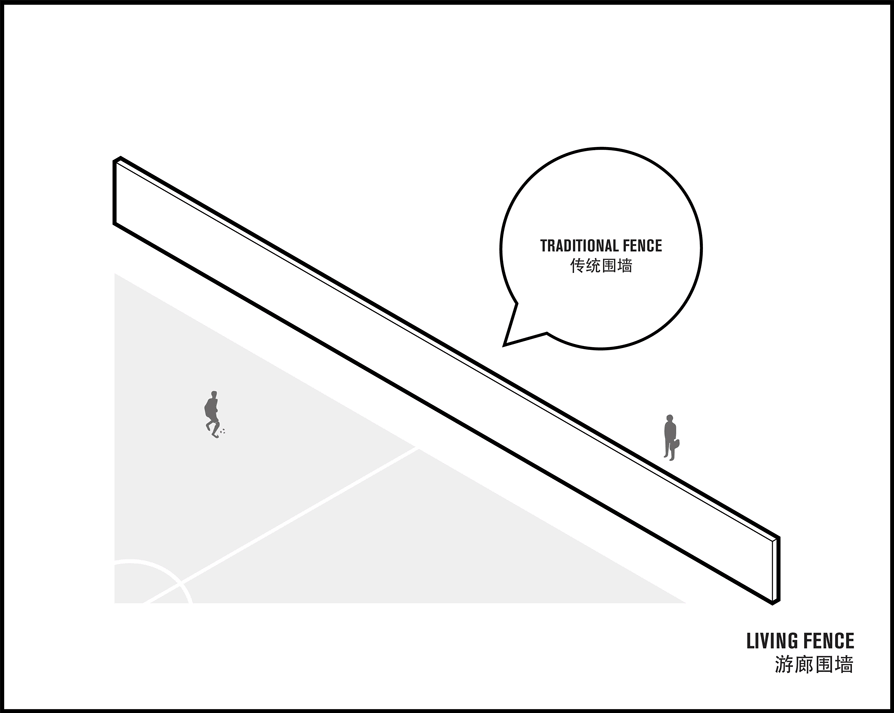 Diagrams
Site plan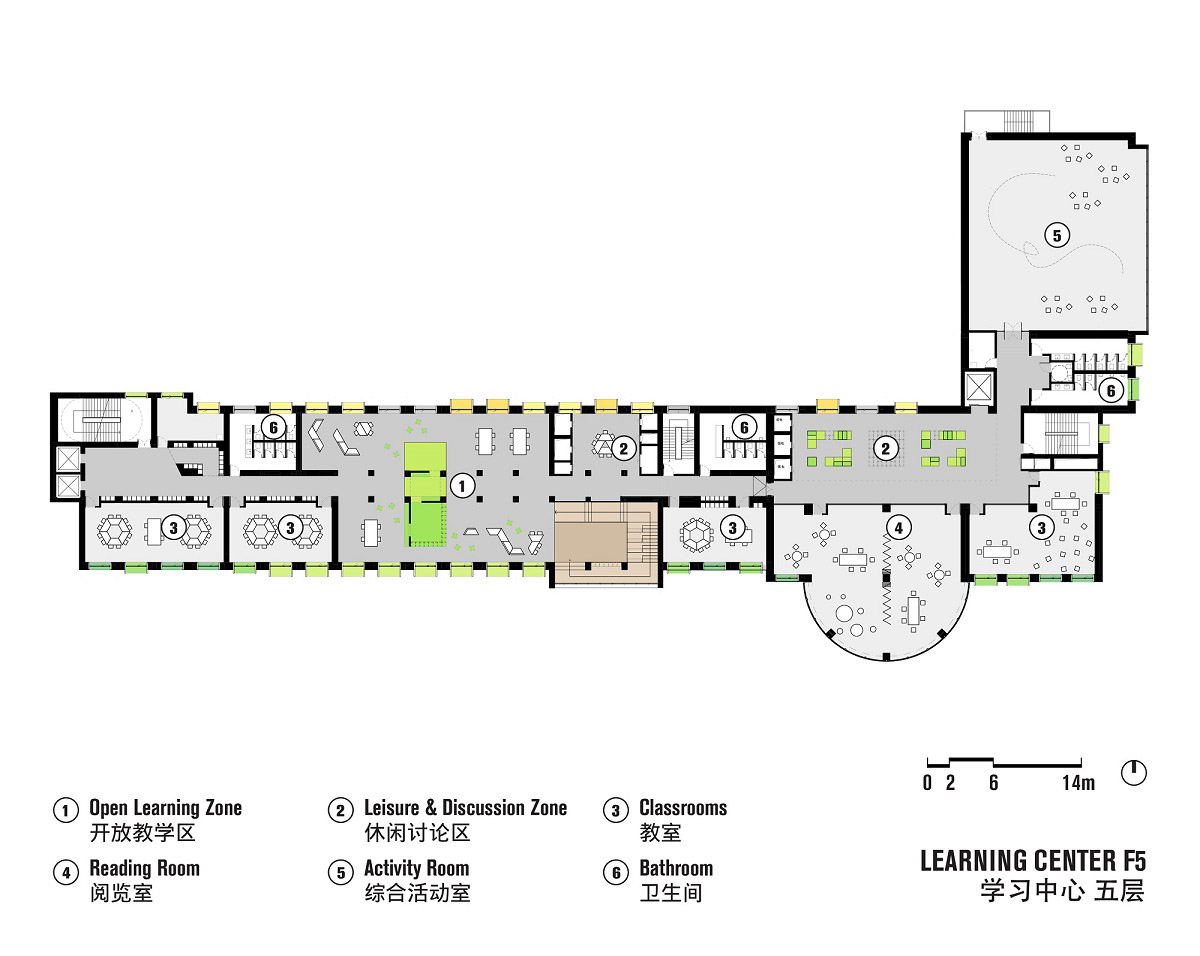 Floor plan
Section
Project facts:
Location: Beijing, China
Client: Affiliated High School of Peking University
Size: 25,916 sqm
Design period (including feasibility study): June 2015 - July 2016
Completed: December 2017
Construction period: January 2017 –December 2017
Partners in charge: Binke Lenhardt, DONG Hao
Design team: GAO Yang, Alan Chou, Natalie Bennett, Andra Ciocoiu, Irene Solà, HAO Hong Yi, Cynthia Cui, Tracey Loontjens, Aniruddha Mukherjee, Libny Pacheco, Sidonie Kade, TAN Kebin, FANG Ruo, Chloris Yu, Silvia Campi, WANG Xudong.
Cooperators: BIAD International Studio, BIAD Architectural Design Institute No. 5, BIAD Yuan Jing Landscape Architecture Planning & Design Studio, BIAD Decoration Engineering Design Co., Ltd, Beijing Tian Yi Tong Chuang Culture Development Co., Ltd
Contractor: China Building Technique Group Co., Ltd.
All images © WANG Ziling, YANG Chao Ying
> via Crossboundaries