Richard Meier Endows Architecture Chair at Cornell University in New York
Cornell University's College of Architecture, Art, and Planning (AAP) and Richard Meier & Partners Architects have announced that The chair of the Department of Architecture in Cornell University's College of Architecture, Art, and Planning (AAP) will bear the name of Richard Meier, one of the college's renowned alumni Richard Meier (B.Arch. '56).
Meier honors his training at Cornell with the endowed position. Andrea Simitch (B.Arch. '79), associate professor and chair of architecture, will be first to hold the title.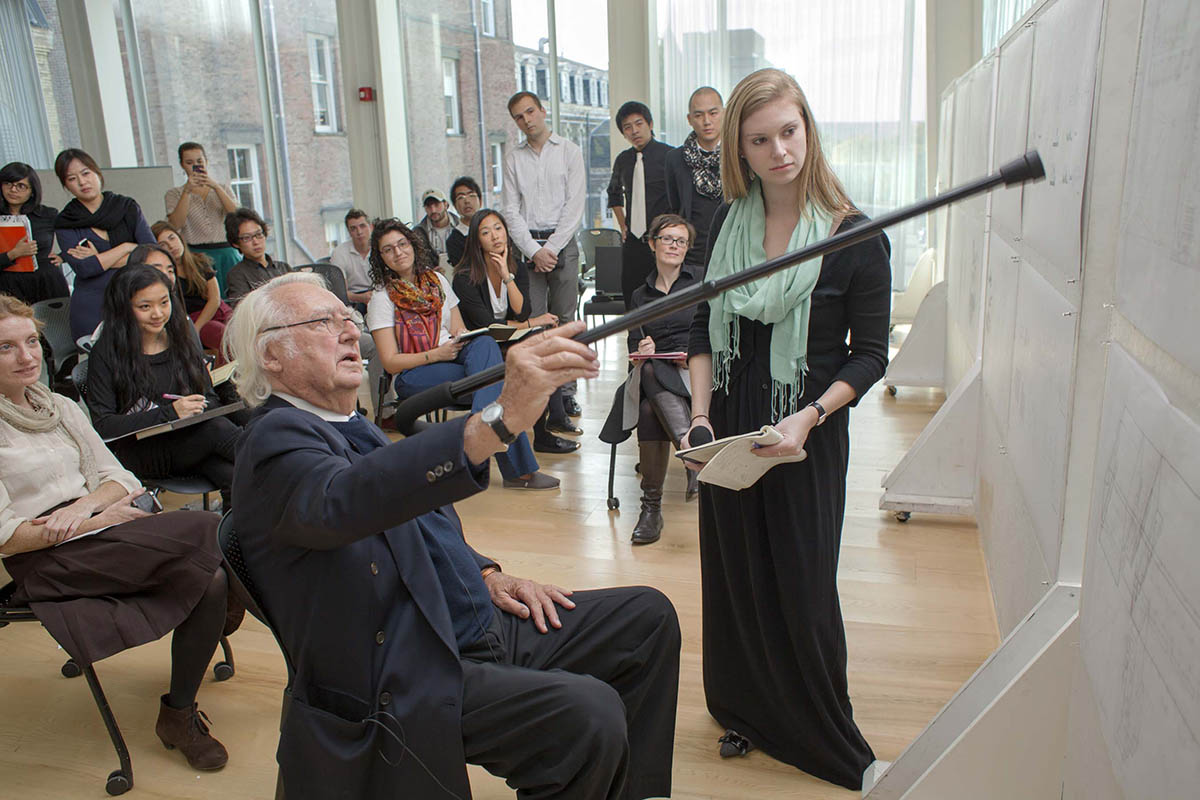 Richard Meier at a Studio Final Review with students from Cornell University. Image courtesy of Cornell University
"Architecture at Cornell is widely recognized as the preeminent program of its kind, and Richard's renown spans every corner of the globe and has no equal. The Richard Meier Chair of the Department of Architecture at Cornell University is a match of perfection. Indeed, it seems that the department chair position, which has been unnamed since the founding of the program almost 150 years ago, has waited for just such a pairing," said Kent Kleinman, the Gale and Ira Drukier Dean of AAP.
Meier, whose architectural style is instantly recognizable and internationally respected, designed Weill Hall, the life sciences technology building that opened on campus in 2008. He is the only Cornellian to receive the Pritzker Architecture Prize, considered the field's highest honor.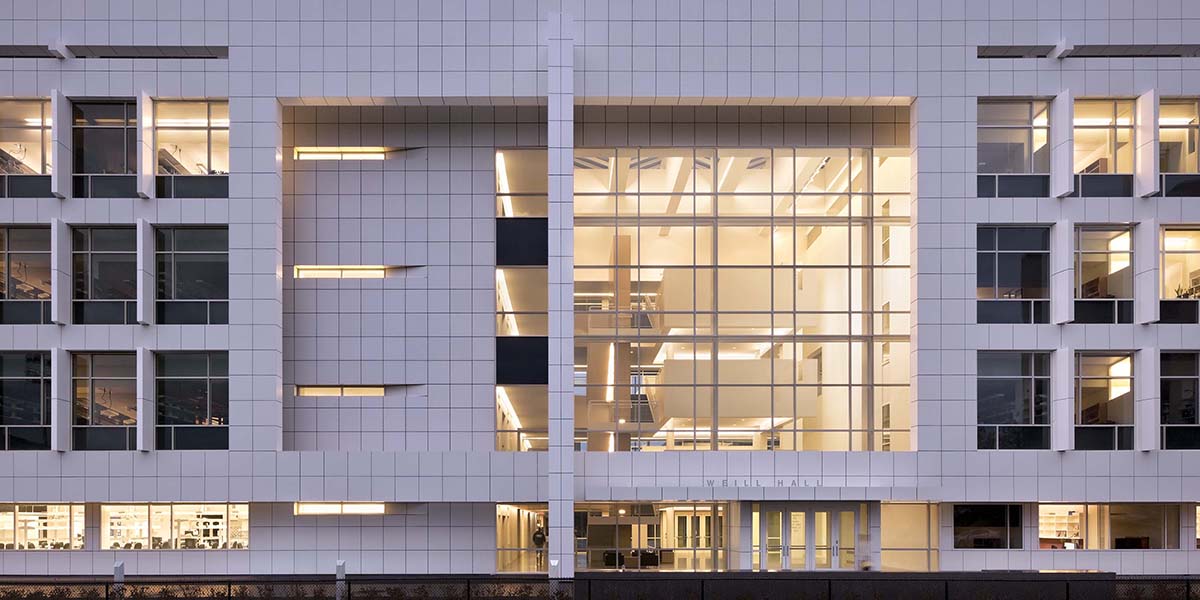 Cornell University - Weill Hall. Image © Scott Frances
"Richard Meier's work as an architect and an artist has inspired me profoundly over the years," Simitch said.
"From the time he made an appearance in the book Five Architects (1975), where he presented an architecture that had a clarity and connected the past to the present, Meier had a way of explaining, of diagramming architecture that inspired pedagogic strategies around the world, and especially at Cornell."
The Meier family's previous support of the department's students and faculty has included the Richard Meier Assistant Professorship in Architecture for young faculty, established in 2010 (first held by Caroline O'Donnell and now Luben Dimcheff (B.Arch.'99). Their support also includes the Richard Meier Graduate Scholarship and the Ana Meier Graduate Scholarship for promising students in the Master of Architecture program, as well as regular contributions to the Cornell Annual Fund.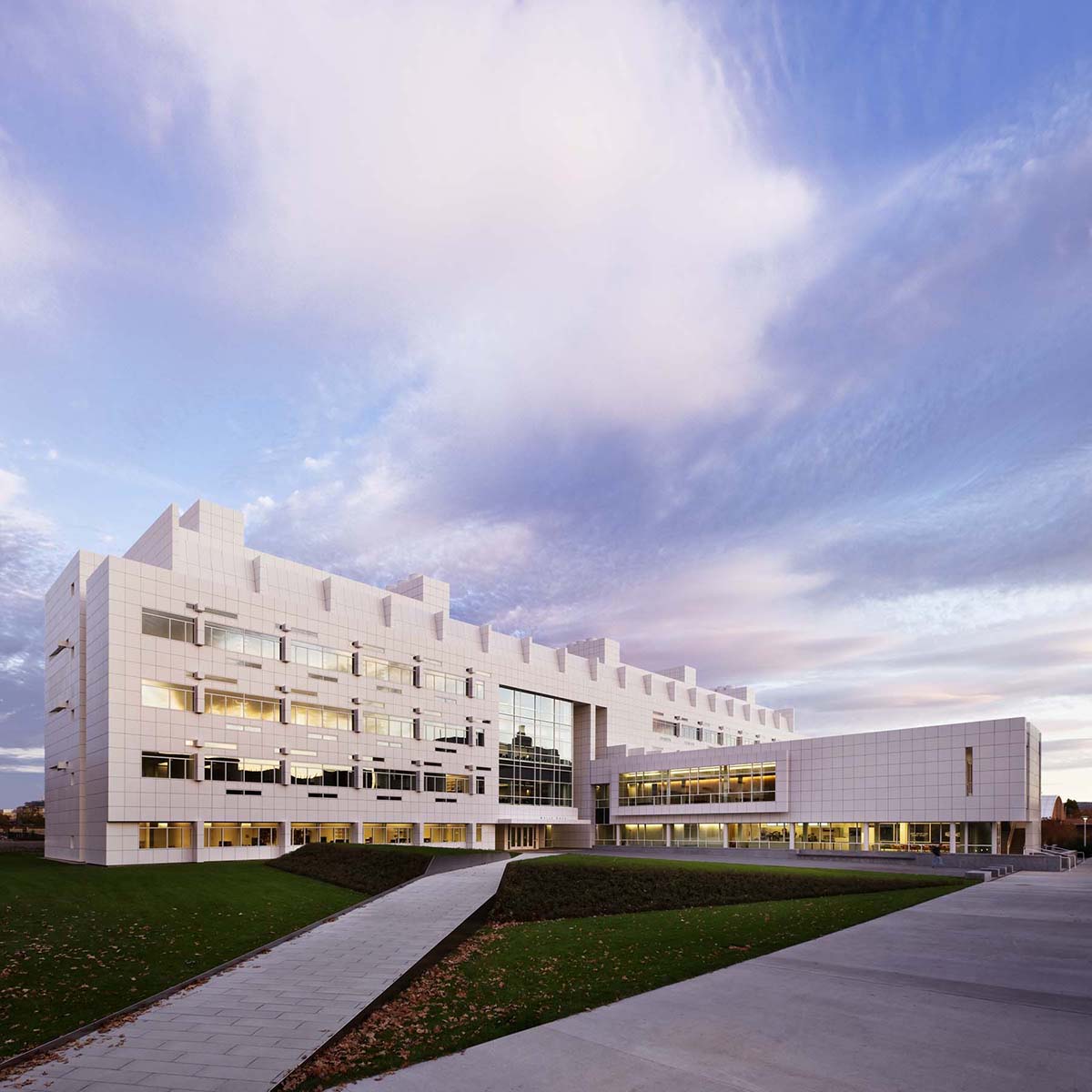 Cornell University - Weill Hal. Image © Scott Frances
Meier said he valued the opportunity to take electives at Cornell while he was an architecture student, "to sort of branch out a little bit and learn things in other departments. When I was there I was in a class with [Vladimir] Nabokov in Russian literature, and Arch Dotson in the government department became a great friend." Meier designed the house that Arch and Esther Dotson (then a professor of the history of art) built in Ithaca in 1966.
"Architectural pedagogy at Cornell is fundamentally rooted in processes of making, and Richard Meier's creative process — one that moves freely between art and architecture, drawings and sculpture, collages and models — is one that has deeply informed that pedagogy," Simitch said. "His capacity to imagine architecture both as abstract composition and occupiable space is a continuing part of his legacy today at Cornell."
Cornell University - Weill Hall. Image © Scott Frances
This year marks the 55th anniversary of Richard Meier in practice, and it coincides with this important monetary donation that is going to be distributed under the following 3 academic programs and scholarships:
Richard Meier Chair of the Department of Architecture: The Richard Meier Chair of the Department of Architecture at Cornell University pairs the Meier name, synonymous with design excellence around the world, with the top-ranked undergraduate architecture program. The endowed position will support the chair as well as providing an annual research stipend.
Richard Meier Assistant Professorship: This Richard Meier Assistant Professorship has provided critical funding for recruiting junior, tenure-track faculty. The prestige of the Meier name, as well as the funding, has helped us attract design excellence to the faculty including Caroline O'Donnell and Luben Dimcheff, the first and second faculty members to hold the title.
M.Arch. Awards: The graduate architecture awards named for both Richard and Ana Meier are highly prestigious and ensure that the department is able to offer competitive aid compared with peer institutions. The awards help to draw and support top-level M.Arch. students. These students are critical to sustaining and growing Cornell's reputation for excellence. The Ana Meier Graduate Scholarship enables AAP to recruit and retain the most talented women applicants to the graduate architecture program.
Top image courtesy of When Objects Work