SOM's Sky's the Limit exhibition shows how the world's tallest buildings are made
An exhibition called Sky's the Limit: The Engineering of Architecture exhibition is still on display at Utzon Center in Denmark. This multipartite exhibition provides a glimpse into SOM's structural engineering practice showing how the world's tallest buildings are made. The exhibition is open to the public through January 15, 2017.
Sky's the Limit: The Engineering of Architecture exhibition opened on October 13, 2016 at the world-renowned Utzon Center in Aalborg, Denmark. The exhibition is an in-depth, multimedia exploration of SOM's extensive structural engineering portfolio, presenting the firm's uniquely integrated structural and architectural design practice and its contributions to city skylines across the globe.
Sky's the Limit: The Engineering of Architecture marks the second time SOM's Structural Engineering practice has been featured in a standalone exhibition. Four times larger than the first iteration, it offers an expanded understanding of the firm's structural design practice.
Never-before-seen video, photography, drawings, sculpture, and interactive structural animations tell the complex, decades-long story of the evolution of SOM's structural design philosophy.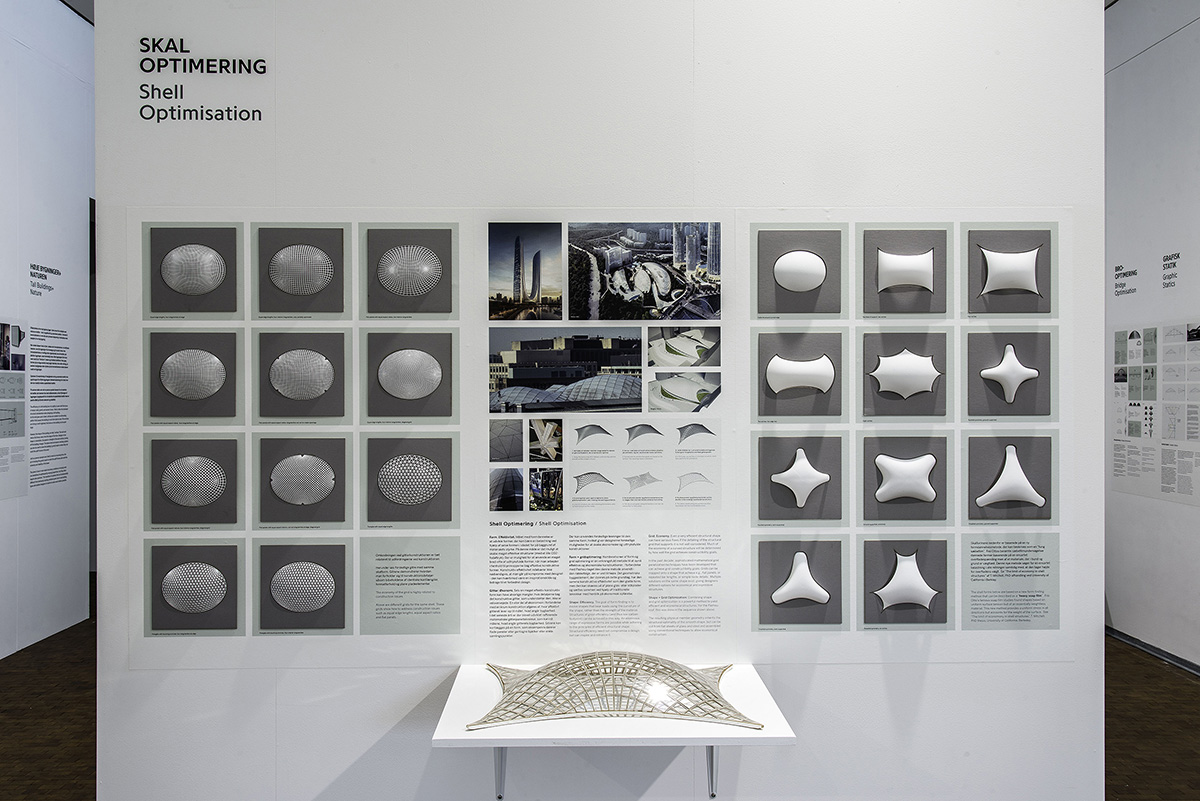 The exhibition is anchored by 26 handmade structural models at 1:500 scale, framed by a floor-to-ceiling hand drawn grid, allowing visitors to tower over some of SOM's most complex high-rise projects. Visitors are then invited to don a pair of 3D glasses to explore the details of several structural components, animated and projected on the museum's walls at 1:2 scale.
In the multimedia room, an immersive video installation, narrated by SOM Structural Engineering partner William F. Baker, provides further insight into the projects on display. Models, drawings, and research materials produced over several decades complete the exhibition, showing the full range of building typologies and design techniques employed by SOM's structural engineers.
The Engineering of Architecture was shown for the first time at Architekturgalerie Munich in early 2016. It will be on view at Utzon Center until January 15th, 2017. A PDF of the exhibition booklet, which presents all 26 structural models, is available for download on SOM's website.
''We don't have firm barriers,'' says William F. Baker, a leader of SOM's structural and civil engineering practice. ''[Engineers] never think twice about suggesting architectural ideas, and architects never think twice about suggesting structural ideas. A lot of times, we'll find something that works better for both of us.''
In an exhibition review of SOM published in Medium, the studio gives a clear insight to the evolution of structural design by saying that ''collaboration begins with the conceptual design process. At the outset of a project, architects and engineers work to distill the essence of a structural concept. Here, simple solutions are often the best ones.''
''Describe your system in words,'' Baker advises his design teams. ''If it takes too many words, maybe your system's too complicated.'' A series of hand-drawn sketches in the exhibition shows the range of these solutions, each accompanied by a concise name. From "bundled tube'' to ''buttressed core,'' these diagrams illustrate a taxonomy of building concepts used for some of the world's most advanced structures.
SOM's offers also a new perspective, Sky's the Limit proposes a playful reversal of the relationship between humans and the built environment. Visitors are invited to imagine their height relative to the models, all of which are built to 1:500 scale. Measured upon entering the gallery and given badges that assign them a new height, visitors stand as giants among the skyscrapers.
SOM recently installed a lattice-shaped Christmas Tree as part of the exhibition Sky's the Limit, which is on display at Utzon Center until January 15, 2017. SOM completed new Federal Courthouse building Los Angeles, California.
The global engineering practice also shared new images of Philadelphia 30th Street Station master plan, which will be the long-awaited vision of a bold, fully integrated mixed-use urban district, with a vibrant transportation hub situated at its core.
All images © Niels Fabaek, Utzon Center
> via SOM