Rotterdam is celebrating 75 years of Reconstruction with this giant stairs with 180 steps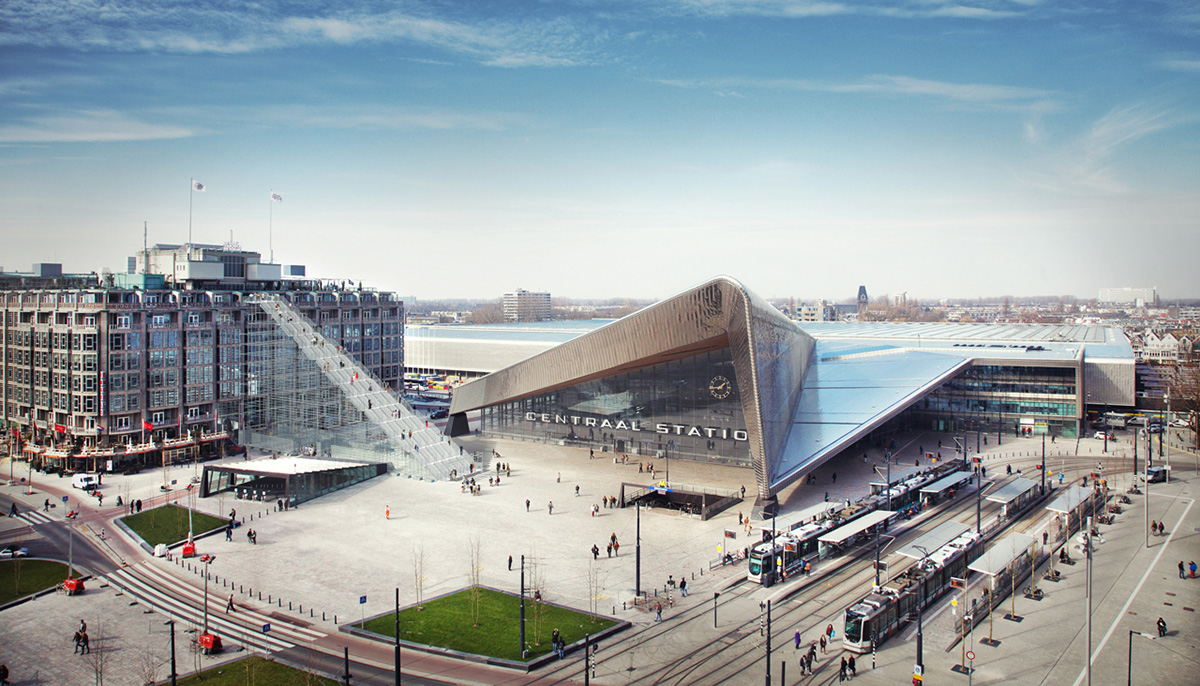 The Stairs, celebrating 75 years of Rotterdam's reconstruction.
MVRDV called 'The Stairs' as 'a red carpet to the reconstruction of the city' in their website. From mid-May to mid-June, Rotterdam gets a temporary new eye-catcher: a giant stairs with 180 steps from Stationsplein, right in front of Groot Handelsgebouw. The scaffolding system is a nod to 75 years of rebuilding the city, which is celebrated this year with the cultural event Rotterdam celebrates the city!
The Stairs will be officially opened on 16 May by Mayor Ahmed Aboutaleb and will remain open until 12 June. Everyone is welcome to visit from 10:00 to 22:00. Admission is free.
In the press release MVRDV stated that the arrival of The Stairs fits nicely in the Rotterdam tradition of celebrating reconstruction milestones. Big cultural events often provide beautiful vantage points, such as the Euromast, which is built for the Floriade in 1960 and the cable cars on the Coolsingel during the reconstruction event C70.
"Now we create a new lookout where people can enjoy the unique view of this newly built city. From the cranes in the harbour, to the new city center, the North and Blijdorp Zoo. Fun for everyone,'' says Anouk Estourgie of Rotterdam celebrates the city!
The new icon, attached to a historic monument. image © Antonio Luca Coco
The steps not only offer a progression of perspectives over the city as you climb, but also give access to the roof of the Groot Handelsgebouw. Once at the top, a temporary observation deck gives you the opportunity to overlook the entire city. Also on the roof is the former cinema Kriterion, popular in the 1960s, which will open specially for the event to offer a wide variety of films, debates and performances. Furthermore, visitors will be able to enjoy refreshment facilities and find out more about the city and its development at the information point for the cultural event 'Rotterdam celebrates the city!'.
"I used to see Rotterdam from the Kriterion after the films and it gave an fantastic overview of the city" explains Winy Maas, co-founder of MVRDV. "The roof of the Groot Handelsgebouw, one of the best buildings of the reconstruction of the Netherlands, deserves to be used as a base for the next intensification of Rotterdam. The Stairs suggest that."
At 29 metres tall and 57 metres long, The Stairs offer an impressive landmark for 'Rotterdam celebrates the city!'. The scaffolding responds to the angles of the Rotterdam Central Station, connecting the contemporary icon with a historic monument, whilst through its construction referencing the reconstruction that the city has experienced.
"The Stairs aim to animate the rooftop and to imagine a second layer in the next step of Rotterdam's urban planning. A second reconstruction." Tells Winy Maas. "It would be good to make it a permanent fixture."
Top Image © Frank van Dam/MVRDV
> via MVRDV