Paul Eis reimagines Berlin's buildings with coloured-extensions challenging to the reality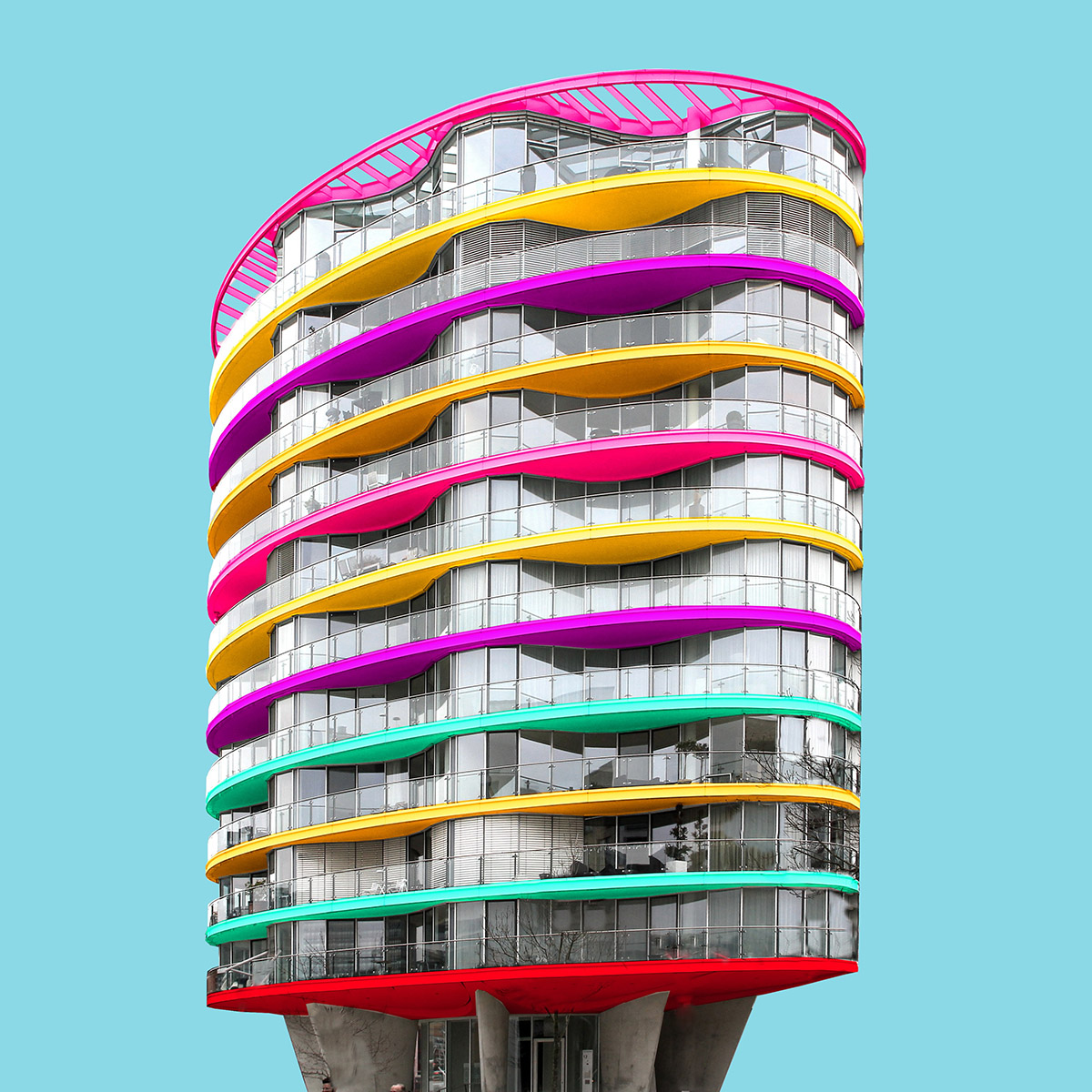 Oval, Hamburg by Ingenhoven Architekten
Paul Eis, a Berlin-based architecture photographer, redesigned the facades of Berlin's and Hamburg's buildings with new coloured overlays. Paul Eis shares dozens of colorful versions of Berlin's contemporary architecture on his Instagram page, challenging to the real nude structures. All created images by Eis are the new phenomenon of creating art in an unclassical way, which means deconstruct and reform modern architecture through today's new aestheticism.
Marco Polo Tower in HafenCity, Hamburg, Germany by Behnisch Architekten
Paul Eis' visuals are formed by colourful stripped or wavy lines as well as giving a sense of depth in many parts of buildings like balconies or windows, which changes the building's facade form and structure radically. Eis finds Berlin architecture colorless although it has a very characteristic architecture and he adresses to the nude reality of modern architecture.
Bartningallee, Berlin by Raymond Lopez and Eugene Beaudouin
''I thought that the design of buildings can be more than the shape. The color of a building can be a part of the unique design great architecture has as well'' says Eis.
Bauhausarchiv, Berlin by Walter Gropius
''For example, at the work of Le Corbusier or Bruno Taut. Because of this and the fact that I became simply bored by the reality, I started to color the buildings in my images. Reducing the content of my images on the building, I use a simple blue background. The blue gives a high contrast to the colors I usually use in my pictures. How I color the buildings depends mainly on the given structures like windows, balconies or other elements of the facade'' he adds.
Cho58, Berlin by Zoomarchitekten
''My project is maybe a critical discussion between the architecture in the classical way and art. It is an extension from the architecture photography itself to a more experimental handling with the pictured object'' Eis adds.
DZ Bank, Berlin by Frank Gehry
''I think the climatic environment in cities like Berlin would let such colorful Buildings like in my images look dirty soon, so this is maybe why we have that lot of greyscaled buildings here. But maybe my project is also a critic on the houses which are mainly built today. Because in the contemporary situation of the housing marked in Berlin, with such rising prizes for buildings, it is hard to imaging that the housing companies take such less care about good architecture not to mention about something like interesting color design. The uniformly style is a very boring style of "neoclassicism". My images are maybe the complete contrast to that'' emphasizes in his project description.
Eurefcampus14, Berlin by Remtec Architekten
Paul Eis's colourful project includes images of buildings originally standing mainly in Berlin or Hamburg.
Federal Ministry for Enviroment, Berlin by Geier Maass Architekten
Flottwellstrasse14 by unknown
Haus Der Presse, Berlin by Jo Franzke
Kreuzberg Tower, Berlin by John Hejduk
Science Center, Berlin by Gnaedinger Architekten
Studentendorf Adlershof, Berlin by Architekturbuero Die Zusammenarbeiter
Uhl64, Berlin by Raumpool
Wa17, Berlin by Zanderroth Architekten
Watertower, Hamburg by Schenk Waiblinger Architekten
To see more images please visit Paul Eis' Instagram page.