A Rural Agora for Bir Sallah designed by Philippe Barriere
Philippe Barriere, the principal of Philippe Barrière Collective (PB+Co), designed a rural mixed-use development in Bir Sallah (El Hencha), Tunisia. Barriere's design approach is based on local materiality and traditional models of construction, combined with parametric design and digital manufacturing. The architect is always looking for new methods of architectural production /reproduction, which mostly highlights 'hybrid architecture' in his architecture. Barriere's projects are not characterized only by the project's aesthetic qualities, but also referred to its progressive cultural and economical development.
front view with flat gardens
Cultural and Educational Development Center based on social, agricultural, artisanal, and technological innovation. The project design developed on the principle of Hybrid Architecture combining traditional models of construction, local crafts and materials with parametric design and digital manufacturing.
a closer view to eco-houses.
Multiple use Eco Town Housing with ground floor shops and services (R+3), coffee shop-restaurant, traditional crafts skills workshop guild house (rooftop multipurpose space addition), eco home (rooftop addition), public park with outdoor exhibitions including earth and land art exhibitions.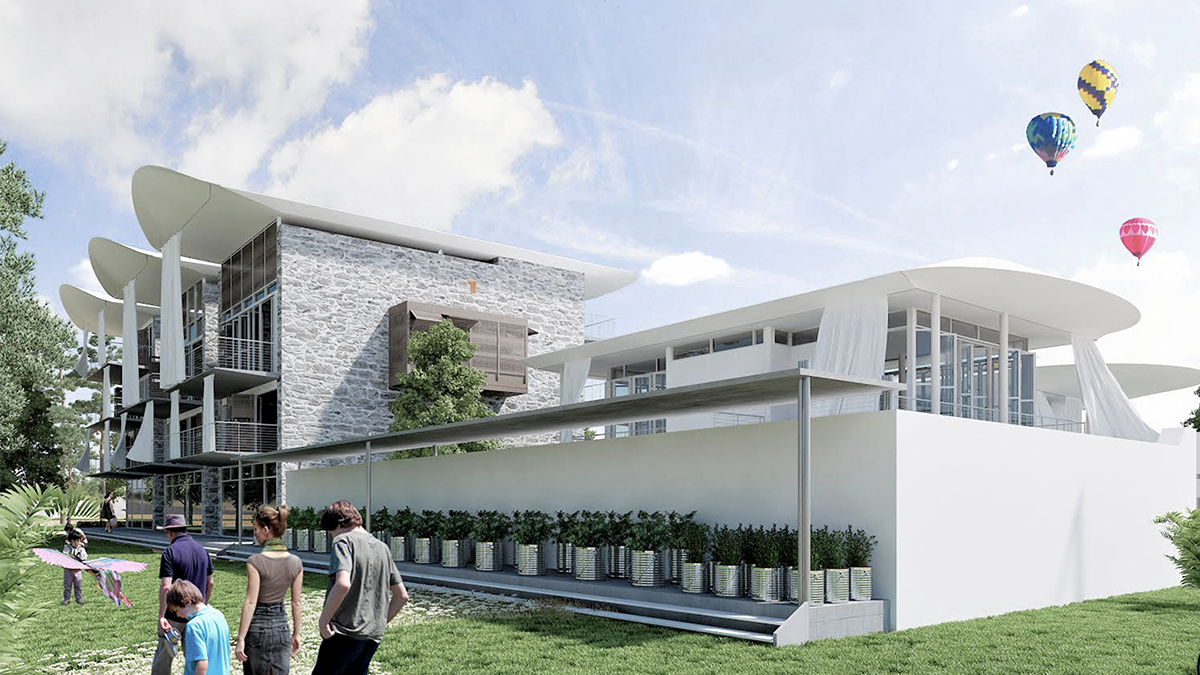 the eco-houses are differentiated by flying roofs.
Philippe Barriere has recently completed 'Residence-Atelier-Foundation' in Morocco, which is another good axample of 'hybrid architecture'.
His work and the work of his students has been widely exhibited. He has taught at the New York Institute of Technology, Parsons School of Design, the University of Texas at Arlington, the University of Montreal, Drury University, the University of Kansas, and more recently at l'Ecole Spéciale d'Architecture de Paris and l'Ecole d'Architecture de Université Laval de Québec.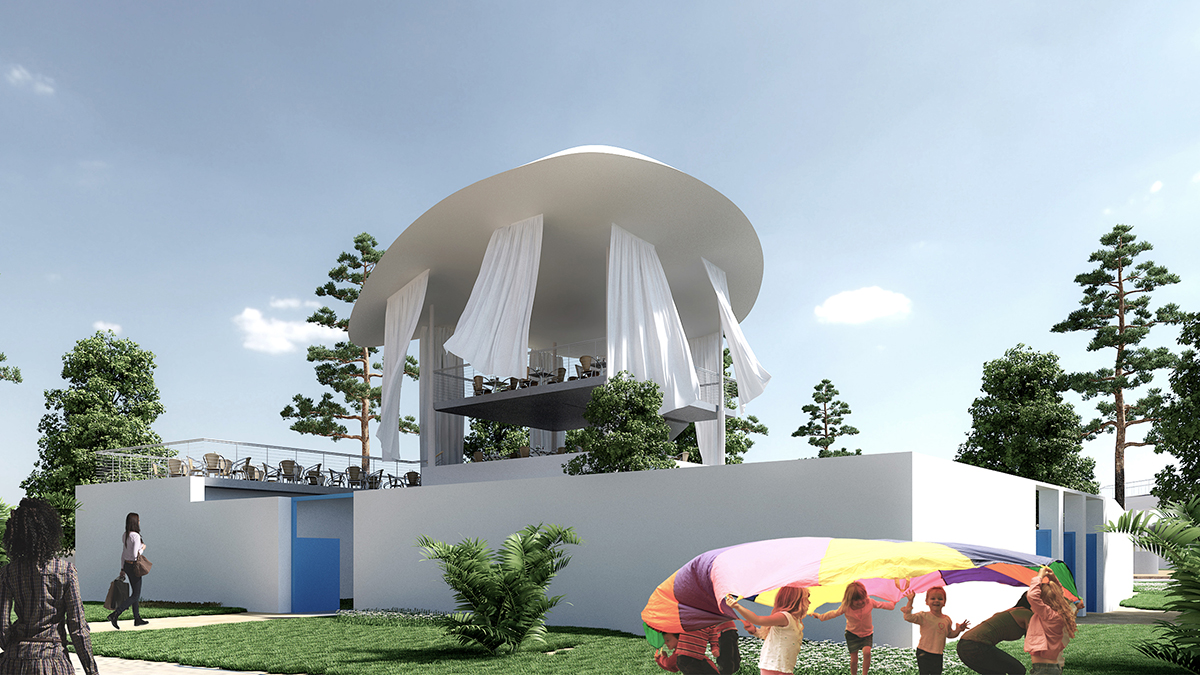 restaurant -presents openness, sculptural view
In 2006, Philippe was made a Knight of the Order of Arts and Literature (Chevalier dans l'Ordre des Arts et des Lettres), an honor bestowed on him by the French Ministry of Culture for his contribution and achievements in the field of architecture.
areal view of rural agora
Project Facts
Date: (2014-2015)
Location: Bir Sallah, El Hencha (Sfax), route GP1 Km 214. Tunisia.
Client: Sarah Toumi: Association AJMI TOUMI – ACACIA for All – DREAM IN TUNISIA (Founder);
Asma Mansour: Tunisian Center for Social Entrepreneurship (Founder).
Project made possible through a Research on Hybrid Habitat done in collaboration with: School of Architecture of Laval University (Québec), School of Architecture of The University Ibn Khaldoun, ENIT (Tunis School of Engineers). Young International Chamber of Commerce (JCIT). Luxor Technology & Trade, Tunis, Tunisia.
Engineer: Hatem Jamoussi: Optima Engineers (CEO).
Team Philippe Barriere Collective (PB+Co): Adnen Ben Tanfous (Associate Partner), Asma Haddouk, Samir Issad, Kaouther Moussa, Bahroun Khaoula, Abbassi Ibrahim, Mahmoud Abassi, Abderrahmen Ezzine.
All Images courtesy of PB+Co
> via PB+Co